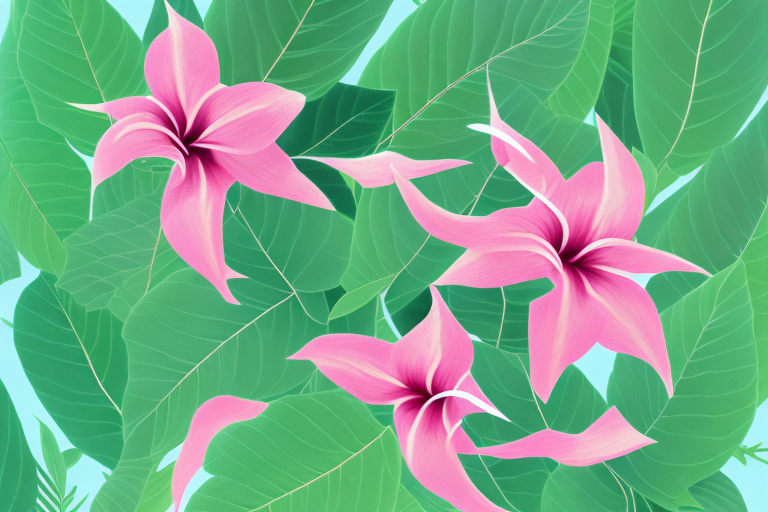 Welcome to the ultimate guide on propagating Mandevilla! If you're a gardening enthusiast or simply someone who wants to add more beauty to their outdoor space, learning how to propagate Mandevilla is a rewarding endeavor. In this article, we'll explore everything you need to know about this process, from understanding different propagation methods to troubleshooting common issues. So, grab your gardening gloves and let's get started!
Understanding Mandevilla propagation methods
Mandevilla plants can be propagated through various methods, each with its own unique benefits. The most common propagation technique is through stem cuttings, but we'll also delve into other methods such as water propagation, soil propagation, and air layering. By understanding these methods, you'll be equipped with the knowledge needed to choose the best approach for your Mandevilla plants.
Stem cuttings are the most popular method of propagating Mandevilla plants because they are relatively easy and have a high success rate. To propagate through stem cuttings, select a healthy stem that is about 4-6 inches long and remove any leaves from the bottom half. Dip the cut end in rooting hormone to encourage root development, then plant the cutting in a well-draining potting mix. Keep the soil moist and provide indirect light until roots develop, which usually takes about 4-6 weeks.
Water propagation is another method that can be used to propagate Mandevilla plants. This method involves placing a stem cutting in a container of water and allowing it to develop roots. Change the water every few days to prevent the growth of bacteria. Once roots have formed, transfer the cutting to a pot with well-draining soil and continue to care for it as you would a rooted cutting.
Choosing the right time to propagate Mandevilla
The timing of propagation plays a crucial role in the success of your Mandevilla plants. We'll discuss the optimal time to take stem cuttings, considering factors such as the plant's growth stage and environmental conditions. By selecting the right time, you'll maximize your chances of successful propagation and ensure the health and vigor of your new Mandevilla plants.
One important factor to consider when choosing the right time to propagate Mandevilla is the plant's dormancy period. Mandevilla plants typically go through a period of dormancy during the winter months, where their growth slows down or stops completely. It is generally recommended to avoid propagating Mandevilla during this dormancy period, as the plants may not have enough energy to successfully root and establish new growth.
Gathering the necessary tools and materials for Mandevilla propagation
Before you begin propagating Mandevilla, it's important to gather all the necessary tools and materials. From pruning shears to rooting hormone and well-draining potting mix, we'll provide you with a comprehensive list of items required for a successful propagation process. Having the right tools at hand will make your journey smoother and more efficient.
One essential tool for Mandevilla propagation is a clean, sharp pair of pruning shears. These will be used to carefully cut the stem of the parent plant, ensuring a clean and precise cut that promotes healthy growth in the new plant.
In addition to pruning shears, you will also need rooting hormone. Rooting hormone is a powder or liquid that contains growth hormones to stimulate root development in the cutting. Applying rooting hormone to the cut end of the stem before planting it in the potting mix can significantly increase the success rate of propagation.
Propagating Mandevilla through stem cuttings
Stem cuttings are the go-to method for propagating Mandevilla, and we'll guide you through the entire process step-by-step. From selecting the right stems to preparing the cuttings and providing optimal conditions for root development, you'll gain valuable insights on how to master this technique. We'll also discuss the benefits of using rooting hormone to enhance the success rates of your cuttings.
Step-by-step guide to taking successful stem cuttings from Mandevilla plants
To ensure your stem cuttings have the best chance of success, we'll walk you through each step in detail. From identifying the right stems to making clean cuts and preparing the cuttings for rooting, you'll become an expert in this fundamental propagation technique. We'll also cover essential tips to promote healthy root development and prevent common issues.
Rooting hormone: How it can improve Mandevilla propagation success rates
Rooting hormone is a valuable tool in propagating Mandevilla. In this section, we'll explore the benefits of using rooting hormone and how it can significantly improve success rates. We'll discuss different types of rooting hormones and provide recommendations on when and how to apply them. By harnessing the power of rooting hormone, you'll give your Mandevilla cuttings a head start in establishing strong roots.
Using water propagation for Mandevilla: A beginner's guide
Water propagation offers an alternative method for propagating Mandevilla, especially for beginners. We'll explain the step-by-step process of using water as a medium to encourage root growth in your cuttings. From maintaining water quality to transitioning the rooted cuttings to soil, you'll gain insights into this beginner-friendly method of propagation.
Soil propagation techniques for Mandevilla: Tips and tricks for success
Soil propagation is another effective technique for propagating Mandevilla. In this section, we'll explore different soil mixtures, container choices, and care practices to ensure successful propagation. Understanding the specific needs of Mandevilla plants during the propagation phase will help you create an optimal environment for root development and overall growth.
Exploring air layering as an alternative method for propagating Mandevilla
Air layering presents an alternative method for propagating Mandevilla, particularly for more mature plants. We'll discuss the step-by-step process of creating an air layer on your Mandevilla plant, allowing it to develop roots while still attached to the main stem. We'll also explore the advantages and challenges of air layering and provide tips for achieving successful results.
Creating the ideal growing conditions for newly propagated Mandevilla cuttings
After successfully propagating Mandevilla cuttings, it's essential to provide them with the ideal growing conditions to thrive. We'll cover aspects such as lighting, temperature, humidity, and watering techniques. By creating a nurturing environment, you'll set your newly propagated Mandevilla plants up for healthy growth and vitality.
Transplanting rooted Mandevilla cuttings into pots or garden beds
Once your Mandevilla cuttings have established roots, it's time to transplant them into their permanent homes. We'll guide you through the process of selecting suitable pots or preparing garden beds, ensuring your newly propagated plants have enough space and proper growing conditions for long-term success.
Caring for young Mandevilla plants during the propagation phase
During the propagation phase, proper care practices are crucial for the health and development of young Mandevilla plants. We'll provide you with detailed instructions on watering, fertilizing, and pest management. By implementing these care practices, you'll nurture your young plants and promote their overall strength and resilience.
Troubleshooting common issues in Mandevilla propagation and how to overcome them
Propagation doesn't always go as planned, and common issues may arise along the way. We'll explore the most common problems encountered during Mandevilla propagation, such as root rot, fungal diseases, and slow growth. Importantly, we'll discuss effective solutions and preventive measures to help you overcome these challenges and achieve successful propagation results.
Pruning techniques to encourage healthy growth in newly propagated Mandevilla plants
Pruning is an essential practice to promote healthy growth in newly propagated Mandevilla plants. We'll delve into the proper techniques and timing of pruning to shape your plants, encourage branching, and enhance overall vigor. With our pruning strategies, you'll learn how to bring out the best in your Mandevilla plants.
Nurturing and hardening off young Mandevilla plants before transplanting outdoors
Before transplanting your young Mandevilla plants outdoors, it's essential to gradually acclimate them to the outdoor environment. We'll guide you through the process of hardening off, ensuring your plants are adequately prepared for the transition and can withstand the challenges of the great outdoors.
How long does it take for propagated Mandevilla cuttings to establish roots?
Patience is key when propagating Mandevilla, as it takes time for the cuttings to establish roots. In this section, we'll discuss the average timeline for root development, factors that may affect the duration, and signs to look for to determine successful root establishment. Understanding the timeline will help set realistic expectations and allow you to monitor the progress of your propagated Mandevilla cuttings.
Tips for propagating Mandevilla from seed: An alternative approach
While stem cuttings are the preferred method for propagating Mandevilla, we'll also explore the option of propagating from seed. We'll provide tips on seed selection, germination techniques, and nurturing seedlings. If you're up for a more adventurous approach, propagating Mandevilla from seed might be the right choice for you.
Overwintering propagated Mandevillas: Preparing them for the colder months ahead
With winter approaching, it's essential to prepare your newly propagated Mandevilla plants for the colder months. We'll guide you through the steps of overwintering, including pruning, protective measures, and creating a suitable indoor environment. By carefully tending to your plants during winter, you'll ensure their survival and pave the way for future growth.
Successful strategies for expanding your collection of Mandevillas through propagation
Once you've mastered the art of propagating Mandevilla, you may find yourself wanting to expand your collection even further. We'll share successful strategies for multiplying your Mandevilla plants, such as batch propagation and selective breeding. By implementing these strategies, you'll enjoy the satisfaction of growing a diverse and thriving Mandevilla collection.
Congratulations on embarking on this exciting journey of propagating Mandevilla plants! Throughout this article, we've covered a comprehensive range of topics to equip you with the knowledge and skills needed for successful propagation. Remember to enjoy the process, embrace experimentation, and celebrate every newly rooted Mandevilla cutting as a testament to your green thumb. Happy propagating!