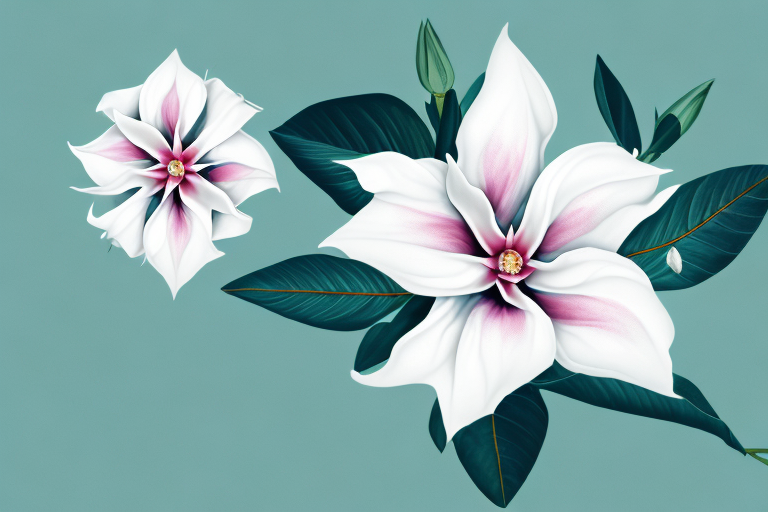 Have you noticed your once vibrant and thriving mandevilla plant slowly withering away? It can be disheartening to witness the decline of a beloved plant, but fear not – there are steps you can take to understand and address the issue. In this comprehensive guide, we will delve into the various signs of a dying mandevilla plant, explore the common causes of decline, and provide you with practical strategies to revive and rejuvenate your struggling green companion.
Recognizing the Signs of a Dying Mandevilla Plant
When it comes to identifying a dying mandevilla plant, being able to recognize the signs is crucial. One telltale sign is wilting leaves that are drooping and losing their usual luster. Additionally, yellowing or browning foliage, along with an overall lack of new growth, can indicate an underlying issue. It's also important to pay attention to any visible pests or diseases that may be plaguing your plant. Now that we've established how to recognize the signs, let's explore the possible causes for your mandevilla's decline further.
Understanding the Common Causes of Mandevilla Plant Decline
There are several common causes that can contribute to the decline of mandevilla plants. One significant factor is improper watering techniques. Overwatering can lead to root rot, while underwatering can result in dehydration and wilting. Moreover, environmental factors like extreme temperatures, inadequate sunlight exposure, and unsuitable humidity levels can also cause stress and hinder the plant's growth. Furthermore, nutrient deficiencies and fungal infections can weaken the mandevilla's immune system, making it more susceptible to decline. In the following sections, we will explore these causes in more detail and discuss appropriate treatments and prevention methods.
How to Identify and Treat Mandevilla Plant Diseases
Just like any living organism, mandevilla plants are susceptible to diseases that can hinder their growth and vitality. Identifying these diseases is the first step towards effective treatment. Some common mandevilla plant diseases include powdery mildew, leaf spots, and root rot. Each disease exhibits distinct symptoms like white powder-like patches on the leaves or black spots on the foliage. Treating these diseases involves a combination of cultural practices, organic fungicides, and pruning infected parts. Additionally, maintaining a clean and well-ventilated growing environment can help prevent the spread of diseases.
The Impact of Environmental Factors on Mandevilla Health
Mandevilla plants thrive in specific environmental conditions. Understanding and providing these ideal conditions are paramount for their health and longevity. Temperature fluctuations, especially cold temperatures below 50°F (10°C), can severely harm the plant. Ensuring proper sunlight exposure is also essential; mandevillas require at least six hours of direct sunlight daily. If your plant is not receiving adequate sunlight, consider relocating it to a sunnier spot or using artificial light sources. Furthermore, maintaining a stable and suitable humidity level can promote healthy growth and prevent issues such as leaf drop.
Proper Watering Techniques to Prevent Mandevilla Wilt
Watering techniques play a crucial role in preventing mandevilla wilt. Overwatering can suffocate the roots and lead to root rot, while underwatering can cause the plant to become dehydrated and wilt. To prevent these issues, it's essential to strike the right balance. Water the plant thoroughly but allow the soil to dry out slightly in between waterings. Furthermore, ensuring proper drainage by using well-draining soil and pots with drainage holes can prevent waterlogged roots. Remember, consistency is key when it comes to watering your mandevilla plant.
Protecting Your Mandevilla from Pests and Insects
Pests and insects can wreak havoc on mandevilla plants, weakening their defenses against diseases and causing significant damage. Common pests that affect mandevillas include aphids, spider mites, and whiteflies. These critters can distort leaves, cause discoloration, and even spread diseases. Implementing preventive measures such as regular inspection, insecticidal soaps, and natural predators can help keep these pesky invaders at bay. In situations where infestations are severe, chemical treatments might be necessary. Remember to follow instructions carefully and choose environmentally friendly options whenever possible.
Nutritional Deficiencies: A Leading Cause of Mandevilla Decline
Mandevilla plants, like all living organisms, require proper nutrition to thrive. Nutritional deficiencies can manifest in various ways, including yellowing leaves, stunted growth, and lackluster blooms. Monitoring the plant's nutrient intake and providing regular fertilization can help prevent these deficiencies. Opt for a balanced fertilizer specifically formulated for flowering plants and follow the instructions for application rates carefully. Additionally, supplementing with micronutrients like iron or magnesium can address specific deficiencies and promote overall plant health.
Overcoming Fungal Infections in Mandevilla Plants
Fungal infections can pose a significant threat to mandevilla plants, leading to wilting, discoloration, and overall decline. Fungi thrive in moist environments, so it's crucial to avoid overwatering and provide proper air circulation. If your mandevilla plant falls victim to a fungal infection, using organic fungicides, removing infected parts, and improving growing conditions can help overcome these issues. It's essential to act promptly to prevent the spread of fungi to other parts of the plant.
Pruning and Trimming Techniques for a Healthier Mandevilla
Regular pruning and trimming can do wonders for the health and appearance of your mandevilla plant. Pruning not only helps shape the plant but also promotes new growth and improves overall plant vigor. Start by removing any dead or diseased parts, then proceed to cut back overgrown branches and stems. It's crucial to use clean and sharp pruning tools to prevent the spread of diseases. Additionally, training your mandevilla to climb supports or trellises can create an aesthetically pleasing display and improve air circulation around the plant.
Preventing Root Rot: Essential Tips for Healthy Mandevillas
Root rot is a common issue that affects mandevilla plants, often resulting from overwatering or poor drainage. To prevent root rot, it's essential to use well-draining soil and pots with drainage holes. Allow the soil to dry out slightly before watering again, and avoid letting the plant sit in standing water. Furthermore, practicing proper watering techniques, as mentioned earlier, can significantly reduce the risk of root rot. Remember, healthy roots are the foundation for a thriving mandevilla plant.
Troubleshooting Yellowing Leaves in Your Mandevilla Plant
Yellowing leaves in a mandevilla plant can be indicative of multiple factors, including nutrient deficiencies, watering issues, pests, and diseases. Conducting a thorough assessment is necessary to determine the underlying cause. Check the soil moisture levels, inspect the leaves for pests or diseases, and evaluate the plant's nutrient status. Once the cause is identified, implement the necessary treatments or adjustments mentioned throughout this article to restore the plant's health and vibrancy.
Restoring Life to a Dying Mandevilla with Effective Care Strategies
If your mandevilla plant is nearing the brink of death, don't lose hope just yet. With effective care strategies, you can potentially revive your dying mandevilla. Start by diagnosing the specific issue by closely examining the plant, considering all possible causes mentioned earlier. Once you have identified the problem, apply the appropriate treatments and adjustments. These may include adjusting watering practices, providing adequate sunlight, treating diseases, and improving nutrient intake. Remember, patience and consistent care are key when attempting to revive a struggling plant.
Rescuing an Overwatered or Underwatered Mandevilla
If your mandevilla has fallen victim to overwatering or underwatering, swift action is necessary to rectify the situation. Overwatered plants should be carefully removed from their pots and inspected for root rot. Trim away any affected roots and replant in fresh, well-draining soil. Adjust watering practices to ensure the soil remains slightly moist but not saturated. Conversely, underwatered plants require thorough watering to rehydrate the roots. To prevent future issues, develop a consistent watering schedule based on the plant's specific needs.
Reviving a Stressed or Neglected Mandevilla Plant
Stress and neglect can take a toll on your mandevilla plant, contributing to its decline. If your plant has been ignored or subjected to unfavorable conditions, there's still hope for revival. Start by reevaluating its growing conditions and making appropriate adjustments. Trim away any dead or damaged parts to encourage new growth. Implement a regular care routine that includes proper watering, regular fertilization, and protection from pests and diseases. With time and dedicated care, your mandevilla will have the opportunity to regain its health and beauty.
The Importance of Proper Sunlight Exposure for Your Mandevilla
Sunlight exposure is crucial for the well-being of your mandevilla plant. Providing adequate sunlight ensures healthy growth, abundant blooms, and overall vitality. If your plant is not receiving enough sunlight, consider relocating it to a sunnier spot or investing in artificial light sources like grow lights. However, it's important to strike a balance as excessive sunlight can lead to leaf burn or excessive drying. Monitor your plant's response to sunlight and adjust its placement accordingly to optimize its health and flowering potential.
How to Safely Transplant a Dying Mandevilla into a New Pot
If your mandevilla's decline is attributed to poor soil quality or insufficient space in its current pot, it might be time to consider transplantation. Transplanting a dying mandevilla into a new pot can provide it with fresh soil and better growing conditions. Start by selecting a pot that is one size larger than the current one and ensure it has drainage holes. Gently remove the plant from its original pot, being mindful not to damage the roots. Place it in the new pot, fill with well-draining soil, and water thoroughly. Afterward, maintain proper care practices to aid the plant's recovery in its new home.
Mitigating Leaf Drop in a Struggling Mandevilla Plant
Leaf drop can be a distressing sight for any mandevilla plant owner. This issue is often a response to stress or adverse growing conditions. To mitigate leaf drop, it's crucial to evaluate and address the underlying cause. Factors such as inadequate sunlight, improper watering, nutrient deficiencies, or pests and diseases can contribute to leaf loss. By adjusting these elements and following the guidance provided throughout this article, you can encourage new leaf growth and restore the plant's overall health.
Boosting the Immune System of Your Fading Mandevilla
Just like humans, mandevilla plants have an immune system that helps protect them from pests and diseases. Boosting their immune system can be achieved through various measures. Providing optimal growing conditions, including proper sunlight, watering, and nutrition, promotes overall plant health. Regular pest inspections, along with the timely application of organic pest control measures, can prevent infestations that can weaken the plant's immune system. Additionally, using organic plant tonics or fertilizers that enhance plant vigor can improve the mandevilla's ability to resist stressors and maintain vitality.
The Role of Temperature in the Decline of Your Mandevilla
Temperature plays a significant role in the decline of mandevilla plants. Extreme temperatures, especially below 50°F (10°C), can cause stress and damage to the plant. If your mandevilla is exposed to cold temperatures, consider moving it indoors or providing adequate protection, such as covering it with a frost blanket during colder seasons. On the other hand, excessively high temperatures can lead to wilting and leaf burn. Shielding the plant from intense afternoon sun or providing shade during scorching periods can help mitigate these issues. Maintaining a suitable temperature range is crucial for your mandevilla's well-being.
By understanding the signs of a dying mandevilla plant, exploring the common causes of decline, and implementing appropriate treatments and preventive measures, you can embark on a journey to revive and nurture your struggling plant back to health. Remember, it takes time, patience, and dedication to restore a dying mandevilla, but the rewarding outcome is well worth the effort. With the knowledge gained from this comprehensive guide, you are equipped to embark on a restorative journey that will breathe new life into your precious mandevilla.+