Epsom Salt Spray for Tomatoes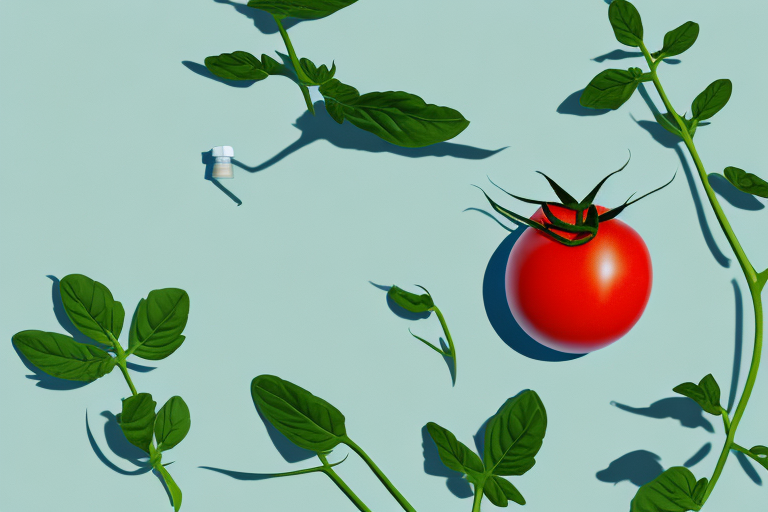 Are you looking for a natural and effective way to boost the health and productivity of your tomato plants? Look no further than Epsom salt! Epsom salt, also known as magnesium sulfate, has long been praised for its numerous benefits in gardening. In this article, we will delve into the wonders of Epsom salt for tomatoes and share with you how to prepare and use an Epsom salt spray to get the most out of your tomato plants.
Understanding the Benefits of Epsom Salt for Tomatoes
Before we dive into the details, let's take a moment to understand why Epsom salt is a game-changer for tomato plants. Epsom salt contains two essential nutrients for plants: magnesium and sulfur. Let's explore how each of these elements contributes to the health and productivity of your tomato plants:
Boosting Tomato Plant Health with Magnesium
Magnesium is a crucial mineral for plants, and tomato plants are no exception. It aids in the production of chlorophyll, which is responsible for the plant's green color and its ability to convert sunlight into energy through photosynthesis. By providing your tomato plants with an adequate supply of magnesium, you are ensuring that they have the energy they need to thrive.
Furthermore, magnesium plays a vital role in enzyme activation within the plant, facilitating various metabolic processes necessary for growth and development. It is also involved in the synthesis of proteins and nucleic acids, which are essential for the formation of new plant tissues.
Moreover, magnesium helps to strengthen the cell walls of tomato plants, making them more resistant to diseases and pests. It also aids in the efficient uptake and utilization of other nutrients, such as nitrogen and phosphorus, promoting overall plant health and vigor.
Enhancing Fruit Production with Sulfur
Sulfur is another vital nutrient for tomato plants. It plays a key role in the development of fruits, helping to improve their flavor, color, and overall quality. Additionally, sulfur helps enhance the plant's ability to take up and utilize other essential nutrients from the soil. By incorporating Epsom salt into your tomato plant care routine, you can give your tomatoes the extra boost they need to produce abundant and delicious fruits.
In addition to its role in fruit development, sulfur also contributes to the synthesis of amino acids, which are the building blocks of proteins. Proteins are essential for various plant functions, including enzymatic reactions, cell structure, and defense mechanisms against pests and diseases.
Furthermore, sulfur aids in the production of volatile compounds that give tomatoes their characteristic aroma and taste. It also helps regulate the pH of the soil, ensuring optimal nutrient availability for the plants. By providing your tomato plants with sufficient sulfur, you are ensuring not only better fruit quality but also overall plant resilience and productivity.
The Science Behind Epsom Salt and Tomato Plants
To truly appreciate the benefits of Epsom salt for tomatoes, it's important to understand the science behind its effectiveness.
Tomato plants are fascinating organisms that rely on a complex network of biochemical processes to grow and produce delicious fruits. Two key elements that play a crucial role in their development are magnesium and sulfur.
The Role of Magnesium in Plant Growth
Magnesium, an essential macronutrient, is involved in many enzymatic functions within the tomato plant. It acts as a catalyst, helping activate enzymes responsible for the production of carbohydrates, proteins, and fats. These macromolecules are all essential for plant growth and development.
Carbohydrates, such as sugars and starches, serve as a source of energy for the tomato plant. They fuel various metabolic processes, allowing the plant to carry out essential functions like photosynthesis and respiration. Proteins, on the other hand, are the building blocks of cells and tissues. They are involved in the formation of new leaves, stems, and roots, as well as the production of enzymes and hormones that regulate growth and development.
Furthermore, magnesium plays a crucial role in the synthesis of DNA and RNA, the genetic information molecules. These nucleic acids are responsible for transmitting and expressing the plant's genetic code, determining its traits and characteristics. Without sufficient magnesium, the tomato plant may struggle to produce healthy DNA and RNA, leading to stunted growth and reduced productivity.
How Sulfur Contributes to Tomato Development
Sulfur, another important macronutrient, is a component of several essential amino acids in tomato plants. Amino acids are the building blocks of proteins, and proteins are involved in a wide range of functions within the plant.
By supplying sulfur to your tomato plants, you are ensuring that they have the necessary building blocks to thrive and produce high-quality fruits. Proteins synthesized from sulfur-containing amino acids are crucial for the formation of new tissues, enzymes, and hormones. Enzymes act as catalysts, facilitating chemical reactions in the plant's metabolism. Hormones, on the other hand, regulate various physiological processes, such as flowering, fruiting, and ripening.
Moreover, sulfur is involved in the synthesis of secondary metabolites, such as flavonoids and antioxidants, which contribute to the plant's defense mechanisms. These compounds help protect the tomato plant from oxidative stress, pathogens, and environmental stresses, ultimately enhancing its overall health and resilience.
In conclusion, the science behind Epsom salt's effectiveness lies in its ability to provide magnesium and sulfur to tomato plants. These elements play vital roles in enzymatic functions, DNA and RNA synthesis, protein formation, and overall plant growth and development. By understanding the intricate biochemical processes at work, you can make informed decisions about using Epsom salt to support the health and productivity of your tomato plants.
Preparing Your Epsom Salt Spray
Now that you understand the benefits and science behind using Epsom salt for tomatoes, let's move on to preparing your own Epsom salt spray.
But before we dive into the step-by-step process, let's explore some additional information that will help you make the most out of your Epsom salt spray.
Choosing the Right Epsom Salt
When selecting Epsom salt for your tomato plants, opt for a high-quality product that is specifically labeled for gardening use. This ensures that the salt is formulated with the right balance of nutrients that are beneficial for your plants.
But what should you look for in a high-quality Epsom salt? First and foremost, avoid salts that contain unnecessary additives or fragrances. These additives can potentially harm your plants and disrupt their natural growth processes.
Instead, look for a pure and organic Epsom salt that is free from any harmful chemicals. This ensures that you are providing your tomato plants with a safe and natural source of magnesium and sulfur, the two key elements found in Epsom salt.
Mixing the Perfect Epsom Salt Solution
Now that you have chosen the right Epsom salt for your tomato plants, it's time to mix the perfect Epsom salt solution.
The recommended Epsom salt solution for tomato plants is a mixture of 1 tablespoon of Epsom salt with 1 gallon of water. This ratio ensures that your plants receive the right amount of nutrients without overwhelming them.
To prepare the solution, start by dissolving the salt thoroughly in warm water. The warm water helps to speed up the dissolution process, ensuring that the salt is evenly distributed throughout the solution.
Once the salt is completely dissolved, transfer the solution to a spray bottle or garden sprayer. This allows you to easily apply the Epsom salt spray to your tomato plants, ensuring that every leaf and stem receives the beneficial nutrients.
It's important to mix a fresh batch of the Epsom salt solution each time you plan to spray your tomato plants. This ensures that the solution remains potent and effective, maximizing the benefits for your plants.
Now that you have learned how to choose the right Epsom salt and mix the perfect solution, you are ready to start using Epsom salt spray on your tomato plants. Enjoy the process and watch as your plants thrive and produce an abundant harvest!
How to Apply Epsom Salt Spray to Tomato Plants
Now that you have your Epsom salt spray ready, it's time to learn how to apply it to your tomato plants for maximum benefit.
Best Time to Spray Tomato Plants
The ideal time to apply the Epsom salt spray to your tomato plants is early in the morning or late in the afternoon when the temperature is cooler. This allows the spray to be absorbed by the leaves before the heat of the day evaporates the moisture.
Correct Spray Techniques for Maximum Benefit
When spraying your tomato plants, make sure to cover both the tops and bottoms of the leaves thoroughly. Aim for a fine mist, ensuring that the leaves are evenly coated. Be careful not to overspray, as excessive moisture can lead to fungal diseases. It's also advisable to avoid spraying during rainy or windy conditions to prevent the spray from being washed away or drifting to unintended areas.
Monitoring the Effects of Epsom Salt on Your Tomato Plants
After applying the Epsom salt spray to your tomato plants, it's essential to monitor their response to the treatment.
Signs of Positive Impact
With regular and proper use of Epsom salt, you should start to see positive changes in your tomato plants. Look for healthier and greener foliage, increased fruit production, and improved overall plant vigor. These signs indicate that your tomato plants are benefiting from the magnesium and sulfur provided by the Epsom salt spray.
Addressing Potential Issues
If you notice any adverse effects, such as leaf discoloration or stunted growth, it could be a sign of over-application or sensitivity to Epsom salt. In such cases, it's recommended to discontinue the use of the Epsom salt spray and consult with a gardening expert to determine the best course of action.
In conclusion, Epsom salt is a fantastic natural remedy to boost the health and productivity of your tomato plants. By understanding its benefits, preparing and applying an Epsom salt spray, and monitoring its effects, you can give your tomato plants the care they deserve and enjoy a thriving tomato garden all season long!