Tomato Leaf Curl Virus Treatment Organic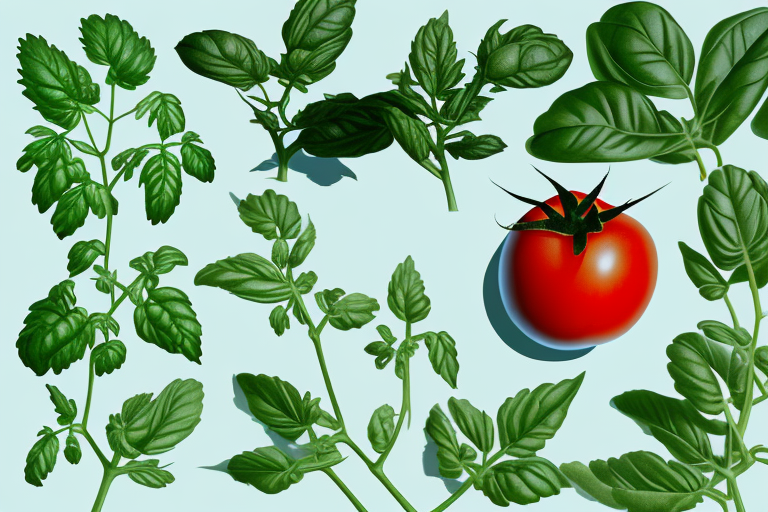 If you're a tomato enthusiast, you know how disheartening it can be to see your beloved plants suffering from tomato leaf curl virus. This pesky disease can wreak havoc on your tomato plants, stunting their growth and reducing their yield. Fortunately, there are organic treatment options available that can help you combat this virus and restore your tomato plants to their former glory. In this article, we'll explore the different aspects of tomato leaf curl virus and discuss effective organic treatments that can help you overcome this challenge.
Understanding Tomato Leaf Curl Virus
Before diving into the treatment options, it's essential to have a good understanding of tomato leaf curl virus and how it affects your plants. This viral disease is transmitted by the whitefly, a tiny insect that feeds on the sap of tomato plants. Once infected, tomato plants exhibit distinct symptoms that can be easily diagnosed.
Tomato leaf curl virus is a significant concern for tomato growers worldwide. The virus affects various tomato cultivars and can cause severe damage to the plants if left untreated. It is crucial to have a comprehensive understanding of this virus to effectively manage and control its spread.
The whitefly, scientifically known as Bemisia tabaci, is the primary vector responsible for transmitting the tomato leaf curl virus. These small, winged insects infest tomato plants and feed on the sap, simultaneously injecting the virus into the plant's vascular system. As a result, the virus replicates within the plant, leading to the characteristic symptoms.
Causes of Tomato Leaf Curl Virus
The main cause of tomato leaf curl virus is the presence of whiteflies in your garden. These tiny insects inject the virus into the tomato plants as they feed on their sap. The virus then spreads throughout the plant, affecting its growth and development. Additionally, poor ventilation and high temperatures can also contribute to the spread of the virus.
Whiteflies thrive in warm and humid conditions, making them more prevalent during the summer months. Lack of proper air circulation in greenhouses or densely planted gardens can create an ideal environment for whiteflies to multiply and transmit the virus. It is essential to monitor and control the whitefly population to prevent the spread of the tomato leaf curl virus.
Symptoms and Diagnosis of Tomato Leaf Curl Virus
Identifying the symptoms of tomato leaf curl virus is crucial in determining the appropriate treatment. Infected plants exhibit curling and upward cupping of the leaves, yellowing or bronzing of the foliage, and overall stunted growth. Leaf curling is one of the most characteristic symptoms of this virus.
As the virus progresses, the affected leaves may become brittle and show signs of necrosis. The plant's overall vigor and productivity decline, leading to reduced fruit yield. It is important to note that the symptoms of tomato leaf curl virus can vary depending on the tomato cultivar and environmental conditions.
To confirm the presence of the virus, you can send samples of infected plants to a laboratory for diagnosis. Plant pathologists can conduct molecular tests and examine the plant tissues to detect the presence of the virus. Alternatively, you can consult with a plant pathologist or an experienced gardener for a visual diagnosis. Their expertise can help you accurately identify the virus and take appropriate measures to manage its spread.
Early detection and diagnosis of tomato leaf curl virus are essential for effective management. By understanding the causes and symptoms of this viral disease, you can implement preventive measures and treatments to protect your tomato plants and ensure a healthy harvest.
Organic Treatment Options for Tomato Leaf Curl Virus
When it comes to treating tomato leaf curl virus organically, there are several effective options that you can explore. Here are a few tried-and-tested methods:
Using Neem Oil for Treatment
One popular organic treatment for tomato leaf curl virus is neem oil. Neem oil is derived from the seeds of the neem tree and has potent pesticidal properties. To use neem oil, dilute it according to the instructions on the package and spray it on the affected plants. Neem oil not only kills whiteflies but also disrupts their life cycle, preventing further spread of the virus.
Neem oil has been used for centuries in traditional Indian medicine and is known for its various medicinal properties. Apart from its pesticidal effects, neem oil also has antifungal and antibacterial properties, making it a versatile treatment option for various plant diseases.
When using neem oil, it is important to ensure that you cover both the upper and lower surfaces of the leaves, as whiteflies tend to hide on the undersides of the leaves. Additionally, it is advisable to apply neem oil in the early morning or late evening when the weather is cooler, as extreme heat can cause the oil to evaporate quickly.
Beneficial Insects and their Role
Introducing beneficial insects into your garden can also help control the population of whiteflies and reduce the spread of tomato leaf curl virus. Ladybugs, lacewings, and parasitic wasps are all natural predators of whiteflies. By creating a welcoming environment for these beneficial insects, you can establish a natural balance and keep whitefly populations in check.
Ladybugs, also known as lady beetles, are voracious predators of aphids, whiteflies, and other soft-bodied insects. They can consume hundreds of pests in a single day, making them an excellent biological control method for tomato leaf curl virus. Lacewings, on the other hand, have larvae that feed on whitefly eggs and nymphs, helping to break their life cycle. Parasitic wasps lay their eggs inside whitefly larvae, eventually killing them and preventing further infestation.
To attract beneficial insects to your garden, you can plant flowers such as marigolds, daisies, and alyssums, which provide nectar and pollen for these insects. Additionally, avoiding the use of chemical pesticides can help maintain a healthy population of beneficial insects, as pesticides can harm them as well.
Homemade Organic Sprays
If you prefer a DIY approach, you can make homemade organic sprays to combat tomato leaf curl virus. Ingredients like garlic, onion, and hot peppers have natural insecticidal properties. Blend these ingredients with water and strain the mixture. Then, spray the homemade organic spray on your tomato plants to deter whiteflies and control the spread of the virus.
Garlic contains sulfur compounds that repel insects, while onion contains sulfur and quercetin, which have insecticidal and antifungal properties. Hot peppers, specifically capsaicin found in them, can act as a natural insect deterrent. When combined, these ingredients create a potent organic spray that can help protect your tomato plants from whiteflies and tomato leaf curl virus.
When using homemade organic sprays, it is important to apply them evenly on the plants, covering both the upper and lower surfaces of the leaves. It is advisable to test the spray on a small portion of the plant first to check for any adverse reactions. Additionally, reapply the spray after rain or heavy watering, as it may wash off.
Preventive Measures Against Tomato Leaf Curl Virus
Prevention is always better than cure, and this applies to tomato leaf curl virus as well. By implementing a few preventive measures, you can significantly reduce the risk of your tomato plants getting infected. Here are some preventive measures to consider:
Choosing Resistant Varieties
When selecting tomato varieties for your garden, opt for those that are resistant to tomato leaf curl virus. Resistant varieties are less susceptible to the virus and can withstand whitefly infestations better than non-resistant varieties.
Proper Planting Techniques
Proper planting techniques can make a big difference in preventing tomato leaf curl virus. Plant your tomatoes in well-draining soil and provide them with adequate space for air circulation. Ensuring proper spacing between plants helps prevent the spread of the disease.
Regular Monitoring and Maintenance
Regular monitoring of your tomato plants is crucial in catching any signs of tomato leaf curl virus early on. Inspect the plants frequently for symptoms and take appropriate action as soon as you spot any signs of infection. Also, maintaining good plant hygiene by removing any infected leaves or plants can prevent the virus from spreading further.
Case Studies: Success Stories of Organic Treatment
While organic treatments for tomato leaf curl virus are effective, hearing real-life success stories can boost your confidence and motivate you to try these methods. Here are two case studies of farmers who successfully treated tomato leaf curl virus organically:
Farmer A's Experience with Neem Oil
Farmer A, struggling with a severe whitefly infestation and tomato leaf curl virus, decided to try neem oil. Diligently following the instructions on the package, Farmer A sprayed neem oil on the affected plants. Within a few weeks, the whitefly population drastically reduced, and the plants showed signs of recovery. Farmer A continued with regular neem oil applications and prevented the virus from spreading to other plants in the garden.
Farmer B's Success with Beneficial Insects
Farmer B, after battling whiteflies for several seasons, decided to introduce beneficial insects to the garden. By planting flowers that attract ladybugs and lacewings and installing insect houses for parasitic wasps, Farmer B created a perfect environment for these natural predators. Over time, the beneficial insects established themselves in the garden, effectively controlling the whitefly population and minimizing the effects of tomato leaf curl virus.
Frequently Asked Questions about Tomato Leaf Curl Virus
Here are answers to some commonly asked questions regarding tomato leaf curl virus:
Can Tomato Leaf Curl Virus Affect Other Plants?
No, tomato leaf curl virus is specific to tomato plants and does not infect other types of plants. However, whiteflies can transmit other viruses to a variety of plants, so it's essential to stay vigilant and take appropriate preventive measures in your garden.
Is Tomato Leaf Curl Virus Harmful to Humans?
No, tomato leaf curl virus is not harmful to humans. It is a plant disease that affects tomato plants exclusively and does not pose any health risks to humans.
With the right knowledge, organic treatments, and preventive measures, you can effectively combat tomato leaf curl virus and keep your tomato plants healthy and thriving. Remember to regularly monitor your plants, intervene at the first sign of infection, and implement preventive measures to minimize the risk of future outbreaks. By taking a proactive approach, you can enjoy a bountiful harvest of beautiful, disease-free tomatoes. Happy gardening!