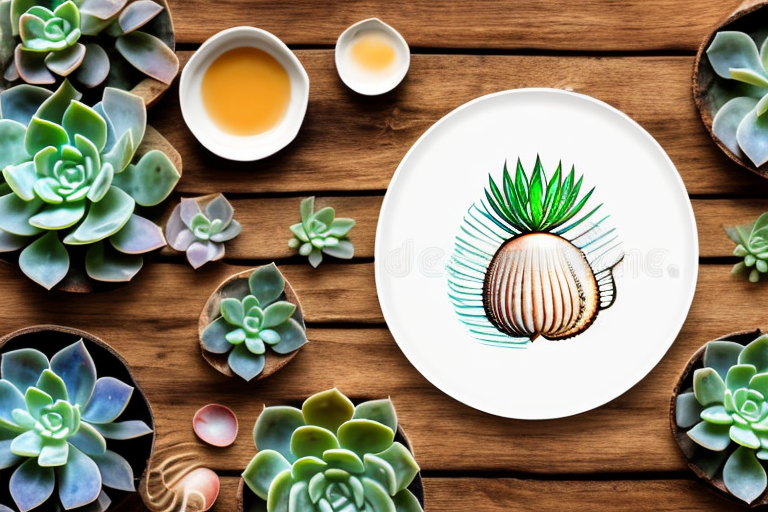 If you're a fan of unique and eye-catching succulents, then the Scallop Succulent is a must-have for your collection. This fascinating plant, with its scalloped leaves and vibrant colors, is sure to add a touch of charm to any garden or indoor space.
Understanding the Scallop Succulent
Before diving into how to grow and care for this stunning succulent, let's take a moment to learn about its origin and characteristics.
Origin and History of Scallop Succulent
The Scallop Succulent, also known as Kalanchoe thyrsiflora, is native to South Africa. It belongs to the Crassulaceae family, which includes other popular succulents like Jade Plants and Echeverias.
This succulent has a long and rich history, with indigenous peoples in Africa using it for various medicinal purposes. The leaves of the Scallop Succulent were believed to have healing properties and were used to treat ailments such as burns, insect bites, and skin irritations. The plant was highly regarded for its ability to soothe and heal, and its use in traditional medicine has been passed down through generations.
Over time, the Scallop Succulent has gained popularity across the globe as a coveted ornamental plant. Its unique beauty and easy care requirements have made it a favorite among succulent enthusiasts and collectors.
Characteristics of Scallop Succulent
One of the standout features of the Scallop Succulent is its unique leaf formation. The leaves grow in a tight rosette shape, with serrated edges resembling the scallop of a shell. This distinct leaf structure not only adds visual interest but also serves a functional purpose. The serrated edges help the plant to conserve water by reducing surface area and minimizing moisture loss.
The outer leaves of the Scallop Succulent are a stunning bluish-green color, providing a striking contrast against the reddish hue of the inner leaves. This color variation is a result of the plant's natural response to light. When exposed to direct sunlight, the inner leaves undergo a process called "blushing," where they turn a vibrant red. This adaptation helps protect the plant from intense sunlight and reduces the risk of sunburn.
When mature, the Scallop Succulent can reach a height of about 12 inches, making it an ideal addition to your garden or tabletop display. Its compact size and attractive foliage make it a versatile plant that can be grown in containers, rock gardens, or as part of a succulent arrangement.
In addition to its visual appeal, the Scallop Succulent is also known for its ability to purify the air. Like other succulents, it releases oxygen and absorbs carbon dioxide during the day, making it a great choice for indoor spaces.
Overall, the Scallop Succulent is a fascinating plant with a rich history and captivating characteristics. Whether you're a beginner gardener or an experienced succulent enthusiast, this versatile succulent is sure to bring beauty and interest to your space.
How to Grow Scallop Succulent
Now that we've covered the basics, let's explore how to successfully grow and care for the Scallop Succulent.
The Scallop Succulent, also known as the Curio talinoides, is a unique and visually striking succulent that is native to South Africa. Its distinctive scalloped leaves and trailing stems make it a popular choice for both indoor and outdoor gardens.
When it comes to growing this succulent, providing the right soil conditions is crucial for its overall health and growth.
Ideal Soil Conditions
Like most succulents, the Scallop Succulent thrives in well-draining soil. Use a mixture of sandy soil, perlite, and peat moss to ensure proper drainage and aeration for the roots. This combination mimics the succulent's natural habitat and prevents the roots from rotting.
In addition to the soil mix, it is important to choose the right pot or container for your Scallop Succulent. Ensure that the pot has drainage holes to allow excess water to escape. This will prevent water from pooling at the bottom of the pot, which can lead to root rot.
When planting the succulent, gently loosen the roots and place it in the pot, making sure it is centered. Fill the remaining space with the soil mixture, pressing it lightly around the base of the plant.
Sunlight and Temperature Requirements
To keep your Scallop Succulent happy, place it in an area that receives bright, indirect sunlight. While it can tolerate some direct sunlight, avoid exposing it to intense midday sun, as it can scorch the leaves.
Indoor growers can place the succulent near a south or east-facing window to provide it with the right amount of light. Outdoor growers should consider providing some shade during the hottest parts of the day to protect the plant from excessive heat.
As for temperature, this succulent prefers a warm climate. It can tolerate temperatures as low as 50°F (10°C) but thrives best in temperatures between 70-85°F (21-29°C). In colder regions, it is best to grow the Scallop Succulent as an indoor plant or move it indoors during the winter months.
Watering Schedule
One of the most common mistakes succulent enthusiasts make is overwatering their plants. The Scallop Succulent is no exception. Allow the soil to dry completely between waterings, and then give it a thorough watering, ensuring the water reaches the root system.
During the growing season, which is typically spring and summer, water the succulent once every 7-10 days, depending on the humidity levels in your area. Be sure to water the plant at the base, avoiding wetting the leaves, as this can lead to fungal diseases.
During the winter months, when the plant goes into dormancy, reduce watering frequency to once every two to three weeks. This mimics the natural conditions of its native habitat, where rainfall is scarce during the colder months.
Remember, it is always better to underwater than overwater your Scallop Succulent. The plant has adapted to survive in arid conditions, and too much water can quickly lead to root rot and other issues.
By providing the right soil conditions, sunlight, and watering schedule, you can ensure the health and longevity of your Scallop Succulent. With its unique appearance and low maintenance requirements, it is a wonderful addition to any succulent collection or garden.
Propagating Scallop Succulent
If you want to expand your Scallop Succulent collection or share this beauty with friends, propagating the plant is a simple and rewarding process.
Step-by-Step Guide to Propagation
1. Start by selecting a healthy and mature leaf from the mother plant. Gently twist the leaf until it detaches from the stem.
2. Allow the leaf to dry for a few days until the cut end forms a callus. This step is crucial to prevent the leaf from rotting during propagation.
3. Prepare a small pot with a well-draining soil mixture. Place the calloused end of the leaf into the soil, burying it just deep enough to ensure stability.
4. After planting, mist the soil lightly to provide some moisture without overwatering.
5. Keep the pot in a warm and bright location, but out of direct sunlight. Mist the leaf occasionally to maintain humidity and prevent drying out.
6. In a few weeks to a couple of months, small plantlets, also known as pups, will start to emerge from the base of the leaf. Once they reach a decent size, they can be transplanted into individual pots.
Common Mistakes and How to Avoid Them
Propagation can be a delicate process, so it's essential to avoid some common mistakes that can hinder the success of your Scallop Succulent's growth:
1. Overwatering: Be mindful not to overwater the leaf during propagation. It can lead to rotting and failure to root.
2. Insufficient Light: While keeping the plant out of direct sunlight during propagation is crucial, make sure it receives enough bright light for successful growth.
3. Lack of Patience: Propagation takes time, and it's essential to be patient. Don't be tempted to disturb the leaf or pups prematurely, as this can prevent proper rooting.
Troubleshooting Scallop Succulent Problems
Even with the best care, succulents can sometimes face challenges. Scallop Succulents are no exception. Let's explore some common issues and how to address them.
Identifying Common Diseases and Pests
One of the most common issues faced by the scallop succulent is root rot, usually caused by overwatering or poor drainage. Signs of root rot include wilting, yellowing leaves, and a foul smell coming from the soil. To prevent root rot, ensure adequate drainage and avoid waterlogged soil.
Scale insects can also be a problem, appearing as small brown or white bumps on the leaves. To combat this, gently wipe the affected areas with a cotton swab dipped in rubbing alcohol.
Effective Treatment Methods
If you notice any signs of disease or pests, take immediate action to address the issue. Remove any infected or damaged leaves to prevent further spread. Adjust watering habits to prevent root rot, and apply natural or organic pest control methods to combat scale insects.
Design Ideas for Scallop Succulent in Your Garden
Now that you're equipped with knowledge on how to grow and care for Scallop Succulents, let's explore some exciting design ideas to incorporate them into your garden or home.
Creating a Succulent Garden
Scallop Succulents make a beautiful addition to a succulent garden. Create a visually appealing display by combining different succulent varieties, including Echeverias, Sedums, and Aeoniums. Play with different colors, textures, and heights to create an eye-catching arrangement.
You can also build a succulent wall or vertical garden using a variety of succulents, including the Scallop Succulent. This not only saves space but also creates a stunning living piece of art.
Incorporating Scallop Succulent in Home Decor
The unique shape and colors of the Scallop Succulent make it a fantastic addition to your indoor decor. Place a potted Scallop Succulent on a sunny windowsill or use them as striking centerpieces on your dining table or sideboard.
You can also create a stylish terrarium using glass containers or hanging planters to showcase the beauty of your Scallop Succulent.
With its captivating aesthetics and relatively easy care, the Scallop Succulent is a fantastic choice for both seasoned succulent enthusiasts and beginners alike. Add this plant to your collection or garden, and enjoy the beauty it brings to your space. Happy gardening!