Aphids on Hibiscus Flowers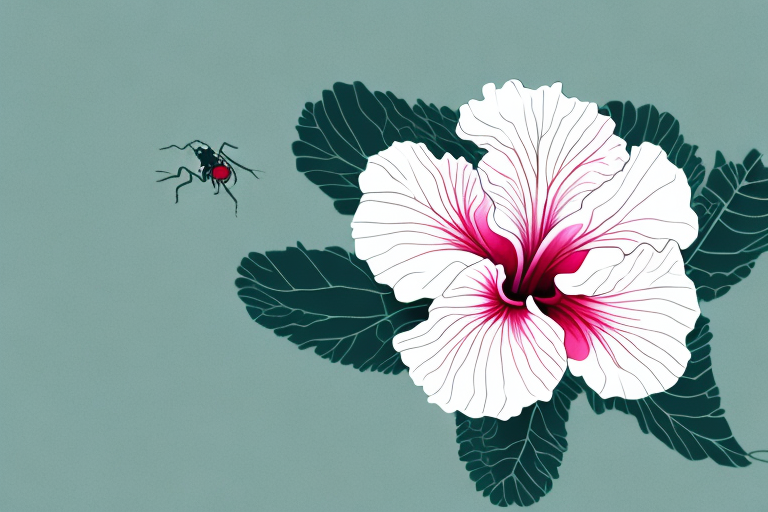 Welcome to our comprehensive guide on dealing with aphids on hibiscus flowers. If you're a gardener or simply a lover of these beautiful blooms, you may have encountered the frustrating presence of aphids at some point. Fear not, for we're here to arm you with the knowledge and strategies to tackle these tiny pests head-on!
Understanding Aphids: An Introduction
Before we delve into the specifics of aphids on hibiscus flowers, let's first understand what aphids are. These minuscule insects, often referred to as plant lice, belong to the superfamily Aphidoidea. Despite their small size, aphids can cause significant damage to plants through their feeding habits and ability to reproduce rapidly.
Typically, aphids are wingless insects, but some species do possess wings, allowing them to migrate and infest new areas. They have a pear-shaped body with long antennae and come in various colors, such as green, yellow, black, or brown. These undesirable pests are often found in colonies, gathering in large numbers on the undersides of leaves or tender stems.
Aphids are known for their ability to reproduce at an alarming rate. Females can give birth to live young without the need for mating, a process known as parthenogenesis. This enables aphid populations to rapidly increase in size, leading to infestations that can quickly overwhelm plants.
In addition to their feeding habits, aphids also pose a threat to plants through the transmission of plant viruses. Some species of aphids are capable of carrying and spreading viruses that can cause diseases in plants, leading to stunted growth, discoloration, and even death. This makes it crucial to control aphid populations to prevent the spread of these harmful viruses.
The Life Cycle of Aphids
Aphids have a complex life cycle that consists of several distinct stages. Understanding this cycle is essential for effectively managing and controlling aphid populations on your hibiscus flowers.
The life cycle begins with aphids hatching from eggs laid during the previous season. These young aphids, known as nymphs, start feeding on hibiscus plants as soon as they emerge. Nymphs molt several times as they grow, shedding their exoskeletons and developing into wingless adults.
Within a few weeks, winged adult aphids are produced, allowing for the colonization of new plants or the dispersal of the population. This asexual reproductive phase permits aphids to multiply rapidly, leading to widespread infestations if left unchecked.
In addition to asexual reproduction, aphids may also engage in sexual reproduction during certain times of the year. This process involves the production of males and females, usually in response to environmental cues.
After mating, the female aphids lay fertilized eggs that will overwinter and hatch in the following spring. These eggs are typically laid on the bark or twigs of host plants, providing protection and a food source for the emerging nymphs.
Once the eggs hatch, the nymphs go through several instars, or developmental stages, before reaching adulthood. During each instar, the nymphs continue to feed on the sap of the host plant, using their piercing-sucking mouthparts to extract nutrients.
Identifying Aphids on Hibiscus Flowers
Recognizing aphids on hibiscus flowers is crucial to prompt action. These pests tend to cluster on new growth, flower buds, or the undersides of leaves. By inspecting your plants regularly, you can easily spot the signs of aphid infestation.
Aphids can come in various colors depending on the species and may be winged or wingless. Look for clusters of small insects, usually measuring between 1-10mm, which could be green, yellow, black, or brown. Some species even develop a waxy or wool-like coating.
Another telltale sign of aphids on hibiscus flowers is the presence of honeydew, a sticky secretion produced by aphids as they feed. This substance often attracts ants and encourages the growth of sooty mold, a dark-colored fungus that coats leaves and flowers.
It is important to note that aphids reproduce rapidly, with females capable of producing up to 80 offspring in a single week. This rapid reproduction can lead to a significant infestation if left unchecked. Therefore, it is crucial to take immediate action upon identifying aphids on your hibiscus flowers.
Common Types of Aphids Found on Hibiscus Flowers
Several aphid species commonly infest hibiscus flowers. By familiarizing yourself with these pests, you can better identify and address their presence.
One common culprit is the Green Peach Aphid (Myzus persicae), which not only affects hibiscus but also a wide range of other plants. These green aphids have a preference for shoots and new growth, making hibiscus leaves and buds a prime target.
Another frequently encountered species is the Cotton Aphid (Aphis gossypii). These tiny insects can vary in color, appearing green, yellow, or black. Cotton aphids reproduce at a remarkable rate, making early detection and intervention essential to prevent severe infestations.
The Oleander Aphid (Aphis nerii) is another strain of aphids that commonly affects hibiscus plants. They are usually pale yellow or green and congregate near flower buds.
While these are some of the notable aphid species, it's crucial to note that new strains can emerge, so monitoring your plants regularly will aid in early detection of infestations.
In addition to the Green Peach Aphid, Cotton Aphid, and Oleander Aphid, there are a few other aphid species that can be found on hibiscus flowers. The Rose Aphid (Macrosiphum rosae) is one such species that infests hibiscus plants. These aphids are typically green or pink and can cause damage by sucking sap from the plant's leaves and stems.
Signs and Symptoms of Aphid Infestation on Hibiscus Flowers
Aphids can cause a range of signs and symptoms that indicate their presence on hibiscus flowers. By being vigilant, you can act promptly to prevent aphid populations from spiraling out of control.
The first signs of infestation usually include distorted or curled young leaves, as aphids prefer to feed on tender growth. As the infestation progresses, you might notice wilting or yellowing leaves, stunted growth, and deformed flowers.
Inspect the undersides of leaves for clusters of aphids or their shed skins. Pay close attention to young shoots and buds, as aphids are often drawn to these parts of the plant. Additionally, keep an eye out for the presence of honeydew and the subsequent formation of sooty mold.
Another sign of aphid infestation on hibiscus flowers is the presence of ants. Aphids produce a sticky substance called honeydew, which ants are attracted to and will often feed on. If you notice a trail of ants on your hibiscus plants, it could be an indication of an aphid infestation. Ants may also be seen actively tending to the aphids, protecting them from predators and moving them to new feeding sites.
The Effects of Aphids on Hibiscus Flower Health and Growth
Aphids can wreak havoc on the health and growth of hibiscus flowers. Their feeding activities involve piercing plant tissue and sucking out vital sap, causing damage both directly and indirectly.
Direct feeding by aphids often results in distorted leaves, stunted growth, and deformed flowers. Severe infestations can lead to the yellowing and premature dropping of leaves. Additionally, the presence of honeydew can create an environment suitable for the growth of sooty mold, which further affects the aesthetic value of the plant.
Indirectly, aphids can also transmit viral diseases between plants. These viruses can further weaken hibiscus flowers, compromising their overall health and vigor.
Furthermore, aphids reproduce rapidly, with females capable of producing multiple generations in a single season. This rapid reproduction can lead to exponential population growth, exacerbating the damage caused to hibiscus flowers. It is important to monitor and control aphid populations early on to prevent widespread infestations.
In terms of control measures, there are several options available for managing aphids on hibiscus flowers. One approach is to introduce natural predators, such as ladybugs or lacewings, which feed on aphids and help keep their populations in check. Another method is to use insecticidal soaps or oils, which can be sprayed directly on the affected plants to kill aphids. Additionally, practicing good garden hygiene, such as removing and disposing of infested plant material, can help prevent the spread of aphids to other hibiscus plants.