Hibiscus Tree Turning Yellow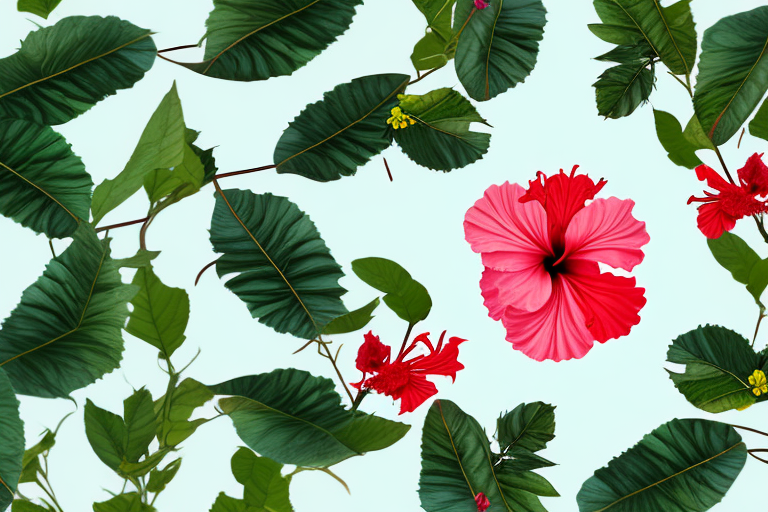 If your beloved hibiscus tree has suddenly started turning yellow, it can be quite alarming. Don't worry, though – there are plenty of strategies you can employ to diagnose the problem and bring your tree back to health. In this article, we will explore the various reasons why hibiscus trees may turn yellow and discuss effective treatment and prevention strategies to keep them thriving. Let's dive in!
Understanding the Hibiscus Tree
Before we delve into the causes and solutions, it's essential to familiarize ourselves with the characteristics of a healthy hibiscus tree. These stunning flowering plants love warm weather and thrive in bright, direct sunlight. They are typically seen in tropical and subtropical regions, adding a vibrant touch to gardens and landscapes. Recognizing what makes a hibiscus tree healthy is vital for diagnosing any issues that may arise.
When you think of a healthy hibiscus tree, imagine a majestic plant standing tall and proud, its branches adorned with lush green foliage that dances in the gentle breeze. The leaves are a vibrant shade of green, a testament to the tree's vitality and well-being. As you gaze upon this magnificent sight, your eyes are drawn to the abundant number of vivid, eye-catching blooms that grace the tree. Each flower is a masterpiece of nature, showcasing a variety of colors, from fiery reds and oranges to delicate pinks and purples. The hibiscus tree is a true showstopper, captivating all who lay eyes upon it.
Characteristics of a Healthy Hibiscus Tree
A healthy hibiscus tree will display lush green foliage and produce an abundant number of vivid, eye-catching blooms. Its leaves should be free from discoloration, with no signs of yellowing or wilting. The vibrant green color of the leaves indicates that the tree is receiving an ample amount of nutrients and water, allowing it to thrive. The blooms, on the other hand, are a testament to the tree's ability to produce an abundance of flowers, attracting pollinators from far and wide.
But it's not just the appearance of the hibiscus tree that determines its health. A healthy hibiscus tree also possesses a sturdy stem, capable of supporting the weight of its branches and blooms. This strength is a sign of resilience, allowing the tree to withstand the elements and the occasional gust of wind without breaking or bending.
Furthermore, a healthy hibiscus tree is not easily susceptible to pests and diseases. Its leaves remain unblemished, unharmed by the tiny invaders that can wreak havoc on other plants. This resistance is a result of the tree's natural defenses, which protect it from harm and ensure its continued well-being.
The Importance of Hibiscus Tree in Landscaping
Before we jump into the causes of yellowing in hibiscus trees, let's take a moment to appreciate their significance in landscaping. These stunning trees add beauty and color to any garden or outdoor space, attracting pollinators such as bees and butterflies. As the hibiscus tree blooms, it becomes a hub of activity, buzzing with the sound of bees collecting pollen and butterflies gracefully fluttering from flower to flower.
But the hibiscus tree's role in landscaping goes beyond its aesthetic appeal. By protecting and maintaining the health of your hibiscus tree, you not only preserve its beauty but also contribute to the overall biodiversity and ecological balance of your surroundings. The tree provides a habitat for various insects and birds, creating a harmonious ecosystem within your garden. It is a living testament to the interconnectedness of nature and the importance of preserving our natural environment.
Causes of Yellowing in Hibiscus Trees
Yellowing in hibiscus trees can stem from various factors. Understanding these causes will help you pinpoint the issue and take appropriate action to remedy it. Let's explore some common culprits:
Nutrient Deficiencies
A lack of essential nutrients, such as nitrogen, iron, or magnesium, can cause hibiscus trees to turn yellow. These vital elements play a crucial role in the healthy growth and development of plants. Nutrient deficiencies can result from poor soil quality, improper fertilization techniques, or environmental factors. Identifying the specific nutrient lacking in your hibiscus tree is key to providing the necessary supplements and restoring its vibrant green color.
When it comes to nitrogen deficiency, you may notice that the older leaves of your hibiscus tree turn yellow first. Nitrogen is essential for the production of chlorophyll, the pigment responsible for the green color in plants. Without sufficient nitrogen, the leaves lose their vibrant hue and become pale or yellowish.
Iron deficiency, on the other hand, often leads to yellowing between the veins of the leaves, creating a pattern resembling a network of yellow lines. Iron is crucial for the synthesis of chlorophyll, and its scarcity can disrupt this process, resulting in yellowing foliage.
Magnesium deficiency manifests as yellowing between the veins of older leaves, while the veins themselves remain green. Magnesium is an essential component of chlorophyll molecules, and its deficiency can impair the plant's ability to produce this vital pigment.
Overwatering or Underwatering
Both overwatering and underwatering can contribute to the yellowing of hibiscus trees. Overwatering can lead to root rot and prevent the roots from absorbing nutrients effectively. This excessive moisture in the soil creates an oxygen-deprived environment, causing the roots to suffocate and eventually die off. As a result, the hibiscus tree may exhibit yellowing leaves as a sign of distress.
On the other hand, underwatering can cause water stress and deprive the plant of the hydration it needs to thrive. When a hibiscus tree doesn't receive enough water, it conserves moisture by reducing the amount of water it loses through its leaves. This conservation mechanism can lead to the yellowing of leaves as the plant tries to conserve energy and water.
Striking the right balance and maintaining proper watering techniques are critical in keeping your hibiscus tree healthy and free from yellowing. It's important to water your tree deeply and allow the soil to dry out slightly between waterings, ensuring that the roots receive enough oxygen to function optimally.
Pests and Diseases
Pests and diseases can also wreak havoc on hibiscus trees, causing yellowing leaves and overall decline. Common pests like aphids, spider mites, and whiteflies can sap the nutrients from the leaves, leaving them discolored and weakened. These tiny invaders pierce the plant's tissues and suck out the sap, leading to yellowing, curling, and distorted leaves.
Fungal infections, such as powdery mildew or root rot, can also contribute to the tree's yellowing. Powdery mildew appears as a white, powdery coating on the leaves, stems, and buds, inhibiting photosynthesis and causing yellowing and stunted growth. Root rot, on the other hand, occurs when the roots are constantly exposed to excessive moisture, leading to fungal growth and decay.
Implementing effective pest and disease control measures is essential for the long-term health of your hibiscus tree. Regularly inspecting your tree for signs of pests or diseases, using organic insecticides or fungicides when necessary, and practicing proper sanitation in your garden can help prevent yellowing and keep your hibiscus tree thriving.
Diagnosing the Problem
Now that we are familiar with the potential causes, it's time to diagnose the problem affecting your hibiscus tree. By observing the signs and symptoms, you can gain valuable insights into the underlying issue.
Signs and Symptoms to Look Out For
Apart from yellowing leaves, there are other signs that can offer valuable clues. Wilting, stunted growth, or leaf drop can indicate water-related issues. Discoloration, spots, or strange patterns on leaves may point to pest or disease problems. Conduct a thorough examination of your tree to gather as much information as possible, which will help you determine the most effective course of action.
Common Mistakes in Hibiscus Tree Care
It's also essential to address any potential mistakes you might be making in your hibiscus tree care routine. Inconsistent watering, excessive use of chemical fertilizers, or inadequate pest control measures can all contribute to the yellowing of leaves. Identifying and rectifying these mistakes will go a long way in nurse to revival your hibiscus tree back to its former glory.
Treatment and Prevention Strategies
Now that we have diagnosed the problem, it's time to explore effective treatment and prevention strategies to revitalize your hibiscus tree and ensure its long-term health.
Adjusting Watering Techniques
Proper watering techniques are crucial in preventing yellowing in hibiscus trees. Ensure that you are watering your tree deeply and infrequently, allowing the soil to dry out slightly between watering sessions. This helps establish a healthy root system and promotes nutrient absorption. Additionally, using well-draining soil mixes and incorporating organic matter can help regulate moisture levels and prevent water-related issues.
Providing Adequate Nutrients
Addressing nutrient deficiencies is vital to revive your hibiscus tree's vibrant green color. Conduct a soil test to determine any deficiencies and supplement accordingly. Organic compost, slow-release fertilizers, or targeted nutrient sprays can help provide the necessary elements for healthy growth. Remember to follow the recommended dosage and avoid overfertilization, as this can lead to further issues.
Pest and Disease Control
Tackling pests and diseases is essential for restoring and maintaining your hibiscus tree's health. Implement integrated pest management techniques such as introducing beneficial insects, using organic insecticides, or employing physical barriers. Regularly inspect your tree for signs of pests or diseases and take prompt action to prevent further damage.
Maintaining a Healthy Hibiscus Tree
Once you have successfully treated your hibiscus tree and brought it back to health, it's time to focus on long-term maintenance and care.
Regular Pruning and Care
Regular pruning helps promote air circulation and prevents the tree from becoming overcrowded. Remove any dead or dying branches and trim back excessive growth to maintain the tree's shape and structure. Additionally, keep an eye out for any signs of pests or diseases and address them immediately to prevent widespread damage.
Seasonal Considerations for Hibiscus Health
Understanding the specific needs of your hibiscus tree during different seasons is crucial for its overall health. Adjust your watering and fertilization routines accordingly, taking into account the changes in temperature and sunlight. Providing adequate protection during colder months or extreme weather conditions is essential to ensure your tree's survival and vitality.
Long-Term Strategies for Hibiscus Tree Health
In addition to regular care and maintenance, adopting long-term strategies can significantly contribute to your hibiscus tree's health and vibrancy. Planting companion plants that deter pests, improving soil structure with organic amendments, and avoiding excessive use of chemicals can all create a more favorable environment for your tree to thrive in.
By following these treatment and prevention strategies, you can nurse your ailing hibiscus tree back to its former green glory. Remember, maintaining a healthy hibiscus tree involves nurturing it through every stage – from identification to diagnosis and treatment, and finally, long-term care. With your dedication and proactive approach, you can enjoy the vibrant beauty of your hibiscus tree for years to come!