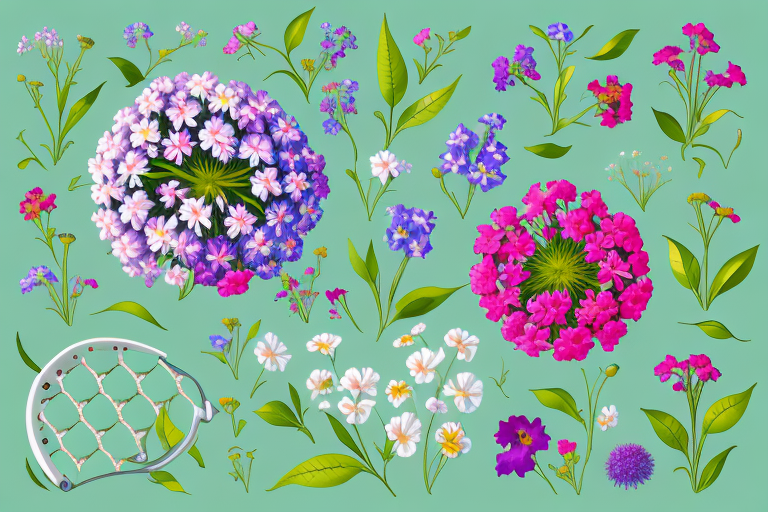 Sweet William is a popular flowering plant that adds a burst of color to gardens and landscapes. Whether you're a seasoned gardener or just starting out, understanding how to properly care for Sweet William is essential to ensure its growth and vitality. In this article, we will explore various aspects of Sweet William care, from its origin and planting requirements to maintenance tips and troubleshooting common problems. So, let's dive in and discover the secrets to successfully growing and nurturing Sweet William!
Understanding Sweet William: An Overview
If you're not familiar with Sweet William, let's start with a brief introduction to this charming plant. Originating from southern Europe, Sweet William belongs to the dianthus family, which includes other beloved flowers such as carnations and pinks. With its vibrant clusters of flowers and delightful fragrance, Sweet William has become a beloved addition to gardens worldwide.
But there's so much more to know about this captivating plant. Let's delve into its origin and history, as well as its unique characteristics that make it a favorite among gardeners.
Origin and History of Sweet William
The history of Sweet William dates back centuries, with its name thought to be derived from the famous English poet, William Wordsworth. Legend has it that Wordsworth was so enamored by the beauty of this flower that he named it after himself. Whether this tale is true or not, it adds a touch of romanticism to the already enchanting Sweet William.
Originally hailing from the Mediterranean region, Sweet William found its way to the British Isles during the 16th century. It quickly gained popularity among garden enthusiasts and became a beloved cottage garden favorite. Its versatility and ability to thrive in various climates and soil conditions contributed to its widespread cultivation.
Over the years, Sweet William has also been associated with various symbolic meanings. In the language of flowers, it is often seen as a symbol of gallantry and finesse. Its vibrant colors and sweet fragrance have made it a popular choice for bouquets and floral arrangements, adding a touch of elegance and charm to any occasion.
Characteristics of Sweet William
Sweet William is a fascinating plant with distinct characteristics that set it apart from other flowers. It is classified as a biennial or short-lived perennial, meaning it completes its life cycle over two years or has a relatively short lifespan. Despite this, it can self-seed and perpetuate its existence in the garden for many years.
When fully grown, Sweet William typically reaches a height of 12 to 24 inches, making it an ideal choice for border plantings or container gardens. Its foliage consists of slender, lance-shaped leaves that form a basal rosette, creating an attractive base for the stunning flower clusters.
The flowers of Sweet William are a true sight to behold. They come in a wide range of colors, including shades of pink, purple, white, and red. The blooms grow in compact clusters, creating a burst of color that can brighten up even the dullest of gardens. Not only are they visually appealing, but they also emit a sweet, spicy fragrance that adds an extra sensory dimension to the overall experience of Sweet William.
With its showy blooms and attractive foliage, Sweet William is sure to be a standout in any garden. It attracts pollinators such as bees and butterflies, making it a valuable addition for those interested in supporting local ecosystems and promoting biodiversity.
So, whether you're a seasoned gardener or just starting out, consider adding Sweet William to your landscape. Its rich history, captivating beauty, and delightful fragrance make it a plant worth cherishing.
Planting Sweet William
To ensure the success of your Sweet William, proper planting is crucial. Here are some key factors to consider when planting this delightful flower.
Sweet William, also known as Dianthus barbatus, is a popular perennial flower that is native to Southern Europe. It is a member of the carnation family and is loved for its vibrant and fragrant blooms. Planting Sweet William in your garden will not only add a splash of color but also attract butterflies and hummingbirds with its nectar-rich flowers.
Ideal Soil Conditions for Sweet William
Sweet William thrives in well-draining soil that is rich in organic matter. Before planting, amend the soil with compost or well-rotted manure to improve its fertility and drainage. A slightly acidic to neutral pH level ranging from 6.0 to 7.0 is optimal for this plant's growth.
When preparing the soil, it is important to remove any weeds or grass that may compete with the Sweet William for nutrients and water. Loosen the soil to a depth of at least 8 inches to ensure that the roots can penetrate easily and establish themselves.
For optimal growth, consider adding a layer of mulch around the base of the plant. Mulch helps to retain moisture in the soil, suppresses weed growth, and regulates soil temperature. Organic mulch, such as shredded bark or compost, is recommended for Sweet William.
Best Time to Plant Sweet William
The best time to plant Sweet William is in early spring after the danger of frost has passed. This will allow the plant to establish its roots before the hotter months arrive. However, if you missed the spring window, don't worry! Sweet William can also be planted in the fall, giving it a head start for the following year.
When planting Sweet William, make sure to space the plants at least 12 to 18 inches apart to allow for proper air circulation and prevent overcrowding. This will help reduce the risk of diseases and promote healthy growth.
Before planting, soak the Sweet William seedlings in water for about an hour to hydrate their roots. Dig a hole slightly larger than the root ball and gently place the seedling into the hole. Backfill the hole with soil, making sure that the top of the root ball is level with the surrounding soil.
After planting, water the seedlings thoroughly to settle the soil and eliminate any air pockets around the roots. Keep the soil consistently moist but not waterlogged. Overwatering can lead to root rot, while underwatering can cause the plants to wither and die.
Once the Sweet William plants have established themselves, regular watering is usually not necessary, as they are relatively drought-tolerant. However, during prolonged dry spells, it is important to provide supplemental irrigation to keep the plants healthy and blooming.
With proper care and attention, your Sweet William plants will reward you with beautiful blooms year after year. Enjoy the vibrant colors and delightful fragrance that this charming flower brings to your garden!
Caring for Your Sweet William
Now that your Sweet William is planted, let's explore the care it requires to thrive and flourish.
Watering Requirements
While Sweet William is relatively drought-tolerant, it's important to provide it with regular watering during dry spells. Aim to keep the soil evenly moist but not waterlogged. Water at the base of the plant to avoid wetting the foliage and increase the risk of diseases.
Sunlight and Temperature Needs
Sweet William prefers a sunny location with at least 6 hours of direct sunlight daily. However, it can also tolerate partial shade, especially in regions with intense afternoon sun. In terms of temperature, this resilient plant is adaptable and can withstand a wide range of climates, from cool to hot.
Pruning and Maintenance Tips
To keep your Sweet William looking its best, regular pruning is essential. Pinch off spent blooms to encourage continuous flowering and prevent the plant from going to seed prematurely. Additionally, removing any dead or damaged foliage will improve the plant's overall appearance and prevent the spread of diseases.
Troubleshooting Common Sweet William Problems
Despite its resilience, Sweet William may encounter a few challenges along the way. Let's explore some common problems and how to address them.
Dealing with Pests and Diseases
Sweet William is generally pest-resistant but can occasionally attract aphids, slugs, and snails. Regularly inspect your plants for any signs of infestation and take appropriate measures to control them. Additionally, provide good air circulation by spacing your plants adequately to prevent fungal diseases.
Addressing Growth and Blooming Issues
If your Sweet William is not blooming as expected, inadequate sunlight or nutrient deficiencies may be the culprits. Ensure your plant is receiving enough sunlight and consider fertilizing with a balanced organic fertilizer to provide the necessary nutrients for robust growth and abundant blooms.
Propagating Sweet William
If you're intrigued by the beauty of Sweet William and want to expand your garden, propagation is the way to go.
Propagation through Seeds
Sweet William can easily be propagated from seeds. Collect the seeds after the plant has finished flowering and the seed capsules have dried. Sow the seeds in well-prepared soil in early spring or fall, keeping them evenly moist until germination, which usually takes about 2 to 3 weeks.
Propagation through Cuttings
Another method of propagation is through stem cuttings. In late spring or early summer, take 3 to 4 inch cuttings from healthy Sweet William plants. Remove the lower leaves, dip the cut ends in rooting hormone, and plant them in a well-draining potting mix. Keep the cuttings moist and provide them with bright, indirect light until roots form.
By following these propagation methods, you can easily multiply your Sweet William and share its beauty with others.
In conclusion, Sweet William is a delightful flowering plant that will undoubtedly become the highlight of your garden. With its vibrant colors, intoxicating fragrance, and easy-care nature, it's no wonder why gardeners of all levels of experience adore this charming plant. By understanding its care requirements, from proper planting techniques to regular maintenance, you will be rewarded with a stunning display of blooms that will bring joy and life to your outdoor space. So, give Sweet William a try, and let its beauty enchant both you and your garden!