Perennial Sweet Pea Invasive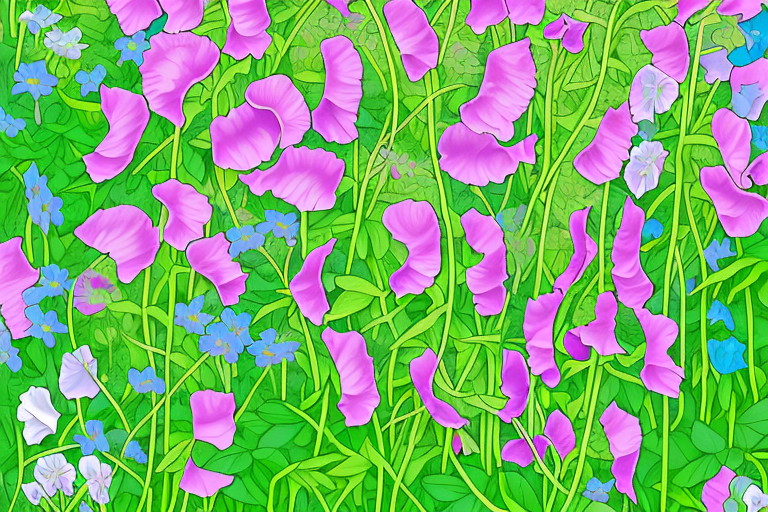 Gardening can bring so much joy and beauty to our lives, but sometimes, even the most innocent-looking plants can turn out to be troublemakers. One such plant is the perennial sweet pea. It may seem innocuous at first, with its delicate flowers and sweet fragrance, but don't be fooled. This seemingly harmless plant is actually an invasive species that can wreak havoc in your garden if left unchecked. In this article, we will delve into the intriguing world of the perennial sweet pea, exploring its origins, growth habits, and the measures you can take to control its invasive tendencies.
Understanding the Perennial Sweet Pea
Origin and Description of the Perennial Sweet Pea
The perennial sweet pea (Lathyrus latifolius) is native to southern Europe and has been introduced to other parts of the world as an ornamental plant. With its beautiful clusters of pink, purple, or white flowers, it's no wonder that gardeners fell in love with this plant. Growing up to six feet tall, it can be an eye-catching addition to any garden.
Its long, slender stems are covered with lush, green foliage, and the flowers bloom from late spring to early summer. The sweet scent of these blossoms can be intoxicating, drawing in bees and butterflies from far and wide.
But did you know that the perennial sweet pea has a fascinating history? It was first discovered in the Mediterranean region, where it was highly regarded for its beauty and fragrance. Ancient Greeks and Romans often used the sweet pea in their gardens and even in religious ceremonies. Over time, this captivating plant found its way to other parts of Europe and eventually to other continents.
As the perennial sweet pea gained popularity, breeders began developing new varieties with different colors and sizes. Today, you can find cultivars that range from deep magenta to delicate pastels, offering a wide array of options for gardeners to choose from.
Growth Habits and Lifecycle
The perennial sweet pea is a hardy plant that thrives in full sun or partial shade. It prefers well-drained soil and can tolerate dry conditions. Once established, it can survive for several years, producing more flowers each season.
But what makes the perennial sweet pea truly unique is its ability to fix nitrogen in the soil. This means that it has a symbiotic relationship with certain bacteria that allows it to convert atmospheric nitrogen into a form that can be used by plants. This makes the perennial sweet pea a valuable addition to any garden, as it helps enrich the soil and improve its fertility.
However, this is also one of the reasons why the perennial sweet pea can become so invasive. Its fast growth rate and ability to spread rapidly make it a formidable adversary in the garden. If left unchecked, it can quickly take over an area, outcompeting other plants and disrupting the natural balance of the ecosystem.
Therefore, it is important to carefully manage the perennial sweet pea in your garden. Regular pruning and monitoring can help keep its growth in check and prevent it from becoming invasive. By striking the right balance, you can enjoy the beauty and benefits of this remarkable plant without compromising the health of your garden.
The Invasive Nature of Perennial Sweet Pea
How the Perennial Sweet Pea Spreads
The perennial sweet pea spreads mainly through its seeds. The seed pods that form after flowering contain several seeds, which can be catapulted several meters away when they dry and split open. This rapid dispersal mechanism allows the plant to colonize new areas quickly, outcompeting native plants for resources.
In addition to its seed dispersal strategy, the perennial sweet pea possesses other remarkable mechanisms that aid in its spread. One such mechanism is its ability to produce an abundance of nectar, attracting various pollinators such as bees and butterflies. These pollinators unknowingly aid in the plant's proliferation by transferring pollen from one flower to another, facilitating the formation of new seeds.
Furthermore, the perennial sweet pea has a vigorous underground rhizome system that allows it to spread horizontally. These rhizomes, which are thickened underground stems, can regenerate new shoots even if the plant is cut back or pulled out. This remarkable ability makes the eradication of this invasive species a daunting task for gardeners and conservationists alike.
Environmental Impact of the Invasive Species
While the perennial sweet pea may be beautiful, its invasive nature can have detrimental effects on the environment. By displacing native plants, it can disrupt ecosystems and reduce biodiversity. This can have a cascading effect on other organisms that rely on these plants for food and shelter.
Moreover, the rapid growth and dense foliage of the perennial sweet pea can create a thick canopy, shading out other plant species and preventing them from receiving sunlight. This leads to a decline in the diversity of plant life in affected areas, potentially altering the composition of entire ecosystems. The loss of native plant species can also disrupt the delicate balance of nutrient cycling, further exacerbating the negative impact on the environment.
Additionally, the perennial sweet pea's ability to fix nitrogen from the atmosphere through a symbiotic relationship with nitrogen-fixing bacteria gives it a competitive advantage over other plants. This increased nitrogen availability can alter soil composition, favoring the growth of invasive species like the perennial sweet pea while hindering the growth of native plants adapted to nutrient-poor conditions.
In conclusion, the invasive nature of perennial sweet pea poses a significant threat to ecosystems and biodiversity. Its efficient seed dispersal, underground rhizome system, and ability to outcompete native plants have allowed it to establish itself in various habitats. Efforts to control and eradicate this invasive species are crucial to protect the integrity of natural ecosystems and preserve native plant diversity.
Identification and Control Measures
Recognizing Perennial Sweet Pea in Your Garden
Identifying the perennial sweet pea in your garden is the first step in controlling its spread. Look for the telltale signs of this invader, such as its twining stems, compound leaves with oval leaflets, and, of course, the distinctive clusters of flowers. Familiarizing yourself with the plant's characteristics will enable you to detect it early and take prompt action.
Effective Methods for Controlling and Eradicating the Plant
Controlling the perennial sweet pea requires a multi-pronged approach. Start by removing any existing plants, making sure to dig out the entire root system to prevent regrowth. Be vigilant in removing any seedlings that may sprout up in the future.
For larger infestations, chemical control may be necessary. Herbicides specifically formulated for leguminous plants can be effective in suppressing the growth of the perennial sweet pea. However, as with any chemical application, it is essential to follow the instructions carefully and consider the potential impact on other plants and the environment.
Case Studies of Perennial Sweet Pea Invasion
Impact on Local Flora and Fauna
The invasive nature of the perennial sweet pea has been observed in various regions around the world. In many cases, it has outcompeted native plants, leading to a decline in biodiversity. This, in turn, has affected local insects, birds, and other wildlife that rely on these native plants for food and habitat.
For example, in a study conducted in a wetland ecosystem, researchers found that the presence of the perennial sweet pea negatively influenced native plant communities and reduced the abundance of insect pollinators. This highlights the far-reaching consequences of invasive species and underscores the importance of early detection and control measures.
Successful Eradication Efforts
Although controlling the perennial sweet pea can be challenging, there have been successful eradication efforts in certain areas. These efforts involved a combination of manual removal, herbicide application, and ongoing monitoring.
One such example comes from a community garden in a coastal region that was heavily infested with the perennial sweet pea. Through a coordinated effort involving volunteers and gardeners, the plant was gradually eradicated over a few seasons. The key to their success was early detection, consistent removal, and the commitment of the community to prevent further spread by disposing of plant material properly.
Preventive Measures and Sustainable Gardening
Plant Alternatives to Perennial Sweet Pea
If you want to enjoy the beauty of flowering vines without the invasive tendencies of the perennial sweet pea, there are plenty of alternatives to consider. Native climbing plants such as clematis, honeysuckle, or passionflower can bring a splash of color to your garden while supporting local ecosystems.
Additionally, many non-invasive cultivars of sweet peas (Lathyrus odoratus) are available, offering a wide array of colors and fragrances without the invasive potential. By choosing these alternatives, you can create a vibrant and sustainable garden that supports native wildlife without compromising on beauty.
Tips for Preventing Invasive Plant Growth
Preventing the spread of invasive plants starts with responsible gardening practices. Here are a few tips to keep in mind:
Research plants before adding them to your garden to ensure they are not invasive species
Monitor your garden regularly and remove any invasive plants as soon as you spot them
Properly dispose of plant material to prevent seeds from spreading
Consider using mulch or groundcovers to suppress weed growth
Encourage biodiversity in your garden by planting a variety of native species
By following these guidelines, you can play an active role in preventing the spread of invasive plants and preserving the health and beauty of your garden.
Overall, while the perennial sweet pea may be enchanting, its invasive nature necessitates our vigilance and action. By understanding its growth habits, recognizing its presence, and taking appropriate control measures, we can protect our gardens and the delicate balance of ecosystems. Let us embrace sustainable gardening practices that celebrate the beauty of nature while preserving its intricate web of life.