Hibiscus Plant Yellow Leaves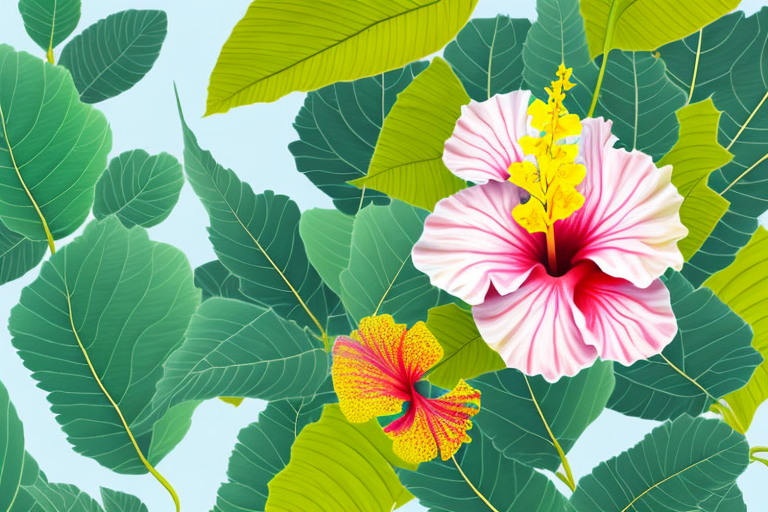 If you have noticed yellow leaves on your hibiscus plant, don't panic just yet! This article will guide you through the various aspects of understanding, identifying, and treating yellow leaves in hibiscus plants. By the end, you'll be equipped with the knowledge and techniques to ensure your hibiscus plants thrive with vibrant green leaves.
Understanding the Hibiscus Plant
Hibiscus plants are known for their beautiful, showy flowers that come in a variety of colors and sizes. They are popular for gardens and landscapes due to their tropical and exotic appearance. However, as with any plant, hibiscus plants require proper care and attention to maintain their health.
When it comes to the care of hibiscus plants, there are several factors to consider. One of the most important aspects is providing adequate sunlight. Hibiscus plants thrive in full sun, which means they need at least six hours of direct sunlight each day. Placing them in a location with partial shade can result in fewer blooms and weaker growth.
In addition to sunlight, regular watering is crucial for the health of hibiscus plants. They require moist soil, but it's important not to overwater them. Overwatering can lead to root rot and other fungal diseases. It's best to water hibiscus plants deeply, allowing the water to penetrate the soil and reach the roots. However, it's equally important to ensure that the soil has good drainage to prevent waterlogged conditions.
Another aspect of hibiscus plant care is the type of soil they are planted in. Hibiscus plants prefer well-draining soil that is rich in organic matter. This type of soil allows for proper root development and prevents water from pooling around the roots. Adding compost or organic mulch to the soil can help improve its drainage and fertility.
The Basics of Hibiscus Plant Care
Before diving into the topic of yellow leaves, it's essential to understand the basic care requirements for hibiscus plants. These include providing adequate sunlight, regular watering, and well-draining soil with good nutrition. Additionally, hibiscus plants prefer warm temperatures and thrive in regions with a tropical or subtropical climate.
When it comes to nutrition, hibiscus plants benefit from regular fertilization. A balanced fertilizer with a ratio of nitrogen, phosphorus, and potassium (NPK) of 10-10-10 or 20-20-20 is ideal for promoting healthy growth and vibrant blooms. It's important to follow the instructions on the fertilizer package and avoid over-fertilizing, as this can lead to excessive foliage growth at the expense of flower production.
Pruning is also an important aspect of hibiscus plant care. Regular pruning helps maintain the shape and size of the plant, promotes air circulation, and removes dead or diseased branches. Pruning should be done in late winter or early spring before new growth begins. It's important to use clean and sharp pruning tools to prevent the spread of diseases.
Different Varieties of Hibiscus Plants
Hibiscus plants come in various species and hybrids, each with its unique characteristics. Common types include the tropical hibiscus, hardy hibiscus, and rose of Sharon. It's important to know which variety you are dealing with, as their specific care requirements may vary.
The tropical hibiscus (Hibiscus rosa-sinensis) is a popular choice for its large, colorful flowers. It is native to tropical regions and requires warm temperatures to thrive. This variety is not frost-tolerant and is best suited for growing in containers or as a houseplant in colder climates.
The hardy hibiscus (Hibiscus moscheutos) is a cold-tolerant variety that can withstand freezing temperatures. It is known for its large, showy flowers that bloom in late summer and early fall. Hardy hibiscus plants are best suited for garden beds or borders and can add a pop of color to the landscape.
The rose of Sharon (Hibiscus syriacus) is a deciduous shrub that produces an abundance of flowers in late summer and early fall. It is known for its tolerance to a wide range of growing conditions, including heat, drought, and poor soil. The rose of Sharon is a versatile plant that can be used as a hedge, specimen plant, or even grown in containers.
Understanding the different varieties of hibiscus plants can help you provide the appropriate care and create an ideal growing environment for these stunning flowers.
Identifying Yellow Leaves in Hibiscus Plants
Yellow leaves on a hibiscus plant can be a sign of underlying issues. To effectively address the problem, it's crucial to identify the cause, whether it's a normal aging process or an indication of a disease or nutrient deficiency.
Hibiscus plants are known for their vibrant and colorful blooms, but when their leaves start turning yellow, it can be a cause for concern. Understanding the reasons behind this change in foliage color is essential in maintaining the health and beauty of your hibiscus plant.
When examining your hibiscus plant, look out for other symptoms accompanying yellowing leaves. These symptoms may include leaf drop, leaf discoloration, stunted growth, or wilting. Taking note of these signs will help you determine the root cause of the yellowing leaves.
One possible reason for yellow leaves is overwatering. Hibiscus plants prefer well-draining soil, and excessive moisture can lead to root rot. This, in turn, affects the plant's ability to absorb nutrients, resulting in yellowing leaves. It's important to strike a balance between providing enough water for the plant's needs and ensuring proper drainage.
Another common cause of yellow leaves is nutrient deficiency. Hibiscus plants require a balanced supply of essential nutrients, including nitrogen, phosphorus, and potassium. If any of these nutrients are lacking in the soil, the plant may exhibit signs of yellowing leaves. Regular fertilization and soil testing can help identify and address any nutrient deficiencies.
It's worth noting that some yellowing leaves on a hibiscus plant can be a natural part of the aging process. As the lower leaves age, they may turn yellow and eventually fall off. This is a normal occurrence and shouldn't cause alarm. However, if the yellowing is extensive or accompanied by other symptoms, it may be a sign of a disease or nutrient deficiency that needs attention.
Pests can also contribute to yellow leaves in hibiscus plants. Aphids, spider mites, and whiteflies are common pests that can infest hibiscus plants and cause damage to the foliage. These pests feed on the plant's sap, leading to nutrient loss and yellowing leaves. Regular inspection and the use of appropriate pest control measures can help prevent and manage pest infestations.
In conclusion, yellow leaves on hibiscus plants can indicate a variety of underlying issues, including overwatering, nutrient deficiencies, aging, and pest infestations. By closely examining the plant and taking note of accompanying symptoms, you can determine the cause of the yellowing leaves and take appropriate steps to address the problem. Proper watering, fertilization, pest control, and regular maintenance are key in maintaining the health and vitality of your hibiscus plant.
Common Causes of Yellow Leaves in Hibiscus Plants
Now, let's delve into the various factors that can contribute to yellow leaves in hibiscus plants. By understanding these causes, you will be better equipped to address the issue effectively.
Watering Issues
Overwatering or underwatering can lead to yellow leaves in hibiscus plants. Both scenarios can cause stress to the plant, affecting its ability to absorb nutrients and causing the leaves to turn yellow. It's important to strike a balance and ensure the plant receives adequate moisture without being soaked or dried out.
Nutrient Deficiencies
Without proper nutrition, hibiscus plants can develop yellow leaves. Common nutrient deficiencies that impact leaf color include iron, magnesium, and nitrogen deficiencies. These deficiencies can be corrected by using appropriate fertilizers or amending the soil with organic matter.
Pest Infestations
Some pests, such as aphids, whiteflies, or spider mites, can cause yellowing leaves as they feed on the plant's sap. Regularly inspect your hibiscus plants for signs of pest infestation and take prompt action to control them. Insecticidal soaps, organic sprays, or natural predators can help eliminate the pests and restore the plant's health.
Preventive Measures for Yellow Leaves in Hibiscus Plants
Now that you are aware of the potential causes, let's explore preventive measures you can take to keep your hibiscus plants free from yellow leaves.
Proper Watering Techniques
Ensure your hibiscus plants receive consistent, thorough watering. It's best to water them deeply, allowing the soil to dry slightly between waterings. Avoid overwatering, as it can lead to root rot and other issues.
Ensuring Adequate Nutrition
Regularly feed your hibiscus plants with balanced fertilizers or organic matter. This will provide them with the necessary nutrients to maintain healthy, green leaves. Additionally, consider testing your soil to identify any nutrient deficiencies and adjust your fertilization routine accordingly.
Pest Control Methods
Implement integrated pest management techniques to prevent and control pest infestations. This includes regularly inspecting your plants, using natural predators, practicing good hygiene in your garden, and using organic sprays when necessary.
Treating Yellow Leaves in Hibiscus Plants
If yellow leaves have already appeared on your hibiscus plants, don't worry! There are steps you can take to help them recover and regain their vibrancy.
Adjusting Watering Practices
If the cause of yellow leaves is related to watering issues, adjust your watering practices accordingly. Water the plants deeply but avoid overwatering. Ensure the soil has good drainage to prevent waterlogged conditions, and monitor the moisture level regularly.
Correcting Nutrient Imbalances
If nutrient deficiencies are the culprit, consider using suitable fertilizers or amendments to restore the plant's nutrient balance. Consult with a gardening expert or conduct a soil test to identify the specific nutrient deficiencies and take appropriate measures to address them.
Managing Pests Effectively
For yellow leaves caused by pest infestations, implement effective pest control methods. Use organic sprays, introduce natural predators, or seek professional advice if necessary. Ensuring the pests are managed will allow your hibiscus plants to recover and flourish once again.
By understanding the basics of hibiscus plant care, identifying yellowing leaves, and taking appropriate measures, you can enjoy healthy, vibrant hibiscus plants that bring beauty to your garden. Remember to regularly inspect your plants, provide proper nutrition, and respond promptly to any signs of trouble. With a little care and attention, your hibiscus plants will reward you with stunning, green foliage and vibrant flowers.