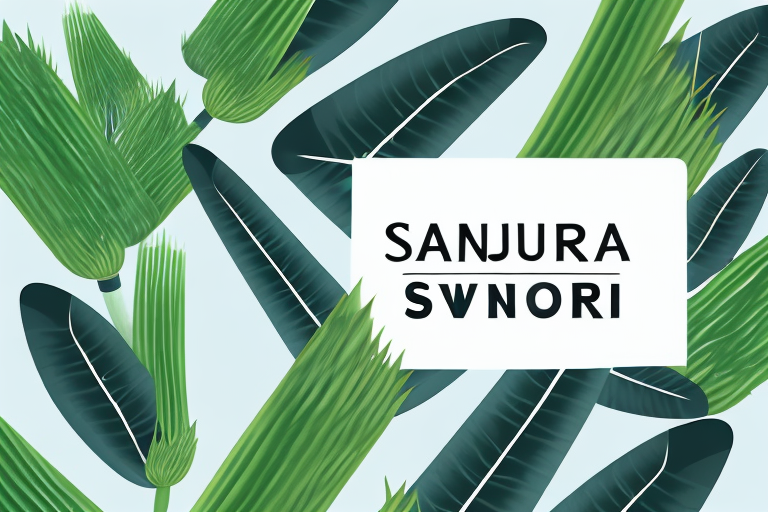 Welcome to the wonderful world of Samurai Sansevieria! In this article, we will explore the fascinating aspects of this unique plant, from its origins and growth requirements to its care and propagation. So, let's dive right in!
Introduction to Samurai Sansevieria
Samurai Sansevieria, formally known as Sansevieria trifasciata 'Samurai', is a striking succulent plant that belongs to the Asparagaceae family. This cultivar has gained popularity among plant enthusiasts due to its distinct appearance and easy care requirements.
But let's dive deeper into the fascinating world of Samurai Sansevieria and explore its origin, history, and unique characteristics.
Origin and History
Hailing from West Africa, Samurai Sansevieria first made its way into the homes and gardens of plant lovers in the early 20th century. It was brought to Europe by explorers and plant collectors who were captivated by its beauty and resilience. From there, it eventually found its way to other parts of the world, captivating the hearts of plant enthusiasts everywhere.
The journey of Samurai Sansevieria from its native land to becoming a global sensation is a testament to its ability to thrive in different climates and conditions. This adaptability has contributed to its popularity as a plant that can be enjoyed both indoors and outdoors.
Unique Characteristics
The Samurai Sansevieria is not just your ordinary succulent plant. It is a captivating plant that boasts a sword-like appearance, reminiscent of the legendary samurai warriors of ancient Japan. Its long, pointed leaves are vertically arranged and grow in an upward fashion, resembling the steadfast determination of a samurai warrior.
But what truly sets the Samurai Sansevieria apart is its mesmerizing foliage. The leaves feature a stunning combination of dark green hues and variegated stripes, adding an enchanting touch to any space. The variegation patterns can vary from plant to plant, creating a unique and individualized look for each Samurai Sansevieria.
Not only does the Samurai Sansevieria make a visual statement, but it also has practical benefits. Like other Sansevieria varieties, it is known for its air-purifying properties, making it an excellent choice for improving indoor air quality. It releases oxygen at night, making it an ideal plant for bedrooms to promote better sleep.
Furthermore, the Samurai Sansevieria is a low-maintenance plant, making it perfect for busy individuals or those new to plant care. It can tolerate a wide range of light conditions, from bright indirect light to low light, and can survive extended periods without watering. Its ability to thrive in less than ideal conditions makes it a resilient and forgiving plant for even the most forgetful plant parents.
Whether you're a plant enthusiast looking to expand your collection or a beginner searching for an easy-to-care-for plant, the Samurai Sansevieria is a remarkable choice. Its unique appearance, adaptability, and low-maintenance nature make it a standout plant that will add beauty and character to any space.
Understanding the Growth of Samurai Sansevieria
To ensure the healthy growth of your Samurai Sansevieria, it is essential to provide it with the ideal growing conditions. Let's take a closer look at what these requirements entail.
The Samurai Sansevieria, also known as the Snake Plant or Mother-in-law's Tongue, is a popular choice among plant enthusiasts due to its striking appearance and low maintenance needs. Native to West Africa, this plant has gained popularity worldwide for its ability to thrive in various environments.
Ideal Growing Conditions
Samurai Sansevieria thrives in bright, indirect light but can adapt to lower light conditions as well. It is best suited for temperatures between 60°F (15°C) and 85°F (29°C), making it suitable for both indoor and outdoor cultivation. This plant's adaptability to different light levels and temperatures makes it an excellent choice for households with varying lighting conditions.
In terms of humidity, the Samurai Sansevieria can tolerate both dry and moderately humid environments, making it an ideal choice for regions with fluctuating humidity levels. This adaptability allows the plant to survive in climates ranging from arid deserts to tropical rainforests.
When it comes to soil, the Samurai Sansevieria prefers well-draining potting mix. A mix of regular potting soil, perlite, and sand will ensure proper drainage, preventing waterlogging and root rot. Additionally, a slightly acidic to neutral pH level (6.0-7.0) is ideal for this plant's growth.
Growth Rate and Size
When it comes to growth, Samurai Sansevieria is known for its slow and steady pace. Expect this plant to reach a maximum height of around 2-4 feet (60-120 cm) with a spread of about 1-2 feet (30-60 cm). While some plants may appear to grow faster under optimal conditions, the Samurai Sansevieria's slow growth rate should not cause concern. In fact, it is this gradual growth that contributes to its long-lasting beauty and durability.
The leaves of the Samurai Sansevieria are upright and sword-shaped, with distinctive patterns and colors. Some varieties feature dark green leaves with light green vertical stripes, while others display variegated patterns of yellow and green. As the plant matures, it develops new leaves from the center, gradually filling out its overall appearance.
One interesting aspect of the Samurai Sansevieria's growth is its ability to purify the air. Like other members of the Sansevieria family, this plant is known for its air-purifying properties. It effectively removes toxins such as formaldehyde, benzene, and xylene from the air, making it an excellent choice for indoor environments.
In conclusion, the Samurai Sansevieria is a versatile and resilient plant that can thrive in a wide range of growing conditions. Its adaptability to different light levels, temperatures, and humidity makes it an excellent choice for both beginner and experienced plant enthusiasts. With its slow growth rate and air-purifying abilities, the Samurai Sansevieria is not only a visually appealing addition to any space but also a beneficial companion for improving air quality.
Caring for Your Samurai Sansevieria
Proper care is crucial to keep your Samurai Sansevieria flourishing. Here's a breakdown of the essential care aspects to ensure its well-being.
Watering Requirements
One of the biggest mistakes in caring for Samurai Sansevieria is overwatering. This plant is highly drought-tolerant, so it's important to allow the soil to dry out completely between waterings. Aim to water it sparingly, roughly once every two to three weeks, ensuring that the soil is completely dry before each watering session.
Light and Temperature Needs
As mentioned earlier, Samurai Sansevieria prefers bright, indirect light but can adapt to lower light conditions. Avoid exposing it to direct sunlight for extended periods, as this may lead to leaf burn. When it comes to temperature, make sure to keep it within the range mentioned earlier to provide optimal growing conditions for your plant.
Soil and Fertilizer Preferences
Samurai Sansevieria thrives in well-draining soil. A mixture of succulent or cactus soil with perlite or sand works well for this plant. Fertilizing once every three to four months with a balanced, diluted houseplant fertilizer during the growing season will help keep your plant healthy and vibrant.
Common Problems and Solutions
Even though Samurai Sansevieria is a hardy plant, it may encounter a few issues along the way. Let's explore some of the common problems and their solutions.
Overwatering and Root Rot
Overwatering is the primary cause of concern for Samurai Sansevieria. To prevent root rot, ensure that you allow the soil to dry out completely between waterings. If you do notice signs of root rot, such as mushy and discolored roots, consider repotting your plant into fresh, well-draining soil and reducing watering frequency.
Pest Infestations
Samurai Sansevieria is generally resistant to pest infestations. However, occasional encounters with mealybugs or spider mites are not entirely impossible. Should you notice any signs of pest activity, such as tiny webs or cotton-like substances, treat your plant with an insecticidal soap or neem oil solution to eradicate these pesky intruders.
Leaf Yellowing and Browning
If you notice yellowing or browning of the leaves, it may be a sign of underwatering or exposure to extreme temperature conditions. Adjusting your watering routine and relocating your plant to a more suitable spot can help resolve these issues. Trim any severely damaged leaves to promote new growth and overall plant health.
Propagating Samurai Sansevieria
If you want to expand your Samurai Sansevieria collection or share the joy of this plant with others, propagation is an excellent option. Let's go through a step-by-step guide to successfully propagate your plant.
Step-by-Step Propagation Guide
Select a healthy, mature leaf from your Samurai Sansevieria.
Using a clean, sharp knife or scissors, cut the leaf into sections, each around 2-3 inches (5-8 cm) long.
Allow the leaf sections to dry for a few days until they form calluses on the cut ends. This step is important to prevent rotting during the rooting process.
Prepare a well-draining potting mixture by combining succulent or cactus soil with perlite or sand.
Plant the callused leaf sections into the prepared soil, burying them partially to allow for root development.
Place the pot in a bright location with indirect light and maintain a temperature range of 70-85°F (21-29°C).
Water the soil lightly, keeping it slightly moist but not overly saturated.
Within a few weeks to a couple of months, you should start seeing new shoots emerging from the base of the leaf sections.
Once the new shoots have developed a few inches in height, carefully separate them from the parent leaf and transplant them into individual pots.
Tips for Successful Propagation
Choose healthy leaves to ensure the best chance of successful propagation.
Patience is key! It may take several weeks or months for new shoots to emerge, so don't get discouraged.
Provide proper care to the newly propagated plants, following the guidelines mentioned earlier.
With these tips and techniques, you can expand your Samurai Sansevieria collection and enjoy the rewards of successfully propagating this captivating plant.
In conclusion, Samurai Sansevieria is a remarkable plant that brings a touch of elegance and resilience to any space. With its unique characteristics, slow growth rate, and straightforward care requirements, it has become a favorite among plant enthusiasts worldwide. By understanding its origins, growth requirements, care tips, and propagation methods, you can embark on a journey of cultivating and expanding your Samurai Sansevieria collection. So, go forth and let your love for this plant flourish!