Natural Tomato Fertilizer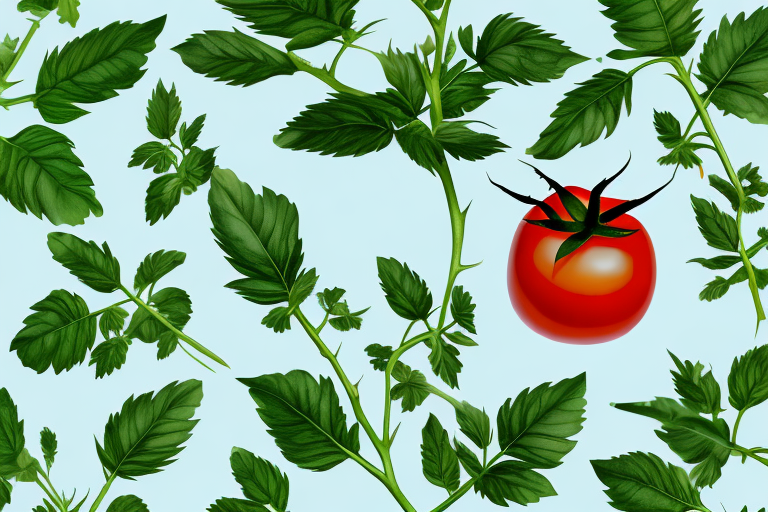 Tomatoes are one of the most popular crops to grow in home gardens. Their delicious taste and vibrant color make them a favorite among gardeners and food enthusiasts alike. However, to have a successful tomato harvest, it is essential to understand the importance of fertilizer for tomato plants.
Understanding the Importance of Fertilizer for Tomato Plants
In order for tomato plants to thrive and produce high-quality fruits, they need a consistent supply of nutrients. These nutrients play a crucial role in the growth and development of the plants. They help in the formation of healthy roots, sturdy stems, and vigorous foliage. Additionally, nutrients contribute to the production of flowers and, ultimately, the formation of ripe, juicy tomatoes.
Tomato plants are known for their ability to absorb nutrients from the soil. However, the natural soil composition may not always provide an adequate amount of nutrients required by the plants. This is where fertilizers come into play. Fertilizers are specially formulated to supplement the soil with essential nutrients, ensuring that tomato plants have everything they need to thrive.
The Role of Nutrients in Tomato Growth
Tomato plants require a variety of nutrients, including nitrogen, phosphorus, and potassium, also known as NPK. Nitrogen promotes leaf and stem growth, while phosphorus aids in the development of strong roots and flowers. Potassium contributes to overall plant health and disease resistance. Additionally, tomatoes need other micronutrients such as calcium, magnesium, and iron for optimal growth.
Each nutrient plays a specific role in the growth and development of tomato plants. Nitrogen is essential for the production of chlorophyll, the pigment responsible for photosynthesis. Without sufficient nitrogen, tomato plants may exhibit stunted growth and pale, yellowish leaves. Phosphorus, on the other hand, is crucial for energy transfer within the plant. It helps in the formation of ATP (adenosine triphosphate), the molecule responsible for storing and transporting energy. Potassium, apart from its role in overall plant health, is also involved in the regulation of water movement within the plant. It helps in maintaining proper hydration and prevents wilting.
In addition to the primary macronutrients, tomato plants also require micronutrients in smaller quantities. Calcium is essential for cell wall formation, ensuring strong and healthy cell structure. Magnesium is a component of chlorophyll, playing a vital role in photosynthesis. Iron is necessary for the synthesis of chlorophyll and other enzymes involved in plant metabolism.
Why Choose Natural Fertilizers?
When it comes to fertilizing tomato plants, many gardeners prefer using natural options over synthetic ones. Natural fertilizers are derived from organic sources and are free from harmful chemicals and toxins. They not only provide essential nutrients but also improve soil health and promote beneficial microbial activity. Natural fertilizers contain a wide range of organic matter, such as compost, manure, and bone meal, which enrich the soil with nutrients and improve its structure.
One of the main advantages of natural fertilizers is their slow-release nature. Unlike synthetic fertilizers that release nutrients rapidly, natural fertilizers break down slowly, providing a continuous and steady supply of nutrients to the plants. This gradual release helps prevent nutrient leaching and ensures that the plants receive a balanced and sustained nutrition over an extended period.
Furthermore, natural fertilizers are environmentally friendly and sustainable. They do not contribute to soil degradation or water pollution, making them an excellent choice for both your plants and the planet. By choosing natural fertilizers, you are not only nourishing your tomato plants but also promoting a healthier and more sustainable gardening practice.
Different Types of Natural Tomato Fertilizers
Tomato plants require proper nourishment to grow and thrive. While chemical fertilizers are commonly used, there are several types of natural fertilizers available for tomato plants. Each has its own benefits and can be used depending on your specific needs and preferences.
Compost and Manure
Compost and manure are two natural fertilizers that have been used for centuries to enrich soil and promote healthy plant growth. Compost is created by decomposing organic matter such as kitchen scraps, yard waste, and leaves. It is rich in nutrients and improves soil structure, allowing for better water retention and root development. Manure, on the other hand, is a natural byproduct of animal waste. When properly aged and composted, it becomes a rich source of organic matter and nutrients. Both compost and well-rotted manure provide a slow-release source of nutrients throughout the growing season, ensuring that your tomato plants receive a steady supply of nourishment.
When adding compost or manure to your tomato garden, it is essential to mix them into the soil thoroughly. This will help distribute the nutrients evenly and prevent the risk of burning the plants' delicate roots. Additionally, consider using compost or manure that has been sourced from organic farms to ensure that no harmful chemicals or pesticides are present.
Bone Meal and Fish Emulsion
Bone meal and fish emulsion are two natural fertilizers that offer specific benefits to tomato plants. Bone meal is a finely ground powder made from animal bones and is high in phosphorus, an essential nutrient for root development and fruit production. Phosphorus plays a vital role in energy transfer within the plant, promoting healthy growth and abundant yields. By incorporating bone meal into the soil before planting your tomato seedlings, you provide them with a nutrient boost that will support their overall health and development.
Fish emulsion, on the other hand, is derived from fish waste and is rich in nitrogen, a nutrient that promotes rapid growth. It is a liquid fertilizer that can be applied directly to the soil or as a foliar spray. Fish emulsion provides a quick source of nutrients that are readily absorbed by the tomato plants, stimulating their growth and ensuring they reach their full potential.
Combining bone meal and fish emulsion creates a balanced natural fertilizer option for your tomato plants. The phosphorus from the bone meal supports root development, while the nitrogen from the fish emulsion promotes vigorous growth and lush foliage. This combination ensures that your tomato plants receive a well-rounded nutrient supply, leading to healthy plants and bountiful harvests.
Green Manure and Cover Crops
In between tomato seasons, you can utilize green manure and cover crops to improve soil fertility. Green manure refers to crops that are grown specifically to be turned back into the soil as a source of organic matter and nutrients. These crops, such as clover, buckwheat, and vetch, are planted during the off-season to help replenish the soil's nutrients and improve its structure.
Clover, for example, is a legume that has the ability to fix nitrogen from the air into the soil. By planting clover as a cover crop, you not only add organic matter to the soil but also increase its nitrogen content naturally. Buckwheat, on the other hand, is a fast-growing cover crop that helps suppress weeds and improves soil tilth. Its extensive root system helps break up compacted soil, allowing for better water infiltration and root penetration. Vetch, another popular cover crop, is known for its ability to add nitrogen to the soil, making it an excellent choice for improving soil fertility.
When using green manure and cover crops, it is important to allow them to grow for a sufficient period before tilling them back into the soil. This ensures that they have enough time to establish a robust root system and accumulate nutrients. Once the crops have reached their desired growth stage, they can be cut down and turned into the soil, where they will decompose and release their nutrients over time.
By incorporating green manure and cover crops into your tomato gardening practices, you not only improve the soil's fertility but also reduce the need for external fertilizers. This sustainable approach promotes a healthy ecosystem in your garden and contributes to the long-term health and productivity of your tomato plants.
How to Make Your Own Natural Tomato Fertilizer
Making your own natural tomato fertilizer is not only cost-effective but also allows you to have full control over the ingredients. Here are a few DIY options that you can try:
DIY Compost Fertilizer
To create your own compost fertilizer, start by collecting kitchen scraps, yard waste, and other organic materials. Build a compost pile or use a compost bin, and turn it regularly to speed up the decomposition process. Once the compost is dark, crumbly, and has a pleasant earthy smell, it is ready to be used as a fertilizer for your tomato plants.
Creating a Bone Meal and Fish Emulsion Mix
If you prefer a more targeted approach, you can make a bone meal and fish emulsion mix. Combine bone meal and fish emulsion according to the package instructions, and then apply the mixture around the base of your tomato plants. This will ensure they receive a balanced dose of nutrients without any synthetic additives.
Using Green Manure and Cover Crops
To utilize green manure and cover crops, select a suitable variety such as clover or buckwheat and plant it in your tomato garden during the off-season. Allow the plants to grow until they reach their peak, and then cut them back and turn them into the soil. This will add organic matter and release valuable nutrients for your tomato plants.
Applying Natural Fertilizer to Tomato Plants
Applying natural fertilizer at the right time and in the correct amount is crucial for ensuring the health and productivity of your tomato plants.
When to Fertilize Tomato Plants
Tomato plants need regular fertilization throughout the growing season. Start by applying fertilizer when you first transplant your seedlings or when they start showing signs of new growth. Continue fertilizing every three to four weeks until the fruiting stage begins. During this stage, reduce fertilization to avoid excessive vegetative growth at the expense of fruit development.
How Much Fertilizer to Use
The amount of fertilizer needed depends on the specific product and the size of your tomato plants. Always follow the package instructions for recommended application rates. As a general guideline, a thin layer of compost or manure can be spread around the base of the plants, while bone meal and fish emulsion mix can be applied according to the recommended dosage.
Techniques for Applying Fertilizer
When applying fertilizer, be careful not to let it come into direct contact with the stems or leaves of the tomato plants. Instead, apply it around the drip line of the plant, which is where the outer edge of the branches reaches. This ensures that the nutrients are absorbed by the roots without causing any damage to the plant.
By understanding the importance of fertilizer for tomato plants and utilizing natural options, you can provide your tomatoes with the essential nutrients they need to thrive. Whether you choose to purchase natural fertilizers or make your own, remember to apply them at the right time and in the correct amounts. With proper fertilization, you can enjoy a bountiful harvest of flavorful tomatoes straight from your garden!