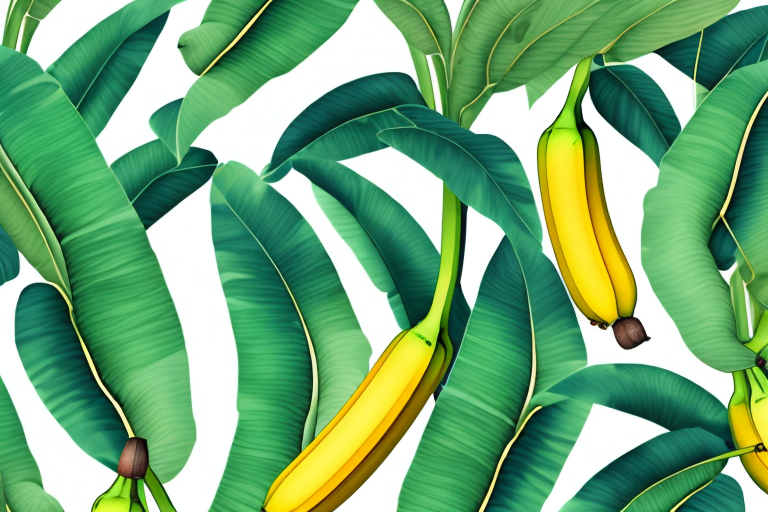 Bananas are one of the most popular and beloved fruits worldwide. Not only are they delicious and nutritious, but they also add a touch of tropical beauty to any outdoor space. If you're lucky enough to have a banana tree in your garden or are considering growing one, this article is for you. We'll walk you through everything you need to know about caring for your outdoor banana tree, from understanding the different types to the ideal conditions for growth, planting techniques, and routine maintenance. So let's dive in and uncover the secrets to successful outdoor banana tree care!
Understanding Banana Trees
Banana trees, scientifically known as Musa, are native to tropical regions of Southeast Asia but can now be found growing in various parts of the world. With over 1,000 different varieties, there's a banana tree for every gardener's taste. Common types include Cavendish, Dwarf Red, Lady Finger, and the unique Blue Java, which produces bananas with an ice cream-like consistency.
Let's dive deeper into the fascinating world of banana trees and explore their origin, types, and unique characteristics.
The Origin of Banana Trees
The story of banana trees begins in the lush tropical regions of Southeast Asia, where they have been growing for thousands of years. These regions, known for their warm climate and abundant rainfall, provide the perfect conditions for banana trees to thrive. The rich soil and ample sunlight contribute to their rapid growth and vibrant green foliage.
As human civilizations expanded and trade routes were established, banana trees found their way to other parts of the world. Today, you can find banana trees growing in various countries, from the tropical paradises of the Caribbean to the sunny landscapes of Central and South America.
The Types of Banana Trees
With over 1,000 different varieties, the world of banana trees is incredibly diverse. Each type offers unique characteristics, flavors, and uses. Let's explore some of the most common types:
Cavendish
The Cavendish banana is one of the most popular and widely consumed varieties. Known for its mild and sweet flavor, it has become a staple in households around the world. From breakfast smoothies to delicious banana bread, the Cavendish banana is a versatile fruit that can be enjoyed in various ways.
Dwarf Red
The Dwarf Red banana tree is a smaller variety that is perfect for those with limited garden space. It produces small, sweet bananas that have a reddish hue, making them visually appealing. These bananas are often used in desserts or enjoyed as a healthy snack.
Lady Finger
The Lady Finger banana, also known as the Sugar Banana, is a slender and delicate variety. It has a unique sweet flavor and a creamy texture, making it a favorite among banana enthusiasts. This variety is often used in smoothies, salads, or enjoyed on its own.
Blue Java
If you're looking for something truly unique, the Blue Java banana tree is the one for you. This variety produces bananas with a distinctive blue-green skin and a flavor reminiscent of vanilla ice cream. Its creamy texture and sweet taste make it a popular choice for desserts or as a natural alternative to ice cream.
The Unique Characteristics of Banana Trees
While banana trees may resemble trees, they are actually giant herbs that grow from a rhizome. This unique characteristic sets them apart from traditional trees. The rhizome, a type of underground stem, gives rise to new shoots that eventually grow into banana trees.
One of the most captivating aspects of banana trees is their perennial nature. Unlike many plants that wither away during the winter months, banana trees die back but have the ability to regrow from their rhizomes when warmer weather returns. This remarkable resilience allows banana trees to survive and thrive in their tropical habitats.
Another striking feature of banana trees is their large, vibrant green leaves. These leaves create a lush and tropical ambiance, transforming any garden or landscape into a tropical paradise. The leaves not only provide shade but also play a crucial role in the photosynthesis process, converting sunlight into energy for the tree.
When it comes to fruits, banana trees produce clusters called hands. These hands contain multiple individual bananas that grow together. Initially, the bananas are green in color, but as they ripen, they turn into a delightful yellow or even develop a reddish hue, depending on the variety.
Next time you enjoy a banana, take a moment to appreciate the fascinating journey it took from a tropical region to your plate. From its origin in Southeast Asia to the wide array of types and unique characteristics, banana trees continue to captivate and delight people around the world.
Ideal Conditions for Growing Banana Trees Outdoors
Climate and Temperature Requirements
When it comes to climate, banana trees thrive in warm, tropical or subtropical regions with temperatures ranging between 75-95°F (24-35°C). While they can tolerate cooler temperatures down to 50°F (10°C) for short periods, prolonged exposure to cold can cause damage to the plant. If you live in a colder climate, consider planting a cold-hardy variety or growing your banana tree in a large pot that you can bring indoors during frosty weather.
Soil and Watering Needs
Proper soil and watering play a crucial role in the overall health and growth of your banana tree. Well-draining soil with a pH level between 5.5-7.0 is ideal. A mixture of loam, compost, and organic matter provides the right balance of nutrients to support healthy root development. As for watering, banana trees prefer a consistently moist soil. Aim to water deeply 1-2 times per week, adjusting the frequency based on rainfall and temperature conditions. Remember, too much water can lead to root rot, so be mindful not to overwater.
Sunlight and Space Considerations
Like all plants, banana trees require adequate sunlight to photosynthesize and thrive. A minimum of 6-8 hours of direct sunlight per day is recommended. If your garden doesn't receive enough sun, consider planting the banana tree in a container that can be moved to a sunnier spot. When it comes to spacing, mature banana trees can reach heights up to 30 feet (9 meters) and have wide-spreading leaves. Make sure to allow enough room for your tree to grow without being overcrowded by other plants or structures.
Planting Your Banana Tree
Choosing the Right Location
Before planting your banana tree, carefully select the perfect location in your garden. Look for an area that receives sufficient sunlight and offers protection from strong winds. Additionally, consider the tree's eventual height and spread, ensuring it won't obstruct any views or encroach on nearby structures.
Preparing the Soil
Prepare the soil in advance by removing any weeds, rocks, or debris. Loosen the soil using a garden fork or tiller to ensure proper water drainage. Mix in generous amounts of compost or well-rotted manure to improve the soil's fertility and drainage capacity. This step is crucial for giving your banana tree a strong start.
Planting Steps and Initial Care
To plant your banana tree, dig a hole that's twice as wide and deep as the root ball. Gently place the tree in the hole, making sure the soil level matches that of the nursery container. Backfill the hole with soil, firmly pressing it around the base of the tree to eliminate any air pockets. After planting, water the tree thoroughly to settle the soil and provide much-needed hydration for the roots. Apply a layer of organic mulch around the base of the tree to help retain moisture and suppress weed growth.
Routine Care and Maintenance
Watering and Fertilizing Schedule
Consistent watering is essential for banana trees, especially during dry spells. Deeply water the tree at regular intervals to keep the soil moist but not waterlogged. Applying a layer of mulch will help retain soil moisture between waterings. When it comes to fertilizer, feed your banana tree every two to three months during the growing season using a balanced, slow-release fertilizer. Regular feeding provides the necessary nutrients for robust foliage growth and abundant fruit production.
Pruning and Trimming Tips
While banana trees generally don't require extensive pruning, removing old, damaged, or diseased leaves can enhance the tree's appearance and overall health. Prune any dead or yellowing leaves close to the trunk using sharp pruning shears. Additionally, thinning out excess suckers (new shoots) can help focus the plant's energy on producing larger, more flavorful bananas. Aim to prune during the winter months when the tree is dormant.
Pest and Disease Management
Banana trees are relatively resilient, but they can still be affected by pests and diseases. Common pests include aphids, mealybugs, and spider mites. Regularly inspect the leaves for signs of infestation, and if necessary, use organic insecticides or insecticidal soaps to control the problem. As for diseases, keep an eye out for banana wilt, Panama disease, or leaf spot. Proper watering and ensuring good air circulation around the tree can help prevent these diseases from taking hold.
With proper care and attention, your outdoor banana tree will reward you with lush foliage and, eventually, an abundance of delicious bananas. Whether you're a seasoned gardener or a beginner, growing a banana tree is a rewarding experience that brings a taste of the tropics right to your backyard. So get your gardening gloves on, embrace the exotic, and embark on the journey of outdoor banana tree care today!