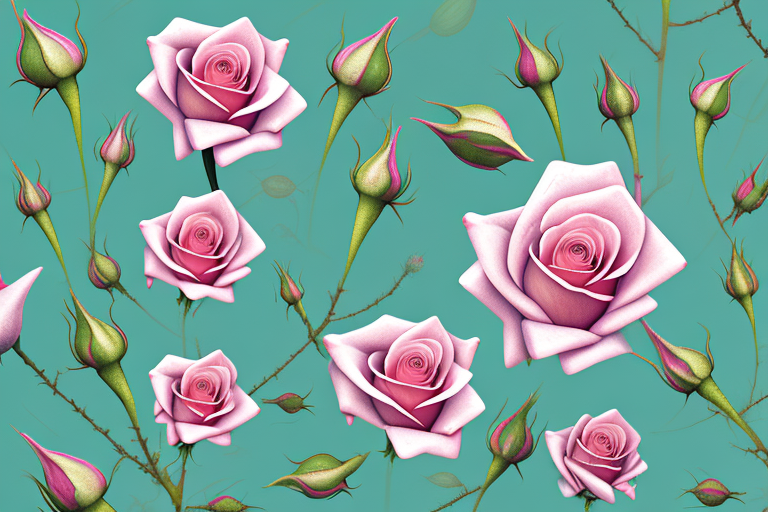 Imagine stepping into your garden and being greeted by the beautiful sight of blooming rose buds. The vibrant colors and delicate petals bring a sense of joy and tranquility. But what do you do when these serene moments are interrupted by the presence of tiny, pesky creatures known as aphids? Don't worry, in this article, we will explore everything you need to know about aphids and how to prevent and treat their infestation on your precious rose buds.
Understanding Aphids and Their Impact on Roses
Aphids, scientifically known as Aphididae, are small insects that can wreak havoc on your rose plants. These tiny bugs possess incredible reproductive capabilities, which allow them to multiply rapidly and form large colonies on your rose buds. Their feeding habits involve piercing the tender plant tissue and sucking out the sap, causing damage and stunting growth.
But what makes aphids a real headache for rose gardeners is their ability to transmit diseases. As they move from one leaf to another, aphids can carry and spread harmful viruses that can debilitate your precious rose bushes.
What are Aphids?
Aphids are soft-bodied insects that come in a variety of colors, including green, black, brown, yellow, and even pink. They typically measure about 1/16 to ⅜ inch in length. These creatures have long, slender mouthparts called stylets that they use to pierce and suck sap from your rose buds.
Aphids are not just ordinary pests; they are fascinating creatures with some unique characteristics. For instance, some aphids have wings, while others are wingless. This variation allows them to adapt to different environments and migrate to new host plants when necessary.
Another interesting fact about aphids is their reproductive capabilities. These insects are known for their ability to reproduce both sexually and asexually. In favorable conditions, aphids can give birth to live young without the need for mating. This asexual reproduction allows them to rapidly increase their population and infest your rose plants in no time.
How Aphids Affect Rose Plants
The damage caused by aphids goes beyond just sucking sap. Their feeding can lead to distorted growth, curling leaves, and even wilting. Additionally, the honeydew secreted by aphids can attract ants and promote the growth of sooty mold, further worsening the health of your rose plants.
When aphids feed on the sap of rose plants, they inject toxic saliva into the plant tissue. This saliva contains enzymes that break down the plant cells, making it easier for aphids to suck out the sap. The damage caused by these enzymes can weaken the plant's immune system, making it more susceptible to other diseases and infections.
Furthermore, the physical presence of aphids on your rose plants can attract predators such as ladybugs, lacewings, and parasitic wasps. While these predators can help control the aphid population, they may also cause collateral damage to your rose plants in their pursuit of aphids.
It is important to note that not all aphids are harmful to roses. Some species of aphids are specific to certain plants and do not pose a significant threat to roses. However, it is crucial to identify and manage aphid infestations promptly to prevent any potential damage to your beloved rose bushes.
Identifying Aphid Infestation on Rose Buds
Knowing how to spot aphids on your rose buds is crucial for early detection and effective treatment. Here are some common signs to look out for:
Aphids are small, soft-bodied insects that can wreak havoc on your beautiful rose buds. These pests feed on the sap of the plants, causing curling or distortion of rose leaves. This damage can significantly impact the health and appearance of your roses.
In addition to leaf curling, another sign of aphid presence is the sticky residue they leave behind on the leaves. This residue, known as honeydew, is a sugary substance that attracts ants and can promote the growth of black sooty mold on the leaves and buds.
When inspecting your rose bushes, take a close look at the undersides of the leaves. Aphids are often found in clusters, especially in the protected areas where the leaves meet the stems. These tiny insects can vary in color, from green to black, depending on the species.
Speaking of species, there are several types of aphids that commonly infest rose plants. One such species is the Green Peach Aphid, which is known for its pale green color and ability to reproduce rapidly. Another common aphid species is the Black Aphid, which, as the name suggests, is black in color and tends to congregate on the new growth of rose plants. Lastly, we have the Rose Aphid, a species specifically adapted to roses and capable of causing significant damage if left untreated.
It's important to note that different aphid species may require specific treatment approaches. While some general methods may work for most aphids, understanding the characteristics and behavior of the specific species infesting your roses can help you develop a more targeted and effective treatment plan.
Preventive Measures Against Aphid Infestation
Prevention is always better than cure when it comes to pests in your garden. Taking proactive measures to reduce the risk of aphid infestation can save you time and effort in the long run. Here are some effective and environmentally friendly measures you can take:
Choosing Aphid-Resistant Rose Varieties
When selecting roses for your garden, opt for varieties that have shown resistance to aphids. These plants often possess natural defenses that make them less appealing to these tiny nuisances. Some popular aphid-resistant rose varieties include "Knock Out," "Carefree Wonder," and "Mister Lincoln." By choosing these roses, you can significantly decrease the chances of aphid infestation in your garden.
In addition to their resistance to aphids, these rose varieties also offer stunning blooms and delightful fragrances. "Knock Out" roses, for example, are known for their vibrant colors and ability to bloom repeatedly throughout the season. "Mister Lincoln" roses, on the other hand, are famous for their deep red velvety petals and strong fragrance that fills the air.
Natural Predators of Aphids
Encouraging the presence of aphid predators in your garden can help keep these pests under control. Ladybugs, lacewings, and hoverflies are just a few examples of beneficial insects that feed on aphids. These natural predators can be highly effective in reducing aphid populations without the need for harmful pesticides.
Creating an inviting environment for these aphid predators is crucial. By planting native flowers in your garden, you can attract these beneficial insects and provide them with a habitat where they can thrive. Native flowers such as coneflowers, yarrow, and milkweed are known to attract ladybugs, lacewings, and hoverflies. These flowers not only add beauty to your garden but also serve as a natural buffet for these helpful insects.
Avoiding the use of harmful pesticides is essential when trying to attract aphid predators. Pesticides not only kill aphids but also harm beneficial insects, disrupting the natural balance of your garden ecosystem. By opting for organic pest control methods, such as using insecticidal soaps or neem oil, you can effectively target aphids while preserving the population of beneficial insects.
By implementing these preventive measures, you can create a thriving garden that is less susceptible to aphid infestation. Remember, a healthy and well-maintained garden not only brings joy and beauty but also attracts a diverse range of beneficial insects that help maintain a natural balance.
Treatment Options for Aphid-Infested Rose Buds
If aphids have already invaded your rose buds, don't despair. Here are some effective treatment options:
Aphids, those tiny, pear-shaped insects that can wreak havoc on your beautiful rose buds, are a common problem for gardeners. These pesky creatures feed on the sap of plants, causing stunted growth, distorted leaves, and in severe cases, even death. But fear not! There are several treatment options available to help you combat this aphid invasion and restore the health and beauty of your rose bushes.
Organic Methods to Control Aphids
Using organic remedies can help eradicate aphids while minimizing harm to beneficial insects and the environment. These methods are not only effective but also safe for both you and your garden. Here are some popular organic options:
Introducing ladybugs or lacewings into your garden: These natural predators have a voracious appetite for aphids and can quickly eliminate them from your rose bushes. Ladybugs and lacewings can be purchased from garden centers or online and released directly onto your plants.
Pruning and disposing of heavily infested rose buds: If the infestation is limited to certain buds, pruning them off and disposing of them can help prevent the spread of aphids to other parts of the plant. Remember to sanitize your pruning tools between cuts to avoid transmitting any potential diseases.
Using a strong stream of water to dislodge aphids from your rose bushes: This simple yet effective method involves spraying a strong stream of water on the affected buds, dislodging the aphids and washing them away. Repeat this process regularly to keep the aphid population in check.
Applying homemade insecticidal soap or neem oil solution: These natural insecticides can be made at home using simple ingredients like soap or neem oil. When applied to the affected buds, they suffocate the aphids, effectively eliminating them. Be sure to follow the recommended dilution ratios and application instructions to avoid any potential harm to your plants.
By employing these organic methods, you can effectively control aphids without resorting to harmful chemicals, ensuring a healthy and thriving garden ecosystem.
Chemical Treatments for Severe Infestations
In cases of severe infestations or when organic methods fail to work, chemical treatments may be necessary. However, it is important to use these treatments judiciously and according to manufacturer instructions, as they can have unintended consequences on beneficial insects and the environment.
Chemical insecticides specifically formulated to target aphids can provide quick and effective control. These products often contain ingredients like pyrethroids or imidacloprid, which are known to be highly effective against aphids. However, it is crucial to carefully read and follow the instructions on the product label to ensure proper application and minimize any potential risks.
When using chemical treatments, it is essential to consider the potential impact on beneficial insects, such as bees and butterflies, which play a vital role in pollination. To minimize harm, apply the insecticide during the early morning or late evening when these beneficial insects are less active. Additionally, avoid spraying the entire plant and focus only on the affected buds to limit exposure.
Remember, chemical treatments should be used as a last resort and only when absolutely necessary. It is always best to exhaust all organic options before turning to chemicals, as they can have long-lasting effects on the environment and disrupt the delicate balance of your garden ecosystem.
So, whether you choose to go the organic route or opt for chemical treatments, rest assured that there are solutions available to combat aphid infestations and protect the health and beauty of your precious rose buds. With a little patience and persistence, you can successfully rid your garden of these pesky invaders and enjoy a flourishing rose garden for years to come.
Maintaining Aphid-Free Rose Gardens
Preventing future aphid infestations requires consistent effort and maintenance. Here are some tips to help you maintain an aphid-free rose garden:
Regular Monitoring and Maintenance
Inspect your rose buds regularly for signs of aphids. Promptly remove any infested buds or leaves to prevent the spread of the pests. Regularly pruning your rose bushes and maintaining good air circulation can also deter aphids from settling in.
Importance of a Healthy Soil and Environment
Creating optimal growing conditions for your roses can boost their natural defenses against pests and diseases. Ensure your roses receive adequate sunlight, water, and nutrients. Healthy, well-nourished plants are better equipped to resist aphid infestation.
By applying these preventive and treatment measures, you can regain control over your rose garden and enjoy the beauty of your blooming buds without the interference of aphids. Remember, vigilance and perseverance are key to keeping these pesky insects at bay. Happy gardening!