Treatment for Yellow Leaves on Hibiscus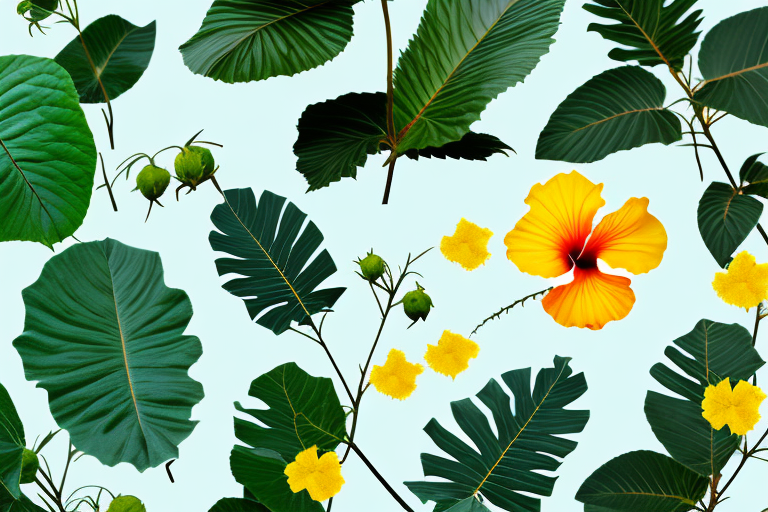 If you've noticed yellow leaves on your hibiscus plant, don't worry! There are various treatment options available to help restore your plant's health and vibrant green color. In this article, we'll walk you through the process of understanding hibiscus plant health, identifying yellow leaves, prevention strategies, treatment options, and post-treatment care for your beloved hibiscus plants.
Understanding Hibiscus Plant Health
Before diving into the details of treating yellow leaves, it's essential to familiarize yourself with the overall health of your hibiscus plant. Hibiscus plants require specific care to thrive and maintain their beauty. Basic hibiscus plant care is crucial in keeping them healthy and preventing common diseases and pests.
Hibiscus plants are known for their vibrant and showy flowers, which can range in color from white and yellow to pink and red. These tropical plants are native to warm climates and are often grown as ornamental shrubs or small trees. With proper care, hibiscus plants can live for many years, providing a stunning display of color and beauty.
When it comes to basic hibiscus plant care, there are a few key factors to consider. Proper watering is essential for the health of your hibiscus plant. It's important to provide enough water to keep the soil moist but not soggy. Overwatering can lead to root rot, while underwatering can cause the leaves to wilt and turn yellow.
In addition to proper watering, soil conditions play a significant role in the health of your hibiscus plant. Well-draining soil with a slightly acidic pH level is ideal for hibiscus plants. This type of soil allows for proper root development and prevents waterlogged conditions that can lead to disease.
Another crucial factor in hibiscus plant care is sunlight. These plants thrive in full sun, so it's important to ensure your hibiscus receives at least six hours of direct sunlight daily. Without enough sunlight, hibiscus plants may become weak and susceptible to diseases and pests.
Common Hibiscus Diseases and Pests
Unfortunately, hibiscus plants are prone to certain diseases and pests that can cause yellow leaves. Some common diseases include leaf spot, powdery mildew, and root rot. Leaf spot is characterized by dark spots on the leaves, while powdery mildew appears as a white powdery coating. Root rot occurs when the roots are constantly in wet conditions, leading to decay.
Pests can also wreak havoc on hibiscus plants. Aphids, small insects that suck sap from the leaves, can cause yellowing and distortion of the leaves. Whiteflies are another common pest that can infest hibiscus plants, feeding on the sap and causing yellowing and wilting. Spider mites, tiny pests that spin webs on the leaves, can also cause yellowing and stunted growth.
To prevent and control these diseases and pests, vigilance is key. Regularly inspect your hibiscus plants for any signs of disease or pest infestation. If you notice any issues, take prompt action to treat the problem. There are various organic and chemical treatments available for common hibiscus diseases and pests, so choose the method that suits your preferences and needs.
In conclusion, understanding the overall health of your hibiscus plant is crucial for effectively treating yellow leaves. By providing proper care, such as adequate watering, suitable soil conditions, and sufficient sunlight, you can help your hibiscus plants thrive and prevent common diseases and pests. Stay vigilant and take prompt action if any issues arise, ensuring your hibiscus plants remain healthy and vibrant.
Identifying Yellow Leaves on Hibiscus
Yellow leaves on your hibiscus plants may be a sign of an underlying problem. Identifying the causes and symptoms will help you determine the appropriate treatment methods.
When it comes to hibiscus plants, their vibrant and lush green leaves are a sight to behold. However, when those leaves start turning yellow, it can be quite concerning. But fear not, as we delve deeper into the causes and symptoms of yellow leaves on hibiscus, you'll gain a better understanding of how to care for these beautiful plants.
Causes of Yellow Leaves
There are several potential causes for yellow leaves on hibiscus plants. Over-watering, under-watering, nutrient deficiencies, and improper sunlight exposure are common culprits. Let's take a closer look at each of these factors:
1. Over-watering: Hibiscus plants, like many other plants, require a delicate balance of water. Too much water can lead to waterlogged soil, which deprives the roots of oxygen and can cause yellowing leaves.
2. Under-watering: On the other hand, if your hibiscus plants are not receiving enough water, their leaves may turn yellow and wilt. It's important to find the right balance and ensure consistent watering.
3. Nutrient deficiencies: Hibiscus plants are heavy feeders and require adequate nutrients to thrive. A lack of essential nutrients, such as nitrogen, iron, or magnesium, can result in yellow leaves.
4. Improper sunlight exposure: While hibiscus plants love the sun, excessive or insufficient sunlight can cause yellowing leaves. Finding the right balance of sunlight is crucial for their overall health.
In addition to these common causes, there are a few other factors that can contribute to yellow leaves on hibiscus:
5. Lack of proper drainage: If the soil doesn't have proper drainage, it can lead to waterlogged roots and yellowing leaves.
6. Excessive heat: Hibiscus plants prefer warm temperatures, but extreme heat can stress them out, resulting in yellow leaves.
7. Insect infestations: Pests, such as aphids or spider mites, can cause damage to the leaves, leading to yellowing and other symptoms.
Symptoms of Unhealthy Hibiscus
In addition to yellow leaves, unhealthy hibiscus plants may exhibit other symptoms. These signs can provide valuable clues to help you accurately diagnose the problem and take appropriate action. Keep an eye out for the following:
1. Stunted growth: If your hibiscus plants are not growing as they should, it could be a sign of an underlying issue affecting their overall health.
2. Wilting: When hibiscus plants are stressed or not receiving enough water, their leaves may start to wilt, indicating a problem that needs attention.
3. Leaf curling: Curling leaves can be a sign of various issues, including insect damage, nutrient deficiencies, or even extreme temperatures.
4. Black spots: If you notice black spots on the leaves, it could be a sign of a fungal or bacterial infection, which needs to be addressed promptly.
5. Overall droopy appearance: If your hibiscus plants look sad and droopy, it's a clear indication that something is amiss and needs to be addressed.
By paying close attention to these symptoms, you'll be able to identify the problem affecting your hibiscus plants and take the necessary steps to restore their health and vibrancy.
Prevention Strategies for Yellow Leaves
Prevention is always better than cure. By implementing a few simple strategies, you can reduce the risk of yellow leaves on your hibiscus plants.
Yellow leaves on hibiscus plants can be a sign of various underlying issues, including improper watering and unsuitable soil conditions. Taking the time to understand and address these factors can help keep your hibiscus plants healthy and vibrant.
Proper Watering Techniques
One of the most critical aspects of hibiscus plant care is proper watering. Hibiscus plants require regular watering, but it's important to strike the right balance. Water your hibiscus deeply and thoroughly, allowing the excess water to drain away. This helps prevent waterlogged roots, which can lead to root rot and yellow leaves.
When watering your hibiscus plants, it's essential to avoid over-watering. Over-watering can suffocate the roots and prevent them from absorbing oxygen, resulting in a lack of nutrients reaching the leaves. This nutrient deficiency can manifest as yellowing leaves.
On the other hand, under-watering can also cause yellow leaves. When hibiscus plants don't receive enough water, they may experience stress, leading to leaf discoloration. Therefore, it's crucial to strike a balance and provide your hibiscus plants with adequate moisture without overdoing it.
Ideal Soil Conditions for Hibiscus
Choosing the right soil for your hibiscus plants is crucial for their overall health and vitality. Hibiscus plants thrive in well-draining soil that allows excess water to escape easily. A soil mixture containing peat moss, perlite, and compost can provide the necessary nutrients while ensuring proper drainage.
Peat moss is an excellent component for hibiscus soil as it retains moisture while still allowing excess water to drain away. This helps prevent waterlogged roots and the subsequent yellowing of leaves. Perlite, on the other hand, improves soil aeration and drainage, further reducing the risk of waterlogged roots.
In addition to peat moss and perlite, incorporating compost into the soil mixture can provide essential nutrients for hibiscus plants. Compost is rich in organic matter and acts as a natural fertilizer, promoting healthy growth and preventing nutrient deficiencies that can lead to yellow leaves.
When preparing the soil for your hibiscus plants, ensure that it is well-mixed and free from clumps. This allows the roots to establish themselves easily and access the necessary nutrients and water. By creating an ideal soil environment, you can help prevent yellow leaves and promote the overall well-being of your hibiscus plants.
Treatment Options for Yellow Leaves
If you've already noticed yellow leaves on your hibiscus plants, don't fret! There are effective treatment options available to address the issue and restore your plants' vitality.
Natural Remedies for Yellow Leaves
Some natural remedies can help rejuvenate your hibiscus plants. Neem oil, for example, is a natural insecticide that can combat pests without harming beneficial insects. Additionally, foliar sprays containing seaweed extract or compost tea can boost plant health and reduce yellowing leaves.
Chemical Treatment Options
If the issue persists or if you're dealing with a severe infestation, chemical treatments may be necessary. Consult with a local garden center or a professional horticulturist to select the appropriate pesticide or fungicide for your specific problem. Always remember to follow the instructions and safety precautions provided by the manufacturer.
Post-Treatment Care for Hibiscus
Once you've treated your hibiscus plants for yellow leaves, it's essential to provide the necessary care during the recovery period.
Monitoring Hibiscus Health Post-Treatment
Keep a close eye on your hibiscus plants after treatment. Observe any changes in leaf color, growth patterns, or pest activity. Regularly monitor soil moisture levels and adjust your watering routine accordingly. Prompt action at the first sign of any issues will help prevent a recurrence of yellow leaves.
Long-Term Care Strategies for Healthy Hibiscus
To ensure the long-term health of your hibiscus plants, continue practicing good hibiscus care habits. Regularly inspect your plants for any signs of disease or pests, and promptly address them. Provide adequate sunlight, water conscientiously, and maintain proper soil conditions. With consistent care, your hibiscus plants will flourish and reward you with their beautiful blooms.
By following these comprehensive steps for treatment and care, you'll soon be on your way to rejuvenating your hibiscus plants and banishing those pesky yellow leaves. Remember, a little love and attention go a long way in ensuring the health and vibrancy of these tropical beauties in your garden.