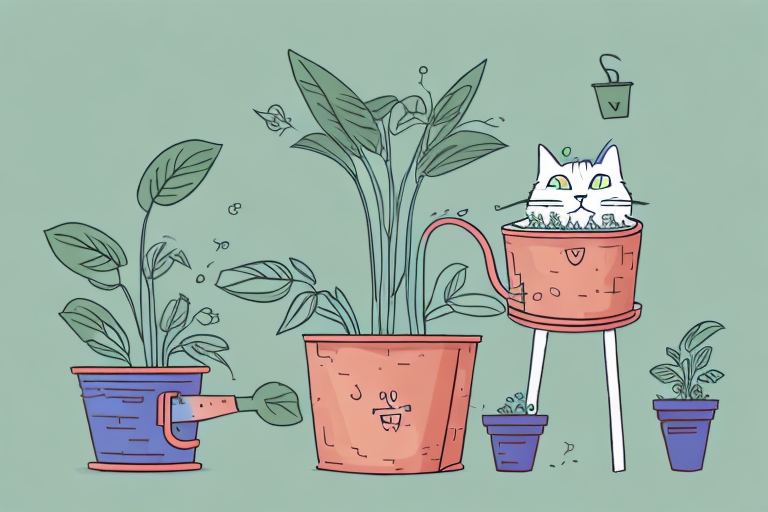 If you're a cat owner, you're probably familiar with the magical effects of catnip on your feline friend. But have you ever considered growing your own catnip plant? Not only can it be a fun and rewarding experience, but it can also provide your beloved cat with hours of entertainment and various health benefits. In this article, we'll explore everything you need to know about caring for a catnip plant, from understanding what catnip is to troubleshooting common problems. So, let's dive in and learn how to provide the best care for your catnip plant!
Understanding Catnip: A Brief Overview
Before we delve into the specifics of growing and caring for a catnip plant, let's take a moment to understand what catnip actually is. Catnip, also known as Nepeta cataria, is a member of the mint family and is native to Europe and Asia. It is a perennial herb with heart-shaped, gray-green leaves and small white or purple flowers. However, it's not just the physical appearance of catnip that makes it so intriguing to our feline friends. It's the chemical compound called nepetalactone found in the leaves and stems that drives cats wild.
What is Catnip?
Catnip is a herbaceous plant that has long been known for its unique effect on cats. When cats come into contact with catnip, whether by sniffing, licking, or rolling around in it, they can exhibit a range of behaviors, including intense excitement, hyperactivity, and relaxation. The reaction to catnip can vary from cat to cat, with some becoming extremely playful and others becoming more mellow. However, not all cats are affected by catnip, as sensitivity to its effects is genetically determined and only about 50-75% of cats are affected.
Interestingly, the effects of catnip on cats are not limited to domesticated felines. Even big cats, such as lions and tigers, have been observed to react to catnip in a similar manner. This suggests that the sensitivity to nepetalactone may be a common trait among all members of the cat family.
The Origin and Species of Catnip
Native to Europe and Asia, catnip has a long history of use in folk medicine and herbal remedies. Its scientific name, Nepeta cataria, is derived from the Latin word "Nepeta," which refers to an ancient Etruscan city where catnip was believed to have originated. The city, known for its lush gardens and love for felines, recognized the effects of catnip on cats and incorporated it into their daily lives.
Over the centuries, catnip has spread around the world and is now found in various regions, including North America. In fact, it was introduced to North America by early European settlers who brought it with them for its medicinal properties. Today, catnip can be found growing wild in many parts of North America, particularly in areas with a temperate climate.
There are several species of catnip, with Nepeta cataria being the most widely known and used. However, other species, such as Nepeta mussinii and Nepeta faassenii, also possess similar characteristics and effects on cats. These different species vary in their growth habits, flower color, and potency of nepetalactone, providing cat owners with a range of options when it comes to choosing the right catnip for their feline companions.
The Benefits of Catnip for Cats
Now that we have a basic understanding of catnip, let's explore the benefits it offers to our beloved cats. Whether you're using catnip for playtime or to help soothe your cat's anxiety, its effects can be quite remarkable.
How Does Catnip Affect Cats?
When cats are exposed to catnip, they often experience a sensory overload. The nepetalactone in catnip acts as a powerful stimulant, triggering the release of chemicals in the brain that can induce various behaviors. For some cats, this may mean intense playfulness, while others may become more relaxed and sedated. The effects can last anywhere from a few minutes to around 15 minutes, after which the cat becomes temporarily immune to the effects of catnip.
Health Benefits of Catnip
In addition to its recreational benefits, catnip also offers several health benefits for cats. When ingested in small amounts, catnip can act as a mild sedative, helping to calm anxious or stressed cats. This can be especially useful during situations such as moving to a new home or introducing a new pet to the household. Catnip can also aid in digestion and relieve stomach discomfort. However, it's important to note that catnip should not be given to cats in excessive amounts, as it can cause digestive upset.
Planting and Growing Catnip
Now that we understand the benefits of catnip, let's move on to the practical aspects of planting and growing your own catnip plant. By following a few simple steps, you can provide your cat with a fresh and continuous supply of this enticing herb.
Ideal Conditions for Growing Catnip
Catnip thrives in well-draining soil and prefers full sun to partial shade. It's best to plant catnip in an area of your garden that receives at least six hours of direct sunlight each day. This will ensure that your catnip plant grows vigorously and produces plenty of leaves for your cat to enjoy. Catnip is relatively low-maintenance and can tolerate a wide range of soil conditions, but it thrives best in soil with a pH of 6.1 to 7.8.
Steps to Plant Catnip
Before you begin planting catnip, make sure to select a suitable location in your garden. Once you've chosen the perfect spot, follow these simple steps:
Prepare the soil: Start by removing any weeds or debris from the area where you plan to plant catnip. Loosen the soil using a garden fork or tiller to ensure proper drainage.
Sow the seeds: Scatter the catnip seeds evenly over the prepared soil. Gently press the seeds into the soil or cover them with a thin layer of compost or vermiculite.
Water and mulch: Water the soil thoroughly after sowing the seeds to ensure good seed-to-soil contact. Apply a layer of organic mulch, such as straw or wood chips, around the newly planted seeds to help retain moisture and suppress weed growth.
Provide support (optional): If you're growing catnip in a pot or container, it may be beneficial to provide support for the plant to prevent it from sprawling or falling over. A small stake or trellis can help keep the catnip plant upright and tidy.
With proper care and attention, your catnip seeds should sprout within 10-21 days. Once the seedlings have emerged, it's important to thin them out, leaving about 12-18 inches of space between each plant to allow for adequate airflow and growth.
Caring for Your Catnip Plant
Now that your catnip plant is growing, it's time to provide it with the care it needs to thrive. By following a few simple guidelines, you can ensure that your catnip plant remains healthy and vibrant.
Watering and Fertilizing Catnip
Catnip plants have moderate water requirements and can tolerate dry conditions once established. However, they prefer evenly moist soil. Water your catnip plant regularly, especially during hot and dry periods. Avoid overwatering, as this can lead to root rot. Applying a balanced organic fertilizer once a month during the growing season can help promote healthy growth and enhance the aroma of the leaves.
Pruning and Harvesting Catnip
To encourage bushier growth, pinch off the tips of your catnip plant when it reaches about 6-8 inches in height. Regular pruning will help prevent your catnip plant from becoming leggy and will also delay flowering, ensuring that your cat enjoys a steady supply of fresh leaves. When it's time to harvest the leaves, simply cut the stems above a leaf node. This will allow the plant to regrow more quickly and produce a second or third harvest throughout the growing season.
Troubleshooting Common Catnip Plant Problems
Like any plant, catnip can face a variety of problems that can hinder its growth and overall health. By familiarizing yourself with these common issues, you can take proactive measures to keep your catnip plant in top shape.
Identifying and Treating Catnip Diseases
One of the most common diseases that can affect catnip plants is powdery mildew. This fungal disease appears as a white or grayish powdery coating on the leaves and stems. To prevent powdery mildew from spreading, remove affected leaves and stems and ensure good airflow around the plant. Additionally, avoid overhead watering, as wet foliage provides a favorable environment for the disease to thrive. If the problem persists, consider using a fungicidal spray specifically formulated for powdery mildew.
Dealing with Pests in Catnip Plants
While catnip plants are generally resistant to pests, they can still fall victim to certain insects. Aphids and spider mites are two common pests that can infest catnip plants. To control aphids, regularly inspect your catnip plant and remove any affected leaves by hand or spray them with a strong stream of water to dislodge the pests. For spider mites, a gentle spray of water, followed by the application of insecticidal soap, can help eliminate the problem.
Congratulations! You're now equipped with the knowledge and skills to care for your catnip plant. By following these guidelines and providing your cat with a fresh supply of this enticing herb, you'll create an enriching and stimulating environment for your feline friend. So go ahead, plant some catnip, and watch your cat's eyes light up with joy!