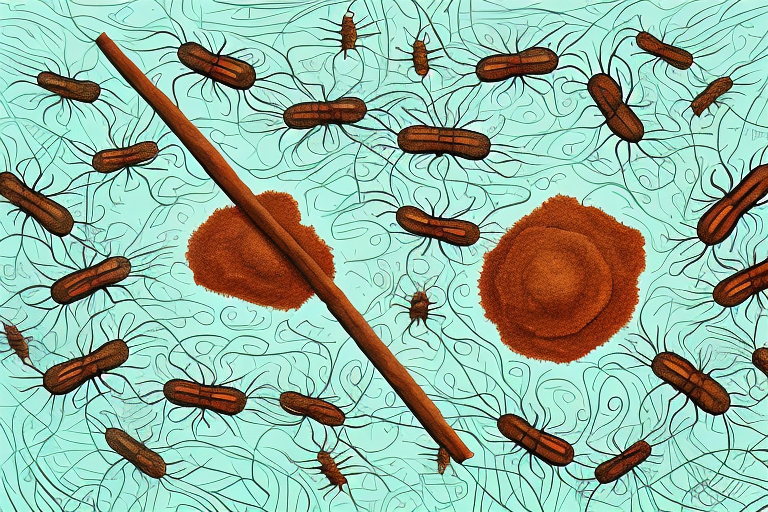 Welcome to our comprehensive guide on understanding and controlling fungus gnats with the power of cinnamon. In this article, we will delve deep into the world of fungus gnats and explore the role that cinnamon plays in eradicating these pesky insects. So, sit back, relax, and let's get started!
Understanding Fungus Gnats: A Comprehensive Guide
Before we dive into the magical powers of cinnamon, let's take a moment to understand what fungus gnats are and why they can cause such havoc in our indoor plant sanctuaries. Fungus gnats, also known as sciarid flies, are tiny flying insects that belong to the family Sciaridae. They are commonly found buzzing around houseplants, breeding in the moist soil and organic matter.
These seemingly harmless creatures may appear innocent at first, but don't let their small size fool you. Fungus gnats can quickly multiply into a full-blown infestation if not addressed promptly. They can damage the roots of your plants, stunt their growth, and even introduce harmful fungal diseases. That's why it's crucial to take action as soon as you detect their presence.
The Role of Cinnamon in Controlling Fungus Gnats
Now, let's move on to the star of our show – cinnamon! This delightful spice not only adds a dash of flavor to our favorite dishes but also happens to be a natural ally in the battle against fungus gnats. Cinnamon contains a compound called cinnamaldehyde, which possesses antifungal and antimicrobial properties.
When applied to the soil, cinnamon creates an inhospitable environment for fungus gnats. It disrupts their breeding cycle, inhibits the growth of fungus, and helps to eliminate larvae and eggs. Unlike chemical insecticides, cinnamon is safe to use around children, pets, and beneficial insects, making it an excellent eco-friendly solution for fungus gnat control.
How to Identify Fungus Gnats and Their Damage
Before we plunge into the depths of cinnamon-powered gnat annihilation, it's essential to know how to identify these tiny troublemakers and recognize the damage they can cause. Fungus gnats are small, dark-colored flies with long legs and slender wings. They often hover around your plants or fly erratically when disturbed.
Now, let's turn our attention to the telltale signs of fungus gnat damage. One of the most evident indications is yellowing or wilting leaves, as the larvae feed on the roots, depriving the plant of vital nutrients. Suspicious black specks on the soil surface, which are actually the larvae themselves, are also a clear sign of a fungus gnat infestation.
Exploring the Life Cycle of Fungus Gnats
To effectively combat fungus gnats, it's crucial to understand their life cycle. These persistent insects go through four stages: egg, larva, pupa, and adult. The eggs are usually laid in the top layer of soil, and once hatched, the larvae begin feeding on organic matter and plant roots. The larvae eventually pupate, transforming into adult gnats ready to continue the cycle.
It's important to note that fungus gnats thrive in moist environments, making overwatering a prime culprit in their proliferation. By disrupting their life cycle with cinnamon, we can break the cycle and restore balance to our plant space.
The Impact of Fungus Gnats on Indoor Plants
As plant lovers, we know that our green friends are not merely decorative items but essential living beings that bring joy and improve our indoor air quality. Unfortunately, fungus gnats can jeopardize the health and well-being of our plants.
When fungus gnats infest the roots, they create entry points for harmful fungi, leading to root rot and irreversible damage. Additionally, the constant feeding and root disturbance impede the plant's ability to absorb water and nutrients, resulting in stunted growth and weakened overall health. By tackling fungus gnats head-on with cinnamon, we can protect our precious plants and ensure their flourishing growth.
The Benefits of Using Cinnamon as a Natural Remedy for Fungus Gnats
Now that we understand the detrimental effects of fungus gnats let's explore why cinnamon is the go-to natural remedy for these persistent pests. Firstly, cinnamon is readily available in most households, meaning you can quickly grab a pinch from your kitchen cabinet.
Secondly, using cinnamon for fungus gnat control is both effective and safe. Traditional chemical insecticides may harm beneficial insects, contaminate your indoor environment, or pose health risks. With cinnamon, you can rest assured that your plants and loved ones will remain unharmed while effectively warding off those annoying gnats.
Step-by-Step Guide: Using Cinnamon to Get Rid of Fungus Gnats
Now that we've built our knowledge foundation, let's explore the step-by-step process of using cinnamon to eliminate fungus gnats once and for all.
Start by identifying the affected plants and areas of infestation. This will help you prioritize your efforts and track your progress.
Ensure the soil is dry before applying cinnamon. Moisture can reduce cinnamon's effectiveness. If necessary, adjust your watering routine to keep the soil on the drier side.
Take a small amount of cinnamon powder and sprinkle it directly onto the soil surface around the plant. It's recommended to coat the top layer evenly.
Gently work the cinnamon into the top layer of soil using your fingers or a small gardening tool. This will ensure better coverage and enhance its effectiveness.
Repeat the cinnamon application once a week for several weeks or until you notice a significant reduction in fungus gnat activity.
Effective Ways to Prevent and Manage Fungus Gnat Infestation with Cinnamon
Prevention is always better than a cure, and cinnamon can play a vital role in keeping fungus gnats at bay even before they become a problem. Here are some tips for preventing and managing gnat infestations:
Avoid overwatering your plants, as excess moisture creates a breeding ground for fungus gnats. Allow the top inch of soil to dry out before watering again.
Remove any decaying plant matter, fallen leaves, or organic debris from the soil surface. This eliminates potential food sources for the gnats.
Consider adding a layer of cinnamon directly to the soil surface as a preventive measure. This helps create an unfavorable environment for fungus gnat larvae and prevents their population from skyrocketing.
Practice good hygiene by regularly cleaning and sanitizing your gardening tools, pots, and plant trays. This minimizes the risk of introducing fungus gnats or other pests to your plant collection.
Comparing Different Methods: Cinnamon vs Chemical Controls for Fungus Gnats
When it comes to fighting off fungus gnats, we are often faced with the question of which method to choose: cinnamon or chemical controls? While chemical insecticides may provide a quick fix, they come with potential risks and drawbacks.
Cinnamon, on the other hand, serves as a safe and eco-friendly alternative. It protects your plants without endangering beneficial insects, pollinators, or your health. By choosing cinnamon, you are opting for a holistic approach to pest management that maintains a healthy and thriving ecosystem.
Common Mistakes to Avoid when Using Cinnamon for Fungus Gnat Control
Although cinnamon is a powerful tool in battling fungus gnats, there are a few common mistakes to avoid to ensure maximum effectiveness:
Using cinnamon alone is not a cure-all. It should be complemented with proper watering practices, good hygiene, and other preventive measures.
Avoid applying cinnamon to wet soil, as it can clump and lose its effectiveness. Only apply it when the soil is dry.
Ensure complete coverage of the soil surface to prevent any gaps where the gnats may thrive.
Be patient. Eradicating fungus gnats takes time, persistence, and consistency. Don't expect immediate results, and continue the treatment until the problem subsides.
Expert Tips and Tricks for Successfully Using Cinnamon Against Fungus Gnats
Here are some insider tips and tricks from the experts to help you maximize the effectiveness of cinnamon in your battle against fungus gnats:
For an extra kick, consider mixing cinnamon powder with natural diatomaceous earth. This combination adds an additional layer of defense against the gnats.
If you're using cinnamon as a preventive measure, apply it to the soil surface before potting your plants. This ensures existing larvae or eggs are already confronted with cinnamon upon planting.
Increase air circulation around your plants by using a fan. This creates an unfavorable environment for the gnats and helps to dry out the soil faster.
Cinnamon: A Safe and Eco-Friendly Solution for Eliminating Fungus Gnats
As we reach the end of our journey, it's important to highlight the safety and eco-friendliness of cinnamon as a solution for eliminating fungus gnats. Unlike chemical insecticides, cinnamon poses no harm to beneficial insects like bees and ladybugs.
With cinnamon, you can confidently bid farewell to annoying fungus gnats while embracing a safer and more sustainable approach to pest control. Let's create a harmonious coexistence between our plants, ourselves, and the environment we all share.
Understanding the Science behind Cinnamon's Effectiveness on Fungus Gnats
If you're curious about the science behind cinnamon's effectiveness on fungus gnats, we've got you covered. Cinnamon contains a compound called cinnamaldehyde, which has been found to possess strong antifungal properties.
Studies have shown that cinnamaldehyde inhibits the growth of various fungi, including those that serve as food sources for fungus gnat larvae. By disrupting the fungi's ability to thrive, cinnamon creates an unfavorable environment for the gnats, thus suppressing their population and minimizing the damage they cause.
Case Studies: Real-Life Success Stories Using Cinnamon as a Fungus Gnat Control Method
Don't just take our word for it! Let's dive into some real-life success stories from plant enthusiasts who have tried cinnamon as a fungus gnat control method.
Lisa, an avid indoor gardener, had been battling a persistent fungus gnat infestation that seemed impossible to defeat. She decided to give cinnamon a try, and within a few weeks of consistent application, the gnats were nowhere to be seen. Her plants flourished, and Lisa could finally enjoy her indoor garden without the constant annoyance of those pesky gnats.
Similar success stories have been shared by many plant lovers, all testifying to the remarkable effectiveness of cinnamon in controlling fungus gnats. It's clear that cinnamon is a game-changer when it comes to maintaining a healthy and thriving indoor plant collection.
Conclusion
Congratulations! You've reached the end of our comprehensive guide on controlling fungus gnats with the power of cinnamon. We hope this article has provided you with valuable insights on understanding, preventing, and combating fungus gnat infestations.
Remember, cinnamon is not only a flavorful spice but also a potent tool in maintaining the health and vitality of your beloved plants. Embrace the natural and eco-friendly approach, and revel in the joy of a gnat-free indoor oasis.
Thank you for joining us on this journey, and happy gardening!