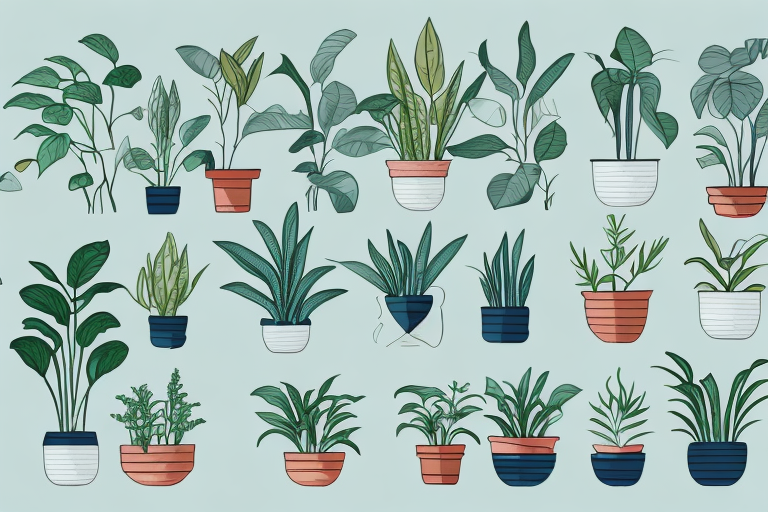 Are you new to the world of plants? Do you want to learn how to take care of your green friends but don't know where to start? Look no further! In this comprehensive guide, we will cover everything you need to know about plant care for beginners. From understanding the basic principles to choosing the right plants, creating a suitable environment, and tackling common issues, we've got you covered. So, grab your watering can and let's get started!
Understanding the Basics of Plant Care
Plant care may seem intimidating at first, but once you grasp the basics, it becomes much simpler. The key elements of plant care include proper watering, providing adequate light, using the right soil mix, fertilizing, pruning, and keeping an eye out for pests and diseases. Each of these aspects requires attention and understanding, which we will delve into in detail in the subsequent sections.
When it comes to plant care, one of the most important things to remember is that each plant is unique. Different plants have different needs and preferences, so it's crucial to do your research and understand the specific requirements of the plants you own.
Choosing the Right Plants for Beginners
If you are new to plant care, it's essential to start with plants that are known for being low-maintenance and forgiving. Some ideal options for beginners include pothos, snake plants, and spider plants. These plants are hardy, adaptable, and can tolerate a range of conditions. As you gain more experience, you can gradually introduce more challenging plants to your collection.
When selecting plants, consider factors such as light requirements, watering needs, and the level of care they require. It's also a good idea to assess the available space in your home, as some plants can grow quite large.
Essential Tools and Equipment for Plant Care
To ensure proper plant care, it's important to have the right tools and equipment handy. Some essential items include a watering can or sprayer, a pair of pruning shears, a trowel or hand shovel for repotting, and a mister for plants that require humidity. Additionally, consider investing in a moisture meter to accurately determine when your plants need watering.
Having these tools readily available will make your plant care routine much more manageable and enjoyable.
Creating a Suitable Environment for Your Plants
Plants thrive in environments that mimic their natural habitats. Factors such as temperature, humidity, and air circulation play a crucial role in their overall health and well-being. When creating a suitable environment for your plants, consider the specific needs of each plant and try to replicate those conditions as closely as possible.
For example, tropical plants prefer higher humidity levels, while desert plants require drier conditions. Understanding and providing the necessary environmental conditions will contribute to the long-term success of your plants.
The Importance of Proper Watering Techniques
Watering is one of the most critical aspects of plant care. However, it's essential not to overwater or underwater your plants. Different plants have different water requirements, and factors such as pot size, soil type, and humidity levels also come into play. As a general rule, it's better to underwater than overwater, as most plants can recover from drought stress, but not from root rot caused by excessive moisture.
When watering your plants, ensure that the water is evenly distributed and reaches the roots. Avoid shallow watering or letting your plants sit in excess water, as this can lead to root rot. Instead, water thoroughly and allow the soil to dry out slightly before watering again.
Understanding Light Requirements for Different Plants
Light is a vital factor in plant growth and health. Some plants thrive in bright, direct sunlight, while others prefer indirect or low light conditions. Understanding the light requirements of your plants will help you provide the optimal environment for their growth.
To determine the light levels in your home, observe the natural light patterns and assess the intensity of the sun in different areas. Based on this assessment, you can then place your plants accordingly. Using sheer curtains or blinds can also help filter or diffuse harsh sunlight if needed.
Tips for Selecting the Right Soil Mix for Your Plants
The soil is the foundation for your plants' health and growth. Choosing the right soil mix is crucial, as it provides essential nutrients, proper drainage, and a stable structure for the roots.
For most indoor plants, a well-draining potting mix is ideal. Avoid using garden soil, as it can be too compact and may contain pests or diseases. Instead, opt for a commercial potting mix specifically formulated for indoor plants.
If you have specific plants with unique soil requirements, such as succulents or orchids, do some research to understand their specific needs and use the appropriate soil mix to ensure their well-being.
Fertilizing Tips to Promote Healthy Growth
While soil provides essential nutrients to plants, they may still benefit from additional fertilization. Fertilizers help replenish the nutrients and promote healthy growth. However, it's important not to over-fertilize, as this can lead to nutrient burn and affect the overall health of your plants.
When choosing a fertilizer, consider the specific needs of your plants. Some plants may require a slow-release fertilizer, while others may need a more regular application. Always follow the instructions provided by the manufacturer and monitor your plants' response to ensure they are receiving the right amount of nutrients.
Common Pests and Diseases to Watch Out For
Pests and diseases can be a nuisance and can quickly spread among your plant collection if not addressed promptly. Common pests include aphids, spider mites, and mealybugs, while diseases such as root rot and powdery mildew can also occur.
To prevent and treat pest and disease infestations, regularly inspect your plants for any signs of trouble, such as yellowing leaves, drooping, or unusual spots. If you notice any issues, take immediate action by isolating the affected plant and treating it accordingly. There are various organic and chemical methods available for pest and disease control, depending on your preferences and the severity of the problem.
How to Identify and Treat Plant Stress
Plants can become stressed due to a variety of factors, including incorrect watering, insufficient light, extreme temperatures, or nutritional deficiencies. Identifying and addressing plant stress is crucial for their survival and well-being.
Signs of plant stress can manifest in various ways, such as wilting, yellowing or browning leaves, stunted growth, or leaf drop. If you notice any of these symptoms, examine the conditions your plant is in and make the necessary adjustments. This may include adjusting the watering routine, providing more or less light, or addressing any other potential stressors.
Pruning and Trimming Techniques for Beginners
Pruning and trimming are essential for maintaining the shape, health, and size of your plants. Regular pruning promotes new growth and helps prevent pest and disease issues. However, it's important to learn the correct techniques and timing for each plant.
Before you start pruning, make sure you have a clean and sharp pair of pruning shears. Remove any dead, damaged, or yellowing leaves or stems. You can also trim back overgrown branches to encourage bushier growth. Research each plant's specific pruning requirements to ensure you are providing the right care.
Propagation Methods for Beginners: From Seeds to Cuttings
Propagating plants is an exciting and rewarding way to expand your plant collection. There are various methods of propagation, including seed sowing, stem cuttings, and division. Each method has its own requirements and success rates.
For beginners, starting with stem cuttings is often the easiest and most successful method. Research the specific propagation techniques for your desired plants and follow the step-by-step instructions carefully for the best results.
Understanding Plant Dormancy and Winter Care
Many plants go through a dormancy period during the winter months, where their growth slows down or halts entirely. Understanding how to care for your plants during this time is essential for their survival.
During the winter, reduce watering frequency and make sure to adjust the light levels to accommodate the reduced sunlight. Some plants may benefit from being moved to a cooler location, while others may require additional warmth. Research the specific requirements of your plants and provide the necessary care to ensure they survive the winter season.
Indoor vs Outdoor Plant Care: What You Need to Know
Whether you choose to care for your plants indoors or outdoors will depend on various factors, such as the climate, available space, and personal preferences. Both indoor and outdoor plants can thrive if given the right care and conditions.
Indoor plants may require more attention to meet their specific light and humidity needs, while outdoor plants are exposed to natural elements and may require protection from extreme weather conditions. Consider the pros and cons of each option and select the care routine that suits your lifestyle and environment.
Troubleshooting Common Plant Care Issues
While plant care can be a rewarding experience, it's not always without its challenges. From yellowing leaves to wilting plants, various issues can arise. However, with the right knowledge, most problems can be resolved.
If you encounter any plant care issues, conduct research or seek advice from fellow gardeners or local plant experts. Identifying the problem early on and taking the appropriate actions can often save your plant from further damage.
How to Create a Plant Care Schedule for Success
A well-planned plant care schedule can help you stay organized and ensure that your plants receive the attention they need. Creating a schedule will depend on factors such as the number of plants you own, their specific care requirements, and your availability.
Developing a routine that includes regular watering, pruning, fertilizing, and pest prevention can contribute to the overall health and well-being of your plants. Consider using digital or physical reminders to help you stay on track and avoid neglecting your green friends.
Exploring Different Types of Plant Containers and Pots
Plant containers and pots not only serve as functional vessels for your plants but can also enhance the aesthetic appeal of your space. There is a wide range of options available, including ceramic pots, terracotta pots, hanging baskets, and decorative planters.
When selecting containers, ensure that they have sufficient drainage holes to avoid waterlogged soil. Consider the size and material of the pot, as this can affect the moisture retention and overall growth of your plants. Get creative and experiment with different styles to find what works best for your plant collection and interior design.
Incorporating Houseplants into Interior Design: Tips and Ideas
Houseplants not only bring life and beauty to your home but can also serve as striking design elements. Incorporating plants into your interior design can create a harmonious and refreshing atmosphere.
Consider your existing decor style and select plants that complement it. You can use hanging plants to add vertical interest, or large statement plants to make a bold statement. Experiment with different placements and groupings to create visually appealing displays.
Sustainable Plant Care Practices: Eco-friendly Tips for Beginners
With environmental consciousness on the rise, adopting sustainable plant care practices is becoming increasingly important. There are various ways you can reduce your ecological footprint while still enjoying your green oasis.
Some eco-friendly practices include using organic fertilizers, composting kitchen scraps for homemade plant food, and employing natural pest control methods. Additionally, consider repurposing or upcycling materials for your plant containers to minimize waste.
And there you have it! A comprehensive guide to plant care for beginners. We hope this article has answered your questions and equipped you with the knowledge and confidence to embark on your plant care journey. Remember, patience and observation are key when it comes to tending to your plants. Enjoy the process, learn from your experiences, and watch your plants thrive!