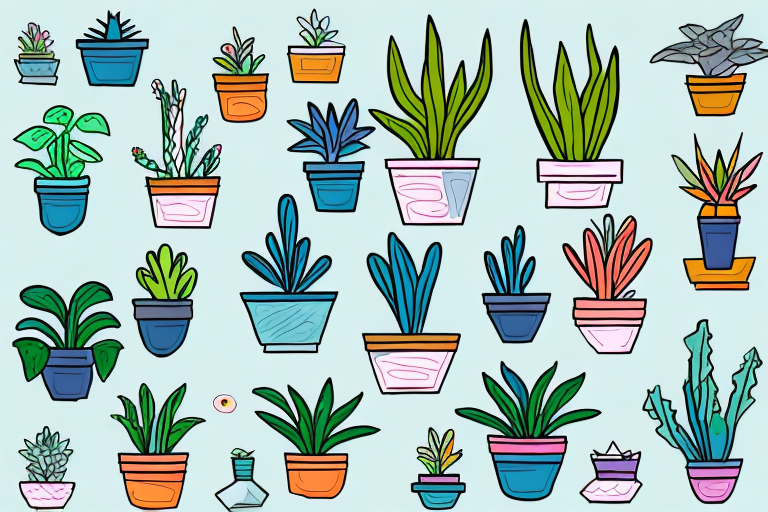 Welcome to a comprehensive guide on popular potted plants! In this article, we will explore a wide range of topics related to the world of indoor and outdoor plant cultivation. From the benefits of having potted plants in your home to creating lush outdoor oases, we've got you covered. So sit back, relax, and let's dive into the wonderful world of potted plants.
The Benefits of Having Potted Plants in Your Home
Having potted plants in your home not only adds a touch of natural beauty but also brings numerous benefits to your overall well-being. Plants have the remarkable ability to improve air quality by absorbing carbon dioxide and releasing oxygen. This natural process not only helps to purify the air but also increases humidity levels, making your indoor environment more comfortable.
Research has shown that the presence of potted plants indoors can improve concentration, reduce stress levels, and even enhance productivity. Studies have also found that being surrounded by greenery can have a positive impact on mental health, promoting feelings of calmness and relaxation.
Beyond their aesthetic appeal and health benefits, potted plants can also serve as natural air purifiers. Certain plant varieties, such as the snake plant and peace lily, have been found to remove toxins from the air, making your living space healthier and more pleasant.
Choosing the Right Pots for Your Plants
When it comes to choosing pots for your potted plants, there are a few important factors to consider. The size of the pot is crucial, as it directly impacts the growth and health of your plants. It's essential to choose a pot that allows enough space for the plant's roots to spread out and grow. A pot that is too small can lead to root-bound plants, while a pot that is too large may cause waterlogging and root rot.
Material selection is another crucial aspect. Clay pots are a popular choice as they provide good drainage and allow the roots to breathe. However, they can become heavy when filled with soil and water. Plastic pots, on the other hand, are lightweight and retain moisture well but may not allow for proper airflow to the roots.
Consider the aesthetic aspect as well, choosing pots that complement your interior or outdoor design. Whether you opt for classic terracotta, modern ceramic, or sleek metal, remember that the pot should not only be functional but also enhance the visual appeal of your plants.
Easy-to-Maintain Potted Plants for Beginners
If you're new to the world of potted plants, starting with easy-to-maintain varieties can boost your confidence and ensure a successful gardening experience. One such example is the resilient spider plant (Chlorophytum comosum), which thrives in various light conditions and requires minimal watering.
The pothos (Epipremnum aureum) is another beginner-friendly plant that can tolerate a wide range of light levels and is forgiving when it comes to watering. Its heart-shaped leaves add a touch of elegance to any room.
For those who prefer flowering plants, the peace lily (Spathiphyllum) is an excellent choice. This plant is known for its ability to indicate when it needs watering, as its leaves will droop slightly. With regular watering and medium to low light, the peace lily will reward you with stunning white blooms.
Trending Potted Plants for Interior Design
Incorporating potted plants into interior design has become increasingly popular in recent years. The lush and vibrant monstera deliciosa, also known as the Swiss cheese plant, is a favorite among interior designers. Its large, fenestrated leaves create a captivating visual statement, instantly transforming any space into a tropical paradise.
The fiddle-leaf fig (Ficus lyrata) is another trendy plant that adds a touch of elegance to contemporary interiors. With its broad, glossy leaves and vertical growth habit, it is perfect for filling empty corners or becoming a focal point in your rooms.
Succulents are also highly sought after due to their unique shapes and low maintenance requirements. Plants like the Echeveria, Haworthia, and Aloe Vera come in various colors and sizes, making them versatile choices for any interior style.
The Best Potted Plants for Small Spaces
Living in a small space doesn't mean you have to miss out on the joys of having potted plants. There are plenty of options that can thrive in limited space and add a touch of greenery to your home. The compact snake plant (Sansevieria) is an excellent choice, as it can tolerate low light and requires minimal watering.
Another option is the charming jade plant (Crassula ovata), also known as the money plant. With its small, fleshy leaves and compact growth habit, it can bring a touch of elegance to any tabletop or windowsill.
If you're looking for trailing plants, consider the string of pearls (Senecio rowleyanus) or the heartleaf philodendron (Philodendron hederaceum). These plants look stunning in hanging pots or cascading down shelving units, adding a sense of depth and beauty to small spaces.
How to Care for Indoor Potted Plants
Proper care is essential for maintaining the health and beauty of your indoor potted plants. Understanding their specific needs in terms of light, water, and humidity is crucial for success.
Light requirements vary from plant to plant, with some preferring bright, indirect light, while others thrive in low-light conditions. Placing your plants near windows or providing artificial lighting can help ensure they receive the appropriate amount of light.
Watering is another critical aspect of plant care. Overwatering can lead to root rot, while underwatering can cause wilting and stunted growth. It's important to find a balance and water your plants when the top inch of soil feels dry. Always remember to use well-draining pots and avoid leaving plants sitting in standing water.
Humidity levels can be increased by grouping plants together or using a humidifier. Misting your plants with water can also provide temporary relief in dry environments. Monitoring humidity is especially important for tropical plants that require higher levels of moisture.
Potted Plants That Thrive in Low Light Conditions
Not all spaces are blessed with abundant natural light, but that doesn't mean you can't enjoy the beauty of potted plants. Several plant varieties can thrive in low-light conditions, bringing life to even the darkest corners of your home.
The snake plant (Sansevieria), with its long, upright leaves, is an ideal choice for low-light areas. It is known for its ability to tolerate a wide range of light conditions and can even thrive under fluorescent lighting.
The ZZ plant (Zamioculcas zamiifolia) is another excellent option for low-light environments. Its glossy, dark green leaves add a touch of elegance to any setting, and it is highly adaptable to various light levels.
For a more trailing plant, consider the pothos (Epipremnum aureum). This plant can thrive in low-light areas, making it a versatile choice to brighten up dimly lit rooms.
Top Air-Purifying Potted Plants for a Healthy Home
Pollutants in the air can have a negative impact on our health, but certain potted plants can help clean the air and create a healthier living environment. The spider plant (Chlorophytum comosum) is known for its ability to remove toxins such as formaldehyde and benzene from the air.
The peace lily (Spathiphyllum) is another powerhouse when it comes to air purification. It can effectively remove pollutants like ammonia, toluene, and xylene, making it an excellent choice for bedrooms and living areas.
If you're looking for a plant that adds a touch of natural beauty while purifying the air, consider the Boston fern (Nephrolepis exaltata). With its lacy fronds and high transpiration rate, it can increase humidity levels and remove various air pollutants.
Popular Herbs to Grow in Pots for Culinary Delights
There's nothing quite like the taste of fresh herbs in your culinary creations. Growing herbs in pots allows you to have easy access to these flavor-packed ingredients right in your kitchen. Some of the most popular herbs for potted herb gardens include basil, rosemary, thyme, parsley, and mint.
Basil is not only delicious but also easy to grow. This aromatic herb thrives in warm and sunny locations, making it perfect for outdoor potted herb gardens.
Rosemary is another herb that can add a burst of flavor to your dishes. It prefers full sun and well-drained soil, making it a great candidate for larger outdoor pots.
Thyme, parsley, and mint are versatile herbs that can be grown both indoors and outdoors. These herbs require moderate sunlight and regular watering to ensure healthy growth.
Creating a Lush Outdoor Oasis with Potted Plants
Transforming your outdoor space into a lush oasis can be achieved by strategically placing potted plants throughout your garden or balcony. Start by selecting plants that thrive in your specific climate and have similar light and water requirements.
Tall and dramatic plants like the potted palm (Chamaedorea elegans) or the Madagascar dragon tree (Dracaena marginata) can add vertical interest to your outdoor oasis.
For color and texture, consider incorporating flowering plants such as geraniums, petunias, or impatiens. These annuals are easy to care for and will provide a stunning display of vibrant blooms throughout the summer months.
To create a sense of harmony, mix various plant sizes, shapes, and textures in your outdoor oasis. Combine trailing plants like ivy or sweet potato vine with upright plants such as ornamental grasses or elephant's ears. The possibilities are endless!
The Most Sought-After Succulents for Your Collection
Succulents have taken the gardening world by storm, and it's no wonder why. These resilient plants come in a wide range of shapes, colors, and sizes, making them a favorite among plant enthusiasts.
The echeveria genus offers an incredible variety of succulents, from the compact and rosette-shaped Echeveria 'Lola' to the vibrant and ruffled Echeveria 'Perle von Nürnberg'. These plants are perfect for adding a touch of elegance to indoor and outdoor spaces.
If you're looking for a statement piece, the popular jade plant (Crassula ovata) is an excellent choice. With its fleshy leaves and tree-like growth habit, it adds a touch of sophistication to any collection.
For those who love unique and unusual plants, the lithops, also known as living stones, are a must-have. These small succulents resemble pebbles or rocks and have adapted to survive in harsh desert environments.
Enhancing Your Work Environment with Office-Friendly Potted Plants
Adding potted plants to your office space not only beautifies the environment but also offers numerous benefits for your well-being and productivity. The peace lily (Spathiphyllum) is a popular choice for offices as it thrives in low-light conditions and has excellent air-purifying properties.
Snake plants (Sansevieria) are another great option for offices. Their upright, sword-like leaves add a touch of drama, and they are known for their ability to tolerate neglect and low light levels.
If you prefer smaller plants that don't take up much space, consider desk-friendly options like the ZZ plant (Zamioculcas zamiifolia) or the pothos (Epipremnum aureum). These low-maintenance plants can tolerate a variety of lighting conditions and require minimal watering.
Unusual and Unique Potted Plant Varieties to Add to Your Collection
If you're a plant enthusiast looking to add some unique specimens to your collection, there are plenty of unusual potted plant varieties that will pique your interest.
The Venus flytrap (Dionaea muscipula) is a captivating carnivorous plant that catches insects with its hinged traps. It requires specific growing conditions, including high humidity and bright, indirect light, making it a challenging but highly rewarding plant to care for.
The pitcher plant (Nepenthes) is another extraordinary carnivorous plant known for its stunning pitcher-shaped leaves that trap and digest insects. These plants require a tropical environment and high humidity levels to thrive.
For plant enthusiasts who appreciate intricate foliage patterns, calathea varieties are a must-have. These tropical plants feature bold, colorful leaves with striking geometric patterns, adding a touch of visual interest to any collection.
The Benefits of Growing Edible Plants in Containers
Growing your own food is not only rewarding but also offers numerous benefits for your health and the environment. Container gardening allows you to grow edible plants even in limited spaces.
By growing edible plants in containers, you have more control over the growing conditions, allowing you to tailor the environment to each plant's specific needs.
Container gardening also helps to prevent soil-borne diseases and pests, as you can start with fresh, sterile potting soil. It also enables you to move plants to sunnier or shadier spots as needed, maximizing their growth potential.
Whether you have a sunny balcony, a small backyard, or a windowsill, there are endless possibilities for growing delicious herbs, vegetables, and fruits in containers.
Transforming Your Balcony or Terrace with Potted Plants
Balconies and terraces are excellent opportunities to create your own private oasis in the midst of urban living. By utilizing potted plants, you can maximize the available space and turn your outdoor area into a lush retreat.
Start by selecting plants that thrive in your specific geographical region and match the lighting conditions of your balcony or terrace. This will ensure that your plants receive the right amount of sunlight and water.
Hanging planters and vertical gardens are excellent space-saving options for balconies