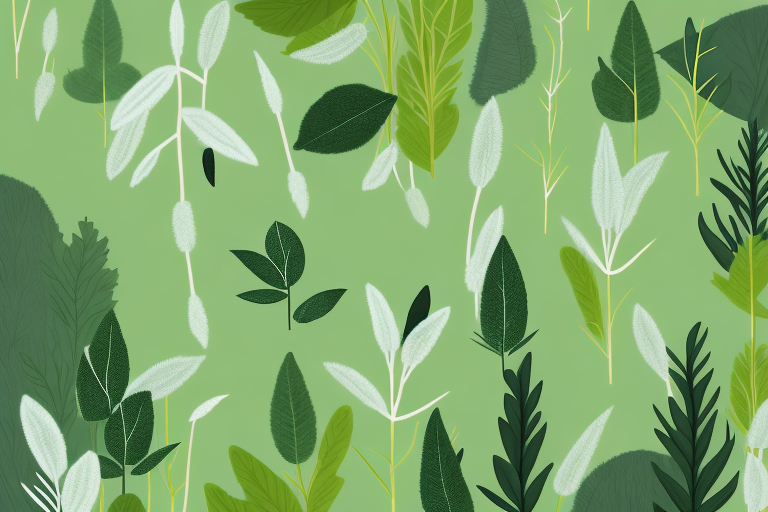 Are you passionate about gardening and looking to add a touch of elegance and beauty to your landscape? Well, look no further than Woodland Sage! With its stunning purple-blue flowers and aromatic leaves, Woodland Sage (Salvia nemorosa) is a versatile and low-maintenance perennial that can bring life and color to any garden. In this comprehensive guide, we will delve into every aspect of caring for Woodland Sage, from choosing the right location to exploring its medicinal and culinary uses. So grab your gardening gloves and let's embark on a journey into the world of Woodland Sage care!
Choosing the Right Location for Woodland Sage
When it comes to selecting a location for your Woodland Sage, it's crucial to take into account its specific requirements. This perennial thrives in full sun, but it can tolerate some light shade. However, be cautious not to place it in deep shade, as this can hinder its growth and prevent it from producing those beautiful blooms that we adore.
Furthermore, Woodland Sage prefers well-drained soil, so make sure to choose a location with good drainage. If your soil tends to retain water, consider amending it with organic matter to improve its drainage capabilities.
Understanding the Soil Requirements for Woodland Sage
The success of your Woodland Sage relies heavily on the quality of the soil it's planted in. This perennial prefers slightly alkaline to neutral soil, with a pH ranging from 6.0 to 7.5. If your soil is too acidic, you can raise its pH by adding lime or wood ash. On the other hand, if your soil is too alkaline, you can lower its pH by incorporating organic matter such as compost or peat moss.
Additionally, Woodland Sage thrives in fertile soil that is rich in nutrients. Consider enriching your soil with well-rotted compost before planting to provide your Woodland Sage with the nourishment it needs to flourish.
Best Time to Plant Woodland Sage
Timing is everything when it comes to planting Woodland Sage. The best time to plant this perennial is in early spring, after the danger of frost has passed. Planting in spring allows the roots to establish themselves before the heat of summer arrives.
However, if you missed the spring planting window, fear not! Woodland Sage can also be planted in fall, at least six weeks before the first frost. Fall planting gives the roots time to develop before the cold temperatures set in, ensuring a strong start for your plants the following spring.
Watering Tips for Woodland Sage
Proper watering is crucial for the health and vitality of Woodland Sage. While this perennial is known for its drought tolerance, it's important to provide it with adequate water, especially during its initial establishment period.
During the first year after planting, be sure to keep the soil evenly moist, but not overly saturated. Once established, Woodland Sage can tolerate dry spells, but it appreciates a good drink during prolonged periods of drought. When watering, aim to saturate the soil around the roots rather than wetting the foliage, as wet leaves can make the plant more susceptible to diseases.
Fertilizing Guidelines for Woodland Sage
Woodland Sage is not a heavy feeder, but a little boost in nutrients can go a long way in promoting healthy growth and abundant blooms. Fertilize your Woodland Sage in early spring, just as new growth begins to emerge. Use a balanced, slow-release fertilizer and follow the manufacturer's instructions for application rates.
Avoid over-fertilizing, as this can lead to excessive foliage growth at the expense of flower production. Remember, Woodland Sage is truly at its best when adorned with those charming blooms!
Pruning Techniques for Woodland Sage
Pruning is an essential part of Woodland Sage care, as it helps maintain its shape, promotes bushiness, and encourages more flowers. To keep your Woodland Sage looking its best, give it a trim in early spring, just as new growth appears.
Start by cutting back any dead or damaged stems to the base of the plant. Then, prune the remaining healthy stems by about one-third of their length. This will stimulate new growth and result in a fuller and more compact plant. Additionally, deadheading spent blooms throughout the flowering season will prolong the blooming period and keep your Woodland Sage looking fresh and tidy.
Protecting Woodland Sage from Pests and Diseases
Woodland Sage, with its strong scent and fuzzy leaves, is not a favorite snack for most pests. However, it's not entirely immune to pest infestations. One pest to watch out for is the sage leafhopper, which can cause yellowing or stippling of the leaves. If you notice any signs of infestation, simply hose off the pests with a strong stream of water or use an insecticidal soap as a natural control method.
In terms of diseases, Woodland Sage is generally resistant to most common garden ailments. However, overwatering or poor drainage can lead to root rot, so be mindful of moisture levels and ensure proper drainage to prevent this issue.
Propagation Methods for Woodland Sage
If you've fallen in love with Woodland Sage and wish to spread its beauty throughout your garden, you'll be pleased to know that this perennial is easily propagated. The two primary methods of propagation for Woodland Sage are division and stem cuttings.
Division is best done in early spring or fall when the plant is not in active growth. Carefully dig up the clump of Woodland Sage and use a sharp knife to divide it into smaller sections, ensuring each division has both roots and foliage. Replant the divisions in prepared soil, water thoroughly, and watch as they establish themselves into new plants.
Stem cuttings, on the other hand, can be taken in summer. Choose a healthy stem and cut a 4-6 inch section just below a leaf node. Remove the lower leaves from the stem, leaving only a few at the top. Dip the cut end in rooting hormone and place the cutting in a well-draining potting mix. Keep the cutting moist, and within a few weeks, you should start to see roots forming. Once rooted, carefully transplant the cutting into a larger pot or directly into the garden.
Troubleshooting Common Issues with Woodland Sage
While Woodland Sage is a resilient plant, it can occasionally face some challenges. One common issue is powdery mildew, a fungal disease that appears as a powdery white coating on the leaves. To prevent this, avoid overhead watering and spacing your plants to allow for good air circulation. If powdery mildew does occur, treat it with a fungicidal spray labeled for this purpose.
Another issue you may encounter is wilting or dieback, particularly during prolonged hot and dry spells. In such cases, give your Woodland Sage a deep watering and provide temporary shade to help it recover. Once the temperatures cool down or the drought subsides, your Woodland Sage should bounce back with its resilient spirit.
Companion Plants for Woodland Sage in the Garden
When it comes to companion planting, Woodland Sage has plenty of friends that can enhance its beauty and provide complementary attributes. Some great companion plants for Woodland Sage include Purple Coneflower (Echinacea purpurea), Black-eyed Susan (Rudbeckia fulgida), and Russian Sage (Perovskia atriplicifolia). These plants not only create a visually appealing combination but also attract beneficial insects and pollinators, creating a thriving ecosystem in your garden.
Creating a Wildlife-Friendly Habitat with Woodland Sage
Woodland Sage not only adds aesthetic appeal to your garden but also provides an important food source and habitat for wildlife. Butterflies and bees are particularly attracted to the nectar-rich flowers of Woodland Sage, making it a fantastic addition to a pollinator-friendly garden.
Consider planting other native wildflowers and grasses alongside your Woodland Sage to create a diverse and wildlife-friendly habitat. This will support a broader range of beneficial insects, birds, and other small creatures, ensuring a harmonious balance in your garden.
Using Woodland Sage in Landscaping Designs
Woodland Sage's vibrant purple-blue flowers and aromatic foliage make it a fantastic addition to any landscape design. Whether you're going for a cottage garden feel, a formal border, or a wildflower meadow, Woodland Sage can fit seamlessly into various landscape styles.
Plant it in groups or drifts for a bold display of color, or use it as a border plant to add structure and definition to your garden beds. Its compact growth habit and long-lasting blooms make it a versatile and eye-catching choice that will surely impress.
Harvesting and Preserving Woodland Sage Leaves
In addition to its ornamental value, Woodland Sage also has practical uses in the kitchen and home remedies. The leaves of Woodland Sage are highly aromatic and can be harvested for culinary purposes or dried for medicinal use.
When harvesting, choose healthy and mature leaves, preferably in the morning when the essential oils are most concentrated. To preserve the flavor and aroma, dry the leaves by hanging them in a well-ventilated area away from direct sunlight. Once fully dried, store the leaves in an airtight container, and they'll be ready to add a burst of flavor and fragrance to your favorite dishes or homemade teas.
Medicinal and Culinary Uses of Woodland Sage
Woodland Sage has a rich history of medicinal and culinary uses dating back centuries. In traditional herbal medicine, Woodland Sage is believed to possess antiseptic, anti-inflammatory, and antioxidant properties. These properties have led to its inclusion in various remedies for sore throats, digestive issues, and respiratory ailments.
When it comes to culinary applications, Woodland Sage's earthy and slightly minty flavor pairs well with roasted meats, poultry, and root vegetables. It can also be used to flavor vinegars, oils, and marinades, adding a delightful twist to your culinary creations.
Exploring Different Varieties of Woodland Sage
If you're ready to dive deeper into the world of Woodland Sage, you'll be pleased to know that there are numerous exciting varieties to explore. Some popular varieties include 'Caradonna' with its deep purple flower spikes, 'May Night' with its abundant blooms, and 'Blue Hill' with its compact growth and intense color.
Each variety offers unique characteristics that can add flair and diversity to your garden. So don't be afraid to experiment and discover the Woodland Sage variety that speaks to your gardening soul!
Congratulations! You've completed your journey through the world of Woodland Sage care. Armed with this knowledge, you're now equipped to grow and care for this enchanting perennial in your own garden. From selecting the perfect location to exploring its culinary and medicinal uses, Woodland Sage is a true gem that can elevate your gardening experience. So go ahead and bring the beauty and fragrant allure of Woodland Sage into your own backyard. Happy gardening!