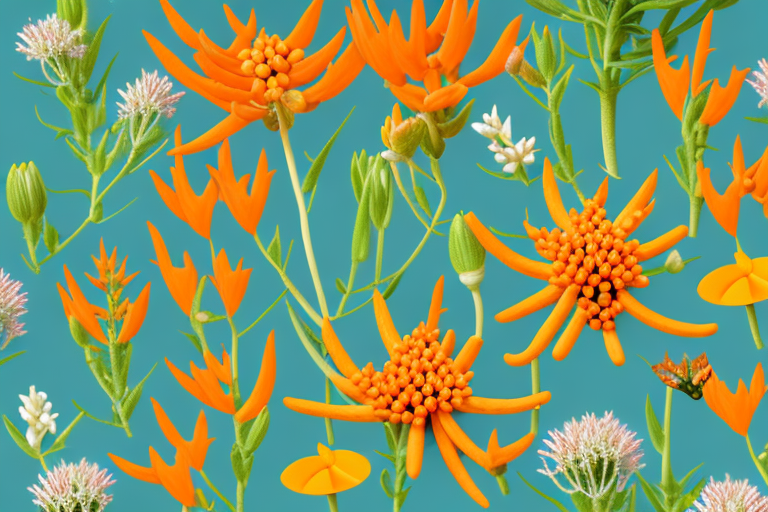 Asclepias Tuberosa, commonly known as Butterfly Weed, is a vibrant and essential plant for any garden. In this article, we will delve into the various aspects of caring for Asclepias Tuberosa, from understanding its importance to practical tips on planting and propagation. So, let's dive in and discover how to ensure the health and longevity of this beautiful native plant.
Understanding Asclepias Tuberosa
Before we jump into the specifics of caring for Asclepias Tuberosa, let's get better acquainted with this remarkable plant. Asclepias Tuberosa is a perennial wildflower that belongs to the milkweed family. Native to North America, it is often referred to as Butterfly Weed due to its attraction to butterflies, bees, and other pollinators.
Asclepias Tuberosa is not just your average wildflower. It is a plant that captivates the senses and brings beauty to any garden or landscape. With its vibrant orange flowers that bloom in the summer, it creates a striking visual spectacle that is hard to ignore. The clusters of small, vivid blossoms stand out against the green foliage, creating a stunning contrast that is sure to catch the eye of anyone passing by.
What is Asclepias Tuberosa?
Asclepias Tuberosa is more than just a pretty face. This herbaceous perennial has a rich history and a wealth of benefits that make it a valuable addition to any garden. Its vibrant orange flowers not only add a pop of color to the landscape but also serve as a valuable food source for many pollinators.
Butterflies, bees, and other pollinators are drawn to the nectar-rich flowers of Asclepias Tuberosa. They flit from blossom to blossom, collecting nectar and transferring pollen as they go. This important process of pollination ensures the survival of many plant species and contributes to the overall health of the ecosystem.
The Importance of Asclepias Tuberosa in the Ecosystem
Asclepias Tuberosa is not just a pretty flower; it plays a crucial role in maintaining a healthy ecosystem. Its nectar-rich flowers provide sustenance for pollinators, including butterflies and bees. These pollinators, in turn, help to fertilize other plants, ensuring their reproduction and survival.
But the importance of Asclepias Tuberosa goes beyond just being a food source for pollinators. It also serves as a host plant for Monarch butterflies, one of the most iconic and beloved butterfly species. Monarchs lay their eggs on the leaves of Asclepias Tuberosa, and when the eggs hatch, the caterpillars feed on the leaves, growing and eventually transforming into beautiful butterflies.
By cultivating Asclepias Tuberosa in your garden, you are not only adding beauty and color but also contributing to the conservation of these essential pollinators. You are creating a safe haven for butterflies and bees, providing them with a reliable food source and a place to lay their eggs. In doing so, you are playing a small but significant role in preserving the delicate balance of nature.
Planting Asclepias Tuberosa
Now that you understand the significance of Asclepias Tuberosa, let's explore how to plant it successfully in your garden.
Choosing the Right Location
When selecting a spot for your Asclepias Tuberosa, opt for a sunny location. This plant thrives in full sunlight, so a minimum of six hours of direct sunlight each day is ideal. Additionally, ensure that the chosen area has well-draining soil to prevent waterlogging.
Imagine the vibrant beauty of your garden as the sun's rays dance upon the delicate, fiery orange blossoms of the Asclepias Tuberosa. The bright and cheerful flowers, also known as Butterfly Weed, serve as a beacon, attracting a plethora of pollinators to your garden. Bees, butterflies, and hummingbirds will delight in the nectar-rich blooms, bringing life and movement to your outdoor space.
As you envision this picturesque scene, consider the perfect spot for your Asclepias Tuberosa. Look for an area that receives ample sunlight throughout the day, allowing the plant to bask in the warmth and energy of the sun. This will ensure that your Butterfly Weed thrives and flourishes, displaying its captivating beauty for all to see.
Soil Preparation for Asclepias Tuberosa
Preparing the soil is a crucial step in ensuring the healthy growth of Asclepias Tuberosa. Before planting, work the soil by loosening it with a garden fork or tiller. Adding organic matter will improve soil fertility and drainage. You can incorporate compost or well-rotted manure to enhance the overall quality of the soil.
Imagine the transformation of your garden soil as you diligently prepare it for the arrival of your Asclepias Tuberosa. With each turn of the garden fork, you are creating a welcoming environment for the roots to spread and establish themselves. As you add organic matter, the soil becomes enriched, brimming with essential nutrients that will nourish the growing plants.
Consider the benefits of incorporating compost or well-rotted manure into the soil. These natural amendments not only enhance soil fertility but also improve its drainage capabilities. By creating a well-balanced soil structure, you are setting the stage for the healthy growth and development of your Asclepias Tuberosa.
Planting Techniques
When it comes to planting Asclepias Tuberosa, you have two options: starting from seeds or with established plants. If you choose to sow seeds, do so in early spring after the last frost. For established plants, transplant them into the prepared soil, making sure to maintain the same depth at which they were growing previously.
Visualize the excitement and anticipation as you embark on the journey of planting your Asclepias Tuberosa. With seeds in hand, you carefully sow them into the soil, gently covering them with a thin layer of earth. As the days grow longer and warmer, you eagerly await the first signs of life, eagerly anticipating the sprouting of seedlings.
If you prefer a more instant gratification, you may choose to start with established plants. With tender care, you carefully lift the young Asclepias Tuberosa from its temporary home and transplant it into the prepared soil. Ensuring that the plant remains at the same depth as before, you gently pat the soil around its base, providing stability and support.
Whether you opt for starting from seeds or with established plants, each method presents its own unique joys and challenges. Whichever path you choose, remember that with patience, love, and proper care, your Asclepias Tuberosa will reward you with a breathtaking display of color and life.
Caring for Asclepias Tuberosa
Caring for Asclepias Tuberosa, also known as Butterfly Weed, is relatively low maintenance, but a little attention goes a long way. This beautiful perennial plant is not only a delight to the eyes but also plays a crucial role in supporting pollinators, especially butterflies. Here are some key aspects to consider when nurturing your Butterfly Weed.
Watering Requirements
While Asclepias Tuberosa is generally drought-tolerant, it is important to provide sufficient water during the initial establishment period. This period is crucial for the plant to develop a robust root system that will help it withstand periods of dryness later on. Watering once a week, or when the top inch of soil feels dry, will usually suffice.
However, it is essential to strike a balance when it comes to watering. Overwatering can lead to root rot and other issues, so it's important not to go overboard. On the other hand, underwatering can cause the plant to wilt and affect its overall health. Monitoring the soil moisture and adjusting your watering routine accordingly will ensure the well-being of your Butterfly Weed.
Fertilizer Needs
Asclepias Tuberosa is naturally adapted to thrive in nutrient-deficient soils. Excessive amounts of fertilizer can negatively impact the plant's growth and its role in attracting pollinators. Therefore, it is best to avoid excessive fertilization and instead focus on cultivating a fertile soil with adequate organic matter.
One way to improve soil fertility is by incorporating compost into the planting area. Compost not only enriches the soil with essential nutrients but also enhances its structure, allowing for better water retention and aeration. In addition to compost, a slow-release organic fertilizer can be applied sparingly during the growing season to provide a gentle nutrient boost.
Pruning Asclepias Tuberosa
Although Asclepias Tuberosa doesn't require significant pruning, occasional trimming can promote better growth and flowering. Prune any dead or damaged stems during early spring to encourage new growth. Removing these lifeless parts will also help prevent the spread of diseases and pests.
Furthermore, removing spent flowers throughout the season can stimulate continuous blooming. This process, known as deadheading, redirects the plant's energy from seed production to new flower development. It not only enhances the visual appeal of your Butterfly Weed but also encourages more visits from butterflies and other pollinators.
When pruning, it's important to use clean and sharp tools to minimize the risk of introducing infections. Disinfecting your pruning tools before and after each use can help prevent the spread of diseases among your plants.
By following these care guidelines, you can ensure that your Asclepias Tuberosa thrives and continues to be a valuable resource for butterflies and other pollinators in your garden. With its vibrant orange flowers and ability to attract a myriad of winged visitors, this native plant is a wonderful addition to any landscape.
Common Pests and Diseases
While Asclepias Tuberosa is generally resistant to pests and diseases, occasional challenges may arise. Here's what to watch out for and how to address them.
Identifying Common Pests
Some common pests that may affect Asclepias Tuberosa include aphids and milkweed bugs. These pests can be managed through various methods, such as handpicking, using insecticidal soaps, or introducing beneficial insects that prey on them. Regularly checking the plant for signs of infestation will help you tackle any issues promptly.
Dealing with Diseases
While Asclepias Tuberosa is generally robust, it can occasionally encounter fungal diseases like powdery mildew or rust. These diseases are typically cosmetic in nature and do not pose a severe threat to the plant's overall health. However, if the infestation becomes severe, you can apply appropriate fungicides following the manufacturer's instructions.
Propagation of Asclepias Tuberosa
If you wish to expand your Asclepias Tuberosa collection or share it with fellow gardening enthusiasts, knowing the techniques for propagation can be valuable.
Seed Collection and Storage
Collecting Asclepias Tuberosa seeds is a simple process. Allow the seed pods to mature and turn brown on the plant before harvesting them. Store the seeds in a cool, dry place in a labeled container until you are ready to sow them.
Germination Techniques
To germinate Asclepias Tuberosa seeds, you can employ a process called stratification. This technique involves exposing the seeds to cold temperatures for a specific duration to break their dormancy. Sow the seeds indoors in late winter/early spring, or outdoors after the last frost, and provide them with adequate moisture and light for successful germination.
Now armed with knowledge on how to care for Asclepias Tuberosa, you can confidently cultivate this stunning perennial in your garden. By welcoming these vibrant flowers, you not only brighten your landscape but also contribute to the well-being of pollinators and the environment. Happy gardening!