Painted Leaf Begonia Care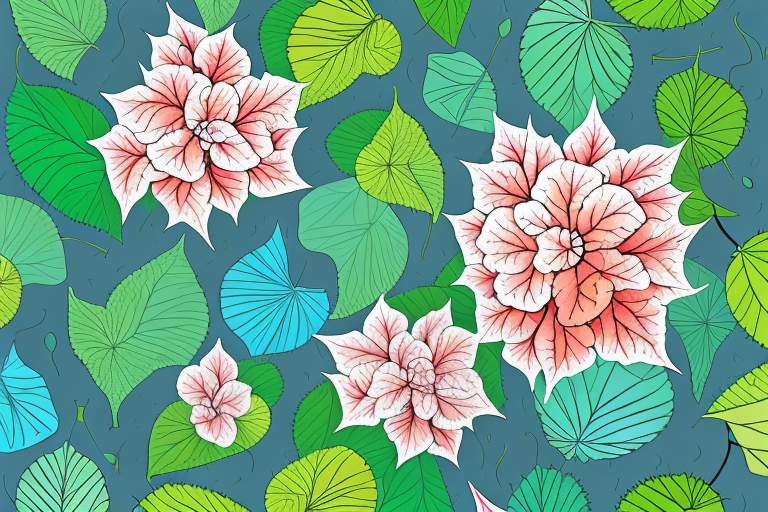 If you're looking to add a touch of exotic beauty to your indoor or outdoor space, look no further than the painted leaf begonia. With its vibrant colors and unique leaf patterns, this tropical plant is a true showstopper. But like any living thing, it requires proper care and attention to thrive. In this guide, we'll explore everything you need to know about painted leaf begonia care, from understanding the plant to solving common problems and even propagating your own little begonias. Let's dive in!
Understanding the Painted Leaf Begonia
Originating from the tropical regions of Brazil, the painted leaf begonia (Begonia rex) is a stunning plant known for its colorful foliage. Its leaves are a work of art, featuring intricate patterns and a wide array of colors, ranging from deep greens to brilliant pinks and purples. Each leaf is like a miniature masterpiece, making these begonias a must-have for any plant lover.
But what makes the painted leaf begonia truly fascinating is its origin and characteristics. Native to the rainforests of northeastern India, Bangladesh, and Myanmar, this begonia thrives in warm, humid environments. Its natural habitat provides the perfect conditions for it to grow and display its mesmerizing foliage.
When you take a closer look at the painted leaf begonia, you'll notice that its leaves are rather large and come in various shapes. Some are oval, while others are heart-shaped or even asymmetrical. This diversity adds to the overall appeal of the plant, making it a visually striking addition to any indoor garden.
What truly sets the painted leaf begonia apart, however, is the mesmerizing patterns on its leaves. These patterns are created by a combination of deeply colored zones and contrasting veins. The result is a stunning display of colors and shapes that resemble a work of art.
Different Varieties of Painted Leaf Begonia
There are numerous varieties of painted leaf begonia, each with its own unique features. One popular variety is 'Escargot', which is named after its spiral-shaped leaves. The leaves of this variety unfurl in a mesmerizing spiral pattern, adding an element of intrigue to the plant.
If you're looking for a begonia with a touch of silver, 'Silver Lady' is the perfect choice. This variety features silver-streaked foliage, adding a touch of elegance to any space. The silver veins running through the leaves create a beautiful contrast against the vibrant colors, making it a standout choice for plant enthusiasts.
For those who prefer a more vibrant and eye-catching begonia, 'Tiger Kitten' is an excellent option. This variety boasts vibrant green and red leaves that resemble a tiger's coat. The striking colors and patterns make it a true statement piece, guaranteed to grab attention wherever it is placed.
With such a diverse selection of painted leaf begonias available, you can find a variety that suits your personal taste and style. Whether you prefer a begonia with spiral-shaped leaves, silver-streaked foliage, or vibrant colors resembling a tiger's coat, there is a painted leaf begonia out there for you.
Essential Care Guidelines for Painted Leaf Begonia
Now that you understand the basics of the painted leaf begonia, it's time to delve into the essential care guidelines to keep your plant thriving and looking its best.
The painted leaf begonia, also known as Begonia rex, is a stunning plant with colorful foliage that adds a touch of elegance to any indoor space. Native to tropical regions, this begonia requires specific care to ensure its optimal growth and health.
Ideal Lighting Conditions for Painted Leaf Begonia
Painted leaf begonias prefer bright, indirect light. While they can tolerate some direct sunlight, too much exposure can scorch their delicate leaves. Place your begonia in a location where it receives bright, filtered light throughout the day. East or north-facing windows are usually ideal.
Keep in mind that the amount of light a begonia receives directly affects the intensity of its leaf colors. Insufficient light can cause the colors to fade, while too much light can lead to leaf burn. Finding the right balance is crucial for maintaining the begonia's vibrant foliage.
Watering Needs of Painted Leaf Begonia
When it comes to watering, finding the right balance is key. Painted leaf begonias like to be kept evenly moist, but they don't appreciate sitting in waterlogged soil. Allow the top inch or so of soil to dry out slightly before watering again. During the warmer months, you may need to water more frequently, while in winter, when growth slows down, you can reduce watering.
It's important to note that overwatering can lead to root rot, which is detrimental to the plant's health. To avoid this, ensure that the pot has proper drainage and use a watering method that allows excess water to escape. Additionally, using room temperature water is recommended as cold water can shock the roots.
Optimal Soil and Fertilizer for Painted Leaf Begonia
The right soil mixture is crucial for the health of your painted leaf begonia. A well-draining, peat-based soil with a slightly acidic pH is ideal. You can also add organic matter, like compost or peat moss, to improve the soil's texture and moisture retention.
When repotting your begonia, choose a pot that is slightly larger than its current one to allow room for growth. Gently loosen the roots during the repotting process to promote healthy root development.
As for fertilizer, use a balanced, water-soluble fertilizer every two to four weeks during the growing season to keep your begonia nourished. Avoid over-fertilizing, as this can lead to excessive foliage growth at the expense of vibrant leaf colors. Always follow the instructions on the fertilizer packaging for proper dosage and application.
By providing your painted leaf begonia with the right lighting conditions, proper watering, and optimal soil and fertilizer, you can ensure that this stunning plant thrives in your home. With its vibrant foliage and unique patterns, the painted leaf begonia is sure to be a standout addition to your indoor garden.
Common Problems and Solutions in Painted Leaf Begonia Care
Despite your best efforts, you may encounter a few bumps along the way in your painted leaf begonia care journey. Here are some common problems and their solutions:
Identifying and Treating Common Diseases
One of the most common diseases that can affect painted leaf begonias is powdery mildew, which appears as a white, powdery coating on the leaves. To combat this, make sure to provide good air circulation around the plant and avoid overhead watering. If the problem persists, you can treat it with a fungicide specifically formulated for powdery mildew.
Dealing with Pests
Pests like mealybugs and spider mites can occasionally infest painted leaf begonias. If you notice tiny, white cotton-like masses or webbing on the leaves, it's a sign of a pest problem. You can manually remove mealybugs with a cotton swab dipped in rubbing alcohol or use insecticidal soap to control an infestation. For spider mites, a strong blast of water or an insecticidal spray should do the trick.
Propagation of Painted Leaf Begonia
If you want to expand your collection of painted leaf begonias or share the joy of growing these stunning plants with others, propagation is the way to go. Here's a step-by-step guide to help you get started:
Step-by-Step Guide to Propagating Painted Leaf Begonia
Select a mature, healthy begonia plant with strong, vibrant leaves.
Take a healthy leaf cutting with a sharp, sterilized knife.
Dip the cut end of the leaf in a rooting hormone powder.
Plant the leaf cutting in a pot filled with a well-draining potting mix.
Place a clear plastic bag over the pot to create a mini greenhouse effect.
Keep the soil lightly moist and provide bright, indirect light.
After a few weeks, tiny plantlets will begin to emerge from the leaf's base.
Once the plantlets have developed roots, carefully separate them and pot them individually.
Continue to care for the new plants as you would for mature painted leaf begonias.
Tips for Successful Propagation
Choose healthy leaves with no signs of disease or pest damage.
Ensure the potting mix is well-draining to prevent rotting.
Keep the humidity high by misting the plant or using a humidity tray.
Avoid direct sunlight on the leaf cuttings, as it can scorch them.
Be patient! It may take a few weeks or longer for the plantlets to develop.
Frequently Asked Questions about Painted Leaf Begonia Care
How often should I water my Painted Leaf Begonia?
The frequency of watering will depend on various factors such as temperature, humidity, and the type of potting mix used. As a general rule, check the top inch of soil and water when it feels slightly dry. Avoid overwatering, as it can lead to root rot.
What type of pot is best for my Painted Leaf Begonia?
A pot with good drainage holes is essential to prevent waterlogged soil. Ceramic or clay pots are excellent choices, as they provide stability and allow the soil to dry out a bit between waterings. Just make sure the pot is appropriate for the size of your begonia and matches your aesthetic preferences.
With these care guidelines and tips, you'll be well-equipped to keep your painted leaf begonias thriving year-round. Remember to observe your plant closely and adjust your care routine as needed. Happy growing!