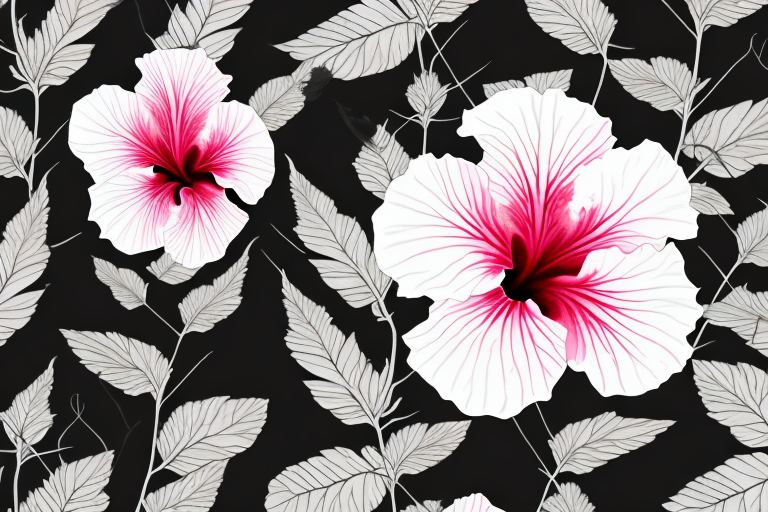 If you are a proud owner of a beautiful hibiscus plant, you may have encountered the pesky problem of black aphids. But fear not! In this article, we will delve into the world of these tiny creatures, understand their impact on hibiscus plants, and explore various methods to prevent and control their presence. So, let's start by understanding what exactly aphids are.
Understanding Aphids
What are Aphids?
Aphids, scientifically known as Aphidoidea, are small, soft-bodied insects that belong to the order Hemiptera. These tiny pests are notorious for their ability to damage plants by sucking the sap from stems, leaves, and buds. They can be found in a wide range of colors, from green and yellow to black, but the focus of our discussion here will be on the black aphids that target hibiscus plants.
Black aphids, also known as Aphis fabae, are one of the most common species of aphids that infest hibiscus plants. These minuscule insects measure only a few millimeters in length and can easily go unnoticed by the untrained eye. However, their impact on hibiscus plants can be devastating if left unchecked.
Black aphids have a voracious appetite for hibiscus sap. They use their specialized mouthparts, called stylets, to pierce the plant's tissues and extract the nutrient-rich sap. As they feed, they weaken the plant, causing stunted growth, yellowing leaves, and even death in severe cases.
Different Types of Aphids
Aphids come in various forms, and each species may have distinct characteristics and preferences. However, when it comes to hibiscus plants, the black aphids are often the primary culprits. These minuscule insects have a voracious appetite for the plant's sap and can multiply rapidly, causing significant damage if left untreated.
Apart from black aphids, there are several other species that commonly infest hibiscus plants. One such species is the green peach aphid (Myzus persicae), which gets its name from its green color and its preference for peach trees. This aphid species can also attack hibiscus plants and cause similar damage to the black aphids.
Another type of aphid that hibiscus enthusiasts need to be aware of is the cotton aphid (Aphis gossypii). As the name suggests, this species is commonly found on cotton plants, but it can also infest hibiscus plants. Cotton aphids are usually pale yellow or green in color and can reproduce rapidly, leading to large infestations if not controlled.
In addition to these common aphid species, there are many others that can affect hibiscus plants. Some species may have specific preferences for certain plant varieties or environmental conditions. It is essential for gardeners and plant enthusiasts to be familiar with the different types of aphids that can infest hibiscus plants to implement appropriate control measures.
The Black Aphids: A Closer Look
Welcome to our in-depth exploration of black aphids, also known as blackfly or black bean aphids. These tiny insects, ranging from dark brown to black in color, are fascinating creatures that can wreak havoc on hibiscus plants. In this article, we will delve into the identification of black aphids and their intriguing life cycle.
Identifying Black Aphids
Spotting black aphids can be quite a challenge due to their small size. These pesky insects are usually found clustered together on the underside of hibiscus leaves or tender shoots. Their dark coloration allows them to camouflage effectively, making it even more crucial to inspect your hibiscus plant regularly for any signs of infestation.
When examining your plant, keep an eye out for tiny, oblong-shaped creatures ranging from 1 to 3 millimeters in length. Their bodies may appear shiny and smooth, and they often have long, thin legs. While black aphids are commonly found on hibiscus plants, they can also infest other plants, such as roses, beans, and fruit trees.
Despite their small size, black aphids can cause significant damage to your plants. They pierce the plant's tissue with their sharp mouthparts and feed on the sap, depriving the plant of vital nutrients. This feeding activity can lead to stunted growth, wilted leaves, and even death if left untreated.
Life Cycle of Black Aphids
Understanding the life cycle of black aphids is essential in effectively combating their presence. These pests have a remarkable ability to reproduce rapidly, making them a formidable adversary for gardeners and horticulturists alike.
Black aphids have a unique reproductive strategy known as parthenogenesis, which allows females to give birth to live nymphs without the need for mating. This asexual mode of reproduction enables them to multiply at an alarming rate. In just a matter of weeks, the nymphs grow into mature adults capable of producing even more offspring.
During their life cycle, black aphids undergo several developmental stages. After birth, the nymphs resemble smaller versions of the adults but lack wings. As they mature, they molt several times, shedding their exoskeletons and growing larger with each molt. Once they reach adulthood, they develop wings, enabling them to disperse and infest new plants.
It is important to note that black aphids thrive in warm and humid conditions, making them particularly active during the spring and summer months. However, they can still pose a threat in cooler climates, as they can overwinter on certain plants and resume their destructive activities when conditions become favorable.
To effectively combat black aphids, it is crucial to implement integrated pest management strategies. These may include physical removal of the insects, introducing natural predators, such as ladybugs or lacewings, or using organic insecticides as a last resort.
In conclusion, black aphids are fascinating creatures that can cause significant damage to hibiscus plants and other susceptible vegetation. By familiarizing yourself with their identification and life cycle, you can take proactive measures to protect your plants and maintain a thriving garden.
Impact of Black Aphids on Hibiscus
Hibiscus plants are known for their vibrant flowers and lush foliage. However, the presence of black aphids can significantly impact their health and beauty. Let's explore the signs of aphid infestation on hibiscus and how these tiny insects affect the overall well-being of the plant.
Signs of Aphid Infestation on Hibiscus
There are several signs that indicate the presence of black aphids on your hibiscus plant. One of the most noticeable signs is the yellowing of leaves. As aphids feed on the sap of the plant, they deprive it of essential nutrients, causing the leaves to lose their vibrant green color and turn yellow.
Another sign to watch out for is stunted growth. When hibiscus plants are infested with black aphids, their growth can be significantly hindered. The lack of nutrients due to aphid feeding can stunt the plant's development, resulting in smaller leaves and overall reduced size.
In addition to yellowing leaves and stunted growth, distorted buds are also a common indicator of aphid infestation. As these tiny pests feed on the tender buds, they can cause them to become deformed and misshapen. This not only affects the visual appeal of the plant but also hampers its ability to produce healthy and beautiful flowers.
Furthermore, black aphids secrete a sticky substance known as honeydew. This sugary residue can be found on the leaves and stems of the hibiscus plant. Not only does honeydew make the plant appear dirty and unattractive, but it also serves as a breeding ground for sooty mold.
Sooty mold is a black fungus that thrives on the sugary honeydew secreted by the aphids. It forms a dark, powdery coating on the leaves and stems of the hibiscus plant, further diminishing its aesthetic appeal. Moreover, the presence of sooty mold can interfere with the plant's ability to photosynthesize, hindering its overall growth and vitality.
How Black Aphids Affect Hibiscus Health
Aphids can weaken hibiscus plants by depriving them of vital nutrients. As these tiny insects pierce the plant's tissues and suck the sap, they extract essential sugars and other nutrients that are necessary for the plant's growth and development. The continuous feeding of aphids can lead to nutrient deficiencies, causing the hibiscus plant to become weak and vulnerable to other stressors.
Moreover, the act of aphid feeding introduces toxins into the hibiscus plant. These toxins can further harm the plant's tissues and disrupt its natural processes. The damage caused by aphids can weaken the plant's immune system, making it more susceptible to diseases and other pests.
Additionally, the honeydew secreted by black aphids attracts other undesirable pests, such as ants. Ants are attracted to the sweet substance and will often form colonies near aphid-infested hibiscus plants. These ants not only protect the aphids from natural predators but can also cause damage to the plant by creating tunnels in the soil and disturbing the root system.
Left untreated, black aphids can severely compromise the health and beauty of your hibiscus plant. It is crucial to take prompt action to control and eliminate aphid infestations to ensure the long-term vitality and stunning appearance of your hibiscus plants.
Prevention and Control of Black Aphids
Natural Predators of Black Aphids
Nature provides us with some allies in the fight against black aphids. Ladybugs, lacewings, and parasitic wasps are among the beneficial insects that feed on aphids. By encouraging these predators to visit your garden, you can keep aphid populations in check and maintain the overall balance of your hibiscus ecosystem.
Cultural Control Methods
Implementing cultural control methods can significantly reduce the likelihood of aphid infestations. Regularly pruning and removing any infested or dead plant parts can eliminate potential hiding spots for aphids. Additionally, maintaining a healthy environment for your hibiscus plants by providing adequate sunlight, proper watering, and well-drained soil can make them less susceptible to aphid damage.
Chemical Control Methods
If natural and cultural control methods prove ineffective or if the infestation is severe, chemical control methods can be considered as a last resort. Consult a professional or your local garden center for recommendations on suitable insecticides specifically formulated for aphids. Be cautious when using chemicals, and always follow the instructions provided to ensure the safety of your hibiscus plant and the environment.
Frequently Asked Questions About Black Aphids on Hibiscus
Can Black Aphids Kill Hibiscus?
While black aphids can cause significant damage to hibiscus plants, they are unlikely to kill them unless the infestation goes untreated for an extended period. Prompt action and proper care can help protect your hibiscus plant and ensure its survival.
How to Prevent Black Aphids from Returning?
Preventing the return of black aphids involves a combination of proactive measures. Regularly inspect your hibiscus plant for signs of infestation, encourage natural predators, maintain a healthy environment, and apply appropriate control methods if necessary. By being vigilant and proactive, you can minimize the risk of black aphids reinfesting your hibiscus plants.
With a greater understanding of black aphids and their impact on hibiscus plants, you can take charge and protect your flourishing garden. By employing a multi-faceted approach that includes natural, cultural, and, if needed, chemical control methods, you can keep these tiny invaders at bay. Remember, a little care and attention go a long way in maintaining the health and beauty of your hibiscus plants, ensuring they thrive for years to come.