Cause of Yellow Leaves on Hibiscus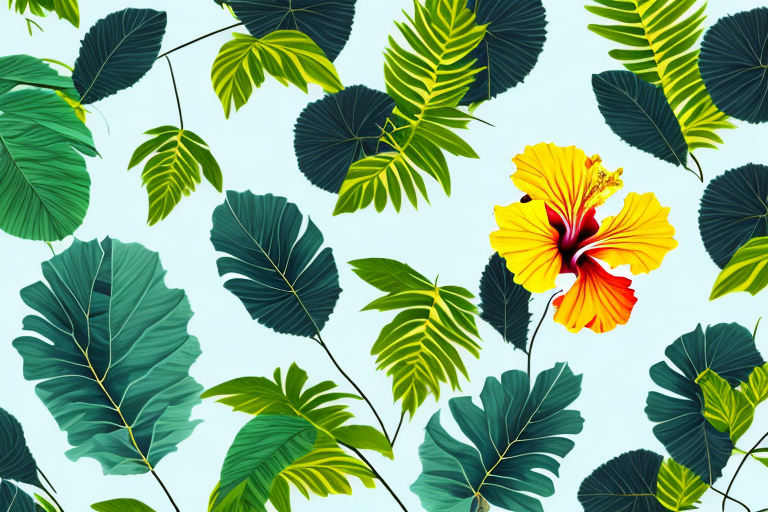 If you have a hibiscus plant in your garden or home, you may have noticed its leaves turning yellow. This can be a cause for concern as yellow leaves indicate that something is not right with the plant. In this article, we will explore the various factors that can lead to yellowing leaves on hibiscus plants and provide detailed information on how to identify, diagnose, and treat these issues.
Understanding the Basics of Hibiscus Plant Care
Before we dive into the possible causes of yellow leaves on hibiscus plants, it's important to understand the basics of hibiscus plant care. Hibiscus plants thrive in warm and tropical climates and require specific conditions to grow and maintain their vibrant green foliage. Proper watering, adequate sunlight, balanced fertilization, and regular pruning are some of the crucial aspects of hibiscus plant care that can help prevent yellowing leaves.
Identifying Common Symptoms of Hibiscus Leaf Yellowing
Yellowing leaves on hibiscus plants can manifest in different ways, and it's important to be able to identify the specific symptoms. Typically, the discoloration starts at the tips of the leaves and gradually spreads towards the base. The yellowing may also be accompanied by other symptoms like leaf curling, wilting, or even premature leaf drop. By closely examining these symptoms, you can gain valuable insights into the cause of the problem.
Importance of Diagnosing Yellow Leaves on Hibiscus Plants
Diagnosing the cause of yellow leaves on hibiscus plants is crucial because it allows you to take appropriate action to rectify the issue. Several factors can contribute to the yellowing of hibiscus leaves, including environmental factors, watering practices, pest infestations, nutrient deficiencies, and even diseases. Understanding the underlying cause is the first step towards restoring your hibiscus plant's health.
Examining Environmental Factors and Their Impact on Hibiscus Leaf Color
Environmental factors play a significant role in the health of hibiscus plants and can contribute to the yellowing of leaves. Temperature fluctuations, excessive sun exposure, overwatering, and underwatering are key factors to consider. In this section, we will delve into each of these factors, explaining their impact on hibiscus leaf color and providing helpful tips to prevent or address the issue.
How Temperature Fluctuations Affect the Health of Hibiscus Leaves
Hibiscus plants are sensitive to extreme temperature changes. Freezing temperatures can damage their leaves, causing them to turn yellow and eventually drop off. Similarly, excessively high temperatures can lead to heat stress and leaf scorch. By understanding the optimal temperature range for hibiscus plants and taking appropriate measures to protect them, you can ensure healthy leaf color.
The Role of Sun Exposure in Yellowing Leaves on Hibiscus Plants
While hibiscus plants thrive in sunlight, excessive exposure to the sun can cause yellowing of their leaves. Sunburn and photooxidative damage are common problems that can result from inadequate shade or prolonged direct sun exposure. We will discuss the significance of proper sun exposure, provide tips on sun protection, and help you identify the signs of sun damage in hibiscus leaves.
Investigating the Effects of Overwatering on Hibiscus Leaf Color
Overwatering is a common mistake that many gardeners make, and it can have a detrimental effect on the health of hibiscus plants. When hibiscus plants are overwatered, their roots become waterlogged, leading to poor oxygen circulation and nutrient uptake. This can result in nutrient deficiencies and root rot, both of which contribute to the yellowing of leaves. We will give you practical advice on proper watering techniques to prevent overwatering and maintain healthy leaf color.
Understanding the Link Between Underwatering and Yellow Leaves on Hibiscus
On the other hand, underwatering can also cause yellowing of hibiscus leaves. When the plant does not receive sufficient water, it goes into survival mode and redirects its resources, resulting in the yellowing and wilting of leaves. We will discuss the signs of underwatering, provide guidance on watering frequency and techniques, and share valuable tips for keeping your hibiscus plant properly hydrated.
Nutritional Deficiencies and Their Role in Hibiscus Leaf Yellowing
Nutrient deficiencies can greatly impact the overall health of hibiscus plants, leading to yellowing leaves and stunted growth. Insufficient levels of essential nutrients such as nitrogen, phosphorus, potassium, iron, and magnesium can result in various symptoms, including yellow leaves. We will explore the importance of proper fertilization, highlight the signs of nutrient deficiencies, and provide guidance on choosing the right fertilizer to enhance the leaf color of your hibiscus plant.
Analyzing the Impact of Soil pH Levels on Hibiscus Leaf Health
Soil pH levels can significantly influence the availability and uptake of nutrients by hibiscus plants. When the soil pH is out of balance, nutrient deficiencies can occur, leading to yellowing leaves. We will explain the ideal pH range for hibiscus plants, discuss the effects of acidic and alkaline soils, and provide practical advice on soil testing and pH adjustment to promote healthy leaf color.
The Influence of Pests and Diseases in Causing Yellow Leaves on Hibiscus
Pests and diseases can wreak havoc on hibiscus plants and contribute to leaf yellowing. In this section, we will focus on the common pests and diseases that affect hibiscus plants and explain how they can lead to yellow leaves. By recognizing the signs of pest infestations and disease infections, you can promptly address these issues and prevent further damage to your hibiscus plant.
Common Pests That Can Trigger Yellowing Leaves in Hibiscus Plants
Pests such as aphids, spider mites, whiteflies, mealybugs, and thrips are known to infest hibiscus plants and cause various problems, including yellowing leaves. We will provide detailed insights into the identification, prevention, and treatment of these pests. By implementing effective pest control measures, you can ensure that your hibiscus plant remains healthy and vibrant.
Preventive Measures to Protect Your Hibiscus from Pest Infestation and Leaf Damage
Prevention is key when it comes to dealing with pests and protecting your hibiscus plant from leaf damage. We will outline preventive measures that you can take to minimize the risk of pest infestations and the subsequent yellowing of leaves. From regular inspections to natural repellents and companion planting, we will provide you with valuable strategies to keep your hibiscus plant pest-free.
Identifying Fungal Infections as a Potential Cause for Yellow Leaves on Hibiscus Plants
Fungal infections can be a significant threat to the health of hibiscus plants and can contribute to the yellowing of leaves. Common fungal diseases like powdery mildew, leaf spot, and root rot can damage the foliage and hinder the plant's ability to absorb nutrients. We will discuss the symptoms of these fungal infections, explore their causes, and provide guidance on effective treatment options.
Exploring Viral Diseases That Can Result in Yellowing Leaves on Your Hibiscus
Hibiscus plants are also susceptible to various viral diseases, which can cause yellowing of leaves and other detrimental effects. Viral diseases like hibiscus chlorotic ringspot virus and hibiscus latent ringspot virus can severely impact the health and appearance of the plant. We will delve into the symptoms, transmission methods, and preventive measures for these viral diseases to help you maintain the leaf color of your hibiscus plant.
Proper Pruning Techniques to Prevent and Treat Yellow Leaves on Hibiscus
Pruning is an essential aspect of hibiscus plant care and can help prevent and treat yellow leaves. Regular pruning promotes airflow, removes dead or diseased branches, and encourages new growth. We will provide step-by-step instructions on proper pruning techniques, as well as valuable tips for timing and tools. With the right pruning practices, you can improve the overall health and leaf color of your hibiscus plant.
Effective Fertilization Methods to Maintain Healthy Green Leaves on Your Hibiscus
Proper fertilization is crucial for the optimal growth and leaf color of hibiscus plants. We will delve into the different types of fertilizers, their nutrient compositions, and the best application methods. Through a well-planned fertilization regimen tailored to the specific needs of your hibiscus plant, you can ensure vigorous growth and vibrant green leaves.
Tips and Tricks for Reviving a Stressed or Yellowing Hibiscus Plant
If your hibiscus plant is already showing signs of stress and yellowing leaves, don't despair. In this section, we will provide you with valuable tips and tricks for reviving a stressed or struggling hibiscus plant. From adjusting watering practices to implementing proper fertilization techniques and pest control measures, we will help you get your hibiscus plant back to its healthy and vibrant state.
Expert Advice on Caring for Your Hibiscus to Prevent Leaf Yellowing
Finally, we will conclude this comprehensive guide with expert advice on caring for your hibiscus and preventing leaf yellowing. By following the best practices outlined throughout this article and being proactive in your hibiscus plant care routine, you can enjoy the beauty of lush, green leaves and vibrant blooms. Remember, a healthy hibiscus plant will bring joy and beauty to your garden or indoor space for years to come!
In Conclusion
Yellow leaves on hibiscus plants can be a cause for concern, but with the information provided in this article, you now have the knowledge to identify, diagnose, and treat the underlying issues. Understanding the basics of hibiscus plant care, identifying symptoms, examining environmental factors, addressing nutrient deficiencies, and battling pests and diseases are all crucial steps towards maintaining healthy, green leaves on your hibiscus. So go ahead and put your newfound knowledge into practice, and watch your hibiscus thrive with vibrant foliage!