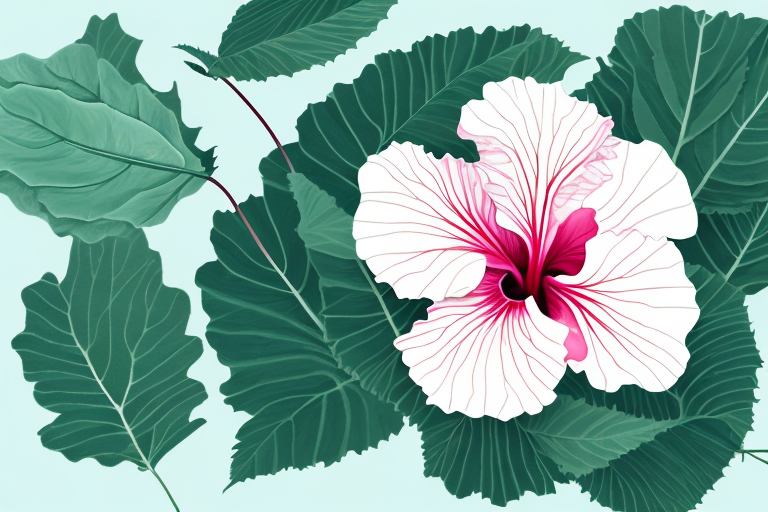 Welcome to the world of hibiscus gardening! These stunning flowers bring vibrant colors and tropical beauty to any garden. However, as with any plant, hibiscus is not immune to pest infestations. One common problem that hibiscus gardeners often encounter is aphids. In this article, we will explore everything you need to know about identifying, understanding, and managing aphids on your precious hibiscus plants.
Identifying Aphids: A Guide for Hibiscus Gardeners
Aphids are tiny, soft-bodied insects that come in a variety of colors, including green, yellow, black, and brown. They are among the most common pests that hibiscus plants attract. Identifying aphids is crucial for effective pest management. Look closely at the undersides of hibiscus leaves, buds, and stems – that's where these sneaky creatures usually hide. You may notice clusters of aphids, which resemble tiny specks or even cottony masses. Their soft bodies are usually oval-shaped, and they have long antennae. While individual aphids might not seem threatening, they can reproduce rapidly, leading to severe infestations if left untreated.
Aphids are not only a nuisance for hibiscus plants, but they can also cause significant damage. These pests feed on the sap of the plants, which can weaken the hibiscus and stunt its growth. In addition, aphids excrete a sticky substance called honeydew, which can attract other pests like ants and sooty mold. Therefore, it is important to identify and control aphids as soon as possible to prevent further damage to your hibiscus garden.
There are several methods you can use to control aphids on your hibiscus plants. One option is to introduce natural predators, such as ladybugs or lacewings, which feed on aphids. Another approach is to use insecticidal soaps or oils, which can be sprayed directly on the aphids to kill them. Additionally, you can try using a strong stream of water to dislodge the aphids from the plant. Regularly inspecting your hibiscus plants and taking action at the first sign of aphids can help keep your garden healthy and thriving.
Understanding the Aphid Lifecycle and Behavior on Hibiscus Plants
By understanding the lifecycle and behavior of aphids, you can develop effective strategies to combat these pesky pests. Aphids reproduce both sexually and asexually – females can give birth to live young without mating. This ability to reproduce rapidly means that just a few aphids can quickly evolve into a full-blown infestation. They feed on the sap of hibiscus plants, siphoning off vital nutrients and causing stunted growth, yellowing leaves, and distorted flowers. Interestingly, aphids also excrete a sticky substance known as honeydew, which can attract ants and promote the growth of sooty mold.
Common Types of Aphids Found on Hibiscus and How to Recognize Them
Hibiscus can be a magnet for different species of aphids. Some common aphids found on hibiscus plants include the green peach aphid, the melon aphid, the cotton aphid, and the black bean aphid, just to name a few. Each species has its own unique characteristics and lifecycle. Pay attention to the color, size, and appearance of aphids to correctly identify them. This knowledge will help you choose the most appropriate pest control methods.
The Impact of Aphid Infestations on Hibiscus Health and Growth
An aphid infestation can rapidly take a toll on the health and growth of your hibiscus plants. These tiny insects weaken the plant by depleting its sap and nutrients. As a result, hibiscus may exhibit signs of stress such as yellowing or curling leaves, stunted growth, and fewer blooms. Severe infestations can even cause the death of the plant if not treated promptly. Protecting your hibiscus from aphids is vital for its overall vitality and longevity.
Preventing Aphids on Hibiscus: Tips for Effective Pest Management
Prevention is always better than curing a pest infestation. Here are some tips to help you prevent aphids from attacking your beloved hibiscus plants.
Regularly inspect your plants: Monitor your hibiscus for any signs of aphids or other pests. Catching an infestation early can make eradication much easier.
Encourage beneficial insects: Attract ladybugs, lacewings, and other natural aphid predators to your garden. These beneficial insects can help keep aphid populations in check.
Avoid over-fertilization: Excessive use of nitrogen-rich fertilizers can attract aphids. Opt for balanced fertilizers instead.
Prune with care: Regularly prune your hibiscus to remove any weak or dead branches that may attract aphids.
Natural Remedies for Controlling Aphids on Hibiscus Plants
When it comes to pest management, many gardeners prefer using natural remedies to minimize their environmental impact. Several eco-friendly solutions have proven effective against aphids.
Diluted soap spray: A mixture of mild liquid soap and water can be sprayed onto affected areas of the plants, effectively smothering aphids.
Neem oil: Derived from the neem tree, neem oil acts as both an insect repellent and a growth regulator. Dilute it with water and apply it to the leaves and stems of your hibiscus.
Garlic and chili spray: A homemade solution made from crushed garlic and chili peppers can be an effective deterrent for aphids. Simply steep the mixture overnight, strain it, and then apply it to the affected plants.
Beneficial insect release: Introducing ladybugs or lacewings to your garden can help control aphids naturally. These predators will feast on the aphids, keeping their population in check.
Chemical Treatments for Aphid Control on Hibiscus: Pros, Cons, and Safety Measures
In severe cases or when natural remedies fail, some gardeners resort to chemical treatments to control aphids. While it's important to exercise caution when using chemicals, they can be effective when used properly.
Insecticidal soap: Specifically formulated insecticidal soaps can effectively control aphids without harming beneficial insects or your hibiscus plants. Follow the instructions closely for safe and effective application.
Systemic insecticides: These chemicals are absorbed by the plant and move through its tissues, making them toxic to aphids. However, systemic insecticides should be used sparingly and strictly according to the manufacturer's guidelines due to their potential impact on beneficial insects and the environment.
Integrated Pest Management for Aphids: A Sustainable Approach for Hibiscus Gardens
Integrated Pest Management (IPM) is a holistic approach that combines different pest control methods to manage aphids effectively. By implementing a comprehensive IPM plan, you can minimize the use of chemicals while maintaining a healthy and aphid-free hibiscus garden. IPM strategies can include regular monitoring, proper sanitation, natural pest deterrents, beneficial insect releases, and targeted spot treatment when necessary.
Companion Planting Strategies to Deter Aphids from Hibiscus Beds
Companion planting involves strategically placing certain plants next to each other to reap benefits such as pest control. Some plants, such as marigolds, chives, and nasturtiums, naturally repel aphids. Consider including these companion plants in your hibiscus garden to deter aphids and protect your precious blooms.
Pruning and Proper Hygiene Practices to Prevent Aphid Infestations on Hibiscus
Maintaining proper hygiene in your hibiscus garden can help prevent aphid infestations. Regularly remove and dispose of any fallen leaves, flowers, or other plant debris that may host aphids or their eggs. Additionally, prune your hibiscus regularly to improve air circulation and remove any infested or weak branches that could attract aphids.
Creating an Aphid-Resistant Environment for Your Hibiscus Garden
By implementing the right environmental conditions, you can make your hibiscus garden less appealing to aphids. Here are a few tips:
Adequate sunlight: Ensure that your hibiscus plants receive sufficient sunlight, as bright and sunny locations tend to discourage aphids.
Proper watering: Avoid over-watering your hibiscus, as excessive moisture can create a favorable environment for aphids.
Good soil health: Maintain well-draining soil that is rich in organic matter to promote the overall health of your hibiscus plants. Strong, healthy plants are more resistant to aphids and other pests.
Beneficial Insects that Prey on Aphids: Encouraging Natural Predators in your Hibiscus Garden
Instead of relying solely on chemical interventions, consider attracting beneficial insects that prey on aphids. Ladybugs, lacewings, hoverflies, and parasitic wasps are among the valuable allies in natural aphid control. Planting nectar-rich flowers and providing shelter and water sources can help attract and support these beneficial insects in your hibiscus garden, reducing aphid populations organically.
Monitoring and Early Detection Methods for Managing Aphids on Hibiscus Plants
Regular monitoring and early detection are essential for effectively managing aphids on your hibiscus plants. Inspect your plants regularly, paying close attention to the undersides of leaves, buds, and stems. Look for signs of aphids, such as clusters, distortion, or discoloration. Should you detect any aphids or signs of infestation, promptly implement the necessary control measures to prevent the problem from escalating.
Understanding the Role of Ants in Promoting Aphid Infestations on Hibiscus
Ants are often associated with aphid infestations, as they have a symbiotic relationship. Ants protect aphids from predators and even move them for easier feeding access. Therefore, if you notice ants crawling on your hibiscus plants, it's a clear indication of an aphid problem. To break this cycle, implement aphid control measures and create barriers that prevent ants from reaching your hibiscus.
With the information and strategies provided in this article, you can confidently tackle aphid infestations and ensure the health and beauty of your hibiscus garden. Remember, prevention, early detection, and a combination of natural and chemical treatments, when necessary, are the keys to managing aphids effectively. Happy gardening and enjoy the vibrant blooms of your resilient hibiscus plants!