Hibiscus Leaves Turn Yellow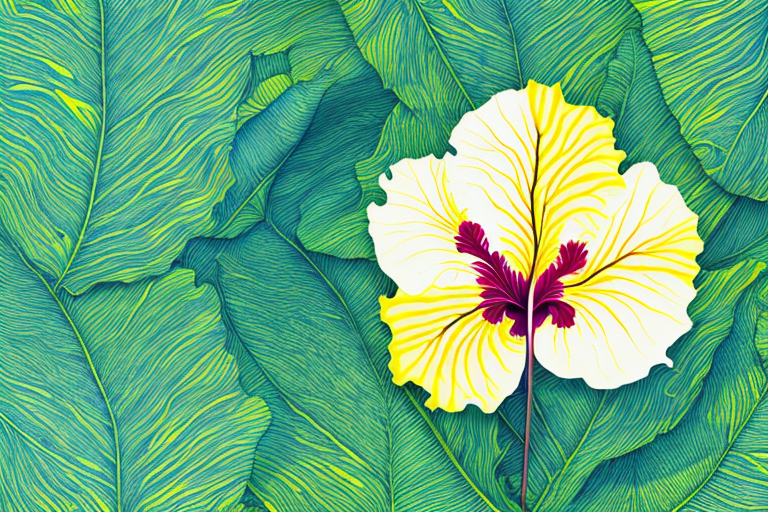 If you're a proud owner of hibiscus plants, you may have encountered the frustrating issue of yellowing leaves. Fortunately, this is a common problem and one that can be addressed with proper care and attention. In this comprehensive guide, we will explore the various causes of yellowing hibiscus leaves, understand their significance, and discuss effective treatments and preventive measures.
Common Causes of Yellowing Hibiscus Leaves
When it comes to the health of your hibiscus plants, there are several factors that can contribute to yellowing leaves. One of the most common causes is environmental stress. Changes in temperature, excessive sunlight exposure, and improper watering practices can all lead to leaf discoloration. Additionally, nutrient deficiencies, pests, diseases, and even incorrect soil pH levels can play a role in this issue. By identifying the underlying cause, you can take the necessary steps to rectify the problem.
It is important to note that yellowing hibiscus leaves can also be a sign of overwatering. When hibiscus plants are consistently exposed to excessive moisture, their roots can become waterlogged, leading to poor nutrient absorption and root rot. This can result in yellowing leaves and overall decline in plant health. To prevent overwatering, ensure that the soil is well-draining and only water the plants when the top inch of soil feels dry to the touch. Additionally, avoid watering the leaves directly, as this can promote the growth of fungal diseases. By maintaining proper watering practices, you can help keep your hibiscus plants healthy and vibrant.
Understanding the Significance of Yellowing Hibiscus Leaves
Yellowing leaves in hibiscus plants should not be ignored, as they often serve as an indicator of a larger issue. Leaves that turn yellow may be a sign of stress, nutrient deficiencies, or even the presence of pests and diseases. By carefully observing the patterns and extent of leaf discoloration, you can gain valuable insights into the health of your hibiscus plants and address any underlying problems.
How to Identify Yellowing Hibiscus Leaves
Recognizing yellowing hibiscus leaves is crucial to understanding the issue at hand. These leaves may appear pale or exhibit various shades of yellow. In some cases, the yellowing may be localized to specific areas or spread across the entire leaf surface. Being able to accurately identify and differentiate yellowing caused by environmental factors from that caused by pests or disease will help you make informed decisions regarding treatment and prevention.
Environmental Factors That Cause Hibiscus Leaves to Turn Yellow
Hibiscus plants are sensitive to environmental changes, and these changes can directly impact leaf color. Temperature fluctuations, especially rapid drops in temperature, can cause yellowing. Excessive exposure to direct sunlight, especially during the hottest hours of the day, can lead to sunburn and yellowing as well. Additionally, overwatering or underwatering, both of which disrupt the plant's root system, can result in yellow leaves. Understanding these factors and making the necessary adjustments can aid in maintaining the health of your hibiscus plants.
Overwatering and Yellowing Hibiscus Leaves: What You Should Know
Overwatering is a common mistake that many hibiscus plant owners make. While these tropical plants require regular watering, excessive moisture can lead to root rot and subsequent yellowing of the leaves. It's important to strike the right balance between hydration and drainage, allowing the soil to dry out slightly before the next watering session. By avoiding overwatering, you can help your hibiscus plants thrive and maintain their vibrant green foliage.
Nutrient Deficiencies and Their Impact on Hibiscus Leaf Color
Proper nutrition is essential for the health and vitality of hibiscus plants. When essential nutrients are lacking in the soil, the leaves can display various symptoms, including yellowing. Calcium, iron, nitrogen, and magnesium deficiencies are particularly common culprits. Regular soil testing and the application of appropriate fertilizers can address these deficiencies, promoting lush green foliage and preventing yellowing leaves.
Pests and Diseases That Result in Yellow Hibiscus Leaves
Several pests and diseases can cause yellowing of hibiscus leaves. Aphids, spider mites, and whiteflies are notorious for feeding on the sap of hibiscus plants, leading to discoloration and weakening of the foliage. Fungal infections, such as the commonly known powdery mildew, can also cause yellow patches. Identifying these pests and diseases early on and utilizing insecticides or appropriate treatments can help prevent further damage and restore the health of your hibiscus plants.
Tips for Preventing Yellowing of Hibiscus Leaves
Prevention is often the key to avoiding the frustration of yellowing hibiscus leaves. By implementing a few simple practices, you can minimize the likelihood of encountering this issue. Proper watering techniques, regular soil testing, and providing the right balance of sunlight and shade are all essential factors in maintaining healthy green foliage. Additionally, practicing good garden hygiene and promptly addressing any signs of pests or diseases can make a significant difference in the overall health of your hibiscus plants.
Effective Treatments for Yellowing Hibiscus Leaves
When yellowing leaves do occur, it's crucial to take action promptly. The appropriate treatment will depend on the underlying cause of the discoloration. Soil amendments, such as adding organic matter or adjusting the pH levels, can be effective for addressing nutrient deficiencies. In the case of pests or diseases, targeted insecticides or fungicides may be necessary. Consulting with a local horticulturist or gardening expert can provide valuable guidance in determining the best treatment course for your hibiscus plants.
Pruning Techniques to Maintain Healthy Hibiscus Leaves
Regular pruning is an essential part of hibiscus plant maintenance. By selectively removing diseased, damaged, or yellowing leaves and branches, you can promote healthy growth and maintain vibrant green foliage. Proper pruning techniques and timing are vital to avoid excessive stress and stimulate new growth. When done correctly, pruning can help your hibiscus plants maintain their health and beauty.
Proper Fertilization for Vibrant Green Hibiscus Leaves
Fertilizers play a crucial role in providing hibiscus plants with the necessary nutrients for optimal growth. Choosing the correct fertilizer and following the recommended application guidelines will ensure your plants have vibrant green foliage. It's important to strike a balance and avoid overfertilization, which can lead to leaf burn and discoloration. Understanding the specific nutrient requirements of your hibiscus plants and finding a suitable fertilizer will help you achieve the desired results.
Recommended Soil pH Levels for Avoiding Yellow Hibiscus Leaves
Soil pH levels can significantly impact the health of hibiscus plants. These tropical beauties thrive in slightly acidic to neutral soil with a pH range of 6.0 to 7.0. Any pH extremes can inhibit proper nutrient uptake and result in yellowing leaves. Regular soil testing and the use of appropriate soil amendments, such as lime or sulfur, can help maintain the optimal pH balance, ensuring your hibiscus plants remain in peak condition.
How Temperature Changes Affect the Color of Hibiscus Leaves
Temperature fluctuations can have a profound impact on the coloration of hibiscus leaves. While hibiscus plants are generally tolerant of various temperature ranges, sudden drops in temperature can cause stress and result in yellowing leaves. Extreme cold or frost damage can lead to even more severe discoloration or leaf drop. Protecting your plants during colder months and providing the necessary insulation can prevent temperature-related leaf issues.
Understanding the Role of Sunlight in Preventing Yellowing of Hibiscus Leaves
Appropriate sunlight exposure is vital for healthy hibiscus plants. These sun-loving plants require at least 6 hours of direct sunlight daily to thrive. However, excessive exposure during the hottest hours of the day can lead to leaf burn and yellowing. Providing partial shade or using shade cloth can help strike the right balance and prevent sun-related leaf issues. By understanding the nuances of sunlight exposure, you can ensure your hibiscus plants receive the optimal amount of light.
Common Mistakes that Lead to Yellowed Hibiscus Leaves and How to Avoid Them
Avoiding common mistakes can significantly reduce the chances of encountering yellowing hibiscus leaves. Overwatering, improper fertilization, poor pest management, and neglecting to address environmental stressors are some of the pitfalls to watch out for. By educating yourself about these mistakes and taking proactive measures, you can keep your hibiscus plants healthy, vibrant, and free from discoloration.
Signs of Stress in Hibiscus Plants: Monitoring Leaf Color Changes
Leaf color changes, including yellowing, can serve as valuable indicators of stress in hibiscus plants. Whether it's due to environmental factors, nutrient deficiencies, or pest and disease infestation, closely monitoring any alterations in leaf color can help you detect and address issues at an early stage. Regular plant inspections, combined with a keen eye for changes in color and overall plant health, will enable you to keep your hibiscus plants in optimal condition.
The Importance of Regular Maintenance in Preventing Yellowed Hibiscus Leaves
Regular maintenance is the cornerstone of hibiscus plant care and an effective preventive measure against yellowing leaves. Consistent watering, suitable fertilizer application, proper pruning, and vigilant pest management are all crucial for the overall health and longevity of your plants. By establishing a routine care schedule and dedicating time to the maintenance of your hibiscus plants, you can enjoy their vibrant green foliage without the worry of yellowing.
By addressing the various causes of yellowing hibiscus leaves, understanding their significance, and implementing effective treatments and preventative measures, you can maintain the health and beauty of your hibiscus plants. With a little care and attention, you'll be able to enjoy the stunning blooms and lush foliage of these tropical wonders. Remember, the key to success lies in your willingness to invest time and effort in nurturing your hibiscus plants and creating an optimal environment for their growth.