Hibiscus Bush Leaves Turning Yellow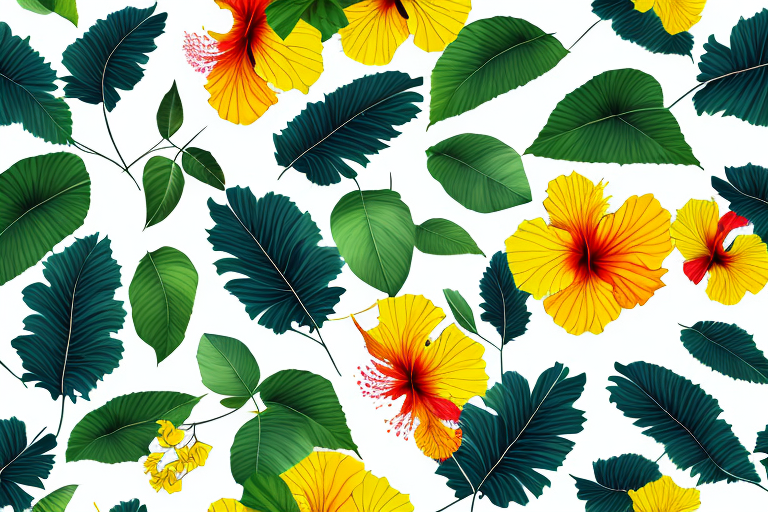 Are the leaves of your beloved hibiscus bush turning a concerning shade of yellow? Don't fret! In this comprehensive article, we will explore the various causes and solutions for this common issue. So grab a cup of tea, sit back, and let's dive into the fascinating world of hibiscus leaf color!
Causes of Yellowing Leaves in Hibiscus Bushes
There can be several factors contributing to the yellowing of your hibiscus leaves. One common culprit is inadequate watering. Hibiscus plants have a high water requirement, and insufficient watering can lead to stress and nutrient deficiencies. Overwatering, on the other hand, can result in root rot, further exacerbating leaf discoloration. It is crucial to strike the right balance when it comes to watering your hibiscus.
Another potential cause of yellowing leaves is nutrient deficiencies. Hibiscus bushes thrive on a well-balanced diet of essential minerals. Lack of nitrogen, iron, or magnesium can manifest as discoloration in the leaves. It is essential to regularly fertilize your hibiscus with a quality, slow-release fertilizer to maintain optimal nutrient levels.
Understanding the Life Cycle of Hibiscus Bushes
Before diving into specific causes and solutions, let's take a moment to understand the overall life cycle of hibiscus bushes. These magnificent plants go through seasonal changes that directly affect leaf color. During the winter months, hibiscus bushes naturally enter a period of dormancy, causing some leaves to turn yellow and eventually drop. This process is entirely normal and should not cause concern. However, if yellowing persists outside of the winter season, further investigation is necessary.
Common Pests and Diseases that Affect Hibiscus Leaves
Hibiscus bushes, like all plants, are susceptible to various pests and diseases that can cause leaf yellowing. Aphids, spider mites, and whiteflies are common pests that feast on hibiscus leaves. Their feeding habits can disrupt the normal functioning of the leaves, leading to discoloration. Fungal infections, such as powdery mildew or black spot disease, can also wreak havoc on your hibiscus bushes, resulting in yellowing leaves.
To combat these pests and diseases, regular inspection and early intervention are key. Utilize organic insecticides or horticultural oils to control pests, and remove any infected leaves or branches to minimize the spread of fungal infections.
Nutrient Deficiencies and Their Impact on Hibiscus Leaf Color
The availability of essential nutrients greatly influences leaf color in hibiscus bushes. Nitrogen deficiency, for instance, can cause leaves to yellow from the tips inward. Iron deficiency often presents as overall yellowing, with the veins remaining green. Lack of magnesium can lead to interveinal yellowing, where the tissue between the leaf veins turns yellow while the veins themselves remain green.
To address nutrient deficiencies, it is advisable to conduct a soil test to determine the specific elements lacking in your hibiscus bushes. Once identified, targeted fertilization can be applied to restore the balance of nutrients and bring back the vibrant green color to your leaves.
How to Properly Water and Fertilize Your Hibiscus Bush
Ensuring adequate watering and fertilization practices are crucial to maintaining healthy hibiscus leaves. When it comes to watering, it is best to deeply soak the soil around the base of the plant, allowing it to dry partially between waterings. This method ensures that the roots receive adequate moisture while reducing the risk of overwatering and root rot.
As for fertilization, opt for a slow-release fertilizer specifically formulated for hibiscus plants. Apply it according to the package instructions, typically every month during the growing season. This gradual release of nutrients will help maintain the overall health and vibrant color of your hibiscus leaves.
Pruning Techniques to Promote Healthy Leaf Growth in Hibiscus Bushes
Pruning is an essential aspect of hibiscus bush care that can significantly impact leaf growth and color. Regular pruning promotes air circulation, sunlight penetration, and new growth, all crucial for keeping your hibiscus bushes healthy and green. Remove any dead, damaged, or diseased branches to prevent cross-contamination and encourage the production of new, vibrant leaves.
When pruning, be sure to use clean, sharp tools and make clean cuts just above a leaf node or bud. Avoid cutting too much at once, as this can shock the plant. Instead, opt for gradual pruning over time to maintain the shape and health of your hibiscus bush.
The Role of Sunlight Exposure in Maintaining Green Leaves on Hibiscus Bushes
Sunlight exposure plays a crucial role in maintaining the beautiful green color of hibiscus leaves. These tropical plants thrive in bright, indirect light. Insufficient sunlight can result in weak, pale leaves, while excessive exposure can burn and yellow the foliage. Find a spot in your garden that receives partial shade or dappled sunlight, especially during the intense afternoon hours.
It is essential to regularly monitor the sunlight conditions around your hibiscus bushes and make any necessary adjustments to ensure they receive just the right amount of light for optimal leaf color.
Identifying and Treating Fungal Infections that Cause Yellowing Leaves in Hibiscus Bushes
Fungal infections can be a significant cause of yellow leaves in hibiscus bushes. One common fungal infection is powdery mildew, which presents as a white, powdery coating on the leaves, eventually resulting in yellowing and leaf drop. Another problematic fungal infection is black spot disease, which causes black spots on the leaves, turning them yellow and eventually causing defoliation.
If you suspect a fungal infection, promptly remove any infected leaves to prevent further spread. Treat the affected plant with a suitable fungicide according to the manufacturer's instructions. Ensure good air circulation around your hibiscus bushes to minimize the risk of fungal infections in the future.
Tips for Preventing Yellow Leaves on Hibiscus Bushes in Winter Months
During the winter months, hibiscus bushes naturally go through a period of dormancy, which can lead to yellowing and leaf drop. However, there are steps you can take to minimize this effect and preserve the health of your plants. Consider moving your hibiscus bushes indoors or to a greenhouse during the winter, where they can benefit from warmer temperatures and protection from frost. Keep the plants away from heat sources and maintain a consistent watering routine.
If you choose to keep your hibiscus outdoors during winter, provide insulation by covering them with frost blankets or mulch to protect the roots from extreme temperatures. Be mindful that yellowing and shedding some leaves during this time is natural and should not be cause for alarm.
Understanding the Effects of Temperature Stress on Hibiscus Leaf Color
Extreme temperature fluctuations can cause stress to hibiscus plants, leading to leaf yellowing. Cold temperatures below 50°F (10°C) can cause foliage discoloration, while excessive heat above 95°F (35°C) can scorch the leaves. It is essential to be mindful of these temperature extremes and take appropriate measures to protect your hibiscus from stress.
In regions with cold winters, consider mulching the base of the plant to insulate the roots during freezing temperatures. For areas with scorching summers, provide shade or temporary coverings during the hottest parts of the day to protect the leaves from sunburn.
Common Mistakes to Avoid When Caring for Your Hibiscus Bush's Leaves
While caring for hibiscus bushes, it is essential to steer clear of common mistakes that can harm the leaves. Avoid overwatering, as this can lead to root rot and yellowing foliage. Likewise, refrain from underwatering, as this can result in stress, nutrient deficiencies, and ultimately, leaf discoloration.
Another mistake to avoid is using the wrong type of fertilizer or over-fertilizing your hibiscus bushes. Excessive nitrogen, for example, can cause leaves to grow too rapidly, appearing pale and yellowish. Using a slow-release, balanced fertilizer tailored for hibiscus plants is the best approach to prevent nutrient deficiencies and maintain vibrant leaves.
Natural Remedies to Treat Yellowing Leaves in Hibiscus Bushes
If you prefer a more natural approach to caring for your hibiscus bushes, several remedies can help treat yellowing leaves. Neem oil, a natural insecticide derived from the neem tree, can be used to combat pests and fungal infections. Simply mix the recommended amount of neem oil with water and apply it to the affected areas.
Another natural remedy involves the use of Epsom salt as a foliar spray. Dissolve a tablespoon of Epsom salt in a gallon of water and spray it directly onto the leaves. This can help alleviate nutrient deficiencies and promote greener foliage in your hibiscus bushes.
How to Diagnose and Treat Root Rot in Hibiscus Plants with Yellowing Leaves
Root rot can be a severe issue causing yellowing leaves in hibiscus plants. To diagnose root rot, gently lift the plant from the soil and examine the roots. Healthy roots should appear firm and white, while root rot-infected roots will be mushy, discolored, and may emit a foul odor.
If you suspect root rot, it is crucial to take immediate action. Remove the affected plant from its pot or dig it up from the garden, and carefully trim away any rotten roots. Repot the hibiscus in fresh, well-draining soil, ensuring that the new container or planting hole has proper drainage to prevent future issues.
Seasonal Changes that Impact the Color of Hibiscus Bush Leaves
Throughout the year, hibiscus bushes undergo natural seasonal changes that impact the color of their leaves. As mentioned earlier, winter dormancy can cause yellowing and leaf drop, especially in cooler climates. During springtime, new growth emerges with vibrant green leaves, signaling the start of the growing season.
As summer progresses, hibiscus leaves maintain their vibrant green hue, providing a lush backdrop for the plant's beautiful flowers. In autumn, as temperatures cool and daylight hours decrease, some hibiscus varieties may exhibit stunning foliage color changes, ranging from yellow to orange and even deep red.
And there you have it – a detailed exploration of the various causes and solutions for hibiscus leaf yellowing. Armed with this knowledge, you can confidently nurture your hibiscus bushes back to health and enjoy their vibrant, green leaves year-round. Remember to provide the optimal balance of water, sunlight, nutrients, and proactive care, and your hibiscus will reward you with a stunning display of beautiful, healthy foliage!