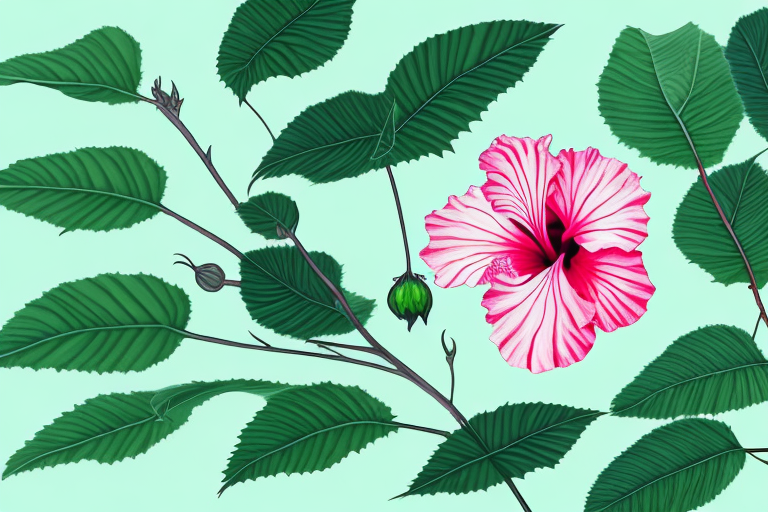 Have you ever noticed tiny, pesky insects infesting your beautiful hibiscus plants? Well, chances are, you've been dealing with aphids! Aphids, although small in size, can cause significant damage to your hibiscus if left untreated. In this article, we will explore everything you need to know about aphids on hibiscus plants, from understanding these invasive bugs to preventing and treating their infestations.
Understanding Aphids
Let's start by getting to know our tiny foes. Aphids are small, soft-bodied insects that belong to the order Hemiptera. These miniature bugs come in various colors such as green, brown, or black, and they have a pear-shaped body. Aphids are commonly found in temperate regions and are notorious for their rapid reproduction rates. A single aphid can produce several generations in a short period, making their populations explode in no time.
Now, you might wonder why aphids are attracted to your hibiscus plants specifically. To understand this, let's dive into their lifecycle.
What are Aphids?
Aphids, often referred to as plant lice, are small insects that feed on the sap of plants. They use their piercing mouthparts to puncture the plant tissues and extract the nutrient-rich sap for their nourishment. This feeding habit weakens the hibiscus plants and inhibits their growth.
But that's not all. Aphids also secrete a sticky substance called honeydew, which attracts ants and promotes the growth of sooty mold. Sooty mold can reduce the plants' ability to photosynthesize, further hindering their development.
Additionally, aphids have a fascinating relationship with certain species of ants. Some ants "farm" aphids by protecting them from predators and moving them to fresh plant tissues. In return, the ants feed on the honeydew produced by the aphids. This symbiotic relationship benefits both parties, but it can be detrimental to your hibiscus plants.
Life Cycle of Aphids
Understanding the life cycle of aphids can help you tackle their population effectively. Aphids undergo a simple metamorphosis, which means they go through three stages: egg, nymph, and adult. The adult aphids are usually wingless, but some species develop wings when the population becomes dense, allowing them to migrate to new plants.
In warmer climates, aphids can reproduce asexually, meaning females can give birth to live nymphs without the need for fertilization. This rapid ability to reproduce makes aphids a challenging problem to tackle.
Interestingly, aphids have evolved various strategies to survive harsh conditions. During unfavorable seasons, some aphid species produce eggs that can withstand extreme temperatures. These eggs remain dormant until the conditions become favorable for hatching, ensuring the survival of the species.
Furthermore, aphids have developed remarkable defense mechanisms against predators. Some species release alarm pheromones when attacked, alerting nearby aphids to disperse and escape the danger. Others have evolved the ability to produce toxic compounds, deterring predators from feeding on them.
It's important to note that not all aphids are harmful to plants. Some species, known as mutualistic aphids, have formed symbiotic relationships with certain plants. These aphids provide the plants with essential nutrients and, in return, receive protection from predators.
As you can see, aphids are not just simple pests but fascinating creatures with complex behaviors and adaptations. By understanding their biology and life cycle, you can better manage and control their populations, ensuring the health and vitality of your hibiscus plants.
The Relationship Between Aphids and Hibiscus
Now that we understand aphids on a deeper level, let's explore why they are particularly attracted to hibiscus plants and the impact of their infestation.
Why are Aphids Attracted to Hibiscus?
It seems as though aphids have a natural affinity for hibiscus plants, and there are a few reasons why this occurs. Firstly, hibiscus plants produce a sugary substance called nectar, which aphids feed on. The alluring scent of hibiscus nectar lures aphids towards the plants, leading to infestations.
In addition to the irresistible nectar, hibiscus plants provide a favorable environment for aphids to thrive. The soft, succulent leaves with abundant sap provide an ideal feeding ground for these tiny pests. The delicate nature of the hibiscus leaves makes it easy for aphids to pierce them with their sharp mouthparts, allowing them to access the nutritious sap within. Furthermore, warm and humid climates, which are often associated with hibiscus plants, encourage aphid population growth. The combination of these factors creates the perfect storm for aphid infestations on hibiscus plants.
Impact of Aphids on Hibiscus Health
The invasion of aphids can significantly impact the overall health of your beautiful hibiscus plants. As aphids drain the sap, they weaken the plant's vitality, leading to stunted growth, curled leaves, and distorted flowers. The constant feeding of aphids deprives the hibiscus plant of essential nutrients, hindering its ability to develop and flourish as it should.
Moreover, the honeydew excreted by aphids creates a sticky residue on leaves and flower buds. This residue not only attracts ants, who feed on the sweet substance, but can also lead to the growth of sooty mold. Sooty mold is a black, powdery fungus that thrives on the sugary honeydew. It covers the surfaces of leaves and flowers, obstructing sunlight and hindering photosynthesis. This fungal growth further compromises the plant's health, impeding its ability to produce energy and grow properly.
Furthermore, aphids can act as vectors for plant viruses. These tiny insects can transmit viral diseases from one plant to another as they move from hibiscus to hibiscus. Once infected, the hibiscus plants may exhibit various symptoms, such as yellowing leaves, wilting, and overall decline in health. The introduction of viruses can have long-term consequences for the affected hibiscus plants, potentially leading to irreversible damage or even death.
Identifying Aphid Infestation on Hibiscus
Now that we know the potential harm aphids can cause to our beloved hibiscus plants, it's crucial to be able to identify an infestation early on.
Aphids, tiny pear-shaped insects, can wreak havoc on hibiscus plants if left unchecked. These pesky creatures feed on the sap of the plants, causing damage to the leaves and hindering their growth. To protect our hibiscus plants, it is important to be able to identify the signs of aphid infestation.
Signs of Aphid Infestation
Identifying aphid infestation is relatively easy, as there are several telltale signs to look out for. First and foremost, keep an eye out for clusters of tiny, pear-shaped insects on the undersides of leaves or near the flower buds. These aphids can be green, brown, or black, depending on the species.
When inspecting your hibiscus plants, pay close attention to the undersides of the leaves. Aphids often gather there, forming dense colonies. These clusters can be easily spotted, especially if you gently shake the leaves, causing the aphids to scurry about.
Another sign to watch for is distorted growth in the form of curled or yellowing leaves. Aphids' feeding activity can cause leaves to become misshapen and hinder their normal development. The damage caused by aphids can be quite noticeable, as the leaves may appear crinkled or twisted.
In addition to distorted leaves, you may also notice a sticky residue on the leaves or nearby surfaces. This sticky substance, known as honeydew, is a byproduct of aphids' feeding. It can attract ants and other insects, further complicating the situation.
Common Types of Aphids on Hibiscus
While there are numerous species of aphids, a few types are known to infest hibiscus plants specifically. One common type is the giant green aphid, which is known for its vibrant green color and larger size compared to other aphids. These aphids can quickly multiply and cause significant damage to hibiscus plants if not controlled.
Another notable species is the black citrus aphid, which tends to favor hibiscus plants. These aphids are small and black, often forming colonies on the undersides of leaves. They can cause stunted growth and yellowing of the leaves, making them a nuisance for hibiscus enthusiasts.
It is important to be able to identify these common types of aphids on hibiscus plants to take appropriate action and prevent further damage. Early detection and intervention can save your hibiscus plants from severe infestations and ensure their healthy growth.
Preventing Aphid Infestations
Prevention is always better than cure, especially when it comes to aphids. By taking preemptive measures, you can minimize the risk of aphid infestations on your hibiscus plants.
Natural Aphid Repellents
One way to deter aphids is by using natural repellents. Planting companion plants such as marigolds, nasturtiums, or dill near your hibiscus can help repel aphids. These plants emit scents that aphids find unpleasant, thus reducing the likelihood of infestation.
You can also make a homemade aphid spray by mixing a few drops of neem oil and dish soap with water. This organic spray can be applied to the hibiscus plants to keep aphids at bay.
Hibiscus Care to Prevent Aphids
Proper hibiscus care is another crucial aspect of preventing aphid infestations. Ensure that your plants receive adequate sunlight and are planted in well-draining soil. Overcrowding can create favorable conditions for aphids, so space out your hibiscus plants accordingly.
Maintaining a healthy garden ecosystem is also essential. Encourage the presence of beneficial insects such as ladybugs and lacewings, as they feed on aphids and help keep their population in check.
Treating Aphid Infestations on Hibiscus
If prevention measures fail and your hibiscus plants fall victim to an aphid infestation, it's crucial to take swift action to save your plants.
Organic Methods for Aphid Control
Organic methods offer effective means of controlling aphids without harming beneficial insects or the environment. One popular method is spraying a mixture of water and insecticidal soap directly on the affected plants. This will help suffocate and control the aphids.
Another organic approach to consider is introducing natural predators into your garden. Ladybugs and lacewings, for example, are known to devour aphids voraciously.
Chemical Treatments for Severe Infestations
In severe cases, when organic methods have proven ineffective, chemical treatments may become necessary. However, it is crucial to use these treatments as a last resort and follow the instructions carefully. Consult with a professional or horticulturist before resorting to chemical intervention to ensure the safety of your plants and the environment.
In conclusion, aphids on hibiscus plants can be a frustrating challenge to overcome. Understanding their behavior, identifying the signs of infestation, and implementing preventive measures are essential for the health and well-being of your beautiful hibiscus plants. By taking a proactive approach, you can ensure that aphids don't diminish the beauty and vitality of your cherished hibiscus garden. Happy gardening!