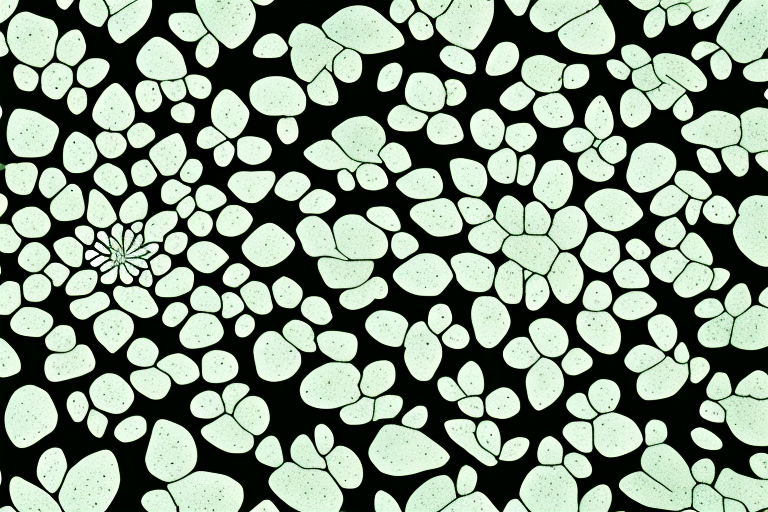 Welcome to Jenny's Stonecrop Care guide, where we will delve into everything you need to know about growing and caring for these beautiful succulents. Whether you're a seasoned gardener or a beginner, this article will provide you with valuable insights and tips to ensure your stonecrop plants thrive and flourish. So, let's get started!
Choosing the Right Stonecrop Variety
With its diverse range of colors, sizes, and textures, choosing the right stonecrop variety can be an exciting decision. Opt for low-growing varieties like Sedum spurium 'Dragon's Blood' or Sedum acre 'Golden Queen' if you're looking to create beautiful ground covers. For vertical interest, consider taller varieties such as Sedum 'Autumn Joy' or Sedum 'Brilliant'.
Additionally, take into account the specific growing conditions in your area, as some varieties are more tolerant of extreme weather conditions or have specific soil requirements. Researching the different stonecrop varieties available will allow you to select the perfect plants for your garden.
Understanding the Stonecrop Plant Family
Stonecrop plants belong to the Crassulaceae family, which includes a wide range of succulent plants. These plants are known for their ability to store water within their foliage, making them resilient and adaptable to various environments. Stonecrop plants are native to many regions worldwide, including North America, Europe, and Asia, offering an array of varieties to choose from.
Their fleshy leaves and stems are designed to withstand drought conditions, making them ideal for water-wise gardening. Additionally, stonecrop plants often produce charming clusters of star-shaped flowers in vibrant colors, attracting pollinators such as bees and butterflies to your garden.
The Benefits of Growing Stonecrop
Growing stonecrop in your garden offers numerous benefits beyond their aesthetic appeal. These succulents are incredibly low-maintenance, requiring minimal attention and care. Their ability to thrive in various soil types, including poor or rocky soil, makes them a great option for even the most challenging garden conditions.
Stonecrop plants are also excellent choices for erosion control on slopes or areas prone to soil erosion. Their extensive root systems help stabilize the soil and prevent washing away during heavy rains.
Furthermore, stonecrop plants are highly attractive to beneficial insects, making them valuable additions to any pollinator garden. By providing a vital food source for bees, butterflies, and other pollinators, you contribute to the overall health and biodiversity of your garden ecosystem.
Essential Tools and Supplies for Stonecrop Care
Before you embark on caring for your stonecrop plants, make sure you have the essential tools and supplies on hand. A sturdy pair of gardening gloves will protect your hands from thorns or prickles, while a sharp and clean pair of pruning shears will come in handy during maintenance tasks. A watering can or hose with a gentle spray nozzle will help ensure proper hydration without causing damage to the plants.
Additionally, having access to well-draining soil or potting mix is crucial for the success of your stonecrop plants. Consider adding coarse sand or perlite to improve the soil's drainage, as excessive moisture can lead to root rot and other fungal diseases.
Lastly, investing in a good-quality organic fertilizer formulated for succulents will provide essential nutrients to support healthy growth and blooming.
Best Soil and Potting Mix for Stonecrop
Stonecrop plants thrive in well-draining soil that replicates their natural habitat. Opt for a gritty soil mix composed of equal parts regular potting soil, coarse sand, and perlite. This combination ensures proper aeration, prevents waterlogged soil, and allows excess moisture to drain away.
It's essential to avoid using heavy or clay-rich soils, as these can retain too much moisture and lead to root rot. Amending the soil with organic matter such as compost or well-rotted manure can enhance the soil's fertility and drainage properties, creating an ideal environment for your stonecrop plants to thrive.
Sunlight Requirements for Healthy Stonecrop Growth
One of the key factors in successfully growing stonecrop plants is providing them with the right amount of sunlight. These succulents are sun lovers, requiring at least six hours of direct sunlight daily to promote healthy growth and vibrant colors.
Place your stonecrop plants in a location that receives ample sunlight, such as a south-facing window or a sunny spot in your garden. If you're growing stonecrop indoors, ensure they are near a window where they can receive bright, indirect light throughout the day.
Be cautious not to expose your stonecrop plants to intense midday sunlight during the hottest months of the year, as this can cause sunburn or heat stress. Providing a bit of shade during the hottest part of the day will protect the plants and help them thrive.
Watering Techniques for Thriving Stonecrop Plants
Proper watering is vital for the health and vitality of stonecrop plants. These succulents have water-storing capabilities, allowing them to tolerate drought conditions. Overwatering can be detrimental to their growth, potentially causing root rot and other moisture-related issues.
Allow the soil to dry out between waterings, and then thoroughly saturate the root zone. This mimics their natural habitat, where they experience periods of intense rainfall followed by dry spells. Remember, it's always better to underwater than overwater stonecrop plants.
During the cooler months or dormancy periods, reduce watering frequency to prevent waterlogged soil. Over time, you'll become more familiar with your stonecrop plants' specific watering needs and can adjust accordingly based on environmental factors such as temperature and humidity.
Fertilizing Tips to Boost Stonecrop Growth and Blooms
While stonecrop plants are generally low-maintenance, providing them with occasional fertilization can help boost their growth and encourage abundant blooms. Apply a balanced organic fertilizer formulated for succulents during the growing season, typically from spring to early fall.
Follow the manufacturer's instructions for proper dilution and application rates. Applying too much fertilizer can lead to excessive foliage growth at the expense of blooming. Remember, stonecrop plants prefer lean soil, so moderate fertilization once or twice a year is generally sufficient for healthy growth.
Propagation Methods: How to Multiply Your Stonecrop Collection
If you're looking to expand your stonecrop collection or share these delightful plants with friends and family, propagation is an excellent option. Stonecrop plants can be propagated through various methods, including division, stem cuttings, or leaf cuttings.
Division is the most straightforward method, involving separating the plant into two or more sections, each with its own roots. This can be done during the spring or early summer when the plant is actively growing. Simply dig up the entire plant and gently separate the roots, ensuring that each division has several healthy stems.
Another method is to take stem cuttings. Select a healthy stem and cut it just below a leaf node. Allow the cuttings to dry and callus over for a day or two, then place them in a well-draining soil mix to root. Keep the cuttings lightly moist until roots develop, usually within a few weeks.
Leaf cuttings can also be taken by carefully removing a healthy leaf from the plant. Let the leaf dry and callus over for a day or two and then place it on top of a moist well-draining soil mix. Over time, new roots and tiny rosette pups will form, creating new plants.
Pruning and Trimming: Keeping Your Stonecrop in Shape
Regular pruning and trimming help maintain the shape and appearance of your stonecrop plants. Pruning is typically done in early spring, just before new growth begins. Remove any dead or damaged foliage, and trim back overgrown stems to encourage compact and bushy growth.
If your stonecrop plants become leggy or sprawling during the growing season, pinching back the tips of the stems can promote branching and a fuller appearance. Additionally, removing spent flower heads regularly not only keeps your plants tidy but also encourages the production of new blooms.
Pest and Disease Management for Healthy Stonecrop Plants
Stonecrop plants are typically resilient and resistant to most pests and diseases. However, like any plant, they can still encounter occasional issues. Slugs and snails are common pests that may feed on the foliage, leaving unsightly holes. Use organic slug repellents or create physical barriers to protect your plants.
Overwatering can lead to root rot and fungal diseases such as powdery mildew or gray mold. Allow the soil to dry out between waterings and avoid wetting the foliage excessively. If you notice signs of these diseases, prune affected plant parts and consider applying an organic fungicide to prevent further spread.
Inspect your stonecrop plants regularly for any signs of pests or diseases. Early detection and prompt action will help ensure the overall health and vigor of your plants.
Common Problems and Troubleshooting Tips for Jenny's Stonecrop
While stonecrop plants are generally easy to care for, they can occasionally encounter problems that require attention. Some common issues include yellowing or wilting leaves, leggy growth, or lack of blooming.
Yellowing leaves can be a sign of overwatering, nutrient deficiency, or insufficient sunlight. Adjust your watering schedule, ensure the plants receive adequate sunlight, and periodically fertilize to address these concerns.
If your stonecrop plants become leggy, it's likely they are not receiving enough sunlight. Relocate them to a sunnier spot or consider pruning back the stems to promote bushier growth.
The lack of blooming in stonecrop plants can be due to several factors, including excessive nitrogen from over-fertilization, inadequate sunlight, or the need for a dormant period. Adjust your fertilization routine, ensure sufficient sunlight, and provide a period of reduced watering during the winter months to stimulate blooming.
Seasonal Care: Winterizing Your Stonecrop Plants
Winter care for stonecrop plants will depend on your specific growing zone and the hardiness of the varieties you have. Most stonecrop plants are cold-hardy, making them suitable for regions with freezing temperatures.
Before the first frost sets in, cut back any dead or damaged stems and clear away fallen leaves or debris around the plants. This helps prevent disease and provides a tidier appearance.
In extremely cold climates, additional protection may be necessary. Mulching the soil around the plants with a layer of straw or dried leaves can help insulate the roots and protect them from freezing temperatures. Covering the plants with frost blankets or burlap can also provide added protection from harsh winter conditions.
Creating Stunning Displays with Jenny's Stonecrop in Containers
Jenny's Stonecrop is an excellent choice for container gardening, adding an element of natural beauty to any space. Plant your stonecrop varieties in well-draining containers filled with a gritty potting mix similar to what is used in the garden.
Arrange different stonecrop varieties in containers of varying heights and sizes to create dynamic displays. Consider combining them with other succulents or trailing plants for added visual interest.
Place your stonecrop container arrangements on sunny patios, balconies, or windowsills. Remember to water them sparingly, allowing the soil to dry out between waterings, and be mindful of their sunlight requirements to ensure healthy growth and stunning displays.
Landscaping Ideas with Jenny's Stonecrop: Ground Covers, Borders, and more.
Jenny's Stonecrop offers endless possibilities to enhance your landscape design. As low-growing succulents, they are perfect for ground covers, filling in gaps in rock gardens, or carpeting slopes. Their trailing growth habit also makes them a fantastic choice for hanging baskets or cascading over walls.
For a distinctive border, combine different stonecrop varieties with contrasting colors and textures. Plant them alongside other drought-tolerant perennials or ornamental grasses to create a visually stunning composition.
If you're looking to attract pollinators, plant stonecrop clusters in strategic areas throughout your garden. The vibrant and nectar-rich flowers will entice bees, butterflies, and hummingbirds, adding life and movement to your outdoor space.
Combining Jenny's Stonecrop with Other Perennials for Aesthetic Appeal
Jenny's Stonecrop pairs beautifully with a wide range of other perennials, creating stunning visual combinations. Consider creating a pollinator-friendly garden by combining stonecrop with other colorful flowering plants such as coneflowers, black-eyed Susans, and salvias.
For a serene and harmonious display, combine stonecrop varieties with ornamental grasses, sedges, or bamboo. The contrasting textures and heights will create a dynamic landscape that is visually appealing year-round.
When planning your combinations, take into account the specific growing requirements of each plant and choose varieties that thrive in similar soil, light, and moisture conditions.
With the comprehensive information provided in this article, you now have all the knowledge you need to care for Jenny's Stonecrop. These resilient and beautiful plants will bring a touch of elegance and low-maintenance charm to your garden or container displays. So, go ahead and embark on your stonecrop journey, and enjoy the rewards of successful cultivation!