Getting Rid of Aphids on Hibiscus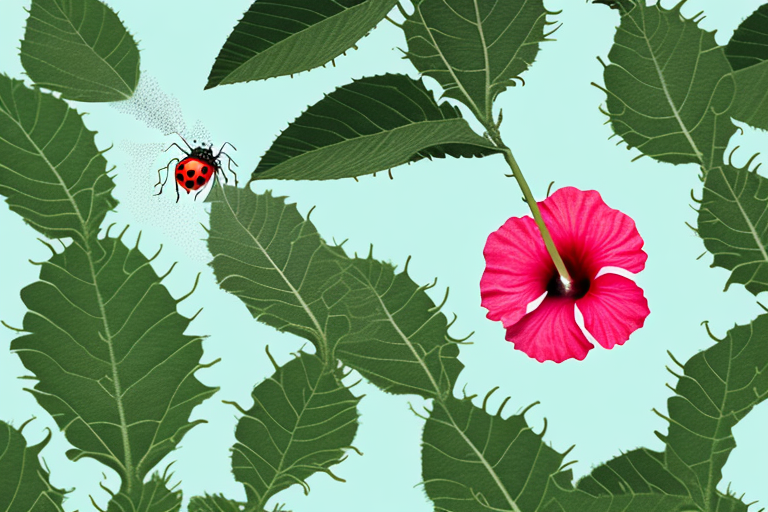 If you're a proud hibiscus plant owner, you may have encountered the pesky problem of aphids. These tiny insects can wreak havoc on your beautiful blooms, but fear not! With a little knowledge and some effective strategies, you can reclaim your hibiscus from their clutches. In this article, we'll delve into the world of aphids, explore how they affect your hibiscus plants, and discuss natural and chemical methods to control their infestation. We'll also uncover preventive measures to keep these unwanted guests at bay.
Understanding Aphids and Their Impact on Hibiscus
Aphids are small, pear-shaped insects that come in a variety of colors ranging from green to black. They feed on the sap of plants, including hibiscus, by piercing the delicate tissues with their needle-like mouthparts. These tiny pests not only damage the plants by sucking their vital juices but also leave behind a sticky residue called honeydew, which can attract other insects and promote the growth of a black, sooty mold.
Left unchecked, aphids can cause stunted growth, distorted leaves, and even the death of your cherished hibiscus. But fret not! By understanding their behavior and implementing effective tactics, you can save your plants and enjoy healthy, vibrant blooms once again.
What Are Aphids?
Aphids are small insects that multiply rapidly, forming colonies on the underside of leaves and buds. They reproduce asexually, meaning females can give birth to live young without the need for a male. This unique ability allows aphid populations to explode in a remarkably short period.
Aphids have a fascinating life cycle. They undergo incomplete metamorphosis, meaning they do not have a distinct larval stage like butterflies or beetles. Instead, they hatch from eggs as miniature versions of the adults. These nymphs immediately start feeding and growing, shedding their skin several times as they mature into adulthood.
One interesting adaptation of aphids is their ability to produce winged individuals when the population becomes too crowded or when the food supply is limited. These winged aphids can disperse to new plants and start new colonies, ensuring the survival of the species.
How Aphids Affect Hibiscus Plants
Aphids puncture the hibiscus plants with their sharp mouthparts, extracting the sap that the plants need to thrive. This sap loss weakens the plant and can result in stunted growth, yellowing leaves, and deformed flowers. Additionally, their honeydew secretion encourages the growth of sooty mold, a black fungus that can further impede the plant's ability to perform important functions like photosynthesis.
When aphids infest a hibiscus plant, they not only cause physical damage but also disrupt the plant's physiological processes. The constant feeding by aphids can lead to a nutrient imbalance in the plant, affecting its overall health and ability to defend against other pests and diseases.
Furthermore, aphids can transmit viral diseases to hibiscus plants. As they move from one plant to another, they can pick up viruses from infected plants and introduce them to healthy ones. These viruses can cause a range of symptoms, including leaf mottling, yellowing, and even plant death in severe cases.
It is important to note that not all aphids are harmful to hibiscus plants. Some species are actually beneficial as they prey on other pests, acting as natural predators. However, the aphids that commonly infest hibiscus, such as the green peach aphid and the cotton aphid, are known to cause significant damage.
Now that you have a better understanding of aphids and their impact on hibiscus plants, you can take proactive measures to protect your beloved blooms. Remember, early detection and prompt action are key to preventing aphid infestations from spiraling out of control.
Identifying Aphid Infestation on Hibiscus
Being able to recognize the signs of aphid infestation is crucial in taking early action against these troublesome pests. Here are some telltale signs to look for:
Common Signs of Aphid Presence
One of the easiest ways to spot aphids is by examining the undersides of hibiscus leaves. Often, you'll find clusters of these tiny insects gathered there. Aphids are usually slow-moving and can come in different colors depending on the species and life stage. Look out for yellow, green, pink, or black insects about the size of a pinhead.
Furthermore, aphids have a distinct pear-shaped body with long antennae. They use their piercing-sucking mouthparts to extract sap from the hibiscus plant, causing damage to the leaves and stems. These pests reproduce rapidly, with females giving birth to live young without the need for mating. This ability to reproduce quickly contributes to the rapid spread of aphids throughout your hibiscus garden.
Another sign of aphid presence is the presence of ants. Ants are attracted to the sweet, sticky substance called honeydew, which aphids secrete as they feed on the plant. Ants will often be seen crawling on the hibiscus leaves, stems, and flowers, as they collect the honeydew for their own consumption.
Different Stages of Aphid Infestation
Initially, aphids may go unnoticed due to their small size, but as their population grows, you might witness leaves curling, wilting, or turning yellow. The presence of distorted and misshapen leaves can be a clear indication that your hibiscus is harboring unwelcome guests. Keep an eye out for the sticky texture of honeydew, which aphids leave behind on leaves, stems, and even flowers.
Moreover, aphids can cause stunted growth in hibiscus plants. The constant feeding on the plant's sap weakens the overall health of the plant, resulting in reduced growth and vigor. In severe infestations, the hibiscus flowers may fail to bloom or drop prematurely.
It is important to note that aphids are not only a nuisance to your hibiscus but can also transmit plant diseases. Some aphid species act as vectors for viral diseases that can cause further damage to your plants. Therefore, timely identification and control of aphids are essential to protect the overall health and beauty of your hibiscus garden.
Natural Methods to Control Aphids
When it comes to tackling aphids on your hibiscus, there are several natural remedies you can employ. These methods are not only safe for the environment but also promote the overall health and well-being of your plants.
Using Beneficial Insects
One of nature's best defenses against aphids is the presence of beneficial insects such as ladybugs and lacewings. Ladybugs, in particular, are voracious predators of aphids and can quickly decimate their populations. Attract these helpful insects to your garden by planting pollen and nectar-rich flowers or by releasing them into the affected areas.
Ladybugs are not only effective in controlling aphids, but they also add beauty to your garden. Their bright red or orange color stands out against the green foliage, creating a visually appealing contrast. Watching these tiny beetles crawl around the leaves, searching for aphids to devour, can be a fascinating sight for both children and adults alike.
Furthermore, ladybugs are not harmful to humans or pets. Unlike chemical pesticides, which can pose health risks, ladybugs are a safe and natural solution for aphid control. By introducing these beneficial insects into your garden, you are creating a balanced ecosystem where nature takes care of itself.
Homemade Sprays and Solutions
If you prefer a DIY approach, you can create homemade sprays and solutions to repel and eradicate aphids. A simple and effective remedy involves mixing a solution of water and dish soap. Spray this mixture directly on the affected parts of your hibiscus, ensuring complete coverage. The soapy solution works by suffocating the aphids and disrupting their feeding habits. Remember to rinse the plant with clean water after a few hours to remove any soap residue.
In addition to the water and dish soap solution, there are other homemade remedies you can try. For instance, a mixture of garlic and water can be used as a natural aphid repellent. Crush a few garlic cloves and steep them in water overnight. Strain the liquid and pour it into a spray bottle. Apply this garlic-infused solution onto the hibiscus leaves, focusing on the areas where aphids are most prevalent. The strong odor of garlic acts as a deterrent, keeping aphids at bay.
Another effective homemade spray is made from neem oil. Neem oil is derived from the seeds of the neem tree and has been used for centuries as a natural insecticide. Mix a few drops of neem oil with water and spray it onto the affected parts of your hibiscus. Neem oil works by disrupting the hormonal balance of aphids, preventing them from reproducing and causing further damage to your plants.
When using homemade sprays and solutions, it's important to remember that consistency is key. Aphids are persistent pests, and it may take several applications before you see a significant reduction in their numbers. Regularly inspect your hibiscus for any signs of aphid infestation and promptly treat them to prevent further damage.
Chemical Treatments for Aphid Control
In severe cases of aphid infestation, using chemical treatments may be necessary. However, it's essential to exercise caution and follow the instructions carefully to protect both your plants and the environment.
Choosing the Right Insecticide
When selecting an insecticide, opt for those specifically formulated to target aphids and are safe for use on hibiscus plants. Read the label thoroughly and ensure the product is approved for your particular situation. Organic and botanical insecticides are considered safer alternatives to harsh chemical options.
Safe Application of Chemical Treatments
Apply the insecticide according to the recommended dosage and timing. Be sure to protect yourself by wearing gloves, protective clothing, and a face mask. Take care to avoid spraying the solution during windy conditions or when the temperature is too hot, as this can lead to unintended damage to your hibiscus or surrounding plants.
Preventive Measures Against Aphids
Prevention is the best cure when it comes to aphids. By implementing a few simple strategies, you can create an environment that is less appealing to these tiny, sap-sucking insects.
Regular Plant Care and Maintenance
Keep your hibiscus plants healthy by providing them with proper care and maintenance. Regularly prune dead or diseased branches and remove any fallen leaves and debris, as these can become hiding spots and breeding grounds for aphids. Additionally, avoid over-fertilizing your plants, as this can make them more susceptible to infestations.
Creating an Unfavorable Environment for Aphids
Manipulate your garden's environment to discourage aphid populations. Introduce diversity by planting a variety of flowers and herbs that act as natural repellents, such as marigolds, chives, and garlic. These strong-scented plants can help keep aphids at bay. Consider companion planting, ensuring that you grow plants that naturally repel aphids near your hibiscus.
By understanding aphids' behavior, identifying their presence, and employing effective control methods, you can rid your hibiscus of these unwelcome pests. Remember, a little prevention and proactive action go a long way in maintaining healthy, thriving plants. So, bid farewell to aphids and get ready to enjoy the beauty of your hibiscus in full bloom!