The Leaves on My Hibiscus Are Turning Yellow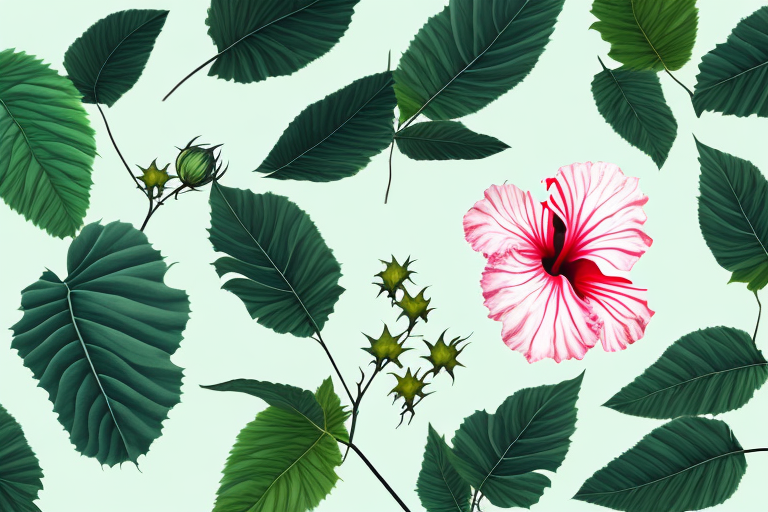 Are you worried about the leaves on your hibiscus turning yellow? Don't panic just yet! Yellowing leaves can be a common problem for hibiscus plants, but with a little understanding and care, you can help your plant regain its vibrancy. In this article, we will explore the different aspects of hibiscus plant care, identify the causes of yellow leaves, and provide you with effective solutions to treat and prevent this issue. So, let's dive right in!
Understanding the Hibiscus Plant
Before we jump into solving the yellowing leaf dilemma, let's take a moment to familiarize ourselves with the hibiscus plant. Hibiscus is a gorgeous flowering plant that comes in various appealing colors, making it a popular choice for gardens and landscapes. These tropical plants thrive in warm climates and are known for their impressive blooming ability.
Hibiscus plants belong to the Malvaceae family, which includes more than 200 species. They are native to tropical and subtropical regions around the world, including Asia, Africa, and the Pacific Islands. The most commonly cultivated species is Hibiscus rosa-sinensis, which is known for its large, showy flowers.
These stunning flowers can be found in a wide range of colors, including red, pink, orange, yellow, and white. Some varieties even have multiple colors or unique patterns on their petals. The flowers usually have a trumpet-like shape with five or more petals, and they can grow up to 6 inches in diameter.
Basic Hibiscus Plant Care
To ensure the overall health and well-being of your hibiscus plant, it's crucial to provide it with proper care. This includes adequate sunlight, regular watering, and the right nutrients.
First and foremost, hibiscus plants require ample sunlight to thrive. They typically need at least 6 hours of direct sunlight each day. Ensuring your plant is placed in a sunny spot will promote healthy growth and vibrant blooms. However, it's important to note that some varieties can tolerate partial shade, especially in hot climates where intense sunlight can scorch the leaves.
When it comes to watering your hibiscus, it's important to strike a delicate balance. Overwatering or underwatering can both lead to yellowing leaves. Keep the soil moist but not soggy to maintain proper hydration levels for your plant. During hot summer months, you may need to water your hibiscus more frequently, while reducing the frequency during cooler seasons.
Hibiscus plants also benefit from regular fertilization. Choose a balanced fertilizer specifically formulated for hibiscus and follow the instructions on the packaging for best results. Fertilizing once a month during the growing season, which is typically spring and summer, will provide your plant with the necessary nutrients to support healthy growth and abundant flowering.
In addition to sunlight, water, and nutrients, hibiscus plants also appreciate a well-draining soil mix. A mixture of garden soil, compost, and perlite or sand can help ensure proper drainage and prevent waterlogged roots, which can lead to root rot.
Common Hibiscus Varieties
Before we move forward, let's take a moment to appreciate the diverse range of hibiscus varieties available. From the classic red hibiscus to stunning yellow ones, the options are endless. Each variety has its unique characteristics and requirements, so make sure to identify the specific type of hibiscus you have.
One popular variety is the Hibiscus rosa-sinensis 'Red Hot', which features large, bright red flowers with a striking yellow center. This variety is known for its heat tolerance and is a favorite among gardeners in warmer climates.
If you prefer a more tropical look, the Hibiscus rosa-sinensis 'Tahitian Sunset' might be the perfect choice. This variety showcases vibrant orange and pink flowers that resemble a beautiful sunset. It is a prolific bloomer and can add a burst of color to any garden or landscape.
For those who appreciate a touch of elegance, the Hibiscus rosa-sinensis 'Snow Queen' is a stunning option. Its pure white flowers are not only visually captivating but also emit a delicate fragrance. This variety is often used in bridal bouquets and adds a touch of sophistication to any outdoor space.
These are just a few examples of the many hibiscus varieties available. Whether you prefer bold and vibrant colors or delicate and subtle hues, there is a hibiscus variety out there to suit your taste and style.
Identifying Yellow Leaves on Hibiscus
Now that we have a solid understanding of hibiscus plants, let's delve into the issue at hand: yellowing leaves. This can be quite alarming, but fear not. By identifying the symptoms and understanding the different stages of leaf yellowing, we can take appropriate measures to address the problem.
Symptoms of Yellowing Leaves
The first step in tackling yellowing leaves is to identify the symptoms. Besides the obvious yellow color, you may notice that the affected leaves appear dull or wilted. In severe cases, the leaves may start falling off.
It's essential to distinguish between natural leaf aging and abnormal leaf yellowing. While hibiscus leaves naturally turn yellow and drop after some time, premature yellowing can be a cause for concern.
Different Stages of Leaf Yellowing
Yellowing leaves on hibiscus plants can occur in different stages. Understanding these stages can help us determine the severity of the issue and take appropriate action.
In the early stages, you may notice the lower leaves turning yellow first. Over time, the yellowing may spread to the upper leaves and even the new growth. It's crucial to address the problem as soon as you notice it to prevent further damage.
Common Causes of Yellow Leaves
Now that we have identified the symptoms and stages of leaf yellowing, let's explore the common causes behind this frustrating issue. Several factors can contribute to the yellowing of hibiscus leaves, including overwatering, underwatering, nutrient deficiencies, as well as pests and diseases.
Overwatering or Underwatering
One of the main culprits of yellowing leaves is improper watering. Overwatering can lead to root damage and oxygen deprivation, causing the leaves to turn yellow. On the other hand, underwatering can lead to dehydration and nutrient deficiencies, resulting in the same outcome.
Ensure that you strike the right balance when it comes to watering and maintain a consistent watering schedule based on the needs of your hibiscus plant.
Nutrient Deficiencies
Hibiscus plants require a balanced diet to thrive. Nutrient deficiencies, particularly iron and magnesium, can manifest as yellow leaves. These essential nutrients aid in chlorophyll production, so a lack of them can hinder the plant's ability to maintain its vibrant green color.
Consider using a fertilizer specifically designed for hibiscus plants to provide them with the necessary nutrients they need to thrive.
Pests and Diseases
Pests and diseases can wreak havoc on hibiscus plants, leading to yellowing leaves and other detrimental effects. Common culprits include aphids, spider mites, and fungal infections.
Regularly inspect your hibiscus plant for signs of pest infestations or diseases. If detected, take immediate action to eliminate the problem and prevent further damage.
How to Treat Yellow Leaves on Hibiscus
Now that we have explored the potential causes of yellowing leaves, let's move on to effective treatment methods. By addressing the underlying issues, we can help our hibiscus plants regain their health and vibrant appearance.
Adjusting Watering Techniques
If improper watering is the root cause, adjusting your watering techniques is crucial. Ensure that you're providing your hibiscus plant with the right amount of water. Consider using a moisture meter or your finger to gauge soil moisture levels before each watering session.
Additionally, make sure your plant has proper drainage. Standing water can promote root rot and further exacerbate the yellowing leaf problem.
Providing Proper Nutrition
If nutrient deficiencies are to blame, enrich your hibiscus plant's diet. Use a well-balanced fertilizer specifically formulated for hibiscus plants. Opt for a slow-release fertilizer that provides a steady supply of nutrients over time.
Pay special attention to iron and magnesium levels, as these are often the culprits behind yellowing leaves. You can find supplements specifically designed to address these deficiencies.
Treating Pests and Diseases
If pests or diseases have invaded your hibiscus plant, it's crucial to take immediate action. Depending on the severity of the infestation or infection, you can use organic remedies, insecticidal soaps, or even consult with a professional for stronger treatments.
Regularly inspect your plant for any signs of trouble and treat any issues promptly to prevent further damage.
Preventing Yellow Leaves in the Future
Now that you have successfully treated the yellow leaves on your hibiscus plant, it's time to focus on preventing this issue from happening again in the future.
Regular Maintenance and Care
Maintaining a regular care routine for your hibiscus plant is crucial to its overall well-being. This includes proper watering, fertilizing, and pruning. Regularly remove dead or damaged leaves and spent flowers to encourage healthy growth.
Monitoring for Early Signs of Trouble
Keep a close eye on your hibiscus plant for any early signs of trouble. Monitor the leaves, stems, and blooms for any abnormalities or pests. Catching potential issues early allows for timely intervention and minimizes the risk of leaf yellowing.
Creating an Ideal Environment for Hibiscus
Hibiscus plants thrive in warm, tropical climates. While they can tolerate cooler temperatures, it's essential to protect them from frost or extreme cold. Consider placing them near a sheltered area or covering them during colder seasons.
Moreover, ensuring your hibiscus receives adequate sunlight, proper airflow, and well-draining soil will contribute greatly to its overall health and vitality.
By following these preventive measures, you can minimize the risk of yellow leaves and ensure that your hibiscus plant remains a stunning focal point in your garden.
So, if you find the leaves on your hibiscus turning yellow, there's no need to panic. With the right knowledge and care, you can help your plant bounce back and thrive once again. Use this guide as your go-to resource to understand, treat, and prevent yellowing leaves in your beloved hibiscus plant. Happy gardening!