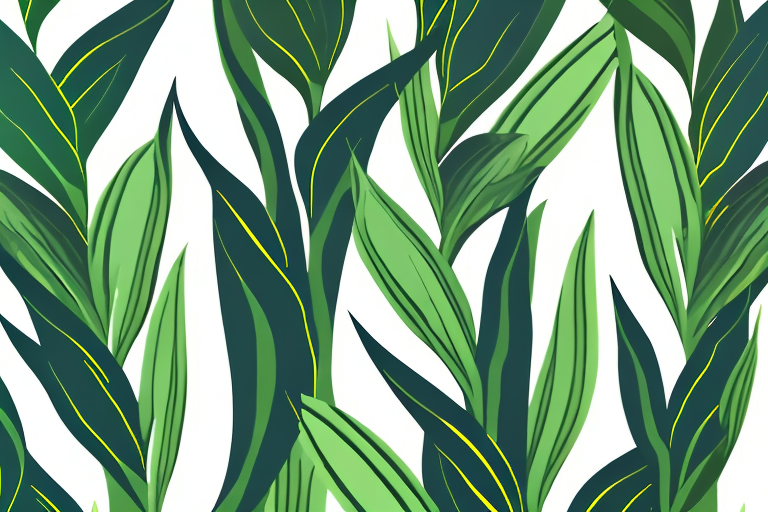 If you're a plant enthusiast, you've likely heard of the stunning snake plant. With its tall and pointed leaves, this plant is not only visually appealing but also incredibly low-maintenance. But did you know that snake plants can also produce beautiful flowers? In this article, we'll delve into the world of flowers on snake plants, exploring their origins, characteristics, and how to care for them. So, let's jump right in!
Understanding the Snake Plant
The snake plant, scientifically known as Sansevieria, is a popular indoor plant cherished for its air-purifying capabilities. Native to West Africa, snake plants have been cultivated for centuries and hold a rich history. Let's take a closer look at their origins and fascinating characteristics.
Origin and History of Snake Plants
Snake plants were first discovered in tropical regions of West Africa, where they thrived in the arid climate and rocky soils. They were cherished for their long, sword-like leaves and ability to withstand harsh conditions. In ancient times, snake plants were even believed to bring good luck and protect against evil spirits.
Legend has it that snake plants were often used in traditional African medicine for their healing properties. The leaves were believed to have the power to ward off illnesses and promote overall well-being. This belief led to the wide cultivation and popularity of snake plants throughout the region.
As trade routes expanded, snake plants made their way to various parts of the world. They became prized possessions of collectors and enthusiasts who marveled at their unique appearance and resilience. Today, snake plants can be found in homes, offices, and botanical gardens all over the globe.
Characteristics of Snake Plants
One of the most distinctive features of snake plants is their leaves, which can grow up to several feet in height. These leaves are thick, fleshy, and patterned with vibrant shades of green. Some varieties also boast variegated patterns, adding further visual interest to these already captivating plants.
Not only are snake plants visually appealing, but they also have some impressive abilities. They are known for their exceptional air-purifying qualities, as they can remove toxins such as formaldehyde and benzene from the air. This makes them an excellent choice for improving indoor air quality and creating a healthier living environment.
Aside from their air-purifying capabilities, snake plants are renowned for their hardiness, making them ideal for beginners or those with busy schedules. They can tolerate low light conditions and only require occasional watering, making them a perfect choice for those who may forget to water their plants regularly.
Interestingly, snake plants have a unique growth pattern. They grow by sending up new shoots from their rhizomes, which are thick underground stems. These shoots can be separated and planted to propagate new snake plants, making them an easily expandable addition to any plant collection.
But what about those flowers? Let's explore the intriguing process of snake plant flowering and why it's considered a rare occurrence.
The Flowering Process of Snake Plants
While snake plants primarily attract attention with their striking leaves, their rare blossoms are a sight to behold. Understanding the flowering process and the conditions necessary for it to occur can help you appreciate the significance of these flowers.
Snake plants, scientifically known as Sansevieria, are native to tropical regions of West Africa. They are known for their resilience and ability to thrive in various environments, making them a popular choice for indoor plants. The flowering process of snake plants is a fascinating phenomenon that adds an extra layer of beauty to these already captivating plants.
When Do Snake Plants Flower?
Snake plants typically flower during late winter or early spring, although the exact timing can vary depending on the plant's age and growing conditions. These flower stalks emerge from the center of the plant, reaching impressive heights and adding an extra layer of elegance to their overall appearance.
It is important to note that not all snake plants will flower. Some varieties are more prone to flowering, while others may rarely or never produce blooms. However, when a snake plant does flower, it is a truly special event.
Conditions Necessary for Flowering
Creating the right environment for your snake plant to produce flowers requires attention to detail. Adequate lighting and specific temperature ranges play a crucial role in encouraging the flowering process.
Ideal lighting conditions for snake plant flowering include bright indirect light. Placing your plant near east or west-facing windows can provide the perfect amount of light without direct exposure to the sun's harsh rays. However, it is important to avoid placing your snake plant in low light conditions as this can hinder its ability to produce flowers.
In addition to lighting, temperature also plays a significant role in the flowering process of snake plants. These plants prefer warmth but can tolerate a wide range of conditions. A temperature range of 70-90°F (21-32°C) during the day and around 60-70°F (15-21°C) at night is ideal for promoting flowering.
Snake plants are known for their ability to adapt to different temperature conditions, making them suitable for various climates. However, extreme temperature fluctuations or prolonged exposure to cold drafts can hinder the flowering process. It is essential to provide a stable and comfortable environment for your snake plant to thrive and potentially produce blooms.
Aside from lighting and temperature, proper watering and well-draining soil are also crucial factors in promoting snake plant flowering. Overwatering can lead to root rot and hinder the plant's overall health, potentially affecting its ability to produce flowers. It is best to allow the soil to dry out between waterings and ensure that the pot has adequate drainage to prevent waterlogging.
Furthermore, providing the necessary nutrients through regular fertilization can also contribute to the flowering process. Using a balanced houseplant fertilizer during the growing season can help provide the essential nutrients that snake plants need to develop strong and healthy flower stalks.
Overall, the flowering process of snake plants is a remarkable occurrence that adds a touch of elegance to these already stunning plants. By creating the right environment with adequate lighting, suitable temperature ranges, proper watering, and fertilization, you can increase the chances of your snake plant producing beautiful blooms. So, next time you admire your snake plant's leaves, remember that hidden within its foliage lies the potential for a breathtaking display of flowers.
The Significance of Flowers on Snake Plants
Now that you know when and how snake plants flower, let's explore the significance of these blooms and why they are particularly captivating.
What Do the Flowers Look Like?
Snake plant flowers are small, delicate, and typically white or cream in color. They appear in clusters atop the tall stalks, creating an ethereal and elegant display. These blooms emit a subtle, pleasant fragrance, which is an added bonus to their captivating visual appeal.
Why Is Flowering Rare in Snake Plants?
Snake plant flowering is considered rare because it requires a combination of specific conditions to occur. Many snake plants never flower during their lifetime, adding to the allure and uniqueness of these occasional blooms. However, with proper care and patience, you may have the opportunity to witness these fascinating flowers in all their glory.
Caring for Your Flowering Snake Plant
So, you've managed to successfully coax your snake plant into flower – congratulations! Now it's crucial to maintain proper care to ensure the longevity and health of both the flowers and the plant itself.
Ideal Lighting and Temperature
Throughout the flowering phase, continue providing your snake plant with bright indirect light. Avoid placing it in direct sunlight, as this can scorch the leaves and hinder the blooming process. Similar to before flowering, maintain a temperature range of 70-90°F (21-32°C) during the day and around 60-70°F (15-21°C) at night.
Watering and Fertilizing Needs
When it comes to watering, ensure the soil is adequately moist but never waterlogged to prevent root rot. Allow the soil to dry out partially between waterings. Additionally, fertilize your snake plant regularly with a balanced houseplant fertilizer to provide the necessary nutrients for healthy growth and flowering.
Common Problems and Solutions
Even the most attentive plant caregivers may encounter issues with their snake plants. Let's explore two common problems that can arise and how to address them effectively.
Overwatering and Root Rot
Overwatering is a common mistake and can lead to root rot, which can be detrimental to your snake plant's health. To avoid this, always ensure proper drainage by using well-draining soil and a pot with drainage holes. Additionally, allow the soil to dry out partially between waterings to prevent excessive moisture retention.
Pest Infestations
While snake plants are generally resilient against pests, they can occasionally suffer from infestations. Common culprits include spider mites and mealybugs. Regularly inspect your plants, particularly the undersides of leaves, and treat any infestations promptly with appropriate organic or chemical control methods.
In summary, the presence of flowers on a snake plant is a rare and treasured gift. Understanding their origins, characteristics, and caring for these delicate blossoms adds an extra layer of appreciation to these already remarkable plants. Remember, while snake plant flowers may be elusive, their overall beauty and air-purifying qualities make them an excellent addition to any plant lover's collection. So, whether you're a seasoned plant enthusiast or just starting your plant journey, why not consider adding a flowering snake plant to your indoor oasis?