Hibiscus Losing Leaves and Turning Yellow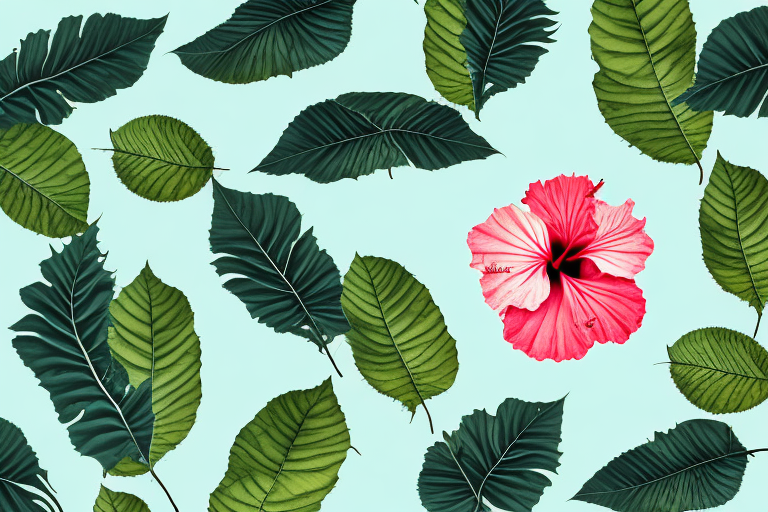 If you have a hibiscus plant and you've noticed that it's losing leaves and turning yellow, don't despair! This article will guide you through the process of understanding why this is happening and provide you with solutions to prevent and treat this issue.
Understanding the Hibiscus Plant
Before we dive into the causes of leaf loss and yellowing in hibiscus plants, let's first gain a better understanding of this beautiful species. Hibiscus plants are known for their vibrant and showy flowers, making them a popular choice for gardens and landscapes.
The Importance of Hibiscus in Gardening
Hibiscus plants not only add a touch of beauty to our gardens but also have numerous benefits for the environment. They attract pollinators such as bees and butterflies, helping to support local ecosystems. Additionally, they can provide shade and shelter for other plants, creating a more diverse and balanced garden.
The Different Varieties of Hibiscus
There is a wide variety of hibiscus plants available, each with its own unique characteristics. From the tropical hibiscus with its large, colorful blooms to the hardy hibiscus with its robust nature, there is a hibiscus variety for every gardener's preference. Understanding the specific type of hibiscus you have can help you properly care for it and address any issues it might be facing.
The Tropical Hibiscus: A Splash of Color
The tropical hibiscus, scientifically known as Hibiscus rosa-sinensis, is a stunning variety that is often associated with tropical climates. It features large, vibrant flowers in shades of red, orange, pink, yellow, and even white. These blooms can instantly brighten up any garden or landscape, creating a visually striking focal point.
One interesting fact about the tropical hibiscus is that its flowers only last for a day or two. However, the plant produces new blooms continuously, ensuring a constant display of color throughout the blooming season. This makes it a favorite among gardeners who crave a burst of color in their outdoor spaces.
The Hardy Hibiscus: A Tough Beauty
On the other end of the spectrum, we have the hardy hibiscus, also known as Hibiscus moscheutos. This variety is native to North America and is well-suited for colder climates. Unlike its tropical counterpart, the hardy hibiscus is known for its resilience and ability to withstand harsh conditions.
While the flowers of the hardy hibiscus may not be as large or showy as those of the tropical hibiscus, they make up for it with their sheer number. This variety produces an abundance of blooms in shades of pink, white, and red, creating a stunning floral display that can withstand even the harshest winters.
In addition to their beautiful flowers, hardy hibiscus plants are also valued for their attractive foliage. The leaves are often deeply lobed and have a lush, green color, adding visual interest to the garden even when the plant is not in bloom.
By understanding the different varieties of hibiscus, you can choose the one that best suits your gardening needs and preferences. Whether you want a burst of tropical color or a tough beauty that can withstand the elements, hibiscus plants offer a wide range of options to enhance your outdoor space.
Common Problems with Hibiscus Plants
Now, let's move on to the common problems that hibiscus plants face, which can result in leaf loss and yellowing. By identifying these issues early on, you can take the necessary steps to bring your hibiscus back to its full glory.
Identifying Signs of Stress in Hibiscus
Hibiscus plants can experience stress due to various factors, such as extreme temperatures, insufficient sunlight, or improper watering. Stress can weaken the plant and make it more susceptible to diseases and pests. It is crucial to keep an eye out for signs of stress in your hibiscus, such as wilting leaves, stunted growth, or yellowing foliage.
Extreme temperatures can have a significant impact on the health of your hibiscus plants. When exposed to high temperatures, hibiscus may experience heat stress, which can cause the leaves to wilt and turn yellow. On the other hand, cold temperatures can lead to frost damage, resulting in blackened and withered foliage.
Insufficient sunlight is another common cause of stress in hibiscus plants. These plants thrive in full sun, and without adequate light, they may struggle to produce energy through photosynthesis. As a result, the leaves may become pale and yellowish, indicating a lack of chlorophyll.
Improper watering practices can also contribute to stress in hibiscus plants. Overwatering can lead to root rot, causing the leaves to wilt and turn yellow. On the other hand, underwatering can result in drought stress, where the leaves become dry and brittle.
Diseases and Pests that Affect Hibiscus
Unfortunately, hibiscus plants are not immune to diseases and pests. Common threats include fungal infections, such as powdery mildew, and pest infestations, including aphids and whiteflies. These can cause leaf discoloration, curling, and eventually, leaf loss. Regularly inspecting your hibiscus for any signs of disease or pests can help you catch and treat the problem early on.
Powdery mildew is a fungal disease that commonly affects hibiscus plants. It appears as a white powdery substance on the leaves, stems, and buds. As the disease progresses, the affected areas may turn yellow or brown, and the leaves may become distorted. To prevent powdery mildew, it is essential to provide adequate airflow around the plant and avoid overhead watering.
Aphids and whiteflies are common pests that can wreak havoc on hibiscus plants. These tiny insects feed on the sap of the plant, causing the leaves to curl and distort. Additionally, their feeding can lead to the development of sooty mold, a black fungus that grows on the honeydew excreted by the pests. Regularly inspecting the undersides of leaves and using insecticidal soap can help control aphid and whitefly populations.
Another pest that can cause problems for hibiscus plants is the spider mite. These tiny arachnids feed on the plant's sap, causing stippling on the leaves and the formation of fine webbing. Spider mites thrive in dry conditions, so maintaining proper humidity levels and regularly misting the leaves can help deter their infestation.
By being aware of these common problems and taking proactive measures, you can ensure that your hibiscus plants remain healthy and vibrant. Regularly inspecting your plants, providing optimal growing conditions, and promptly treating any issues that arise will help your hibiscus thrive and continue to beautify your garden.
Why Hibiscus Leaves Turn Yellow
Yellowing leaves are a common cause for concern among hibiscus owners. Let's explore the main reasons behind this issue and how to address them effectively.
Nutrient Deficiencies and Yellow Leaves
Hibiscus plants require a balance of essential nutrients to thrive. A lack of nutrients, such as nitrogen, iron, or magnesium, can result in yellowing leaves. This is often accompanied by stunted growth and decreased flower production. Fertilizing your hibiscus with a well-balanced fertilizer can help replenish the missing nutrients and prevent further leaf yellowing.
Overwatering and Underwatering Effects
Both overwatering and underwatering can lead to yellow leaves in hibiscus plants. Overwatering can suffocate the roots, causing them to rot and preventing proper nutrient uptake. Underwatering, on the other hand, deprives the plant of the necessary moisture it needs to thrive. Finding the right balance and watering your hibiscus correctly is vital to prevent leaf loss and yellowing.
Why Hibiscus Loses Its Leaves
In addition to yellowing leaves, hibiscus plants may also experience leaf loss. Understanding the reasons behind this phenomenon can help you intervene and preserve the health of your hibiscus.
Seasonal Leaf Drop in Hibiscus
Hibiscus plants, especially those in cooler climates, can experience a natural leaf drop during the winter months. This is a normal response to the changing seasons and is not necessarily a cause for concern. However, if the leaf loss is excessive or continues throughout the year, it's essential to investigate further to rule out any other underlying issues.
Impact of Environmental Stress on Hibiscus
Similar to the stress mentioned earlier, environmental factors such as strong winds, extreme temperatures, or poor soil conditions can cause hibiscus plants to lose their leaves. Providing proper protection, such as windbreaks or mulching, can mitigate the impact of environmental stress on your hibiscus.
Solutions to Prevent and Treat Yellowing and Leaf Loss
Now that we've explored the reasons behind yellowing leaves and leaf loss in hibiscus plants, let's focus on the necessary steps to prevent and treat these issues.
Proper Watering Techniques for Hibiscus
Watering your hibiscus correctly is crucial to maintain its health. It is best to water the plants deeply and thoroughly, allowing the water to penetrate the root zone. However, ensure that the soil is well-drained to prevent overwatering. Consistently monitoring the moisture levels and adjusting your watering routine accordingly will help prevent both yellowing leaves and leaf loss.
Ensuring Adequate Nutrition for Hibiscus
Providing your hibiscus with the necessary nutrients is essential for its overall well-being. Regularly fertilizing your plant with a balanced fertilizer and addressing any specific nutrient deficiencies can prevent yellowing leaves and promote healthy growth. Following the recommended fertilization schedule for your hibiscus variety will ensure optimal nutrition.
Pest and Disease Control for Hibiscus
Staying vigilant and regularly inspecting your hibiscus for signs of pests or diseases is crucial. Implementing appropriate pest and disease control measures, such as using organic insecticides or practicing cultural controls, can prevent further damage to the plant and minimize leaf loss. In severe cases, consulting with a professional may be necessary to accurately identify and treat the issue.
In conclusion, leaf loss and yellowing in hibiscus plants can be alarming, but with proper understanding and care, you can address these issues effectively. By identifying signs of stress, providing adequate nutrition and water, and promptly addressing pest and disease problems, you can help your hibiscus regain its health and beauty.
Remember, gardening is a journey, and every challenge is an opportunity to grow and learn. So, don't be discouraged by leaf loss and yellowing—embrace it as a chance to nurture and care for your beloved hibiscus plant.