Kill Tree Stump With Salt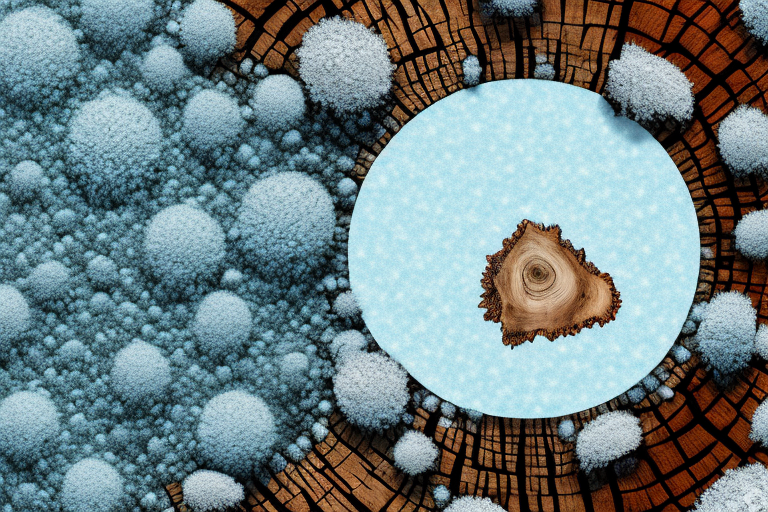 Are you tired of staring at that unsightly tree stump in your yard? Don't worry, there is a simple and effective way to get rid of it: salt. Yes, you read that right, regular old salt can help you kill that tree stump and restore the beauty of your outdoor space. In this article, we will explore the role of salt in tree stump removal, provide you with a step-by-step guide on how to use salt for stump removal, discuss safety measures, and even touch on alternative methods of stump removal. So, let's dive in and learn how to say goodbye to that stubborn tree stump once and for all!
Understanding the Problem: Tree Stumps
Before we get into the nitty-gritty of salt as a stump killer, let's take a moment to understand why tree stumps need to be removed in the first place. Tree stumps can be a major eyesore, disrupting the overall aesthetic appeal of your landscape. They can also pose a tripping hazard for you, your family, and your guests. Moreover, tree stumps can become a breeding ground for pests, such as termites and ants, causing potential damage to your property. Removing tree stumps is not just about enhancing the appearance of your yard; it also promotes safety and prevents potential issues down the line.
Why Tree Stumps Need to be Removed
There are several compelling reasons to remove tree stumps from your yard. First and foremost, stumps can sprout new shoots, resulting in the regrowth of the tree. This can be a nuisance as it undoes all the hard work you put into removing the tree in the first place. Additionally, tree stumps can attract unwanted pests, including termites and ants, which can then spread to your home or nearby trees. By removing the stump, you eliminate the habitat for these pests and reduce the risk of an infestation. Lastly, stumps can be a hazard, especially if they are hidden by foliage or obstructing walkways. Removing them creates a safer environment for you and your loved ones.
Potential Issues with Tree Stumps
Leaving tree stumps in your yard can lead to various problems. Not only do they detract from the visual appeal of your outdoor space, but they can also interfere with future landscaping plans. Stumps can be a hindrance when mowing your lawn, as they can damage your lawnmower and make it difficult to achieve a smooth, even cut. Additionally, stumps take up valuable space that could be used for planting new trees or creating a beautiful garden. By removing tree stumps, you open up possibilities for new landscaping projects and create a fresh canvas to unleash your creativity.
The Role of Salt in Tree Stump Removal
Now that we understand the importance of removing tree stumps, let's explore how salt can help in this process. Salt, specifically rock salt or table salt, works as a natural herbicide when applied to a tree stump. When salt is added to the root zone of the stump, it dehydrates the plant's cells, ultimately killing the stump. The drying effect of salt prevents the stump from receiving essential nutrients and water, causing it to wither away over time. Using salt as a stump killer is not only cost-effective but also environmentally friendly, making it a popular choice among homeowners.
How Salt Affects Tree Stumps
The use of salt for stump removal exploits its natural properties. Salt acts as a desiccant, meaning it absorbs moisture from its surroundings, including the cells of the tree stump. When salt is applied to the stump, it draws out the moisture present in the stump, dehydrating it and causing it to die off gradually. The salt also inhibits the growth of any new shoots that may try to emerge from the stump. By effectively drying out the stump, salt offers a simple and efficient solution to the problem of removing tree stumps.
Types of Salt You Can Use
When it comes to using salt for stump removal, there are a few different options available. Two common types of salt that can be used are rock salt and table salt. Rock salt, also known as sodium chloride, is an inexpensive and readily available option. It is often used for deicing roads and walkways during the winter months. Table salt, or sodium chloride, is a finer grain salt that is used for culinary purposes. Both rock salt and table salt can be effective in killing tree stumps, so it ultimately comes down to personal preference and availability.
Step-by-Step Guide to Killing a Tree Stump with Salt
Now that you have a good understanding of the role of salt in tree stump removal, let's walk through the step-by-step process of using salt to kill a tree stump. By following these instructions, you'll be well on your way to making that stubborn stump a thing of the past.
Materials Needed
Before you get started, gather the necessary materials for the job. Here's what you'll need:
Rock salt or table salt
Gloves
Protective eyewear
Garden drill or any tool for making holes in the stump
Watering can or sprayer
Plastic sheet or tarp
Shovel
Preparing the Tree Stump
1. Begin by cutting the tree stump as close to the ground as possible using a saw or pruning shears. The lower the stump, the easier it will be to work with.
2. Clear away any debris, rocks, or foliage around the stump. This will make it easier to access the stump and ensure that the salt is applied directly to the root zone.
3. Use a garden drill or any tool suitable for making holes in the stump. Create several holes around the top and sides of the stump. These holes should be at least 1 inch in diameter and around 8 to 12 inches deep.
Applying the Salt
1. Put on gloves and protective eyewear to protect yourself from the salt and any debris that may fly during the process.
2. Fill a watering can or sprayer with water and gradually add salt to it. Stir the mixture until the salt is fully dissolved. It's important to use a higher concentration of salt to increase its effectiveness.
3. Pour the saltwater solution into the holes you created in the stump. Ensure that the saltwater reaches the root zone of the stump. If needed, use a funnel to guide the solution into the holes.
4. Cover the stump with a plastic sheet or tarp to prevent rainfall from diluting the saltwater solution. This will help maximize the effect of the salt on the stump.
Aftercare and Monitoring
1. Be patient and allow time for the salt to work its magic. It typically takes several weeks to a few months for the stump to die off completely, depending on the size and type of tree.
2. Check on the stump regularly to monitor its progress. If new shoots emerge, repeat the process of applying saltwater to ensure they are killed off as well.
3. Once the stump has died off and is completely dry, you can remove it using a shovel. The dry stump should be easier to break apart and remove from the ground.
Safety Measures When Using Salt for Stump Removal
While using salt for stump removal is generally safe, it's important to take certain precautions to protect yourself and the environment.
Protective Gear to Use
When working with salt, it's crucial to wear gloves and protective eyewear to prevent any contact with your skin or eyes. The salt can cause irritation, especially if you have sensitive skin. Wearing protective gear will ensure your safety throughout the process.
Environmental Considerations
Although salt is a natural and environmentally friendly option compared to some chemical stump removers, it's still important to consider its impact on your surroundings. Avoid applying salt near other plants or bodies of water, as it can damage vegetation and leach into the soil or water sources. Take care to prevent the saltwater solution from coming into contact with desirable plants or harming nearby ecosystems.
Other Methods of Tree Stump Removal
While salt is an effective and accessible way to remove tree stumps, there are alternative methods worth considering if you're looking for different options. Let's take a brief look at two additional methods: chemical stump removers and stump grinding/manual removal.
Chemical Stump Removers
Chemical stump removers are products designed specifically to break down and decompose tree stumps. These products typically come in a powdered or granular form and contain active ingredients that speed up the stump decomposition process. Chemical stump removers offer a convenient choice for those who prefer a hands-off approach and want to let nature take its course.
Stump Grinding and Manual Removal
If you have access to specialized equipment or prefer a more mechanical approach, stump grinding and manual removal are options to consider. Stump grinding involves using a powerful machine to grind the stump down to below ground level. Manual removal, on the other hand, requires physical labor and tools such as axes, shovels, and pry bars to dig and remove the stump from the ground. Both methods can be effective but may require more effort and resources than using salt as a stump killer.
There you have it! A comprehensive guide to killing a tree stump with salt. Remember to exercise caution, follow the steps carefully, and consider alternative methods if salt doesn't align with your preferences or requirements. With a bit of patience and the right approach, you'll soon be able to bid farewell to that persistent tree stump and reclaim your beautiful yard. Happy stump removal!