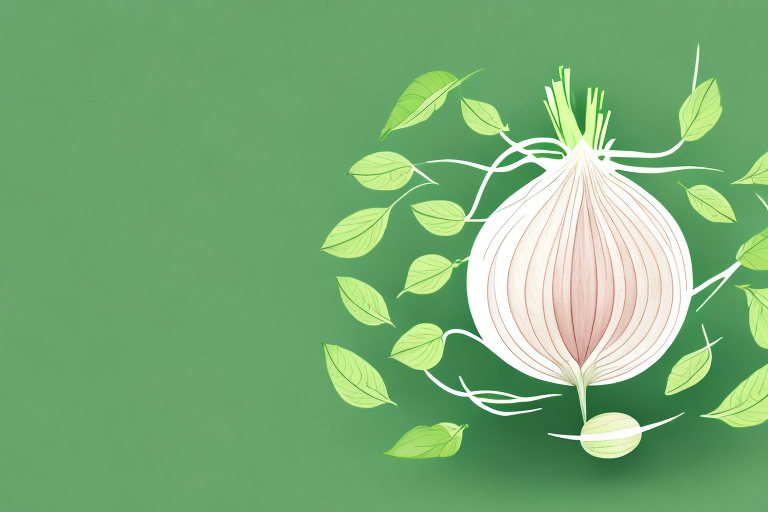 Have you ever come across a plant called the Pregnant Onion? Despite its peculiar name, this fascinating plant has become quite popular among gardening enthusiasts. In this article, we will explore the ins and outs of the Pregnant Onion plant, including its origin, growing tips, care requirements, common problems, and propagation methods. So, let's dive in and learn more about this unique plant!
Understanding the Pregnant Onion Plant
Origin and Description
The Pregnant Onion plant, scientifically known as Ornithogalum longibracteatum, is a succulent perennial native to South Africa. With its striking appearance, it has captured the attention of many plant lovers worldwide. The plant features long, slender leaves that grow in a rosette formation and can reach up to 12 inches in length. Its bulbous base is where the magic happens, earning it its peculiar name.
Native to the grasslands and rocky slopes of South Africa, the Pregnant Onion plant thrives in arid and semi-arid regions. It has adapted to survive in harsh conditions by storing water in its bulbous base, allowing it to withstand long periods of drought. The leaves, which are green and fleshy, have a waxy coating that helps prevent water loss through evaporation. This unique adaptation allows the Pregnant Onion plant to thrive in its natural habitat.
In addition to its impressive survival skills, the Pregnant Onion plant is also a sight to behold. Its leaves are a vibrant shade of green, adding a touch of freshness to any space. The rosette formation of the leaves creates an eye-catching display, making it a popular choice for indoor gardens and succulent collections.
Why is it Called the Pregnant Onion?
The Pregnant Onion got its intriguing name due to the unique proliferation method it employs. Instead of producing seeds like most plants, it grows small bulbils or offsets on the surface of the mother bulb. These bulbils resemble tiny onions, giving the plant its distinct nickname. These "pregnant" bulbs can eventually detach from the mother bulb and grow into new plants.
This reproductive strategy is advantageous for the Pregnant Onion plant, as it allows for efficient propagation. By producing bulbils directly on the mother bulb, the plant can quickly multiply without the need for pollination or seed germination. This method also ensures that the offspring plants inherit the exact genetic traits of the parent plant, maintaining the desired characteristics.
When the bulbils are fully matured, they can be gently separated from the mother bulb and planted in well-draining soil. With proper care and favorable conditions, these bulbils will develop into independent plants, continuing the life cycle of the Pregnant Onion species.
The bulbils of the Pregnant Onion plant are not only fascinating from a reproductive standpoint but also serve as a unique feature in ornamental gardening. They can be left intact on the mother bulb, creating a visually appealing cluster of "pregnant" onions. This cluster adds an interesting texture and dimension to the overall appearance of the plant, making it a standout choice for succulent enthusiasts.
How to Grow a Pregnant Onion Plant
Ideal Conditions for Growth
In order to successfully grow a Pregnant Onion plant, providing the right conditions is crucial. This plant thrives in bright, indirect sunlight, so place it near a window or in a well-lit area of your home. As a native of South Africa, it enjoys warm temperatures, ideally between 70 and 80 degrees Fahrenheit (21-27 degrees Celsius). Additionally, ensure good air circulation around the plant to prevent excessive humidity and stagnation.
Pregnant Onion plants are known for their unique appearance and ability to store water in their bulbous base. This adaptation allows them to survive in arid conditions, similar to their natural habitat in South Africa. The bulb, which resembles a pregnant belly, can grow quite large and is a fascinating sight to behold.
When it comes to caring for your Pregnant Onion, it's important to mimic its natural habitat as closely as possible. This means providing it with the right amount of light, warmth, and air circulation. By doing so, you'll create an environment where the plant can thrive and display its characteristic beauty.
Step-by-Step Planting Guide
When it comes to planting the Pregnant Onion, an essential step is choosing the right pot and soil. Select a well-draining pot with ample drainage holes to prevent waterlogging. For the soil, opt for a well-draining cacti or succulent mix to mimic the plant's natural habitat.
The bulb of the Pregnant Onion is the key to its growth and development. It stores nutrients and water, allowing the plant to survive during periods of drought. When selecting a pot, make sure it is spacious enough to accommodate the bulb's growth. This will give the plant room to expand and flourish.
Once you have the necessary supplies, gently remove the bulb from its nursery pot, taking care not to damage the delicate roots. The bulb is the heart of the Pregnant Onion plant, and any harm to its roots can hinder its growth. Handle it with care and ensure a smooth transition into its new home.
Place the bulb in the prepared pot, ensuring it is positioned just below the soil surface. This will provide stability and support for the growing plant. Lightly pat down the soil around the bulb to secure it in place, making sure not to cover the bulb completely. The top of the bulb should be visible above the soil line.
After planting, give your Pregnant Onion a thorough watering and then let the soil dry out between waterings. This mimics the plant's natural watering cycle, as it experiences periods of drought in its native habitat. Remember, overwatering can lead to root rot, so be cautious not to keep the soil excessively moist.
As your Pregnant Onion plant grows, you may notice new bulbs forming at the base. These are called offsets or "babies" and can be separated from the parent plant once they reach a suitable size. This allows you to propagate new plants and expand your collection.
With proper care and attention, your Pregnant Onion plant will reward you with its unique beauty and resilience. Enjoy watching it grow and thrive in its new environment, knowing that you are providing the ideal conditions for its growth.
Caring for Your Pregnant Onion Plant
Watering and Feeding Requirements
Proper watering is essential for the health of your Pregnant Onion plant. It is best to water the plant deeply, allowing the water to reach the roots, and then let the soil dry out completely before the next watering. This mimics the plant's natural habitat, where it experiences periods of drought. Be sure to adjust the watering frequency based on the climate and time of year.
When it comes to feeding, a balanced fertilizer designed for succulents can be applied during the growing season. However, it is important not to overfeed the plant, as this can lead to excessive foliage growth and decrease bulb production.
Light and Temperature Needs
The Pregnant Onion plant thrives in bright, indirect light. While it can tolerate some direct sunlight, intense exposure can scorch its delicate leaves. If you notice the leaves turning yellow or brown, it might be a sign that the plant is receiving too much light.
As mentioned earlier, maintaining a warm temperature is crucial for this South African native. Avoid exposing it to temperatures below 50 degrees Fahrenheit (10 degrees Celsius) to prevent damage or stunted growth.
Common Problems and Solutions
Dealing with Pests and Diseases
Like any other plant, the Pregnant Onion can face some common pests and diseases. Aphids and mealybugs are the most common culprits, sucking sap from the leaves and causing damage. A simple solution is to wipe the leaves with a damp cloth or use an insecticidal soap to control these pests. Additionally, ensuring good air circulation can help prevent fungal diseases, such as root rot.
Overcoming Growth Issues
If you notice that your Pregnant Onion plant is not producing bulbils or growing at a slow pace, it might be experiencing growth issues. Inadequate lighting, excessive moisture, or improper potting can hinder the growth process. Adjusting the plant's environment, providing proper lighting, and avoiding overwatering can help kick-start its growth and bulb production.
Propagation of the Pregnant Onion Plant
When and How to Propagate
Propagating the Pregnant Onion plant is a rewarding process that allows you to expand your plant collection or share it with fellow enthusiasts. The ideal time for propagation is during the plant's dormant phase, typically in spring or early summer. During this time, gently separate the small bulbils from the mother bulb and plant them in a separate pot using the same soil mix as mentioned earlier. Ensure the bulbils are positioned just below the soil surface to encourage root development.
Caring for the New Plants
After transplanting the bulbils, provide them with the same care as their parent plant. Keep them in a warm, well-lit location and maintain proper watering and feeding practices. With time and patience, the bulbils will grow into mature plants, producing their bulbils and continuing the fascinating cycle.
Now that you have a comprehensive understanding of the Pregnant Onion plant, why not try growing one yourself? With its unique name, striking appearance, and intriguing growth habits, it is undoubtedly a conversation starter and an excellent addition to any plant collection. Happy gardening!