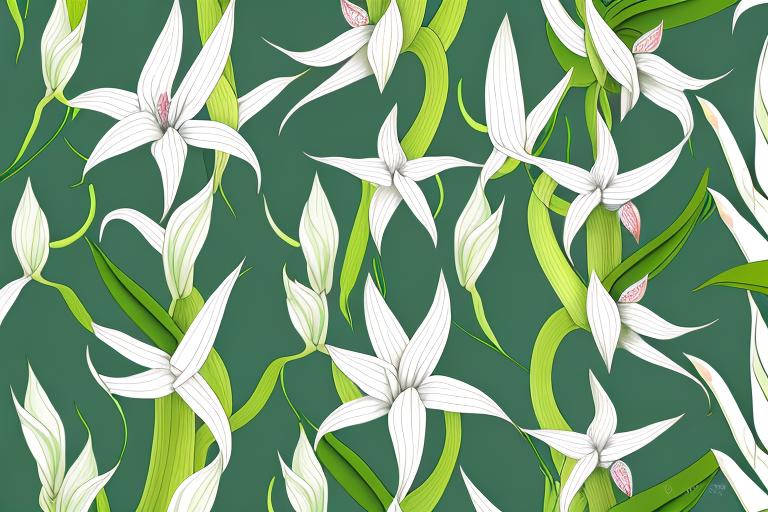 Have you ever seen a snake plant in full bloom? It's a sight to behold! The snake plant, also known as Sansevieria, is a popular houseplant cherished for its unique foliage and low-maintenance nature. But when it blooms, it takes on a whole new level of beauty. In this article, we will explore everything you need to know about the snake plant in bloom.
Understanding the Snake Plant
Before we delve into the blooming process, let's first understand the snake plant. Originating from West Africa, this remarkable plant has a long history dating back thousands of years. It was highly regarded for its air-purifying properties and durable nature, so much so that ancient Egyptians even believed it possessed protective qualities.
The snake plant's journey began in the tropical regions of West Africa. It was brought to Europe in the 18th century and quickly gained popularity as a decorative plant. Over time, it made its way into households worldwide, becoming a staple in many homes and offices.
The snake plant stands out with its long, sword-like leaves that grow upright, reaching heights of up to several feet. Not only that, it thrives in a variety of conditions, making it an ideal choice for both beginner and seasoned plant enthusiasts. Its ability to tolerate low light and survive with infrequent watering sets it apart from many other houseplants.
Origin and History of the Snake Plant
The snake plant, scientifically known as Sansevieria, belongs to the Asparagaceae family and is native to tropical West Africa. It has been an integral part of the region's culture and traditions for centuries. The plant's popularity can be traced back to its numerous practical uses, including its ability to purify the air by removing toxins and releasing oxygen.
Ancient civilizations, such as the Egyptians, recognized the snake plant's unique qualities and believed it had protective powers. They often placed it in their homes and temples to ward off evil spirits and bring good luck. The plant's resilient nature, with its ability to survive in harsh conditions, further added to its mystical reputation.
During the 18th century, European explorers and botanists discovered the snake plant during their travels to Africa. Fascinated by its beauty and versatility, they brought it back to Europe, where it quickly gained popularity among plant enthusiasts and collectors. The snake plant's distinct appearance and ease of care made it a sought-after addition to gardens and conservatories.
As time went on, the snake plant's fame spread across continents, reaching various parts of the world. Its adaptability to different climates and growing conditions made it a favorite among gardeners and interior decorators. Today, the snake plant can be found in homes, offices, and public spaces worldwide, adding a touch of greenery and elegance to any environment.
Key Characteristics of the Snake Plant
The snake plant, with its scientific name Sansevieria trifasciata, is known for its striking appearance and unique growth pattern. Its leaves grow upright in a fan-like shape, resembling the sharp edge of a sword. The leaves can reach impressive heights, ranging from a few inches to several feet, depending on the variety.
One of the snake plant's most remarkable features is its ability to thrive in various conditions. It can tolerate low light levels, making it an excellent choice for indoor spaces with limited natural sunlight. This adaptability makes it a popular choice for offices, where it can brighten up workspaces and improve air quality.
Another notable characteristic of the snake plant is its resilience and ability to survive with infrequent watering. This makes it an ideal choice for busy individuals or those who tend to forget about watering their plants. The snake plant stores water in its thick, fleshy leaves, allowing it to withstand drought-like conditions for extended periods.
Furthermore, the snake plant is known for its air-purifying properties. It has been scientifically proven to remove toxins, such as formaldehyde, benzene, and trichloroethylene, from the air, making it a valuable addition to any indoor environment. Its ability to release oxygen at night also makes it an excellent bedroom plant, promoting better sleep quality.
In addition to its practical benefits, the snake plant is aesthetically pleasing, with its vibrant green leaves and unique patterns. It comes in various cultivars, each displaying different leaf shapes, sizes, and colors. From the classic Sansevieria trifasciata "Laurentii" with its yellow-edged leaves to the compact Sansevieria cylindrica with its cylindrical foliage, there is a snake plant variety to suit every taste and preference.
Overall, the snake plant's rich history, adaptability, and striking appearance make it a beloved plant among enthusiasts and a versatile addition to any space. Whether you are a beginner gardener or an experienced plant collector, the snake plant is sure to captivate you with its beauty and resilience.
The Blooming Process of the Snake Plant
Now, let's explore the captivating blooming process of the snake plant. While snake plants are admired for their foliage, their blooms add another dimension to their charm.
Did you know that the snake plant, also known as Sansevieria, is native to West Africa? It is a popular houseplant worldwide due to its ability to thrive in low-light conditions and its air-purifying qualities. But it's not just the plant's resilience and beauty that make it fascinating; its blooming process is equally intriguing.
When Does the Snake Plant Bloom?
The snake plant is known to be a late bloomer. It typically blooms during late winter or early spring, although the exact timing can vary depending on the plant's age and growing conditions. The anticipation builds as the plant prepares to reveal its hidden beauty.
Interestingly, the snake plant's blooming period is influenced by various factors, such as temperature, light exposure, and even the size of the pot it's planted in. So, if you're lucky enough to witness your snake plant blooming, consider it a special treat!
The Stages of Snake Plant Bloom
The blooming process of the snake plant can be divided into three distinct stages. First, the plant produces a thick, tall stalk, sometimes resembling a miniature tree trunk. This stalk emerges from the center of the plant's rosette of leaves, reaching towards the sky.
As the stalk continues to grow, it undergoes a remarkable transformation. Small, tightly packed buds start to form along the length of the stalk, each containing the potential for a beautiful flower. These buds are like nature's hidden gems, waiting to be unveiled.
Finally, the long-awaited moment arrives. The buds gradually open up, revealing clusters of small, star-shaped flowers. These delicate blooms can vary in color, ranging from creamy white to pale green, and even a subtle hint of pink. The contrast between the vibrant green leaves and the dainty flowers creates a visually stunning display.
But the snake plant's beauty doesn't stop at its appearance. The blooms also emit a pleasant fragrance, adding a sensory delight to the overall experience. The scent is subtle yet captivating, attracting not only humans but also pollinators like bees and butterflies.
As the blooming process unfolds, each flower takes its turn to shine, creating a mesmerizing spectacle that can last for several weeks. It's a reminder of nature's intricate design and the wonders that plants can offer.
So, next time you admire a snake plant, take a moment to appreciate its blooming journey. From the slow emergence of the stalk to the unfurling of the flowers and the enchanting fragrance, the snake plant's blooming process is a testament to the beauty and resilience of nature.
Caring for a Blooming Snake Plant
When your snake plant enters this blooming phase, it requires a bit of extra attention and care to ensure its continued health and beauty.
Ideal Conditions for Blooming
To encourage your snake plant to bloom to its fullest potential, provide it with bright, indirect light. A spot near a north or east-facing window is usually ideal. Additionally, maintaining a consistent temperature between 60°F to 85°F (15°C to 29°C) and moderate humidity levels will promote optimal blooming conditions.
Common Problems and Solutions During Bloom
Sometimes, unexpected issues can arise during the blooming process. One common concern is drooping flowers, which is often caused by overwatering. To remedy this, allow the soil to dry out between waterings and ensure proper drainage. Additionally, pest infestations can occasionally occur, so monitor your plant regularly and take appropriate measures, such as using organic insecticidal soap, if necessary.
The Significance of Snake Plant's Bloom
The blooming phase of a snake plant holds both symbolic and aesthetic significance. It's a celebration of nature's beauty and resilience, showcasing the plant's ability to thrive and reproduce.
What Does the Bloom Indicate?
When your snake plant blooms, it signifies that it has reached maturity and is in optimal health. It's a testament to your care and attention, rewarding you with a stunning display of nature's wonders.
The Aesthetic Appeal of a Blooming Snake Plant
A snake plant in full bloom is a true showstopper. The graceful combination of vibrant green foliage and delicate white blooms creates a visually striking contrast that effortlessly enhances any space. Whether displayed in a living room corner or placed on a desk, a blooming snake plant adds a touch of natural elegance and beauty.
Propagation from Blooming Snake Plant
The blooming phase also presents an opportunity for propagation, allowing you to share the joy of a blooming snake plant with others.
How to Propagate from a Blooming Snake Plant
Propagation from a blooming snake plant is relatively straightforward. To start, gently remove one of the plant's pups, which are small offsets that grow around the base of the mother plant. Plant the pup in well-draining soil, keeping it slightly moist until it establishes roots. With time and proper care, the newly propagated snake plant will grow and eventually bloom, continuing the cycle of beauty.
Tips for Successful Propagation
To maximize the chance of successful propagation, ensure that the pup has a well-developed root system before detaching it from the mother plant. Additionally, placing the newly propagated plant in a container that allows for future growth will ensure it thrives for years to come.
In conclusion, witnessing a snake plant in bloom is a truly awe-inspiring experience. From its intriguing history and remarkable characteristics to the various stages of blooming, the snake plant captivates us at every turn. By providing the ideal care, being attentive to potential problems, and understanding the significance of its bloom, you can create an environment in which your snake plant flourishes and graces you with its exquisite blossoms.