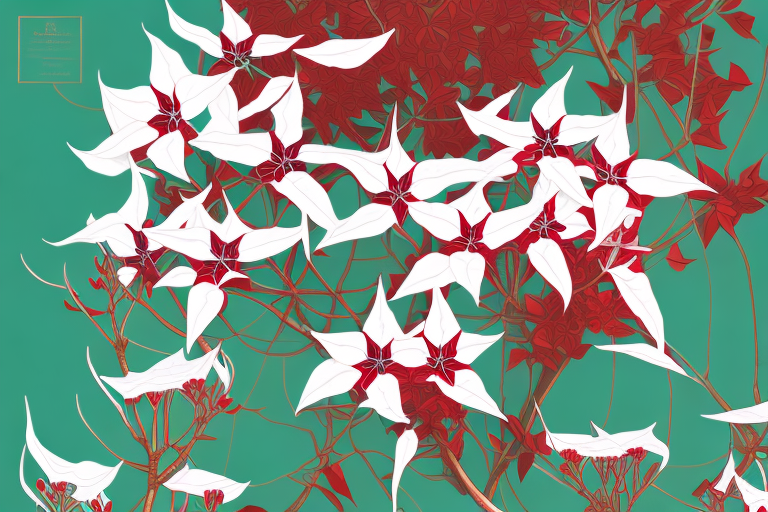 Welcome to the world of Clerodendrum Pagoda! In this article, we will take a closer look at this captivating plant, discussing its origin, physical characteristics, growing conditions, propagation methods, and care. Get ready to learn everything you need to know about this remarkable species!
Introduction to Clerodendrum Pagoda
Clerodendrum Pagoda, also known as Pagoda Flower or Vase Vine, is a stunning flowering plant that belongs to the Verbenaceae family. With its intriguing name and mesmerizing appearance, it has become a favorite among garden enthusiasts and nature lovers alike.
When you first encounter a Clerodendrum Pagoda, you can't help but be captivated by its beauty. The plant boasts clusters of vibrant, trumpet-shaped flowers that bloom in a variety of colors, including shades of red, pink, purple, and white. These flowers are delicately arranged in a pagoda-like formation, giving the plant its unique and enchanting appearance.
Origin and History
Originally hailing from Southeast Asia, Clerodendrum Pagoda has a rich history that spans centuries. It is believed to have been cultivated for its ornamental beauty in ancient Chinese gardens and later introduced to other parts of the world. Today, it can be found gracing landscapes and gardens across various continents.
The plant's name, "Pagoda Flower," is derived from its striking resemblance to the tiered structures found in East Asian architecture. Just like the intricate layers of a pagoda, the flowers of the Clerodendrum Pagoda are stacked upon one another, creating a visually stunning display.
Scientific Classification
As per its botanical classification, Clerodendrum Pagoda falls under the kingdom Plantae, phylum Angiosperms, class Magnoliopsida, order Lamiales, family Verbenaceae, genus Clerodendrum, and species Pagoda. Its scientific name, Clerodendrum Paniculatum, pays tribute to its stunning appearance and unique structure.
Within the Verbenaceae family, Clerodendrum Pagoda is known for its distinct characteristics. The genus Clerodendrum encompasses approximately 450 species, each with its own set of features and attributes. While the Pagoda Flower is undoubtedly one of the most visually striking members of this genus, it is also highly regarded for its medicinal properties.
In traditional medicine, various parts of the Clerodendrum Pagoda plant are used to treat a range of ailments, including fever, inflammation, and digestive disorders. The leaves, flowers, and roots contain bioactive compounds that possess antimicrobial, antioxidant, and anti-inflammatory properties. These therapeutic qualities have made the plant a valuable resource in herbal medicine.
Physical Characteristics of Clerodendrum Pagoda
Clerodendrum Pagoda showcases an array of remarkable physical features that set it apart from other plants. Let's explore its leaves, stems, flowers, and fruits in detail.
Leaves and Stems
The leaves of Clerodendrum Pagoda are broad, glossy, and heart-shaped, lending an elegant touch to the plant. They can reach up to 6 inches in length and are arranged opposite each other along the stems. These lush green leaves have a smooth texture, with veins that are intricately woven like a delicate lacework. When the sunlight filters through the leaves, it creates a mesmerizing play of light and shadow, adding to the plant's allure.
The stems, characterized by their woody nature, boast a beautiful burgundy hue that adds visual interest to the overall appearance of the plant. These sturdy stems provide support to the plant, allowing it to grow tall and stand upright. As the plant matures, the stems develop a slightly rough texture, giving it a unique tactile quality. When gently touched, the stems release a subtle, earthy fragrance, reminiscent of the lush forests where Clerodendrum Pagoda thrives.
Flowers and Fruits
The crowning glory of Clerodendrum Pagoda lies in its intricate flowers and vibrant fruits. The flowers, which bloom in cascading clusters, consist of five petals that form a delicate tubular shape. Each petal is adorned with intricate patterns, resembling delicate brushstrokes of a master painter. Their ethereal white hue blended with touches of pink or red creates a stunning contrast against the backdrop of the dark green foliage.
As the flowers bloom, they release a sweet, intoxicating fragrance that lingers in the air, attracting a myriad of pollinators, from bees to butterflies. The flowers serve as a vibrant hub of activity, as these pollinators dance from one blossom to another, ensuring the continuation of the plant's life cycle.
As the flowers fade away, they make way for striking berries that turn from green to dark purple, providing a feast for the eyes and local wildlife. These berries, resembling miniature jewels, are not only visually appealing but also serve as a vital food source for birds and small mammals. The vibrant colors of the berries stand out against the lush green foliage, creating a picturesque scene that showcases the beauty of nature's bounty.
Growing Conditions and Requirements
To ensure the healthy growth of your Clerodendrum Pagoda, it is essential to provide it with the optimal growing conditions. Let's delve into the key factors to consider in terms of soil, sunlight, water requirements, and other important details.
Ideal Soil Type
Clerodendrum Pagoda thrives in well-draining soil that is rich in organic matter. A combination of loam and sandy soil works wonders for this plant, promoting root development and preventing waterlogging, which could lead to root rot. Before planting, it's beneficial to enrich the soil with compost or organic fertilizers to create the perfect environment for your Pagoda Flower to flourish.
Moreover, the soil pH level is an important factor to consider. Clerodendrum Pagoda prefers slightly acidic to neutral soil, with a pH range of 6.0 to 7.0. You can test the soil pH using a soil testing kit available at most garden centers. If the pH is not within the desired range, you can adjust it by adding amendments such as sulfur or lime.
Sunlight and Water Needs
Like most plants, Clerodendrum Pagoda enjoys soaking up the sun; however, it also appreciates a little shade during the hottest hours of the day. Ideally, a location that offers a good balance of sunlight and shade will ensure the best results. It is recommended to place the plant in an area where it receives at least 6 hours of direct sunlight daily.
When it comes to watering, it's essential to maintain adequate soil moisture without overwatering. Regular watering, especially during dry spells, coupled with a well-draining soil, will keep your plant happy and healthy. However, it is crucial to avoid waterlogging, as this can cause root rot. To check if the plant needs watering, you can insert your finger about an inch into the soil. If it feels dry, it's time to water.
In addition to regular watering, Clerodendrum Pagoda benefits from occasional misting. Misting the leaves with water helps increase humidity levels, which is especially beneficial in dry climates or during the winter months when indoor air tends to be drier.
Temperature and Humidity
Clerodendrum Pagoda is a tropical plant that thrives in warm temperatures. It prefers temperatures between 65°F and 85°F (18°C to 29°C). Avoid exposing the plant to temperatures below 55°F (13°C), as it can damage the foliage and slow down growth.
As for humidity, this plant appreciates moderate to high humidity levels. If you live in a dry climate or during the winter months when indoor air tends to be drier, you can increase humidity by placing a tray filled with water near the plant or using a humidifier.
Furthermore, it's important to protect the plant from drafts and sudden temperature fluctuations. Avoid placing it near air conditioning vents, open windows, or doors that are frequently opened and closed.
By providing the ideal growing conditions, your Clerodendrum Pagoda will thrive and reward you with its beautiful flowers and lush foliage. Remember to monitor the plant's needs regularly and make adjustments as necessary to ensure its continued health and vitality.
Propagation of Clerodendrum Pagoda
If you're considering growing more Clerodendrum Pagodas, you have two primary options for propagation: from seeds or from cuttings. Let's explore both methods in detail to help you choose the approach that suits you best.
From Seeds
To propagate Clerodendrum Pagoda from seeds, begin by collecting fresh seeds once the berries have ripened and turned dark purple. Remove the seeds from the berries and rinse them thoroughly. To encourage germination, scarify the seeds gently with sandpaper and soak them in water overnight. Sow the seeds in seedling pots containing well-draining potting soil and provide them with warmth, moisture, and indirect light. With regular care and patience, the seeds will sprout, and your Pagoda Flower family will expand.
From Cuttings
Propagation from cuttings is another popular method to propagate Clerodendrum Pagoda. Take several semi-hardwood cuttings from the plant, ensuring each cutting has at least two sets of leaves. Remove the lower leaves and dip the cut ends in rooting hormone powder to enhance the chances of successful rooting. Plant the cuttings in a well-draining mix of potting soil and perlite, keeping the soil consistently moist but not waterlogged. With time and proper care, the cuttings will develop roots, giving birth to new plants.
Care and Maintenance of Clerodendrum Pagoda
To keep your Clerodendrum Pagoda in top shape and ensure its longevity, implementing the right care and maintenance practices is crucial. Let's explore some essential tips for pruning and controlling pests and diseases.
Pruning Techniques
Pruning plays a vital role in shaping the growth of Clerodendrum Pagoda and promoting a fuller, bushier appearance. Early spring is the best time to prune your plant. Remove any dead, damaged, or crossing branches to encourage proper airflow and sunlight penetration. Additionally, regular light pruning can help control the size and shape of the plant, ensuring it remains a charming focal point in your garden.
Pest and Disease Management
Clerodendrum Pagoda is generally a hardy plant, but it may occasionally face some common pests and diseases. Keep an eye out for aphids, scale insects, and whiteflies, which can be treated with organic insecticidal soap or horticultural oils. Regularly inspect your plant for any signs of leaf spots or powdery mildew, as these can be addressed with appropriate fungicides. Prompt detection, combined with proper care and maintenance, will keep your Clerodendrum Pagoda free from unwanted pests and diseases.
In conclusion, Clerodendrum Pagoda is a captivating plant that enchants with its ornamental beauty and vibrant blooms. Whether you're an avid gardener or simply looking to add a touch of elegance to your outdoor space, this plant is an excellent choice. With its enchanting flowers, glossy leaves, and relatively easy care requirements, Clerodendrum Pagoda is sure to bring joy and fascination to your garden year after year. So go ahead and embark on this botanical adventure – your Pagoda Flower awaits its place in the spotlight!