Ficus Benjamina Dropping Leaves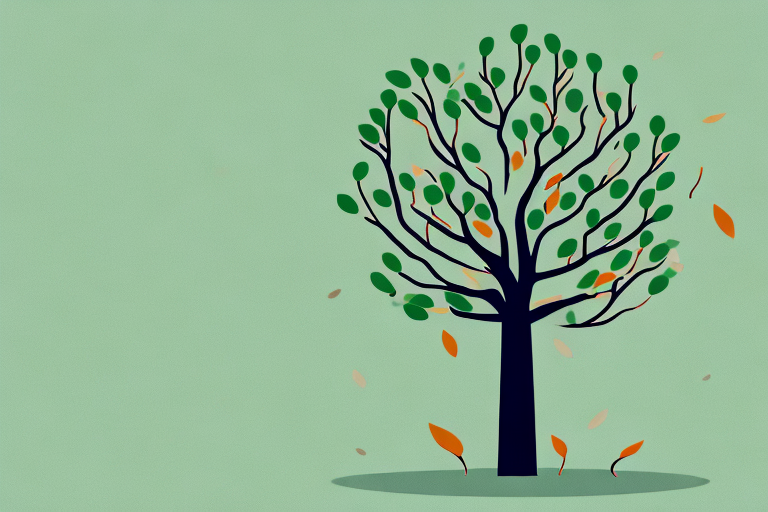 If you find your Ficus Benjamina dropping leaves, don't panic! This common issue can be easily resolved with a little understanding and proper care. In this article, we will explore everything you need to know about the Ficus Benjamina plant, including its origin, ideal growing conditions, common reasons for leaf drop, diagnosing leaf drop, and solutions to prevent and treat this issue. By the end, you'll be equipped with the knowledge to keep your Ficus Benjamina thriving and leafy!
Understanding the Ficus Benjamina Plant
The Ficus Benjamina, also known as the Weeping Fig, is a popular and beautiful indoor plant that belongs to the Moraceae family. It is native to Southeast Asia and Australia, where it can grow into a large tree. As a houseplant, the Ficus Benjamina is prized for its graceful weeping foliage and the ability to adapt to various indoor environments.
The Ficus Benjamina originates from the tropical regions of Southeast Asia and Australia. Its leaves are glossy, oval-shaped, and typically dark green. This plant can grow up to 6 feet tall indoors, making it an excellent choice for those looking to add a touch of greenery to their homes or offices.
The Ficus Benjamina is also known for its aerial roots, which dangle from its branches as it matures. These roots create an interesting visual appeal, adding to the plant's overall charm.
When it comes to the ideal growing conditions for the Ficus Benjamina, several factors need to be considered to ensure its health and vitality.
Lighting Requirements
The Ficus Benjamina thrives in bright, indirect light. Placing it near a window with filtered sunlight is ideal. The leaves of this plant are sensitive to direct sunlight and can easily get scorched if exposed for extended periods. Therefore, it's crucial to find a location that strikes the perfect balance between brightness and shade.
Humidity Needs
Creating a moderately humid environment is essential for the Ficus Benjamina's well-being. If the air in your home or office is dry, consider using a humidifier to increase humidity levels. Alternatively, you can place a tray filled with water near the plant. As the water evaporates, it will create a humid microclimate around the Ficus Benjamina, mimicking its natural habitat.
Temperature Tolerance
The Ficus Benjamina prefers a warm and stable environment. It is sensitive to temperature fluctuations and drafts, which can cause stress and lead to leaf drop. To keep your Ficus Benjamina happy, avoid placing it near doors, windows, or air conditioning vents. Instead, choose a spot where the temperature remains consistent throughout the day.
Soil and Watering
Proper soil and watering practices are crucial for the Ficus Benjamina's overall health. This plant thrives in well-draining soil that allows excess water to escape. Ensure that the pot has drainage holes to prevent waterlogged roots, which can lead to root rot.
When it comes to watering, it's important to strike a balance. Overwatering can cause root rot, while underwatering can lead to leaf drop. The best approach is to water the plant thoroughly, allowing the top inch of soil to dry out before watering again. This will prevent waterlogged conditions while ensuring the plant receives adequate moisture.
By providing the Ficus Benjamina with the right growing conditions, you can enjoy its lush foliage and graceful appearance for years to come. Remember to monitor its light, humidity, temperature, and watering needs to keep it thriving in your indoor space.
Common Reasons for Leaf Drop in Ficus Benjamina
Leaf drop in Ficus Benjamina can be a cause for concern, but understanding the reasons behind it can help you address the issue and ensure the health of your plant. While improper watering is one of the most common reasons for leaf drop, there are several other factors that can contribute to this problem.
Overwatering or Underwatering
One of the most common reasons for leaf drop in Ficus Benjamina is improper watering. Overwatering can lead to root rot, causing the leaves to turn yellow and fall off. On the other hand, underwatering can lead to drought stress, resulting in leaf curling and eventual leaf drop. It's crucial to find the right balance and water the plant only when the top inch of soil feels dry.
In addition to finding the right watering schedule, it's important to consider the type of water you use. Ficus Benjamina is sensitive to chemicals found in tap water, such as chlorine and fluoride. Using filtered or distilled water can help prevent leaf drop caused by water quality issues.
Inadequate Light Exposure
Insufficient light exposure can also cause your Ficus Benjamina to drop leaves. This plant requires bright, indirect light to thrive. If it is placed in a dimly lit area for an extended period, it may experience leaf shedding. To remedy this, consider moving it to a brighter spot or supplementing with artificial grow lights.
When considering light exposure, it's important to note that Ficus Benjamina is sensitive to sudden changes in lighting conditions. If you decide to move it to a brighter location, do so gradually to minimize stress on the plant.
Temperature and Humidity Stress
Fluctuations in temperature and humidity can stress the Ficus Benjamina, leading to leaf drop. Extreme cold or hot drafts can shock the plant, causing it to shed leaves. Additionally, dry indoor air can negatively affect your plant's health. To prevent this, keep your Ficus Benjamina away from drafts and increase humidity levels around it.
One way to increase humidity is by using a humidifier or placing a tray of water near the plant. Misting the leaves with water can also help, but be cautious not to overdo it as excessive moisture on the leaves can lead to fungal diseases.
Pests and Diseases
Pests and diseases can also contribute to leaf drop in Ficus Benjamina. Common pests include scale insects, spider mites, and mealybugs. Regularly inspect your plant for signs of infestation, such as sticky residue or tiny creatures crawling on the leaves. Treat any pests promptly with appropriate insecticides to prevent further damage.
Furthermore, diseases such as root rot, leaf spot, and powdery mildew can weaken the plant, causing leaf drop. Proper care and maintenance, including regular pruning, cleaning the leaves, and using sterile potting soil, can help prevent the onset of diseases.
It's important to note that prevention is key when it comes to pests and diseases. Avoid overfertilizing your Ficus Benjamina, as excessive nutrients can attract pests and promote disease development. Additionally, practicing good hygiene by regularly cleaning your plant's leaves and removing any fallen debris can help keep pests and diseases at bay.
By understanding the common reasons for leaf drop in Ficus Benjamina and taking appropriate measures to address these issues, you can ensure the health and vitality of your plant. Remember to observe your plant closely, provide proper care, and make necessary adjustments to create an optimal growing environment.
Diagnosing Leaf Drop in Ficus Benjamina
Identifying Symptoms
When trying to diagnose the cause of leaf drop in your Ficus Benjamina, it's essential to observe the accompanying symptoms.
If the leaves are turning yellow and falling off while feeling soft and mushy, it may indicate overwatering and root rot. If the leaves are dry and brittle, it could be a sign of underwatering.
Leaves that are curling, withering, or displaying signs of discoloration may suggest inadequate light exposure or temperature and humidity stress. Similarly, if you notice small insects or webbing on the leaves, it is a clear indication of pest infestation.
Conducting a Health Check
To get a better understanding of your Ficus Benjamina's overall health, examine the plant thoroughly.
Check the roots for signs of rot or moisture imbalance. Healthy roots should be firm, white, and well-distributed throughout the soil. If you notice a foul odor or dark, mushy roots, it's a clear indication of root rot.
Inspect the leaves for any visible pests, spots, or signs of disease. Remember to check both sides of the leaves and the stems. Removing affected leaves can help prevent further spread of diseases and infestations.
Solutions to Prevent and Treat Leaf Drop
Adjusting Watering Techniques
To prevent leaf drop due to overwatering or underwatering, it's crucial to develop a watering routine.
Water your Ficus Benjamina when the top inch of soil feels dry to the touch. Ensure that excess water can freely drain out of the pot to prevent waterlogged roots. Allow the soil to slightly dry out between waterings, as this will promote healthier root growth.
During the winter months or when the plant is in a dormant state, reduce watering frequency to avoid waterlogged soil.
Modifying Light and Temperature Conditions
If your Ficus Benjamina is suffering from inadequate light exposure, consider relocating it to a brighter spot in your home or office. Alternatively, use artificial grow lights to supplement the available light.
To prevent temperature and humidity stress, keep your plant away from drafts, hot radiators, or cold air conditioning vents. Additionally, increase humidity levels around your Ficus Benjamina by misting the leaves or placing a tray of water nearby.
Treating Pests and Diseases
If you notice signs of pests on your Ficus Benjamina, take immediate action to prevent further damage.
First, isolate the affected plant from your other indoor plants to prevent the infestation from spreading. Use appropriate insecticides, following the instructions carefully, to eradicate the pests. Regularly inspect your plant for any recurring signs of infestation and treat promptly to maintain its health.
To prevent and control diseases, practice good hygiene. Regularly clean the leaves with a damp cloth to remove dust and debris. Ensure proper air circulation around the plant to minimize humidity, which can encourage disease development. Use sterile potting soil and avoid overwatering to prevent root rot.
In conclusion, understanding why your Ficus Benjamina is dropping leaves is the key to addressing the issue successfully. By providing the right growing conditions, diagnosing leaf drop accurately, and implementing appropriate solutions, you can help your Ficus Benjamina thrive and display its lush green foliage. Enjoy the beauty and serenity this stunning plant brings to your indoor space!