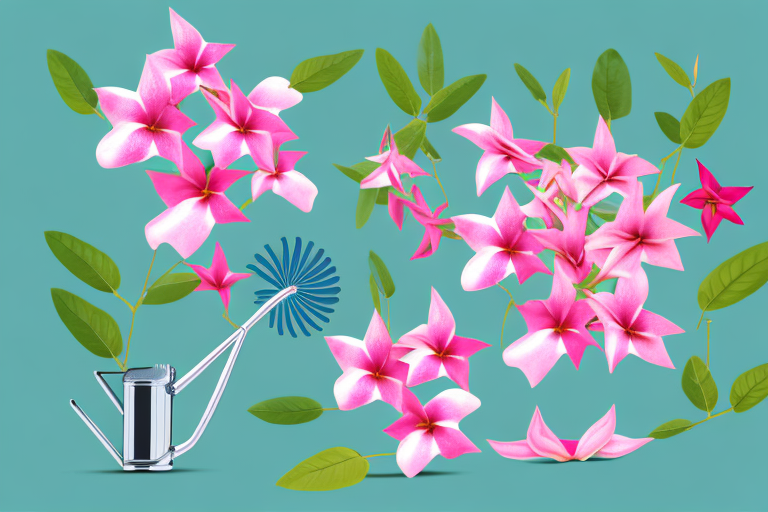 The Mandevilla plant is a stunning addition to any garden or indoor space. With its vibrant flowers and lush green foliage, it adds a touch of tropical beauty wherever it grows. However, like any plant, it requires proper care and attention to thrive and reach its full potential. In this article, we will dive into the world of Mandevilla care, exploring everything from its origin and characteristics to essential care requirements, feeding and fertilizing tips, pruning techniques, and even how to deal with common pests and diseases. So, if you're ready to take your Mandevilla's care to the next level, let's get started!
Understanding the Mandevilla Plant
Before we delve into the care requirements of the Mandevilla plant, let's take a moment to understand its origin and characteristics. Mandevilla is native to South America, specifically the tropical regions of Brazil. It belongs to the Apocynaceae family and is known for its twining vines that can climb and grow up to 10 feet in height. The most distinctive feature of the Mandevilla plant is undoubtedly its showy trumpet-shaped flowers, which come in various colors, including red, pink, white, and yellow.
Origin and Characteristics of Mandevilla
As mentioned earlier, the Mandevilla plant hails from the tropical regions of Brazil. Its natural habitat includes areas with moderate rainfall and ample sunlight. This tells us that Mandevillas thrive in warm, sunny conditions, and replicating these conditions in our care routine is essential for their well-being.
In addition to its native habitat, Mandevilla has also been introduced to other parts of the world due to its ornamental value. It has found popularity in gardens and landscapes in various countries, including the United States, where it is commonly grown as a decorative vine or potted plant. This widespread cultivation is a testament to the plant's beauty and adaptability.
When it comes to physical characteristics, Mandevilla is a woody vine with glossy, dark green leaves. The leaves are elliptical in shape and arranged in an opposite pattern along the stem. This arrangement allows the plant to capture the maximum amount of sunlight, aiding in its photosynthesis process.
Different Varieties of Mandevilla
Over the years, different varieties of Mandevilla have been developed, each with its own unique characteristics. Some popular varieties include:
Mandevilla Sundaville: This variety is known for its robust growth and profuse blooming. The flowers of Sundaville Mandevilla come in a range of colors, including red, pink, and white. Its vigorous growth habit makes it an excellent choice for creating a lush, tropical look in gardens or as a focal point in containers.
Mandevilla Dipladenia: Dipladenia Mandevilla is a compact variety that is well-suited for small gardens or container planting. It produces a stunning display of trumpet-shaped flowers in vibrant colors. The compact nature of this variety makes it a popular choice for balconies, patios, or any limited space where its beauty can be enjoyed up close.
Mandevilla Alice duPont: Alice duPont Mandevilla is a fast-growing variety with large, vibrant pink flowers. It is especially popular for its vigorous climbing ability. This variety is often used to create vertical interest in gardens, as it can quickly cover trellises, fences, or arbors with its lush foliage and eye-catching blooms.
These are just a few examples of the diverse range of Mandevilla varieties available to gardeners and plant enthusiasts. Each variety brings its own unique charm and can be selected based on personal preferences, space availability, and desired visual impact.
Essential Care Requirements for Mandevilla
Now that we have a basic understanding of the Mandevilla plant, let's explore its essential care requirements. Paying close attention to the following aspects will help ensure the health and vitality of your Mandevilla:
Ideal Lighting Conditions
Mandevillas thrive in bright, indirect sunlight. They require a minimum of 4-6 hours of sun exposure daily to produce abundant flowers and maintain vibrant foliage. Placing your Mandevilla in a spot that receives morning sun and afternoon shade is ideal, as it offers the right balance of light and protection from scorching heat.
In their natural habitat, Mandevillas grow as climbing vines, clinging to trees for support. This behavior is influenced by their need for adequate light. When grown indoors, it is essential to provide them with sufficient light to mimic their natural environment. Placing them near a south-facing window or using artificial grow lights can help ensure they receive the necessary light intensity.
It is worth noting that the intensity of sunlight can vary depending on the time of year and geographical location. During the summer months, when the sun is at its peak, it may be necessary to provide some shade to prevent the leaves from scorching. On the other hand, during winter, when sunlight is less intense, placing your Mandevilla closer to the window can help maximize light absorption.
Watering Needs
Proper watering is crucial for the well-being of your Mandevilla plant. While it prefers consistently moist soil, it is important to avoid overwatering, as this can lead to root rot. As a general rule of thumb, water your Mandevilla when the top inch of soil feels dry to the touch. During the warmer months, you may need to water more frequently, while in cooler months, you can reduce the frequency.
When watering, it is best to use room temperature water to avoid shocking the plant's roots. Additionally, it is beneficial to water the soil directly rather than spraying the leaves, as this can help prevent the development of fungal diseases. To retain moisture and promote healthy root growth, consider adding a layer of organic mulch around the base of the plant.
Understanding the specific water requirements of your Mandevilla can be a bit tricky, as it depends on various factors such as temperature, humidity, and pot size. Observing your plant closely and adjusting your watering routine accordingly will help you strike the right balance and keep your Mandevilla thriving.
Temperature and Humidity Preferences
Mandevillas are tropical plants and thrive in warm temperatures. Ideally, they prefer temperatures between 70-90°F (21-32°C) during the day and slightly cooler temperatures at night. It is important to protect your Mandevilla from extreme cold, as it is sensitive to frost. Additionally, providing a humid environment by misting the leaves or placing a tray of water nearby can help mimic its natural habitat.
In regions with colder climates, it is common to grow Mandevillas as annuals or in containers that can be brought indoors during the winter months. When transitioning your plant indoors, be mindful of sudden temperature changes, as this can cause stress and leaf drop. Gradually acclimating your Mandevilla to indoor conditions by placing it in a shaded area and gradually increasing the time spent indoors can help minimize shock.
Humidity is another important factor to consider when caring for your Mandevilla. In their native tropical habitats, they enjoy high humidity levels. To replicate this environment, you can mist the leaves with water or use a humidifier. Placing the pot on a tray filled with water and pebbles can also create a humid microclimate around the plant.
By providing the right temperature and humidity conditions, you can help your Mandevilla thrive and maintain its lush foliage and vibrant flowers.
Feeding and Fertilizing Your Mandevilla
Feeding your Mandevilla plant with the right nutrients is essential for promoting healthy growth and blooming. Let's explore some important tips when it comes to feeding and fertilizing your Mandevilla:
Choosing the Right Fertilizer
When selecting a fertilizer for your Mandevilla, it is important to choose one that is high in potassium, as this nutrient promotes blooming. A balanced, water-soluble fertilizer with an NPK ratio of 10-20-20 or 14-14-14 is generally a good choice. Avoid fertilizers high in nitrogen, as this can result in excessive foliage growth at the expense of flowers.
When and How to Fertilize
During the growing season, which typically spans from spring to early fall, fertilize your Mandevilla every two weeks. Dilute the fertilizer according to the instructions on the package and apply it to the soil around the plant, avoiding direct contact with the leaves. In winter, when Mandevillas enter a period of dormancy, reduce fertilizer applications to once a month or refrain altogether.
Pruning and Training Your Mandevilla
Pruning and training your Mandevilla plant is essential for maintaining its shape, controlling its size, and encouraging bushier growth. Let's explore some important aspects of pruning and training:
When to Prune Your Mandevilla
The best time to prune your Mandevilla is in early spring, just before new growth begins. This allows the plant sufficient time to recover and produce new shoots and flowers during the growing season. Additionally, if you notice any diseased, damaged, or leggy stems, it is best to prune them off as soon as you spot them.
Techniques for Pruning
When pruning your Mandevilla, use clean, sharp pruning shears to make clean cuts just above a leaf node or bud. This helps promote new growth from the dormant buds below the cut. Aim to remove any dead or weak stems, as well as any excessive growth that may be detracting from the plant's overall appearance.
Training Your Mandevilla to Climb
If you have a climbing variety of Mandevilla, training it to climb a trellis, wall, or other support structure adds a visually stunning element to your garden. When training, gently tie the stems to the support using soft plant ties or twine. It is important not to tie the stems too tightly, as this can restrict growth and potentially damage the plant. As the Mandevilla grows, regularly check and adjust the ties to ensure they are not cutting into the stems.
Dealing with Pests and Diseases
Like any plant, Mandevillas are susceptible to certain pests and diseases. Being proactive in identifying and treating these issues can help keep your Mandevilla healthy and thriving. Let's explore some common pests and diseases that can affect your Mandevilla:
Common Pests Affecting Mandevilla
Some common pests that can infest Mandevilla plants include aphids, spider mites, and whiteflies. Regularly inspect your plant for any signs of pests, such as distorted or discolored leaves, sticky residue, or tiny webbing. If you notice an infestation, promptly treat it with insecticidal soaps or horticultural oils, following the instructions on the product label. In severe cases, you may need to resort to chemical insecticides, but always use them as a last resort and follow the instructions carefully.
Identifying and Treating Diseases
Mandevillas can be susceptible to fungal diseases, such as powdery mildew and black spot. These diseases typically manifest as white powdery patches or black spots on the leaves. To prevent fungal diseases, avoid overhead watering and ensure good air circulation around the plant. If you notice any signs of disease, promptly remove and discard the affected leaves or stems. Applying a fungicide specifically formulated for ornamental plants can help prevent the spread of the disease.
By following these care guidelines and giving your Mandevilla plant the love and attention it deserves, you can enjoy a stunning display of vibrant flowers and lush foliage year after year. Whether you have a potted Mandevilla on your patio or a climbing variety adorning your garden, the beauty and charm of these tropical plants are sure to captivate and delight. So, go ahead, embark on your Mandevilla care journey, and watch as your green thumb works its magic!