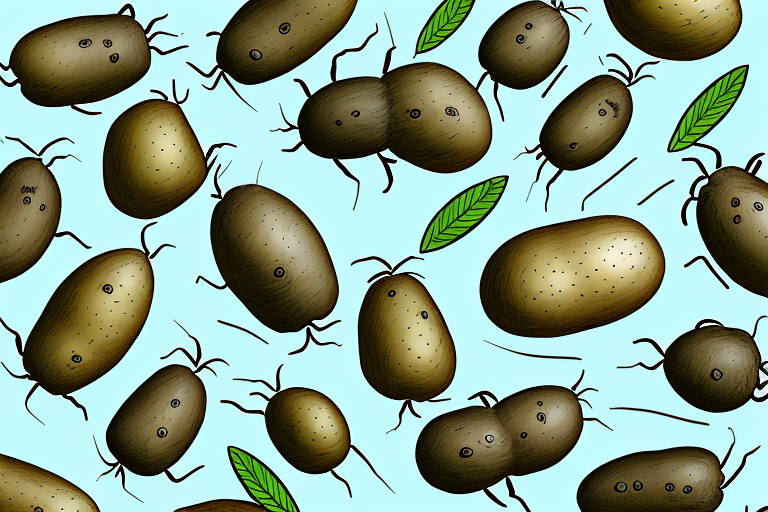 Potatoes are one of the most widely consumed staple crops globally, valued for their versatility and nutritional benefits. However, potato plants are not without their challenges, with beetles being a major pest that can wreak havoc on potato crops. Understanding the importance of identifying and effectively managing beetle infestations is crucial for potato farmers to ensure healthy plants and abundant yields.
Understanding the Importance of Identifying Beetle Infestations on Potato Plants
Beetles can cause substantial damage to potato plants if left unchecked, leading to decreased yields and economic losses for farmers. Identifying beetle infestations early on is essential for implementing timely control measures and minimizing the impact on potato crops. By recognizing the signs and symptoms of beetle presence, farmers can take appropriate action to protect their plants and optimize their yields.
Common Types of Beetles That Can Infest Potato Plants
There are several beetle species that pose a threat to potato plants. Two of the most common beetles to watch out for are the Colorado potato beetle (Leptinotarsa decemlineata) and the flea beetle (Epitrix spp.). Colorado potato beetles are notorious for their voracious appetite, and both adults and larvae can defoliate plants rapidly if populations are not controlled. Flea beetles, on the other hand, cause damage by feeding on the leaves, resulting in characteristic small holes and stunted growth of potato plants.
Signs and Symptoms of Beetle Infestation on Potato Plants
When potato plants are infested with beetles, there are several telltale signs that farmers should be vigilant about. These include skeletonized leaves, where the foliage appears to have been eaten between leaf veins, and small holes in the leaves caused by feeding beetles. In severe infestations, plants may exhibit stunted growth and show signs of stress, such as wilting or yellowing leaves. Additionally, beetles themselves, both adults and larvae, can be seen feeding on the leaves and may be easily identifiable with their distinct appearance.
How Beetles Cause Damage to Potato Plants and Yields
Beetles can cause significant damage to potato plants, affecting both the foliage and tubers. By feeding on the leaves, beetles can reduce the plant's ability to perform photosynthesis, weakening its overall vigor. This can result in reduced tuber production and smaller potato sizes. In severe cases, heavy defoliation caused by beetles can even lead to plant death. Additionally, potato tubers that are directly exposed to beetles may suffer physical damage, making them susceptible to rot and reducing their market value.
Effective Methods for Preventing Beetle Infestations on Potato Plants
Prevention is the first line of defense against beetle infestations on potato plants. To minimize the risk of beetles damaging crops, farmers can implement various preventive measures. One effective strategy is crop rotation, as beetles often overwinter in the soil and emerging adults will struggle to find suitable hosts if potatoes are not continuously planted in the same area. Additionally, using certified disease-free seed potatoes can help prevent the introduction of beetle populations into the field. Regular field sanitation, including the removal of plant debris and weeds that can serve as alternative hosts, is also vital in reducing the beetle's breeding grounds.
Natural and Organic Solutions for Controlling Beetles on Potato Plants
For farmers looking to avoid or minimize the use of chemical-based control measures, there are several natural and organic solutions available for managing beetle infestations on potato plants. One popular method is the use of beneficial insects, such as ladybugs and lacewings, which are natural predators of beetle larvae and can help keep populations in check. Additionally, applying neem oil or insecticidal soap can provide some level of control against adult beetles. These natural solutions offer an eco-friendly alternative while still ensuring effective management of beetle infestations.
Chemical-Based Control Measures for Eliminating Beetles on Potato Plants
In cases where beetle populations reach levels that require more immediate action, chemical-based control measures can be employed with caution. It is important to select pesticides specifically labeled for use on potatoes, as well as to follow the application instructions and safety precautions provided. Some common insecticides used to control beetles on potato plants include pyrethroids and carbamates. However, it is crucial to use these products responsibly to prevent adverse effects on beneficial insects and the environment at large.
Integrated Pest Management Techniques for Managing Beetle Infestations on Potato Plants
Integrated Pest Management (IPM) is a holistic approach that combines different strategies to manage pests effectively, including beetles on potato plants. By integrating various control methods such as cultural practices, biological control, and targeted pesticide applications, farmers can achieve sustainable management of beetle infestations. This approach takes into account the specific pest biology and ecology, as well as the impact on the environment and beneficial organisms, to create a well-rounded pest management plan.
Best Practices for Monitoring and Detecting Beetle Infestations on Potato Plants
Regular and thorough monitoring is essential to detect beetle infestations in their early stages. By regularly inspecting potato plants for signs of beetle presence, farmers can take prompt action before populations become established and cause extensive damage. Visual inspections can be supplemented with the use of pheromone traps or sticky traps, which are designed to attract and capture adult beetles. Monitoring can also involve scouting neighboring fields and collaborating with other farmers to track beetle populations and implement preventive measures collectively.
Understanding the Life Cycle of Beetles and Their Impact on Potato Crops
To effectively manage beetle infestations on potato crops, it is crucial to understand the life cycle of these pests. Beetles typically undergo complete metamorphosis, consisting of egg, larval, pupal, and adult stages. Understanding the timing and duration of each stage helps in optimizing control measures. Early detection of eggs or larvae can allow for targeted interventions before adults emerge and lay more eggs. By disrupting the beetle life cycle, farmers can reduce their impact on potato crops and prevent future generations from infesting the plants.
The Economic Impact of Beetle Infestations on Potato Farmers
Beetle infestations can have a significant economic impact on potato farmers. The damage caused by beetles not only leads to reduced yields but also increases production costs associated with control measures. Farmers may need to invest in pesticides, equipment, and labor to manage beetle populations, which can further strain their profitability. Moreover, the market value of damaged or lower-quality potatoes may decrease, affecting the income farmers receive for their produce. It is, therefore, crucial to implement effective management strategies to mitigate the economic consequences of beetle infestations.
Case Studies: Successful Strategies for Managing Beetle Infestations on Potato Farms
Several case studies have demonstrated successful strategies for managing beetle infestations on potato farms. Farms that have implemented integrated pest management practices, such as cultural control, biological control, and targeted pesticide applications, have been able to effectively manage beetles while minimizing environmental impact. Sharing these success stories and learning from them can inspire and guide other farmers in their efforts to combat beetle infestations and protect their potato crops.
Tips for Properly Inspecting and Evaluating Beetle Damage on Potato Plants
Accurate inspection and evaluation of beetle damage on potato plants are essential for determining the severity of infestations and guiding control measures. When inspecting plants, pay close attention to the presence of beetles, their eggs, and larvae. Examine both the foliage and tubers for signs of feeding damage and physical injury. Document observed damage and compare it to reference materials or expert advice to correctly identify the beetle species responsible. By conducting careful evaluations, farmers can make informed decisions on pest management strategies.
How Climate and Environmental Factors Influence Beetle Populations on Potato Farms
Climate and environmental factors play a significant role in the population dynamics of beetles on potato farms. Warmer temperatures and longer growing seasons can favor the development and reproduction of beetles, leading to higher population densities. Humid conditions can also create a favorable environment for beetle survival and accelerate their life cycle. It is important for farmers to understand the specific climatic and environmental conditions that promote beetle populations in their region and adapt their management approaches accordingly.
Long-Term Strategies for Sustainable Management of Beetles on Potato Plants
Sustainable management of beetles on potato plants requires a long-term approach that focuses on reducing reliance on chemical pesticides and integrating various control methods. Implementing crop rotation, enhancing biodiversity in and around the fields, and practicing good agricultural practices can help create a resilient agroecosystem that is less susceptible to beetle infestations. Additionally, ongoing research and innovation in pest management techniques, as well as farmer education and training, are crucial for the continual improvement of sustainable beetle management strategies.
Collaborative Efforts: Industry Initiatives to Combat Beetle Infestations in Potatoes
Recognizing the significant impact of beetle infestations on the potato industry, various industry initiatives have been established to combat this pest. These initiatives bring together researchers, farmers, and policymakers to develop and promote best practices for managing beetles on potato plants. Collaboration enables the sharing of knowledge, resources, and experiences, fostering a collective effort to address beetle infestations effectively. By working together, the industry can achieve greater success in mitigating the damage caused by beetles and protecting potato crops on a larger scale.
The Role of Beneficial Insects in Controlling Beetle Populations on Potato Crops
Nature provides its own pest control mechanisms, and beneficial insects can play a significant role in controlling beetle populations on potato crops. Predatory insects, such as ground beetles, spiders, and parasitic wasps, actively hunt and feed on pest beetles, including their eggs and larvae. This can help regulate beetle populations naturally when the balance between pests and beneficial insects is maintained. By creating a habitat that encourages the presence of beneficial insects, such as by planting wildflowers and providing shelter, farmers can harness nature's pest control services and reduce the need for chemical interventions.
Building Resilient Plant Health Systems to Minimize the Risk of Beetle Infestations
Optimizing plant health is vital in reducing the risk of beetle infestations on potato crops. Strong and healthy plants are better equipped to withstand pest attacks and recover from damage. Practices that enhance plant health, such as balanced nutrient management, proper irrigation, and adequate soil health management, can improve the plant's resistance to beetles and other pests. Additionally, implementing effective disease management strategies, as some diseases can weaken plants and make them more susceptible to beetle damage, is crucial for building resilient plant health systems.
Future Trends and Innovations in Beetle Management Practices for Potatoes
The field of beetle management for potatoes is constantly evolving, driven by the need for sustainable and effective pest control solutions. Future trends and innovations may include the development of new biopesticides that specifically target beetles while sparing beneficial insects, the use of advanced trapping technologies to monitor and detect beetle populations more accurately, and the integration of remote sensing and predictive modeling techniques to optimize pest management decision-making. Embracing these advancements will further enhance the ability of potato farmers to combat beetle infestations and preserve the vitality of their crops.
In Conclusion
Beetles on potato plants can pose a significant threat to both the health and economic well-being of farmers. Understanding the importance of identifying beetle infestations, recognizing common beetle species, and implementing preventive and control measures are key to protecting potato crops. By adopting a comprehensive approach that incorporates sustainable pest management strategies, collaboration, and ongoing innovation, farmers can effectively manage beetle populations and ensure the continued success of their potato farms for generations to come.