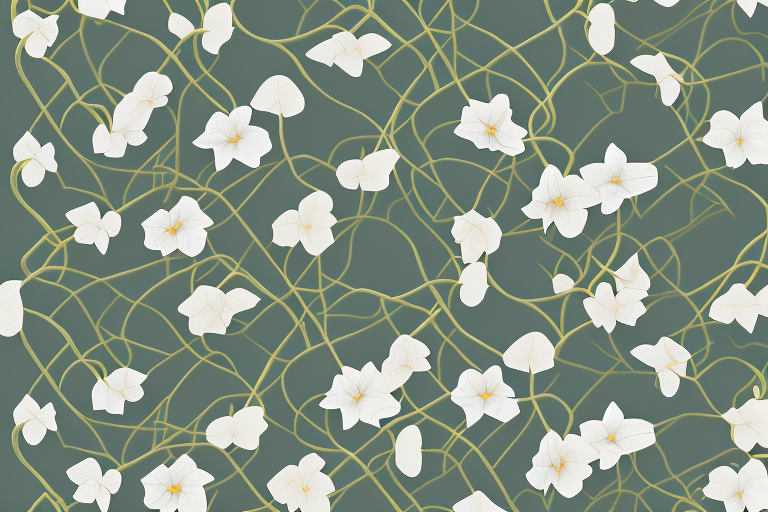 Welcome to our comprehensive guide on Mandevilla trellis care! In this article, we will explore everything you need to know about choosing, installing, and maintaining a trellis for your beloved Mandevilla plant. We'll cover the growth habits of Mandevilla, the benefits of using a trellis, proper placement, soil preparation, watering and fertilizing tips, pruning techniques, pest and disease control, winter care, troubleshooting common issues, and even some creative ideas to enhance the aesthetics of your Mandevilla trellis. So grab a cup of tea and let's dive right in!
Choosing the Right Trellis for Your Mandevilla Plant
One of the first considerations when it comes to Mandevilla trellis care is selecting the right support structure. A trellis not only provides a beautiful vertical element to your garden but also gives your Mandevilla plant a sturdy framework to climb and spread its vibrant blooms. Look for a trellis that is made of durable materials like metal or weather-resistant wood. Consider the height and width of your Mandevilla plant, ensuring that the trellis is tall enough to accommodate its growth. Opt for a trellis with strong supports and ample spacing between them for the vines to weave through. By selecting the right trellis, you set the foundation for a thriving Mandevilla plant.
Understanding the Growth Habits of Mandevilla Plants
Before diving into the specifics of trellis care for Mandevilla plants, it's important to have a good understanding of their growth habits. Mandevilla plants are tropical climbers that feature showy trumpet-shaped flowers in shades of pink, red, white, and yellow. They have twining stems that naturally reach out for support, making a trellis the perfect partner for their growth. Mandevillas prefer full sun to part shade and thrive in well-draining soil. With their vigorous growth and blooming potential, Mandevilla plants truly shine when given the right trellis support.
The Benefits of Using a Trellis for Mandevilla Plants
The benefits of using a trellis for your Mandevilla plant are aplenty. Firstly, a trellis allows your Mandevilla to climb and spread, creating a stunning visual display in your garden. It promotes better air circulation and sunlight exposure, reducing the risk of fungal diseases. The elevation provided by a trellis also keeps the foliage off the ground, preventing rot and pest infestations. Additionally, a trellis serves as a practical way to save space in your garden and encourage vertical gardening. By using a trellis, you not only enhance the beauty of your Mandevilla but also maximize the potential of your outdoor space.
Step-by-Step Guide to Installing a Trellis for Your Mandevilla Plant
Once you have chosen the perfect trellis, it's time to install it for your Mandevilla plant. Begin by selecting the ideal location with adequate sunlight and enough space for the Mandevilla to grow comfortably. Dig a hole deep enough to anchor the trellis securely. Place the trellis in the hole and backfill it with soil, pressing firmly to ensure stability. As you plant your Mandevilla in close proximity to the trellis, gently tie the vines to the supports using plant ties or soft twine. Be careful not to constrict the plant's growth. Water the newly installed trellis and Mandevilla thoroughly, allowing the roots to settle in. Congratulations, your Mandevilla plant now has a beautiful trellis to call home!
Essential Tools and Materials for Trellising Mandevilla Plants
To ensure a successful trellising experience for your Mandevilla plants, you'll need a few essential tools and materials. Firstly, you will require a trellis made of durable material, as mentioned earlier. Other important tools include a shovel for digging the hole, a water source for irrigation, plant ties or soft twine for securing the vines to the trellis, and organic fertilizer to provide essential nutrients. Additionally, you may need pruning shears for maintenance purposes and a good-quality potting mix if you plan to grow your Mandevilla in a container. These tools and materials will help you set a solid foundation for your Mandevilla trellis care.
Proper Placement: Finding the Ideal Spot for Your Mandevilla Trellis
When it comes to proper placement of your Mandevilla trellis, there are a few key considerations to keep in mind. Firstly, Mandevilla plants thrive in full sun to part shade, so select a location that receives ample sunlight throughout the day. Ensure that the trellis is placed against a sturdy structure or anchored firmly in the ground. Take into account the ultimate height and spread of your Mandevilla plant, allowing ample space for it to climb and flourish. By choosing the right spot, you provide the optimal conditions for your Mandevilla to reach its full potential.
Preparing the Soil: Creating a Healthy Environment for Your Mandevilla Plant
Creating a healthy environment for your Mandevilla plant starts with preparing the soil. Mandevillas prefer well-draining soil, so amend heavy clay or compacted soil with organic matter. Incorporate compost or well-rotted manure to improve drainage and fertility. If you're growing Mandevilla in a container, use a high-quality potting mix specifically designed for tropical plants. Additionally, make sure the soil pH is within the range of 5.5 to 6.5, as this acidic to neutral range suits Mandevilla plants best. By providing nutrient-rich, well-draining soil, you set the stage for your Mandevilla to thrive on its trellis.
Watering and Fertilizing Tips for Thriving Mandevilla Trellis Growth
Proper watering and fertilizing are crucial for the thriving growth of your Mandevilla trellis. Keep the soil consistently moist but not waterlogged, allowing the top inch of soil to dry out between waterings. During hot summer months, your Mandevilla may require more frequent watering. Fertilize your Mandevilla regularly with a balanced, slow-release fertilizer formulated specifically for flowering vines. Apply the fertilizer according to the instructions on the package, ensuring that you cover the entire root zone. By providing adequate moisture and nutrients, you promote lush foliage and abundant blooms on your Mandevilla trellis.
Pruning Techniques: Maintaining Shape and Encouraging Blooms on Your Mandevilla Trellis
To maintain the shape and encourage abundant blooms on your Mandevilla trellis, regular pruning is essential. Pruning should be done in early spring or late winter before new growth begins. Start by removing any dead, damaged, or diseased branches. Next, carefully trim back long, straggly vines to maintain the desired shape of your Mandevilla. You can also pinch back the growing tips of the vines throughout the growing season to encourage lateral branching and more flower production. Always use clean, sharp pruning shears to make clean cuts. With regular and strategic pruning, your Mandevilla trellis will remain healthy and visually appealing.
Pest and Disease Control Strategies for Healthy Mandevilla Plants
Like any plant, Mandevilla can face a few pests and diseases, but with appropriate control strategies, you can keep them at bay. Aphids, mealybugs, and spider mites are common pests that may affect your Mandevilla. Regularly inspect your plant for any signs of infestation, such as distorted leaves or webbing. If needed, use insecticidal soap or neem oil to control the pests. Be vigilant about good sanitation practices, removing fallen leaves and debris that may harbor diseases. Proper air circulation and avoiding over-watering can help prevent fungal diseases like powdery mildew. By staying proactive in pest and disease control, your Mandevilla trellis will remain healthy and thriving.
Winter Care: Preparing Your Mandevilla Trellis for Colder Months
As winter approaches, it's essential to prepare your Mandevilla trellis for colder months. Since Mandevillas are tropical plants, they are not frost-tolerant and may suffer damage in freezing temperatures. Before the first frost, bring potted Mandevillas indoors to a bright, cool location. If your Mandevilla is planted in the ground, carefully dig it up before frost and transplant it into a container. Trim the plant back to a manageable size, and reduce watering and fertilizing during winter dormancy. Provide adequate light and maintain a temperature above freezing to ensure your Mandevilla survives the winter. Proper winter care sets the stage for a healthy and vibrant Mandevilla trellis come springtime.
Troubleshooting Common Issues with Mandevilla Trellis Care
Even with the best care, Mandevilla trellis care can occasionally face a few issues. One common problem is yellowing leaves, which may indicate nutrient deficiency or overwatering. Adjust your fertilizing routine and moisture levels accordingly. Another issue could be lack of blooms, which may happen if your Mandevilla isn't receiving enough sunlight or proper pruning. Address these concerns by ensuring adequate light exposure and following the pruning techniques mentioned earlier. By troubleshooting and addressing common issues promptly, you can maintain the health and beauty of your Mandevilla trellis.
Creative Ideas for Enhancing the Aesthetics of Your Mandevilla Trellis
Now that we have covered the essential care aspects of Mandevilla trellis care, let's explore some creative ideas to enhance the aesthetics of your trellis. Consider planting complementary flowers or foliage plants around the base of your Mandevilla to create a beautiful and layered look. Incorporate fairy lights or outdoor lanterns to add a warm and magical ambiance during evening hours. Get artistic with paint, staining, or adding decorative elements to customize your trellis with your unique style. You can even experiment with different trellis designs and materials like bamboo poles or wrought-iron grids for a distinctive and eye-catching display. Let your creativity blossom, and transform your Mandevilla trellis into a stunning focal point in your garden!
Inspiring Design Ideas: Incorporating a Mandevilla Trellis in Different Garden Styles
Lastly, let's take a moment to explore how a Mandevilla trellis can be incorporated into different garden styles. In a cottage garden, the vibrant blooms of Mandevilla can create a charming and romantic atmosphere when paired with other cottage flowers like roses and hydrangeas. For a modern garden, choose sleek and minimalistic trellis designs that allow the Mandevilla's blooms to take center stage. In a tropical-themed garden, lush foliage plants along with colorful Mandevilla vines can transport you to a faraway paradise. And in a Mediterranean-inspired garden, combine the bold blooms of Mandevilla with architectural elements like terracotta pots and stone walls for a stunning Mediterranean retreat. No matter your garden style, a Mandevilla trellis adds a touch of elegance and beauty to any outdoor space.
Conclusion
In conclusion, Mandevilla trellis care is a delightful journey that begins with choosing the right trellis and installing it in the ideal spot. Understanding the growth habits of Mandevilla plants, ensuring proper placement, preparing the soil, and providing adequate watering and fertilizing are key to their thriving growth. Regular pruning, pest and disease control, and winter care are essential for the long-term health of your Mandevilla trellis. By troubleshooting common issues and getting creative with enhancing the aesthetics, you can transform your Mandevilla trellis into a stunning masterpiece that brings joy and beauty to your garden. So go ahead, nurture your Mandevilla with love and attention, and watch it flourish on its trellis with dazzling blooms!