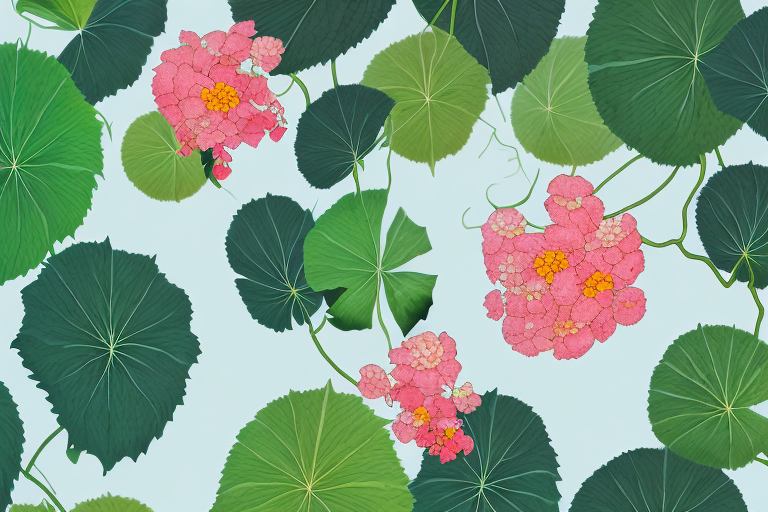 Hanging begonias are a beautiful addition to any garden or indoor space. These delicate flowers bring a splash of color and elegance, effortlessly brightening up any area. However, to ensure that your hanging begonias thrive and flourish, proper care and maintenance are crucial. In this comprehensive guide, we will delve into the various aspects of hanging begonias care, equip you with the knowledge to nurture these plants to their full potential.
The Basics of Hanging Begonias: A Guide to Care and Maintenance
Before we explore the more intricate details, let's start with the basics of hanging begonias. These stunning flowers are known for their pendulous nature, making them perfect for hanging baskets and planters. The first step in caring for your hanging begonias is understanding their specific needs. They require well-draining soil, partial shade, and regular water to thrive. Additionally, it's crucial to ensure proper air circulation to prevent common diseases.
When it comes to watering your hanging begonias, it's important to strike a balance. Overwatering can lead to root rot, while underwatering can cause the plants to wilt and suffer. The best approach is to water your begonias thoroughly, allowing the excess water to drain out of the bottom of the container. Then, wait until the top inch of soil feels dry before watering again. This will help maintain the right level of moisture for your begonias' roots.
Understanding the Different Types of Hanging Begonias
Hanging begonias come in a wide range of varieties, each with its own unique beauty. To provide the best care possible, it's essential to understand the different types and their specific requirements. From the popular tuberous begonias to the delicate trailing begonias, learning about the diverse species will empower you to cater to their individual needs.
One type of hanging begonia is the tuberous begonia. These begonias are known for their large, showy flowers that come in a variety of colors, including red, pink, orange, and white. Tuberous begonias prefer partial shade and well-draining soil. They are also sensitive to overwatering, so it's important to let the soil dry out slightly between waterings.
Another type of hanging begonia is the trailing begonia. These begonias have long, cascading stems that make them perfect for hanging baskets or containers. Trailing begonias come in a range of colors, including shades of pink, red, and white. They prefer bright, indirect light and well-draining soil. It's important to avoid overwatering trailing begonias, as they are prone to root rot.
Choosing the Right Location for Your Hanging Begonias
The location of your hanging begonias plays a significant role in their overall health and vitality. While they adore bright, indirect light, direct sunlight for prolonged periods can scorch their delicate leaves. Ensuring they are placed in an area with the right balance of light is essential for their growth. Additionally, taking into account factors such as temperature and humidity will contribute to their thriving nature.
Another important factor to consider when choosing the right location for your hanging begonias is air circulation. Good air circulation helps prevent the buildup of moisture and reduces the risk of fungal diseases. Avoid placing your begonias in areas with stagnant air, such as corners or tight spaces. Instead, opt for locations where there is a gentle breeze or where air can freely circulate around the plants.
Best Soil and Potting Mixes for Hanging Begonias
The soil and potting mixes you choose for your hanging begonias can greatly impact their overall health. These plants thrive in well-draining soil, providing adequate moisture without becoming waterlogged. We'll explore various potting mix options and discuss the importance of using the right blend to promote healthy growth.
One popular option for hanging begonias is a mix of peat moss, perlite, and vermiculite. This combination provides excellent drainage while retaining enough moisture for the plants to thrive. Peat moss helps to retain moisture, while perlite and vermiculite add air pockets to the soil, preventing it from becoming compacted.
Watering Techniques for Healthy Hanging Begonias
Proper watering techniques are vital to keep your hanging begonias hydrated and flourishing. We'll take an in-depth look at how to water these plants, discussing when to water, how much to water, and the importance of avoiding both overwatering and underwatering. Understanding the water needs of hanging begonias will ensure their roots stay healthy and prevent common issues such as root rot.
One important aspect of watering hanging begonias is to consider the type of soil they are planted in. Begonias prefer well-draining soil that allows excess water to flow out easily. This helps prevent waterlogged roots, which can lead to root rot. If your hanging begonias are planted in heavy or compacted soil, consider adding organic matter or perlite to improve drainage.
In addition to the type of soil, the size and material of the hanging container can also affect watering. Hanging baskets made of porous materials, such as terracotta or wire mesh, allow water to evaporate more quickly. As a result, these containers may require more frequent watering compared to plastic or glazed ceramic pots. It's important to monitor the moisture level of the soil regularly and adjust your watering schedule accordingly.
Fertilizing Tips to Keep Your Hanging Begonias Thriving
Fertilizing your hanging begonias is crucial for providing them with the necessary nutrients to grow and bloom abundantly. This section will cover the best fertilizers for these plants, how often to fertilize, and the importance of choosing the correct balance of nutrients. With the right fertilizing techniques, you can keep your hanging begonias lush and vibrant.
Pruning and Trimming Strategies for Beautiful Hanging Begonias
Pruning and trimming play a pivotal role in maintaining the shape, size, and overall appearance of your hanging begonias. We'll discuss the proper techniques for pruning these plants, including when and how to prune, as well as the benefits of regular trimming. By understanding the art of pruning, you can keep your hanging begonias looking stunning all year round.
Preventing and Treating Common Pests and Diseases in Hanging Begonias
Like any plant, hanging begonias can fall victim to pests and diseases. This section will delve into the most common issues that affect these plants and provide you with effective preventive measures and treatments. From aphids and spider mites to powdery mildew and leaf spot, we will equip you with the knowledge and tools to keep your hanging begonias healthy and pest-free.
How to Propagate Hanging Begonias: Step-by-Step Guide
If you've fallen in love with your hanging begonias and wish to expand your collection, learning how to propagate them will allow you to do so without spending a fortune. We will guide you through the step-by-step process of propagating hanging begonias, covering techniques such as stem cuttings, leaf cuttings, and division. With a little patience and knowledge, you can multiply your hanging begonias and share their beauty.
Transplanting and Repotting Hanging Begonias: What You Need to Know
Transplanting and repotting hanging begonias are essential for their continued growth and health. This section will cover when and how to transplant your begonias, exploring the best practices to ensure a successful transition. We'll also discuss the importance of proper pot size and fresh soil, ensuring your hanging begonias have ample space to flourish.
Overwintering Tips for Hanging Begonias: Ensuring Survival in Cold Climates
If you live in a region with cold winters, providing the necessary care for your hanging begonias during this period is crucial for their survival. We'll explore various overwintering techniques, such as bringing them indoors, protecting them from frost, and providing adequate humidity. By following these tips, you can ensure that your hanging begonias thrive year after year.
Troubleshooting Common Issues with Hanging Begonias
Even with the most diligent care, hanging begonias may encounter issues from time to time. This troubleshooting section will address common problems such as yellowing leaves, wilting, and stunted growth. We'll provide solutions and practical tips to help you identify and rectify these issues and keep your hanging begonias healthy and vibrant.
Enhancing the Aesthetic Appeal of Your Hanging Begonia Display with Companion Plants
Hanging begonias can be further enhanced by pairing them with suitable companion plants. This section will explore various plant combinations that complement the colors, textures, and growth habits of your begonias. By selecting the right companion plants, you can create a stunning display that is sure to be the envy of any garden or indoor space.
Creative Ways to Display and Show off Your Hanging Begonias
Finally, we'll conclude this guide with some creative ideas on how to display and show off your hanging begonias. From unique hanging arrangements to integrating them into vertical gardens, we'll inspire you to think outside the box and showcase your begonias in truly extraordinary ways. Let your imagination run wild and turn your hanging begonias into captivating masterpieces.
In conclusion, caring for hanging begonias involves understanding their specific needs, providing the right environment, and maintaining optimum care throughout each phase of their growth. By following the tips and techniques outlined in this article, you'll be able to nurture your hanging begonias into stunning specimens that will bring joy and beauty to your surroundings.
So, grab your gardening gloves and get ready to embark on an exciting journey of hanging begonias care. Your efforts will be rewarded with a remarkable display of vibrant colors, delicate blooms, and a sense of satisfaction that comes with being a successful plant parent. Happy gardening!