Chinese Forget Me Not Care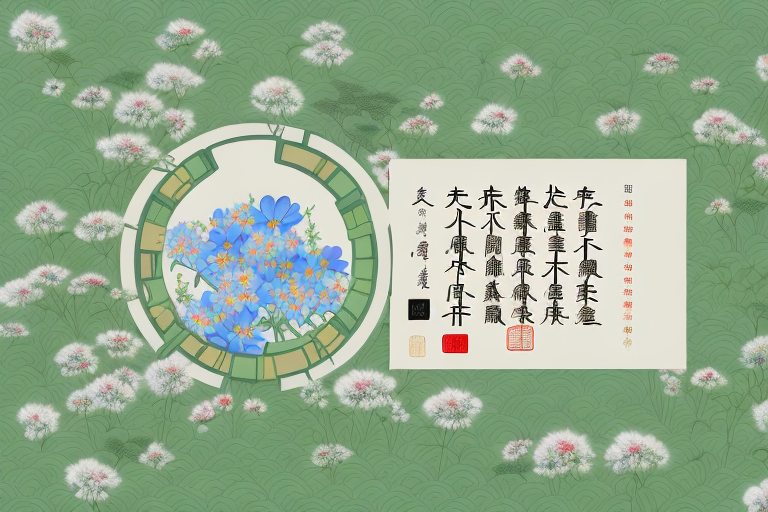 Welcome to our comprehensive guide on Chinese Forget Me Not care! In this article, we will explore every aspect of growing, caring for, and appreciating these beautiful flowers. From understanding the plant's history and cultural significance to discussing different varieties and landscaping ideas, we've got you covered. So, grab a cup of tea, sit back, and immerse yourself in the enchanting world of Chinese Forget Me Not.
Understanding the Chinese Forget Me Not Plant: A Comprehensive Guide
The Chinese Forget Me Not, scientifically known as Cynoglossum amabile, is a captivating flowering plant that belongs to the Boraginaceae family. Originally native to Western Asia, this delicate beauty has gained popularity worldwide due to its ethereal blue blooms. It thrives in temperate climates and is particularly remarkable in spring and early summer.
The plant features slender stems with lance-shaped leaves and clusters of dainty bell-shaped flowers. The captivating blue hue, reminiscent of a clear sky, adds an enchanting touch to any garden or floral arrangement. Understanding the characteristics and growth habits of Chinese Forget Me Nots is crucial for providing optimal care and ensuring their vibrant beauty thrives.
The History and Cultural Significance of Chinese Forget Me Not
Intriguingly, Chinese Forget Me Nots have a rich history and cultural significance that spans centuries. In Chinese folklore, these flowers have been associated with lasting love and remembrance. Legend has it that a brave warrior gave them to his beloved before departing for battle, pledging to return to her. As a symbol of eternal love, these flowers found their place in countless poems, artworks, and literature throughout Chinese history.
Moreover, Chinese Forget Me Not has also become a popular addition to traditional Chinese medicine. Its roots and leaves are believed to possess medicinal properties that promote health and vitality. Whether for their symbolism or health benefits, these flowers hold a special place in Chinese culture and have captured the hearts of many.
Exploring the Different Varieties of Chinese Forget Me Not
Chinese Forget Me Not encompasses a variety of stunning species and cultivars that offer unique traits and colors. Among the most popular are the "Blue Showers" and "Firmament" varieties, known for their profusion of mesmerizing blue blossoms. These cultivars are highly sought after for their uniform growth and exceptional beauty.
For those seeking a touch of pink charm, the "Rosylva" cultivar offers delicate pink flowers that exude grace and elegance. Each variety presents an opportunity to create intricately curated gardens, where different shades of blue and hints of pink harmonize, creating a symphony of color.
Growing Chinese Forget Me Not: Tips and Techniques for Success
Now that we've acquainted ourselves with the Chinese Forget Me Not, let's dive into the nitty-gritty of successfully growing and caring for this captivating plant. Remember, providing the right conditions and care is key to ensuring their optimal growth and abundant flowering.
Chinese Forget Me Nots prefer well-draining soil that is rich in organic matter. They thrive in partial shade to full sun, so ensure you choose a suitable planting location. Prepare the soil by adding compost and gently loosen it before sowing the seeds or planting seedlings.
Watering is an important aspect of care. These plants prefer evenly moist soil, so regular watering is essential, especially during dry periods. However, avoid overwatering, as excessive moisture can lead to root rot. Mulching can help retain soil moisture while keeping weeds at bay.
The Ideal Soil and Sunlight Conditions for Chinese Forget Me Not
Apart from regular watering, Chinese Forget Me Not thrives in soil that is moist but well-draining. Avoid waterlogged or excessively compacted soil, as it can hinder root development and ultimately affect the plant's overall health.
Regarding sunlight, these plants appreciate at least six hours of direct or filtered sunlight each day. However, in warmer regions, providing some shade during the afternoon can prevent their delicate blooms from wilting or scorning. Striking the right balance between sunlight and shade will ensure optimal growth and prolonged flowering.
Watering and Fertilizing Chinese Forget Me Not: Best Practices
Watering and fertilizing are vital for promoting healthy growth and vibrant blooms in Chinese Forget Me Nots. As mentioned earlier, maintaining even moisture levels in the soil is crucial. Regular deep watering is recommended, especially during hot summer months when the soil tends to dry out quickly.
When it comes to fertilizing, applying a balanced, slow-release fertilizer during the growing season can provide the necessary nutrients for robust growth. Follow the manufacturer's instructions regarding dosage and application frequency. Remember to water the plant before and after fertilization to prevent any potential root damage.
Common Pests and Diseases Affecting Chinese Forget Me Not: Prevention and Treatment
Despite being generally resilient, Chinese Forget Me Nots can occasionally fall victim to common pests and diseases. Slugs and snails are the primary culprits when it comes to damaging the foliage and flowers. To deter these pests, consider using organic slug pellets or creating physical barriers around your plants.
Powdery mildew, a fungal disease, may also affect these delicate beauties. Providing adequate air circulation, avoiding overhead watering, and promptly treating any signs of infection with appropriate fungicides can help prevent mildew from spreading and compromising the health of your Chinese Forget Me Nots.
Propagating Chinese Forget Me Not: Step-by-Step Guide
If you wish to propagate Chinese Forget Me Not, two common methods are widely used: seed propagation and division. Seeds are easily obtained from reputable nurseries or harvested from mature plants. By sowing the seeds in suitable conditions, you can enjoy a fresh batch of blooming beauty every year.
If you have a mature plant, division is another approach. Gently dig up the plant, ensuring you preserve the root system. Divide the clumps into smaller sections, making sure each section has healthy roots. Replant these divisions, and with proper care, they will thrive and continue to grace your garden with their enchanting presence.
How to Care for Chinese Forget Me Not Indoors: A Complete Guide
Chinese Forget Me Nots are not only suitable for outdoor gardens but can also bring charm and elegance indoors. When caring for them indoors, keep three crucial factors in mind: light, temperature, and moisture.
These plants require bright, indirect sunlight for optimal growth. Place them near a window that receives ample light but avoid direct sun exposure, as it can scorch the leaves. Maintain a temperature range of 60-75°F (15-24°C) for the best results.
Regarding moisture, Chinese Forget Me Nots prefer consistently moist soil. Check the soil regularly and water when the top inch feels slightly dry. Mist the foliage occasionally to create a humid environment, mimicking their natural habitat.
Landscaping with Chinese Forget Me Not: Creative Ideas and Design Tips
Imagine stepping into a secret garden adorned with the ethereal beauty of Chinese Forget Me Nots. These enchanting blooms can transform any landscape into a magical oasis, creating captivating scenes that delight the senses.
Consider incorporating Chinese Forget Me Nots into border plantings or mixed flower beds. Their striking blue flowers act as stunning focal points and can be complemented with contrasting hues for a visually pleasing arrangement. Pair them with pink or white flowers for a romantic touch, or with vibrant yellows and purples for a bold and eye-catching display.
The Symbolism of Chinese Forget Me Not in Art and Literature
Beyond their visual allure, Chinese Forget Me Nots hold deep symbolism in art and literature. These exquisite flowers often represent love, loyalty, and devotion, serving as inspiration for countless artists and writers over the centuries.
Artists have masterfully captured the delicate essence of Chinese Forget Me Nots in paintings, showcasing their beauty and evoking emotions of nostalgia and longing. In the realm of literature, these flowers have been immortalized in poems, stories, and songs, illustrating the enduring power of love and the importance of remembering cherished memories.
Medicinal Uses of Chinese Forget Me Not in Traditional Chinese Medicine
Chinese Forget Me Not carries not only symbolic importance but is also highly valued in traditional Chinese medicine. Its roots and leaves are believed to possess medicinal properties that offer a range of health benefits.
For centuries, this plant has been used to alleviate respiratory ailments such as coughs and sore throats. Moreover, it is believed to possess anti-inflammatory properties and help reduce fevers. In traditional Chinese medicine, Chinese Forget Me Not is often incorporated into herbal remedies and formulas to promote overall well-being.
Chinese Forget Me Not in Floral Arrangements: Tips for a Stunning Display
When it comes to floral arrangements, Chinese Forget Me Nots add a touch of elegance and charm. Their delicate blue flowers stand out in any bouquet, complementing a wide array of other blooms.
Consider combining them with white or cream-colored flowers for a classic and timeless arrangement. Their dainty nature also makes them perfect for adding texture and volume to smaller bouquets or boutonnieres.
Harvesting and Drying Chinese Forget Me Not Flowers: Preserving their Beauty
Preserving the ethereal beauty of Chinese Forget Me Not flowers is a wonderful way to enjoy their charm all year round. Harvesting and drying the blossoms ensures you can use them in various crafts, including homemade potpourri or decorative arrangements.
The best time to harvest the flowers is when they are in full bloom. Gently cut the stems using clean and sharp pruners. Bundle them together and hang them upside down in a cool, dark, and well-ventilated area. Once dried, the flowers can be stored in airtight containers and enjoyed for months to come.
To conclude, Chinese Forget Me Not care involves understanding the plant's characteristics, providing the right growing conditions, and appreciating its symbolism and beauty. Whether you choose to cultivate them indoors or incorporate them into your garden or floral arrangements, these captivating flowers will undoubtedly add a touch of magic to your surroundings. So, embrace the allure of Chinese Forget Me Nots and let their enchanting presence create memories that will never be forgotten.