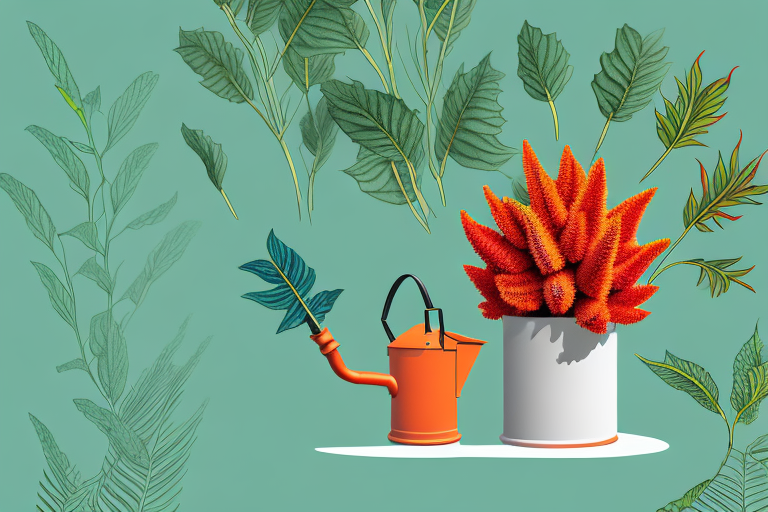 Celosia, with its vibrant and unique blooms, is a marvelous addition to any garden. Whether you're a seasoned gardener or just starting out, understanding the care and maintenance of this beautiful plant is key to keeping it healthy and thriving. In this article, we will delve into the various aspects of caring for celosia, from its origin and symbolism to the ideal growing conditions and propagation techniques. So, let's dive in and discover the secrets to successful celosia care!
Understanding Celosia: An Overview
Before we dive into the nitty-gritty of caring for celosia, let's take a moment to understand this fascinating plant. Celosia belongs to the Amaranthaceae family and is characterized by its vibrant and flamboyant inflorescence, often referred to as cockscombs or plumes. These unique flowers come in a variety of shapes and colors, ranging from the velvety crimson red to vibrant golds and purples.
When you observe a celosia plant up close, you'll notice its intricate and delicate petals, carefully arranged to form a captivating display. Each flower is a masterpiece of nature, captivating the attention of anyone who sets eyes on it. The velvety texture of the petals invites touch, and the vibrant colors evoke a sense of joy and wonder.
The beauty of celosia goes beyond its appearance; it has a rich history and cultural significance that spans across different continents and civilizations. Let's explore the origin, types, symbolism, and uses of this captivating plant.
The Origin and Types of Celosia
Celosia originates from the tropical and subtropical regions of Africa, Asia, and the Americas. Its ability to thrive in diverse climates has contributed to its widespread cultivation around the world. From the sun-drenched landscapes of Africa to the lush gardens of Asia, celosia has found a home in various corners of the globe.
The journey of celosia began centuries ago, as it was discovered and cherished by ancient civilizations. The plant's captivating beauty and unique characteristics quickly made it a favorite among gardeners and horticulturists. Over time, different varieties of celosia emerged, each with its own distinct features and charm.
There are two main types of celosia: the crested or cockscomb variety and the plume variety. The crested variety, with its wavy and ruffled blooms, resembles the comb of a rooster, hence the common name "cockscomb." These vibrant and flamboyant flowers add a touch of whimsy and playfulness to any garden or floral arrangement.
On the other hand, the plume variety boasts feathery and upright flowers that add a touch of elegance to any flower arrangement. Their slender and graceful appearance evokes a sense of sophistication and grace. Whether used as a focal point or as a filler in a bouquet, plume celosias never fail to impress.
The Symbolism and Uses of Celosia
Beyond its striking appearance, celosia holds symbolic and cultural significance across different societies. In many parts of the world, these flowers are associated with love, affection, and immortality. They have been used in traditional ceremonies, wedding bouquets, and even culinary applications.
Throughout history, celosia has been a symbol of love and deep affection. Its vibrant colors and captivating beauty make it a perfect choice for expressing heartfelt emotions. Whether gifted to a loved one or used as a centerpiece in a wedding, celosia flowers have the power to convey love and admiration.
In addition to its symbolic meaning, celosia also has practical uses. The leaves of celosia plants are edible and can be consumed as a part of salads or stir-fries, providing a delightful addition to your meals. Their mild flavor adds a unique twist to culinary creations, making them a favorite among adventurous chefs and food enthusiasts.
As you embark on your journey of caring for celosia, remember that this plant is not just a beautiful addition to your garden but also a living testament to the wonders of nature and the rich tapestry of human culture. Its vibrant colors, intricate petals, and cultural significance make celosia a truly captivating and meaningful plant.
The Ideal Environment for Growing Celosia
Creating the perfect environment for celosia is essential if you want it to thrive and dazzle with its vibrant blooms. From the right soil conditions to proper lighting and temperature, let's explore the key requirements for growing celosia successfully.
Celosia, also known as cockscomb, is a stunning flowering plant that belongs to the amaranth family. It is native to tropical regions and is highly valued for its unique and vibrant flower heads. To ensure that your celosia plants reach their full potential, it is important to provide them with the ideal environment.
Soil Requirements
Celosia prefers well-draining soil that is rich in organic matter. Before planting, ensure that the soil is loose and has good drainage. A pH level of 6 to 7 is ideal for optimal growth. Regularly adding compost or well-rotted manure to the soil will provide the necessary nutrients and improve soil structure.
When preparing the soil, it is beneficial to remove any weeds or debris that may compete with the celosia for nutrients and water. This will give your plants a better chance to establish strong root systems and thrive.
Light and Temperature Needs
When it comes to light, celosia is a sun-loving plant. It thrives in full sun, requiring at least six hours of direct sunlight each day. If grown in partial shade, the plant may become leggy and produce fewer flowers.
As for temperature, celosia prefers warm conditions. It can tolerate heat well, but temperatures below 50°F (10°C) can stunt growth and damage the plant. In colder regions, it is best to grow celosia as an annual or provide protection during the winter months.
It is important to note that celosia is not frost-tolerant, so if you live in an area with frost, it is best to start the seeds indoors and transplant them outside after the danger of frost has passed.
Watering and Humidity Preferences
Proper watering is crucial for celosia's health and vitality. While it appreciates consistent moisture, avoid overwatering, as it can lead to root rot and other issues. Allow the top layer of soil to dry out slightly between watering sessions.
During hot and dry periods, it is important to water celosia more frequently to prevent the soil from drying out completely. Applying mulch around the base of the plants can help retain moisture and regulate soil temperature.
Additionally, celosia thrives in environments with moderate humidity. If you live in a dry climate, misting the leaves or placing a tray of water nearby can help increase humidity levels. However, be cautious not to create excessively humid conditions, as this can promote fungal diseases.
By providing the ideal environment for celosia, you can enjoy a stunning display of vibrant blooms that will add a touch of beauty and elegance to your garden. With proper care and attention, your celosia plants will flourish and become a focal point in any landscape.
Planting and Propagation of Celosia
Now that we have covered the ideal growing conditions, let's explore the planting and propagation techniques to ensure a thriving celosia garden.
When and How to Plant Celosia
In areas with cold winters, it is best to start celosia indoors before the last frost date. Sow the seeds in trays or containers filled with seed-starting mix and lightly cover them. Keep the soil consistently moist and ensure a warm temperature of around 70°F (21°C) until germination, which usually takes around 10 to 14 days. Once the danger of frost has passed, transplant the seedlings into well-prepared garden beds, spacing them around 8 to 12 inches apart.
Propagating Celosia from Seeds and Cuttings
If you want to expand your celosia collection, propagating from seeds or cuttings is a rewarding and cost-effective approach. Collecting and saving seeds from mature flowers is relatively simple. After the flowers fade and dry, gently shake or rub the flower heads to release the small seeds. Store them in a cool, dry place until it's time to plant them the following season. Additionally, you can propagate celosia from stem cuttings. Select healthy stems, remove the lower leaves, and immerse the cuttings in water or a well-draining rooting medium. In a few weeks, roots should develop, indicating successful propagation.
Routine Care and Maintenance of Celosia
Once your celosia plants are established, providing them with proper care and attention will keep them thriving and blooming abundantly. Let's explore some essential maintenance practices for celosia.
Pruning and Fertilizing Your Celosia
Regular pruning is necessary to promote bushy growth and encourage continuous blooming. Pinching off the spent flowers and trimming back leggy stems will redirect energy to new growth and flower production. Additionally, feeding your celosia with a balanced slow-release fertilizer or organic compost every four to six weeks will ensure a steady supply of nutrients for healthy development.
Pest and Disease Management
While celosia is relatively resistant to pests and diseases, it's essential to remain vigilant. Common pests that may attack celosia include aphids, thrips, and spider mites. Regularly inspecting your plants and using organic insecticides when necessary can help keep these pests at bay. As for diseases, celosia can be prone to fungal infections if overhead watering is practiced. To prevent these issues, ensure proper air circulation by spacing the plants adequately and watering at the base of the plant.
Winterizing Your Celosia
As the cold months approach, it's crucial to prepare your celosia plants for the winter season. While celosia is typically grown as an annual, it is possible to overwinter it in certain zones or with the right care.
Preparing Celosia for Winter
If you live in an area with mild winters, consider mulching around the base of the plants to protect the roots from cold temperatures. Applying a thick layer of mulch, such as straw or shredded leaves, will insulate the soil and help retain moisture. However, keep in mind that celosia is sensitive to excessive moisture, so avoid overwatering during the dormant period.
Indoor Care During Cold Months
In regions with harsh winters, consider bringing your celosia indoors to protect it from freezing temperatures. Choose a bright location with indirect sunlight and maintain moderate humidity levels. Keep in mind that celosia may experience some shock when transitioning from outdoor to indoor conditions, so be patient and adjust watering accordingly.
With proper care and attention, celosia can provide a riot of color and charm to your garden. From its fascinating origins and cultural significance to its ideal growing conditions and maintenance techniques, we hope this article has equipped you with the knowledge to nurture and enjoy your celosia plants for years to come. Happy gardening!