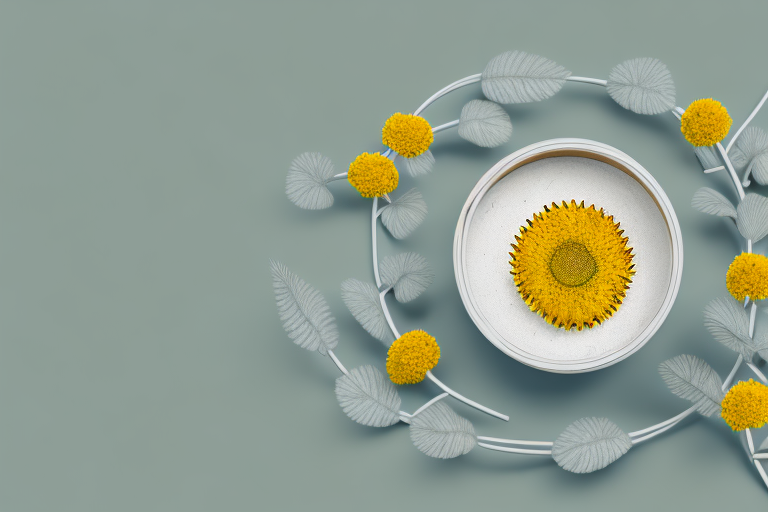 If you're looking for a unique and eye-catching houseplant, look no further than the Angel Wing Senecio. With its distinctive foliage and easy care requirements, this plant is perfect for both beginner and experienced gardeners. In this article, we will explore the different aspects of Angel Wing Senecio care, including its origin, ideal growing conditions, planting and propagation techniques, routine care and maintenance, as well as troubleshooting common problems. So, let's dive in and learn more about this fascinating plant!
Understanding Angel Wing Senecio
Angel Wing Senecio, scientifically known as Senecio candicans 'Angel Wings', is a herbaceous perennial plant native to South America. It belongs to the Asteraceae family, which also includes daisies and sunflowers. This plant gets its name from the unique shape of its leaves, which resemble angel wings or feathers. The leaves are silvery-white in color and covered in fine hairs, giving them a soft and velvety appearance.
Origin and Characteristics of Angel Wing Senecio
Angel Wing Senecio is native to Argentina and Uruguay, where it grows in coastal areas and sandy soils. It has adapted to harsh conditions, including strong winds, salt spray, and drought. This resilience makes it a great choice for gardens and landscapes in coastal regions or areas with poor soil quality. In addition to its striking foliage, this plant produces small, yellow flowers in late summer, adding a touch of color to its already stunning appearance.
The coastal regions of Argentina and Uruguay, where Angel Wing Senecio originates, are known for their unique ecosystems. These areas are characterized by sandy soils, strong winds, and salty air. The plant has evolved to thrive in these challenging conditions, developing its distinct features to withstand the harsh coastal environment. Its silvery-white leaves not only provide a beautiful contrast against the sandy backdrop but also serve a purpose. The fine hairs covering the leaves help reduce water loss through transpiration, allowing the plant to conserve moisture in the arid coastal climate.
Angel Wing Senecio's ability to adapt and survive in such extreme conditions makes it a popular choice for coastal gardens and landscapes. Its resilience and low-maintenance nature make it an ideal plant for those who want to add a touch of elegance to their gardens without the hassle of constant care. Whether planted in sandy soils or exposed to salty air, this plant will continue to thrive and bring beauty to its surroundings.
Different Varieties of Angel Wing Senecio
There are several different varieties of Angel Wing Senecio available, each with its own unique characteristics. The most common variety is 'Angel Wings', which has large, silvery leaves that can reach up to 12 inches long. Another popular variety is 'Senecio Candicans', which has smaller leaves and a more compact growth habit. Additionally, there are cultivars with variegated foliage, such as 'Variegated Angel Wings', which adds even more visual interest to this already captivating plant.
Variegated Angel Wing Senecio is a stunning variety that features leaves with a mix of silvery-white and green colors. This variegation adds a striking contrast to the plant, making it a focal point in any garden or landscape. The unique patterns created by the variegated foliage create a sense of depth and texture, enhancing the overall visual appeal of the plant.
Another popular variety, Senecio Candicans, is known for its compact growth habit. This makes it an excellent choice for smaller gardens or containers. The smaller leaves of this variety also give it a delicate and refined appearance, perfect for adding a touch of elegance to any space.
With such a wide range of varieties available, there is an Angel Wing Senecio to suit every gardener's taste and preference. Whether you prefer the large and dramatic leaves of 'Angel Wings', the compact and refined growth of 'Senecio Candicans', or the eye-catching variegation of 'Variegated Angel Wings', there is no shortage of options to choose from when it comes to this captivating plant.
Ideal Growing Conditions for Angel Wing Senecio
To ensure the health and vitality of your Angel Wing Senecio, it's important to provide it with the right growing conditions. Let's take a look at the factors that contribute to its overall well-being.
Light Requirements
Angel Wing Senecio thrives in bright, indirect light. It enjoys 4-6 hours of sunlight each day, but avoid placing it in direct sunlight, as this can scorch its delicate leaves. A location near a north or east-facing window is usually ideal, as it provides the perfect balance of light and shade.
Temperature and Humidity Preferences
This plant is adaptable to a wide range of temperatures but prefers moderate to warm conditions. Ideally, keep the temperature between 60-80°F (15-27°C). It can tolerate slightly cooler temperatures but may suffer from leaf damage if exposed to frost or below freezing temperatures for an extended period. As for humidity, Angel Wing Senecio doesn't require high humidity levels and can thrive in average household humidity.
Soil and Watering Needs
Angel Wing Senecio prefers well-draining soil to prevent overwatering, which can lead to root rot. A mixture of regular potting soil and perlite or sand works well. Allow the top inch of soil to dry out between waterings, and be careful not to let the plant sit in standing water. Overwatering can cause the leaves to turn yellow or wilt. During the growing season, water the plant thoroughly once a week, and reduce watering in the winter months when growth slows down.
Planting and Propagation of Angel Wing Senecio
Now that you know the ideal growing conditions, let's move on to planting and propagating your Angel Wing Senecio.
When and How to Plant
Angel Wing Senecio can be planted any time of the year, but the best time is in early spring when new growth is beginning to emerge. Choose a container that has drainage holes to prevent waterlogged roots. Fill the container with the recommended well-draining soil mix and gently place the plant in the center. Backfill the remaining space with soil, leaving about an inch of space at the top for water. Water the plant thoroughly after planting, allowing the excess water to drain.
Propagation Techniques
One of the great things about Angel Wing Senecio is its ease of propagation. It can be propagated from stem cuttings or division.
To propagate from stem cuttings, select a healthy stem and cut it just below a node. Remove the lower leaves, leaving only two or three at the top. Dip the cut end in rooting hormone and place it in a small container filled with moist perlite or a well-draining potting mix. Place the container in a warm, brightly lit location, and mist the cutting occasionally to maintain humidity. After a few weeks, new roots should start to form, and you can transfer the cutting into a larger pot or back into the garden.
Division is another method of propagation and can be done during repotting. Gently remove the plant from its container and separate the root mass into smaller sections, ensuring each section has roots and healthy foliage. Plant each division in its own container or in the garden, following the same planting instructions as mentioned earlier.
Routine Care and Maintenance
Keeping your Angel Wing Senecio in optimal condition requires some routine care and maintenance. Let's explore the important aspects of caring for this unique plant.
Pruning and Repotting
Angel Wing Senecio doesn't require much pruning, but occasional trimming can help maintain its shape and encourage bushier growth. Prune any dead, yellow, or damaged leaves as soon as you notice them. Repotting can be done every 1-2 years or when the plant has outgrown its container. Choose a slightly larger pot and refresh the soil mix during repotting.
Dealing with Pests and Diseases
While Angel Wing Senecio is generally a resilient plant, it can still be susceptible to common pests and diseases. Keep an eye out for mealybugs, aphids, or spider mites, which can infest the leaves and stems. If pests are present, use a gentle insecticidal soap or wipe the leaves with a diluted neem oil solution to eliminate them. Regarding diseases, root rot can occur with overwatering, so be sure to follow the watering guidelines mentioned earlier to prevent this issue from arising.
Troubleshooting Common Problems
Even with the best care, problems can still arise. Here are a couple of common issues you may encounter with your Angel Wing Senecio and how to address them.
Yellowing Leaves
If you notice that the leaves of your Angel Wing Senecio are turning yellow, it may be a sign of overwatering or inadequate drainage. Allow the soil to dry out more between waterings and ensure that the pot has proper drainage. Additionally, check for any signs of root rot, such as foul odor or mushy roots. If root rot is present, remove the affected roots and repot the plant in fresh soil.
Wilting or Drooping
Wilting or drooping leaves can be a sign of underwatering or underwatering. Check the soil moisture levels and adjust your watering accordingly. If the soil is dry, increase watering, and if it's consistently wet, reduce watering frequency. Remember, it's always better to underwater than to overwater the Angel Wing Senecio.
By understanding the unique needs of Angel Wing Senecio and providing the right care, you can enjoy a thriving plant that adds beauty and interest to your indoor or outdoor space. Whether you're a plant enthusiast or a beginner gardener, this stunning plant is sure to captivate you with its feathery foliage and easygoing nature. So go ahead, bring a touch of elegance to your home with Angel Wing Senecio!