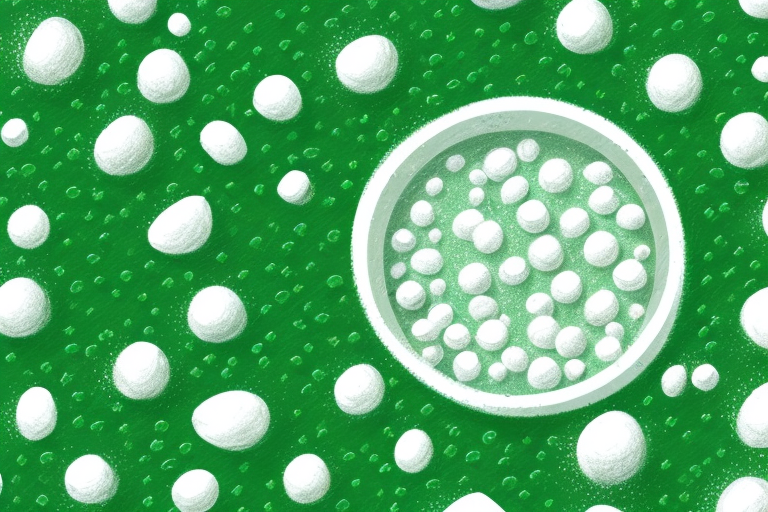 White fertilizer pellets are a popular choice among gardeners and agricultural enthusiasts for their convenience, effectiveness, and versatility. In this article, we will delve into the basics of white fertilizer pellets to help you understand their composition, benefits, application methods, safety measures, and how they compare to other types of fertilizers.
Understanding the Basics of White Fertilizer Pellets
What are White Fertilizer Pellets?
White fertilizer pellets are small, compact granules that contain essential nutrients for plants' growth and development. These pellets are typically made from a blend of various minerals and organic materials that have been compressed into a solid form, making them easy to handle and apply.
White fertilizer pellets are designed to provide a convenient and efficient way to deliver nutrients to plants. They are commonly used in agriculture, horticulture, and gardening to improve soil fertility and promote healthy plant growth.
When applied to the soil, these pellets gradually dissolve and release their nutrients, ensuring a sustained and balanced supply of nourishment for plants. This controlled-release formula helps prevent nutrient leaching and wastage, as well as reduces the need for frequent reapplication.
The Composition of White Fertilizer Pellets
The composition of white fertilizer pellets can vary depending on the specific product and manufacturer. However, they commonly contain a balance of macronutrients, such as nitrogen (N), phosphorus (P), and potassium (K), along with secondary nutrients like calcium and magnesium. Some pellets may also include micronutrients, such as iron, zinc, and manganese, to cater to specific plant needs.
Nitrogen is an essential nutrient for plant growth and is responsible for promoting leaf and stem development. Phosphorus plays a crucial role in root development and flowering, while potassium helps improve overall plant health and disease resistance.
Secondary nutrients like calcium and magnesium are necessary for proper plant growth and development. Calcium aids in cell wall formation and nutrient transport, while magnesium is a key component of chlorophyll, the pigment responsible for photosynthesis.
Micronutrients, although required in smaller quantities, are equally important for plant health. Iron, for example, is essential for chlorophyll production and energy transfer, while zinc and manganese are involved in various enzymatic processes within the plant.
One of the main advantages of white fertilizer pellets is their controlled-release formula, which slowly releases nutrients into the soil over time. This ensures a steady supply of nourishment for plants, reducing the risk of nutrient deficiencies and promoting healthy growth.
Moreover, the composition of white fertilizer pellets is carefully formulated to provide a balanced nutrient profile that meets the specific needs of different plants and crops. This helps optimize plant growth and yields, ensuring maximum productivity and quality.
It is important to note that the composition and nutrient ratios of white fertilizer pellets can be adjusted based on the specific requirements of different plants, soil types, and growing conditions. This flexibility allows growers to tailor their fertilizer application to achieve optimal results.
The Benefits of Using White Fertilizer Pellets
Nutrient Content and Plant Health
White fertilizer pellets provide plants with a comprehensive blend of nutrients in a balanced ratio. This helps maintain optimal plant health and enhances their ability to withstand environmental stressors, such as drought, pests, and diseases. The controlled-release nature of these pellets ensures that plants receive a steady supply of nutrients, reducing the risk of nutrient imbalances and wastage.
When it comes to plant health, white fertilizer pellets have proven to be highly effective. These pellets contain essential macronutrients, such as nitrogen, phosphorus, and potassium, which are crucial for plant growth and development. In addition, they also contain micronutrients like iron, manganese, and zinc, which are necessary for various biochemical processes in plants.
By providing plants with a balanced blend of nutrients, white fertilizer pellets promote overall plant vigor and resilience. This means that plants are better equipped to handle adverse conditions, such as extreme temperatures or water scarcity. They have an increased capacity to recover from damage caused by pests or diseases, leading to healthier and more productive plants.
Efficiency and Ease of Use
Using white fertilizer pellets is incredibly convenient for both professional growers and home gardeners. These pellets are easy to handle and uniformly sized, making them ideal for mechanical application. Their small size and smooth texture allow for even distribution, ensuring that every plant receives an equal amount of nutrients.
One of the key advantages of white fertilizer pellets is their slow-release formula. Unlike traditional fertilizers that release nutrients all at once, these pellets provide a gradual and continuous supply of nutrients over an extended period. This eliminates the need for frequent reapplication, saving time and effort for growers.
Moreover, the precise nutrient ratios in white fertilizer pellets make them suitable for a wide range of plants. Whether you are growing vegetables, fruits, flowers, or ornamental plants, these pellets can meet the nutritional needs of your specific crops. This simplifies fertilization practices, as you don't have to worry about using different fertilizers for different plants.
In addition to their efficiency, white fertilizer pellets are also environmentally friendly. The slow-release formula reduces the risk of nutrient runoff, which can contaminate water sources and harm aquatic ecosystems. By using these pellets, growers can minimize their environmental impact while still providing their plants with the necessary nutrients.
How to Apply White Fertilizer Pellets
Applying white fertilizer pellets is an essential step in maintaining the health and vitality of your plants. Whether you are a seasoned gardener or just starting out, understanding the proper techniques and dosage is crucial for successful fertilization. In this guide, we will explore the factors to consider when determining the right amount of fertilizer and the techniques for achieving even distribution.
Determining the Right Amount
When it comes to applying white fertilizer pellets, there is no one-size-fits-all approach. The appropriate amount of fertilizer to use depends on various factors, including the type of crop or plant, soil conditions, and nutrient requirements. Different plants have different nutritional needs, and it's important to tailor the fertilizer application accordingly.
One way to determine the right amount of fertilizer is to refer to the product's instructions. Fertilizer manufacturers often provide specific guidelines on dosage based on the type of plants you are growing. These instructions can serve as a helpful starting point in achieving optimal fertilization.
Another option is to consult with a horticulture expert or a local agricultural extension office. These professionals have extensive knowledge and experience in plant nutrition and can provide valuable insights into the appropriate dosage for your specific plants. They can also analyze your soil and recommend any necessary adjustments to ensure optimal nutrient uptake.
It's important to strike a balance when applying fertilizer. Overapplication can lead to nutrient runoff, which not only wastes resources but also poses a risk to the environment. On the other hand, underapplication may result in insufficient nourishment for your plants, leading to stunted growth and poor yields. By following recommended dosage guidelines, you can provide your plants with the nutrients they need without causing harm to the ecosystem.
Techniques for Even Distribution
Once you have determined the right amount of white fertilizer pellets to use, the next step is to ensure even distribution across your soil or plants. Proper distribution is crucial to avoid nutrient imbalances and promote uniform growth.
For larger areas, mechanical spreaders can be employed to evenly scatter the pellets across the soil surface. These spreaders come in various types, such as broadcast spreaders or drop spreaders, and allow for precise control over the application rate. They are particularly useful for large-scale farming or gardening operations, where efficiency is key.
For smaller areas or potted plants, manual application can be done by hand or using a small scoop. This method allows for greater precision and control, ensuring that each plant receives the appropriate amount of fertilizer. When applying by hand, it's important to spread the pellets evenly and avoid clumping or piling them in one spot. Uneven distribution can lead to localized nutrient imbalances, resulting in uneven growth and development.
When applying fertilizer to potted plants, take care not to overapply. The confined space of a pot can amplify the effects of fertilizer, potentially causing nutrient burn or other adverse effects. Always follow the recommended dosage for potted plants and monitor the plants closely for any signs of nutrient stress.
In conclusion, applying white fertilizer pellets requires careful consideration of the right amount and proper distribution techniques. By understanding the specific needs of your plants and following recommended guidelines, you can ensure optimal nutrient uptake and promote healthy growth. Remember to always read the product's instructions and consult with experts when in doubt, as they can provide valuable guidance tailored to your unique gardening needs.
Safety Measures and Precautions
Handling and Storage
While white fertilizer pellets are generally safe to handle, it's advisable to wear protective gloves and avoid direct skin contact. In case of accidental contact, wash hands thoroughly with soap and water. Store the pellets in a cool, dry place away from children and pets. Proper storage helps maintain their effectiveness and prevents moisture absorption, which can lead to clumping.
Environmental Considerations
When applying white fertilizer pellets, it's important to be mindful of their impact on the environment. Avoid overapplication near water bodies or areas prone to runoff to prevent pollution. Additionally, follow local regulations and guidelines for fertilizer usage to minimize environmental harm and promote sustainable agricultural practices.
Comparing White Fertilizer Pellets to Other Fertilizers
White Fertilizer Pellets vs. Liquid Fertilizers
Compared to liquid fertilizers, white fertilizer pellets offer the advantage of controlled-release and long-lasting effects. Liquid fertilizers require frequent application, increasing the time and effort spent on fertilizing plants. However, liquid fertilizers may have the advantage of quick nutrient absorption, making them suitable for certain crops or instances where rapid nutrient uptake is desired.
White Fertilizer Pellets vs. Granular Fertilizers
Granular fertilizers, like white fertilizer pellets, offer the convenience of controlled-release and uniform nutrient distribution. However, white fertilizer pellets often lead to less wastage and have a lower risk of nutrient runoff due to their compact nature. Granular fertilizers may be more suitable for specific planting methods, soil types, or crops, so it's essential to consider the specific requirements of your garden or farm.
In conclusion, white fertilizer pellets provide an effective and efficient solution for nourishing plants and promoting healthy growth. Their balanced nutrient composition, controlled-release formula, and ease of use make them a preferred choice for many gardeners and agricultural professionals. By following proper application techniques and considering safety measures, you can ensure optimal plant health while minimizing environmental impact. Whether you're a seasoned gardener or just starting, white fertilizer pellets can be an invaluable tool in your quest for lush and thriving plants.