Kalanchoe Beharensis Flower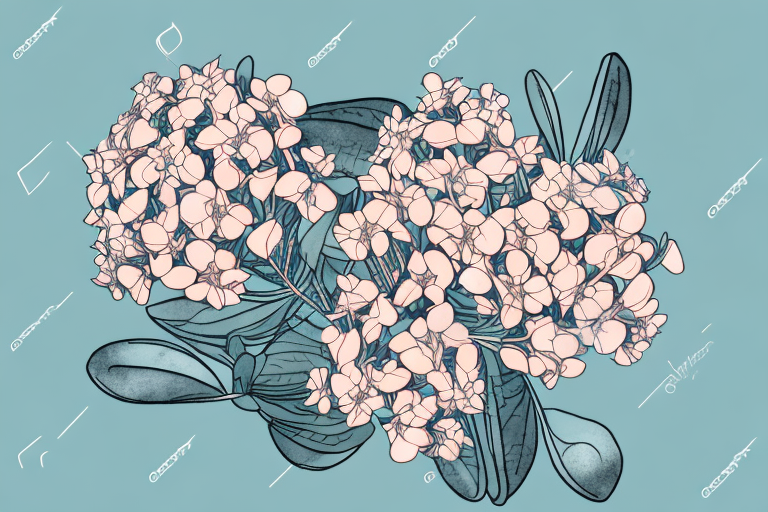 Welcome to an exploration of the fascinating Kalanchoe Beharensis flower! In this article, we will dive deep into the unique characteristics, origins, identification, life cycle, care, and various uses of this remarkable flowering plant. Get ready to embark on a botanical journey filled with knowledge and expert tips to help you appreciate and cultivate this extraordinary species.
The Unique Characteristics of the Kalanchoe Beharensis Flower
The Kalanchoe Beharensis flower, also known as the Velvet Leaf or Elephant's Ear, is renowned for its striking appearance. Its leaves, covered in a velvety texture, create an alluring contrast against its thick, woody stem. This succulent plant showcases large, elongated, and paddle-shaped leaves, reminiscent of an elephant's ear, that can grow up to several inches in length. The leaf edges are often serrated, amplifying the plant's unique visual appeal. When in bloom, the Kalanchoe Beharensis produces clusters of small, tubular flowers that vary in color, ranging from pale yellow to greenish hues.
This distinctive foliage makes the Kalanchoe Beharensis an excellent choice for indoor or outdoor ornamental purposes. Its eye-catching appearance effortlessly adds a touch of elegance and drama to any space it graces.
An Introduction to the Kalanchoe Beharensis: A Fascinating Flowering Plant
Native to Madagascar, the Kalanchoe Beharensis belongs to the family Crassulaceae. This species primarily thrives in arid regions, demonstrating its impressive adaptability to dry and harsh conditions. Its ability to store water in its fleshy leaves allows the plant to survive prolonged periods of drought, making it a resilient choice for gardeners in various climates.
Despite its arid origins, the Kalanchoe Beharensis can also adapt to different environmental settings, including tropical and subtropical regions. Whether you are an experienced horticulturist or a curious beginner, this versatile plant provides an excellent opportunity to explore the wonders of gardening.
The Origins and Natural Habitat of the Kalanchoe Beharensis Flower
The origins of the Kalanchoe Beharensis can be traced back to the exotic island of Madagascar, where it thrives in the region's dry and rocky landscapes. Within this environment, the plant strategically evolves to withstand the challenges of scarce rainfall and extreme temperatures.
With its thick leaves acting as an effective barrier against water loss, the Kalanchoe Beharensis has adapted to conserve water and maintain its health even in the face of adversity. These characteristics, developed over centuries of evolution, make it an excellent choice for individuals seeking low-maintenance plants or those residing in regions characterized by aridity.
Exploring the Different Varieties and Cultivars of Kalanchoe Beharensis Flowers
The world of Kalanchoe Beharensis offers a captivating array of varieties and cultivars. Among the most popular is the Kalanchoe Beharensis 'Fang,' known for its deeply serrated leaves that exhibit a striking dark green shade.
Another notable cultivar is the Kalanchoe Beharensis 'Silver Green,' which features leaves adorned with silver-gray hues. This variety's lush foliage creates an enchanting contrast against other plants, making it a sought-after choice for landscaping and indoor decor.
Each cultivar showcases unique characteristics, and exploring the diverse range of Kalanchoe Beharensis varieties opens up a world of possibilities for plant enthusiasts, interior designers, and landscapers alike.
How to Identify a Kalanchoe Beharensis Flower: Key Features and Traits
Identifying a Kalanchoe Beharensis flower is relatively straightforward once you know its defining features. The first notable trait is the plant's thick, woody stem that supports its magnificent leaves. These leaves, resembling the shape and texture of an elephant's ear, are covered in a velvety layer that adds a luxurious touch to its overall appearance. Additionally, the edges of the leaves are typically serrated, further enhancing the plant's uniqueness.
When the Kalanchoe Beharensis blooms, it produces clusters of small, tubular flowers. These flowers, positioned atop tall, sturdy stems, emanate delicate charm, often displaying subtle colors that range from pale yellow to soft green hues.
By familiarizing yourself with these key features, you will be equipped to identify a Kalanchoe Beharensis flower with confidence, becoming a keen observer of its elegant presence in any setting.
The Life Cycle of a Kalanchoe Beharensis Flower: From Seed to Blooming Beauty
The life cycle of a Kalanchoe Beharensis encompasses several stages that unveil the plant's transformation from a tiny seed to a blooming beauty.
It all begins with seed germination. Kalanchoe Beharensis seeds require well-draining soil and consistent moisture to sprout successfully. Once the seedlings emerge, they should be exposed to sufficient light to encourage healthy growth.
As the plant continues to develop, it gradually produces its iconic paddle-shaped leaves. These leaves will expand over time, ultimately showcasing the mature size and unique characteristics that define the Kalanchoe Beharensis.
With the arrival of the blooming season, the Kalanchoe Beharensis will surprise you with clusters of small, tubular flowers. These flowers are a delight for pollinators and human admirers alike, bringing an extra touch of beauty to the plant's overall presentation.
Understanding the life cycle of the Kalanchoe Beharensis flower enables you to appreciate the journey from a seed to a stunning bloomer, reinforcing your connection with nature's intricate processes.
Growing and Caring for Kalanchoe Beharensis Flowers: Tips and Techniques
Cultivating Kalanchoe Beharensis flowers requires a mindful approach to provide an optimal growing environment. First and foremost, it is essential to ensure well-draining soil, as waterlogged roots may lead to root rot and other issues.
Positioning the plant in a spot that receives bright, indirect light is crucial. Although it can tolerate periods of shade, exposing the Kalanchoe Beharensis to ample light will promote healthy foliage growth and vibrant coloration.
Watering should be done sparingly, allowing the soil to dry out partially between waterings. Overwatering can be detrimental, so it's essential to strike a balance. Additionally, incorporating a succulent-specific fertilizer into your care routine every few months can enhance the plant's overall health and vitality.
Regular observation and mindful care are key to maintaining the longevity and beauty of your Kalanchoe Beharensis flowers. Ensure you keep a keen eye on signs of pests or diseases, promptly addressing any issues that may arise.
The Ideal Growing Conditions for the Kalanchoe Beharensis Flower: Sun, Soil, and Watering Requirements
To provide the ideal growing conditions for your Kalanchoe Beharensis flower, it's important to cater to its specific sun, soil, and watering requirements.
When it comes to sunlight, this plant thrives in bright, indirect light. Placing it near a south-facing window or in an area with filtered sunlight will ensure its foliage remains healthy and vibrant.
The Kalanchoe Beharensis demands well-draining soil to prevent root rot. A sandy or cactus mix soil, enriched with organic matter, is ideal for promoting optimal root health. Remember to allow the soil to dry out partially between waterings, ensuring you find the right balance between hydration and overwatering.
Additionally, consider the temperature and humidity level of your surroundings. This species appreciates moderate temperatures ranging from 60°F to 75°F (15°C to 24°C) and thrives in environments with average humidity levels.
By meeting its needs for sunlight, soil, and water, you create the perfect conditions for your Kalanchoe Beharensis to flourish, establishing a harmonious relationship between the plant and its ecosystem.
Common Pests and Diseases Affecting the Health of Kalanchoe Beharensis Flowers
While the Kalanchoe Beharensis is generally a hardy plant, it is not impervious to certain pests and diseases that can affect its health.
Some common pests that may target the Kalanchoe Beharensis include aphids, mealybugs, and spider mites. Regularly inspecting your plant for signs of infestation, such as wilting leaves or sticky residue, is essential. Should you discover any pests, promptly treat the affected areas with natural or commercial insecticides, ensuring you follow the recommended instructions.
Diseases, such as root rot and powdery mildew, can also pose a threat to the Kalanchoe Beharensis. To prevent these issues, it's crucial to avoid overwatering and ensure proper airflow around the plant. If signs of disease appear, take immediate action by adjusting watering practices or applying appropriate treatments.
Vigilance and proactive measures are the key to maintaining the health and vitality of your Kalanchoe Beharensis flowers, creating an environment where pests and diseases cannot thrive.
Propagating Kalanchoe Beharensis Flowers: Methods for Successful Reproduction
For those eager to expand their collection of Kalanchoe Beharensis flowers, propagation provides an exciting opportunity to reproduce this remarkable plant.
Two common methods of propagating this species are through stem cuttings and leaf cuttings. To propagate through stem cuttings, select a healthy stem and carefully remove it from the mother plant. Allow the cutting to dry out slightly before planting it in well-draining soil. Root growth should begin within a few weeks.
Leaf cuttings, on the other hand, involve carefully removing individual leaves from the mother plant and planting them directly into moist soil. By providing a warm and humid environment, new plantlets will emerge from the base of the leaf within a few weeks.
Whichever method you choose, patience and attention to detail are crucial during the propagation process. With proper care and nurturing, you will soon witness the successful reproduction of your beloved Kalanchoe Beharensis flowers.
Pruning and Maintaining the Shape of a Kalanchoe Beharensis Flowering Plant
Pruning plays a vital role in maintaining the shape and overall appearance of a Kalanchoe Beharensis flowering plant. Regularly inspecting your plant and removing any dead or damaged leaves not only improves aesthetics but also encourages healthy growth and prevents the spread of diseases.
When pruning, use sharp and clean tools to avoid causing damage to the plant. Trim the leaves at their base, taking care not to remove too many at once, as this may stress the plant. Remember to sanitize your pruning tools between cuts to minimize the risk of transferring diseases.
While the Kalanchoe Beharensis generally retains its shape naturally, occasionally, it may require reshaping or trimming to maintain a desired appearance. By following proper pruning techniques, you can sculpt your plant to enhance its overall presentation and ensure its continued health.
Uses of the Kalanchoe Beharensis Flower in Landscaping and Floral Arrangements
The Kalanchoe Beharensis flower's unique characteristics and stunning visual appeal make it an excellent choice for various landscaping and floral arrangements.
In outdoor settings, the plant serves as an attractive focal point, lending a tropical touch to gardens, courtyards, and other landscape designs. Its large, paddle-shaped leaves create interesting textures and shapes, augmenting the overall visual interest of the surrounding space.
Indoors, the Kalanchoe Beharensis adds a touch of grandeur to any room. Placing it as a statement piece or incorporating it into floral arrangements introduces an element of sophistication and natural beauty.
From urban gardens to elaborate floral displays, the uses of the Kalanchoe Beharensis flower are limited only by your imagination. Embrace its versatile presence and invite this captivating species into your creative endeavors.
Medicinal Properties and Traditional Uses of the Kalanchoe Beharensis Flower
Traditionally, the Kalanchoe Beharensis flower has been revered for its medicinal properties and has played a role in various traditional healing practices.
One popular use of this plant is in soothing skin-related ailments. The leaves, when applied to minor burns, cuts, or skin irritations, can provide relief and aid in the healing process. The succulent's gel-like sap possesses properties that promote skin rejuvenation and hydration.
Additionally, the Kalanchoe Beharensis has been used in some cultures to alleviate symptoms of conditions such as hypertension and rheumatism. However, it's important to note that further research is needed to fully understand and validate these potential medicinal benefits.
As with any traditional remedy, it is recommended to consult with healthcare professionals before using the Kalanchoe Beharensis flower for medicinal purposes.
In conclusion, the Kalanchoe Beharensis flower is an extraordinary botanical gem that captivates with its unique characteristics, remarkable adaptability, and versatile applications. Whether you are an avid gardener, a lover of ornamental plants, or intrigued by the world of natural remedies, exploring the wonders of the Kalanchoe Beharensis will undoubtedly provide you with an enriching and fulfilling journey.
By understanding its origins, identifying its defining features, and providing proper care, you can cultivate and enjoy the captivating beauty of this remarkable flowering plant. With its distinctive foliage and elegant blooms, the Kalanchoe Beharensis will continue to mesmerize and inspire nature enthusiasts for generations to come.