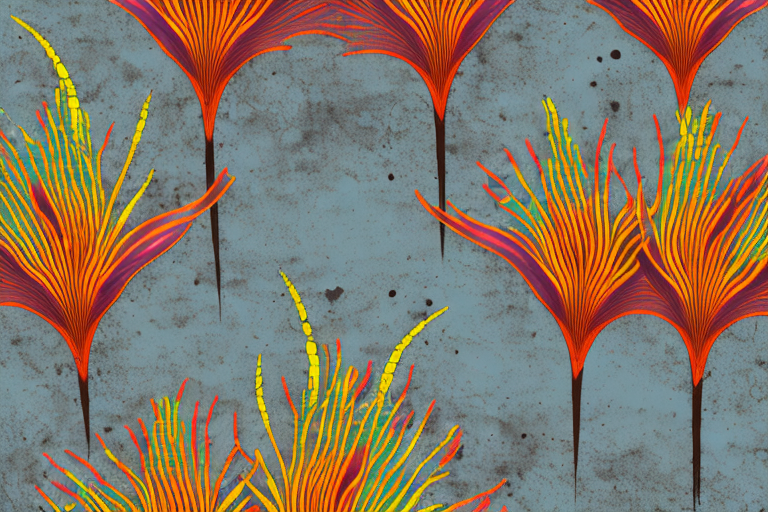 Get ready to discover the enchanting world of African Blood Lilies! These vibrant and exotic plants are sure to capture your attention with their striking beauty. In this article, we will delve into the fascinating aspects of African Blood Lilies, including their origins, characteristics, cultivation, symbolism, contribution to biodiversity, and common questions associated with these captivating flowers.
Understanding the African Blood Lily
Before we dive into the details, let's gain a deeper understanding of the African Blood Lily. This plant, scientifically known as Scadoxus multiflorus, belongs to the Amaryllis family. Originating from the African continent, these Lilies are renowned for their distinctive clusters of bright red flowers, which resemble striking umbrellas.
Origin and History of the African Blood Lily
The African Blood Lily has a fascinating history that dates back centuries. Native to regions such as South Africa and Zimbabwe, these plants have been deeply intertwined with African culture. For centuries, they have been admired for their vibrant beauty and used in various traditional rituals and ceremonies.
In fact, African Blood Lilies have also gained popularity in other parts of the world, where they are adored for their unique appearance and ability to thrive in various climate conditions.
One interesting aspect of the African Blood Lily's history is its association with medicinal uses. In some African cultures, the bulbs of these lilies were believed to have healing properties and were used to treat various ailments. It is fascinating to think about the ancient knowledge and wisdom that led to the discovery of these medicinal qualities.
Furthermore, the African Blood Lily's journey beyond its native lands is a testament to its captivating allure. As explorers and traders traveled across the globe, they brought back exotic plants and flowers, including the African Blood Lily. Its striking appearance and ability to adapt to different environments made it a prized addition to gardens and greenhouses in various countries.
Characteristics of the African Blood Lily
With their show-stopping presence, African Blood Lilies possess several remarkable characteristics. Apart from their vibrant red blooms, these flowers boast long, strappy leaves that reach impressive lengths. Their flowering period typically occurs during the summer months, creating a brilliant display of color in gardens and landscapes.
But there's more to the African Blood Lily than meets the eye. Did you know that these lilies are pollinated by sunbirds and bees? The bright red color of the flowers acts as a beacon, attracting these pollinators from afar. As they feed on the nectar within the flowers, they inadvertently transfer pollen from one flower to another, ensuring the plant's reproduction.
In addition to their aesthetic appeal, African Blood Lilies are known for their hardiness. They are resilient plants that can tolerate a range of growing conditions and are relatively low-maintenance.
Another interesting characteristic of the African Blood Lily is its ability to go dormant during periods of drought. When faced with unfavorable conditions, the plant conserves its energy by retreating into a dormant state. This survival strategy allows it to withstand long periods of dryness and then bounce back to life when the rains return.
Furthermore, the African Blood Lily has also been found to have allelopathic properties. This means that it releases certain chemicals into the soil that inhibit the growth of other plants nearby. This unique adaptation helps the African Blood Lily to maintain its dominance in its natural habitat.
Overall, the African Blood Lily is a captivating plant with a rich history and fascinating characteristics. Its beauty, resilience, and cultural significance make it a beloved addition to gardens and landscapes around the world.
Growing African Blood Lilies
Now that we have steeped ourselves in knowledge about African Blood Lilies, it's time to explore how to cultivate these striking beauties in our own gardens. Let's start by looking at the ideal growing conditions.
Ideal Growing Conditions
African Blood Lilies thrive in warm and tropical climates. They prefer well-draining soil and a spot that receives partial sun or dappled shade. If you live in a region with harsh winters, it's best to grow them in containers that can be brought indoors during the colder months.
These lilies are native to South Africa, where they are found growing in the wild in grasslands and rocky areas. They have adapted to these conditions and can tolerate periods of drought. However, they will benefit from regular watering and a consistent moisture level in the soil.
When it comes to soil, these lilies prefer slightly acidic to neutral soil. They can tolerate a wide range of soil types, but it's important to provide good drainage. If your soil is heavy clay or tends to retain water, consider adding organic matter such as compost or well-rotted manure to improve its structure.
In terms of temperature, African Blood Lilies are not frost-tolerant. They prefer temperatures between 60°F (15°C) and 80°F (27°C). In colder regions, it's crucial to protect the bulbs from freezing temperatures. Mulching the soil around the bulbs can help insulate them and prevent frost damage.
Planting and Care Instructions
To plant African Blood Lilies, begin by digging a hole that's large enough to accommodate the bulb, making sure to space them adequately. The bulbs should be planted with the pointed ends facing upwards, and the tops of the bulbs should ideally sit just at or above the soil level.
Before planting, it's a good idea to soak the bulbs in water for a few hours. This will help hydrate them and promote faster root development. Once the bulbs are soaked, gently pat them dry before planting.
Regular watering is essential during the growing season, but be mindful not to overdo it. It's best to water deeply and allow the soil to dry out slightly between waterings. Overwatering can lead to root rot and other fungal diseases.
Fertilizing once or twice a year with a balanced slow-release fertilizer can also provide the necessary nutrients for healthy growth. Apply the fertilizer according to the package instructions, taking care not to over-fertilize, as this can burn the roots.
As the flowers start to fade, it's important not to remove the foliage prematurely. Let the leaves wither naturally to allow the bulb to store enough energy for the next growing season. Once the leaves have turned yellow and dried out, they can be gently removed.
In colder regions, where the bulbs need to be lifted and stored indoors for the winter, it's important to wait until the foliage has completely died back before digging up the bulbs. Store them in a cool, dry place, such as a basement or garage, where the temperature remains above freezing but below 50°F (10°C).
With proper care and attention, African Blood Lilies can be a stunning addition to any garden. Their vibrant red flowers and unique form are sure to captivate the eye and add a touch of exotic beauty.
The Symbolism of African Blood Lilies
African Blood Lilies hold deep symbolism and cultural significance in various African communities. Let's explore their importance both historically and in modern times.
Cultural Significance in Africa
Throughout history, African Blood Lilies have symbolized vitality, strength, and resilience. They have been used in rituals and ceremonies to invoke positive energy, protect against negative forces, and commemorate significant life events.
In African folklore and stories, these Lilies are often associated with themes of love, passion, and rebirth. They have become an integral part of cultural celebrations, weddings, and traditional healing practices.
Modern Interpretations and Uses
In modern times, African Blood Lilies have garnered attention beyond their cultural significance. These captivating flowers have found their way into gardens, landscapes, and even bouquets used for special occasions and events. Their stunning red blooms add a touch of exotic allure and create a vibrant atmosphere wherever they are showcased.
African Blood Lilies and Biodiversity
Aside from their cultural and aesthetic value, African Blood Lilies also play a vital role in the ecosystem. Let's explore their contribution to biodiversity and the conservation efforts involved in preserving these precious plants.
Role in the Ecosystem
African Blood Lilies serve as important pollinator magnets, attracting bees, butterflies, and other beneficial insects. Through this pollination process, they facilitate the reproduction of various plant species and contribute to the overall health and diversity of their ecosystems.
Threats and Conservation Efforts
While African Blood Lilies are known for their resilience, they still face threats, primarily due to habitat loss and overharvesting. To protect these extraordinary plants and ensure their survival for future generations, conservation efforts are underway.
Through initiatives such as habitat preservation, sustainable cultivation practices, and educational programs, steps are being taken to safeguard the habitats of African Blood Lilies and create awareness about their importance.
Frequently Asked Questions about African Blood Lilies
Let's address some common questions that arise when it comes to African Blood Lilies.
Are African Blood Lilies Poisonous?
Yes, all parts of African Blood Lilies are considered toxic if ingested. It's important to keep them out of reach of children and pets, as contact or consumption can cause symptoms such as irritation, nausea, and vomiting. Always handle these plants with care and seek immediate medical attention if any adverse reactions occur.
How to Propagate African Blood Lilies?
African Blood Lilies can be propagated through offsets or seeds. Offsets are small bulbs that form around the parent bulb. These can be carefully detached and replanted. When it comes to seeds, they can be sown in a well-draining potting mix and kept in a warm, humid environment. However, it's important to note that growing African Blood Lilies from seeds can be a slow and challenging process.
In conclusion, the world of African Blood Lilies is filled with wonder and intrigue. From their rich history and symbolism to their stunning beauty and ecological importance, these plants captivate our hearts and minds. Whether you're a gardening enthusiast, a lover of cultural traditions, or simply someone drawn to the allure of unique flora, African Blood Lilies are sure to leave an everlasting impression. So, why not embrace the magic of these extraordinary flowers and let their vibrant presence grace your own little corner of the world?