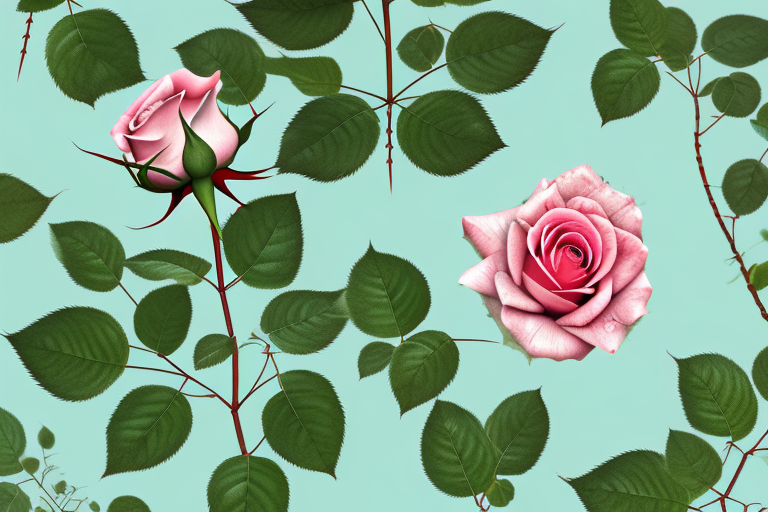 If you're an avid gardener like me, there's nothing quite as disheartening as finding a group of tiny pests invading your precious rose bushes. Yes, I'm talking about aphids. These minuscule insects may seem harmless, but trust me, they can wreak havoc on your beautiful roses if left unchecked. So, in this article, we'll delve into the world of aphids, their life cycle, how to identify infestations, and most importantly, how to get rid of them using natural, organic, and if necessary, chemical methods.
Understanding Aphids and Their Life Cycle
When it comes to gardening, there are few pests as frustrating as aphids. These small, pear-shaped insects belong to the superfamily Aphidoidea and can wreak havoc on your plants. With their voracious appetite for sap, they suck the life out of the stems, leaves, and buds of roses, leaving them weakened and vulnerable.
Aphids come in a variety of colors, adding to their deceptive charm. From the vibrant green that blends with the foliage to the ominous black that lurks in the shadows, these pesky creatures can be hard to spot. Some aphids even sport shades of brown or pink, making them a colorful yet unwelcome addition to your garden.
One of the most remarkable things about aphids is their ability to reproduce at an astonishing rate. Many females are capable of producing hundreds of offspring in just a few weeks. This exponential growth can quickly lead to a full-blown infestation if left unchecked.
Understanding the life cycle of aphids is essential in effectively managing their population. It all starts with the eggs, which hatch into wingless female aphids. These nymphs then go through several molts, shedding their old skin as they grow. With each molt, they become larger and more developed, inching closer to adulthood.
What's fascinating is that aphids have the ability to reproduce both sexually and parthenogenetically. This means that they can give birth to live offspring without the need for mating. This unique reproductive strategy allows aphids to rapidly increase their numbers, making them a formidable force in the garden.
As the aphids continue to develop, the adults eventually grow wings. These delicate wings provide them with the means to disperse to new plants, continuing the cycle once again. With their newfound mobility, they can infest neighboring plants, creating a domino effect that can quickly spiral out of control.
Given their rapid reproduction and dispersal abilities, it becomes crucial to tackle aphids as soon as they appear. Waiting too long could result in a full-blown aphid invasion, with your entire garden falling victim to their insatiable appetite. Regular monitoring and early intervention are key to preventing an aphid infestation from taking hold.
Identifying Aphid Infestation on Roses
Aphids, those tiny pests that can wreak havoc on your beautiful rose garden, are a common problem for many gardeners. These small insects can multiply rapidly, causing damage to your roses if left untreated. Fortunately, spotting an aphid infestation on your roses is relatively easy if you know what to look for.
Common Signs of Aphid Infestation
One of the most obvious signs of an aphid infestation is distorted or curling leaves. If you notice that your rose leaves are not looking their usual healthy selves, it could be a sign that aphids have made themselves at home. Another telltale sign is yellowing or stunted growth. Aphids feed on the sap of plants, which can hinder their growth and cause them to become weak and sickly.
Another clue that aphids have invaded your roses is the presence of sticky honeydew on the plant's surface. This substance is actually a sugary secretion produced by the aphids as they feed. Not only is it unsightly, but it can also attract other pests and promote the growth of sooty mold, which further damages the plant.
Additionally, you may notice a gathering of ants around your roses. Ants are attracted to the sweet honeydew produced by aphids and often act as protectors, warding off predators that could harm the aphids. So, if you spot ants marching to and from your rose bushes, it's a good indication that aphids are present.
Upon closer inspection, you might also see clusters of tiny insects congregating on the undersides of leaves or hiding within flower buds. These are the aphids themselves, usually green or brown in color, depending on the species.
Types of Aphids That Attack Roses
While aphids are a menace for rose enthusiasts, not all aphids target these delicate flowers. There are several species of aphids that can infest roses, each with its own unique characteristics and preferences.
One common species that attacks roses is the Rose Aphid (Macrosiphum rosae). These small, soft-bodied insects are typically green or pink and can be found on the stems, buds, and undersides of leaves. They reproduce quickly, so it's essential to identify and address the infestation promptly.
Another troublesome species is the Green Peach Aphid (Myzus persicae). These aphids are pale green and can be found on the new growth of roses. They are known for transmitting viral diseases and can cause significant damage if left unchecked.
The Potato Aphid (Macrosiphum euphorbiae) is yet another species that poses a threat to roses. These aphids are usually pale yellow or green and can be found on the undersides of leaves. They are particularly fond of feeding on the sap of rose plants, which can weaken the plant over time.
It's important to note that while these are some of the most common aphid species that attack roses, there are others as well. Each species has its specific behaviors and preferences, but they all share the common goal of feeding on your beloved roses.
Now that you know what to look for and the types of aphids that can infest your roses, you can take the necessary steps to protect your plants and keep them thriving. Regular inspection, proper garden maintenance, and the use of organic pest control methods can help you prevent and manage aphid infestations, ensuring that your roses remain healthy and beautiful.
The Impact of Aphids on Rose Health
How Aphids Damage Roses
It's crucial to understand the harmful effects aphids can have on your rose bushes. As these voracious insects suck the sap, they weaken the plant, leaving it prone to diseases and mold. Affected roses might experience stunted growth, reduced number of flowers, and even death in severe cases.
Moreover, the honeydew produced by aphids can lead to the growth of unsightly sooty mold, creating an unappealing blackish layer on the leaves and stems of your roses.
Long-Term Effects of Aphid Infestation
Allowing an aphid infestation to go unchecked can have long-lasting consequences for your roses. Apart from the immediate damage mentioned earlier, ongoing attacks by these tiny pests can weaken the plants, making them more susceptible to other insects and diseases.
Ultimately, neglecting aphid control can result in the demise of your beloved rose bushes, and no gardener wants that.
Natural and Organic Methods to Control Aphids
Beneficial Insects That Prey on Aphids
When it comes to aphid control, nature has provided us with some allies. Introducing beneficial insects that feast on aphids can be an effective and eco-friendly approach. Ladybugs and lacewings are two such examples that are known for their insatiable appetite for aphids. You can attract these helpful insects to your garden by planting nectar-rich flowers and avoiding the use of chemical pesticides.
Homemade Sprays and Solutions
If you prefer a DIY approach, there are plenty of homemade sprays and solutions that can effectively deter aphids from your roses. For instance, a simple mixture of dish soap and water sprayed directly on the affected areas can suffocate and kill aphids. Neem oil is another natural remedy that disrupts the aphids' life cycle, making it an excellent choice for long-term control.
Additionally, you can use strong blasts of water to dislodge aphids from your plants or introduce companion plants like marigolds and chives, which naturally repel aphids.
Chemical Control of Aphids
When to Consider Chemical Control
For severe infestations or when other methods have failed, chemical control may become necessary. It's important to stress that chemical pesticides should always be a last resort due to their potential harm to beneficial insects and the environment.
If you decide to use chemical pesticides, make sure to read and follow the instructions carefully. Choose products specifically formulated for aphid control on roses and apply them only when necessary.
Safe Use of Chemical Pesticides
When using chemical pesticides, take precautionary measures to protect yourself, other plants, and the environment. Wear protective clothing, such as gloves and goggles, and avoid spraying on windy days to prevent drift. Remember to keep children and pets away from treated areas until the product has dried completely.
It's also worth exploring more environmentally friendly options, such as insecticidal soaps and oils, which pose less risk to beneficial insects and the ecosystem.
So, whether you choose natural, organic, or chemical methods, the key is to act swiftly and consistently to combat aphids on your roses. Don't let these tiny creatures undermine your hard work and ruin the beauty of your garden. By understanding aphids, being vigilant, and implementing appropriate control measures, you can keep these pests at bay and enjoy healthy, vibrant roses all season long.