New Guinea Impatiens Fertilizer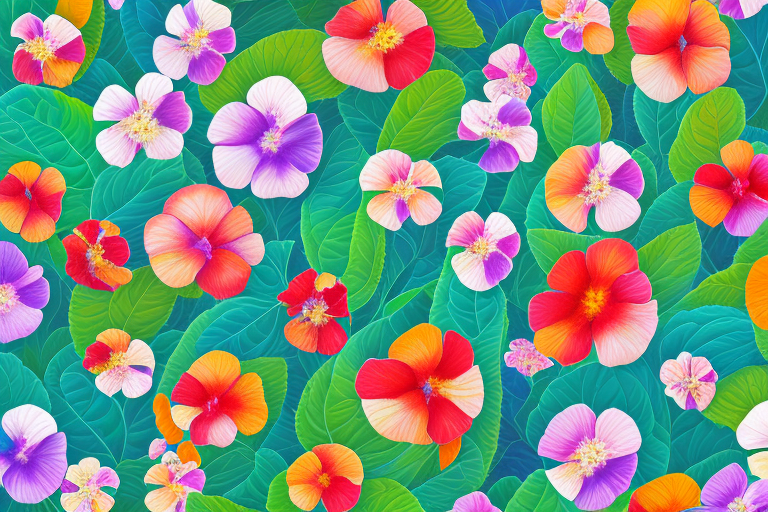 Welcome to the world of New Guinea Impatiens! These vibrant and colorful flowers are a popular choice for gardeners looking to add a touch of beauty to their outdoor spaces. But did you know that fertilization plays a crucial role in the growth and health of these stunning plants? In this article, we will explore everything you need to know about fertilizing New Guinea Impatiens to ensure they thrive and dazzle.
Understanding the Importance of Fertilizer for New Guinea Impatiens
Before we delve into the specifics of fertilizing New Guinea Impatiens, let's take a moment to understand why fertilizer is so important for these plants. Just like humans need nutrients to grow and flourish, plants also require the right balance of essential elements to reach their full potential.
For New Guinea Impatiens, fertilizer provides the necessary nutrients, such as nitrogen, phosphorus, and potassium, that they need for healthy growth, vibrant blooms, and strong root development. Without adequate nourishment, these plants may struggle to thrive and display their true beauty.
The Role of Fertilizer in Plant Growth
Fertilizer plays a vital role in plant growth by replenishing nutrients in the soil. It provides essential elements that may be lacking in the natural environment or have been depleted due to plant uptake or other factors. These nutrients are then absorbed by the plants' roots and utilized for various physiological functions.
Nitrogen, for instance, promotes leaf and stem growth, while phosphorus aids in root development and flower formation. Potassium, on the other hand, supports overall plant health and increases disease resistance. By maintaining optimal nutrient levels, fertilizer ensures that New Guinea Impatiens grow robustly and become more resistant to stressors.
Why New Guinea Impatiens Require Fertilizer
New Guinea Impatiens have high nutritional demands, and relying solely on the native soil may not provide adequate nourishment. These plants are heavy feeders, meaning they quickly deplete the available nutrients in the soil, especially when growing in containers or densely planted areas.
Without regular fertilization, New Guinea Impatiens can suffer from nutrient deficiencies, resulting in stunted growth, pale leaves, and lackluster blooms. To ensure their stunning beauty, it is essential to feed these plants with the right type and amount of fertilizer.
Furthermore, fertilizing New Guinea Impatiens not only provides them with essential nutrients but also contributes to the overall health of the soil. As the plants take up the fertilizer, they release organic matter and nutrients back into the soil through their root systems. This process improves the soil structure, enhances its water-holding capacity, and promotes beneficial microbial activity.
When choosing a fertilizer for New Guinea Impatiens, it is crucial to consider the specific needs of these plants. Look for a balanced fertilizer with a ratio of nitrogen (N), phosphorus (P), and potassium (K), such as a 10-10-10 or 20-20-20 formulation. These ratios ensure that the plants receive a well-rounded nutrient supply without an excessive amount of any particular element.
It's important to note that fertilizing New Guinea Impatiens should be done in moderation. Over-fertilizing can lead to nutrient imbalances, salt buildup in the soil, and even plant burn. Always follow the recommended application rates provided by the fertilizer manufacturer and adjust accordingly based on the specific needs of your plants.
In addition to regular fertilization, other cultural practices can also contribute to the overall health and vigor of New Guinea Impatiens. Adequate watering, proper spacing, and regular removal of spent blooms and yellowing leaves help maintain a clean and disease-free growing environment. By combining these practices with appropriate fertilization, you can ensure that your New Guinea Impatiens thrive and bring vibrant colors to your garden or landscape.
Types of Fertilizer Suitable for New Guinea Impatiens
When it comes to fertilizing New Guinea Impatiens, there are two main types of fertilizers to consider: organic and inorganic.
New Guinea Impatiens, also known as Impatiens hawkeri, are beautiful and vibrant flowering plants that require proper nourishment to thrive. Choosing the right fertilizer for these plants is essential to ensure their healthy growth and abundant blooms.
Organic Fertilizers
Organic fertilizers are derived from natural sources, such as compost, manure, and plant-based materials. They release nutrients slowly and improve the soil structure over time. For New Guinea Impatiens, organic fertilizers provide a sustainable and eco-friendly option, nourishing the plants without the risk of excessive chemical buildup.
One of the popular organic fertilizer choices for New Guinea Impatiens is composted cow manure. It is rich in essential nutrients like nitrogen, phosphorus, and potassium, which are vital for the plant's growth and development. Composted cow manure not only provides the necessary nutrients but also enhances soil fertility and promotes beneficial microbial activity.
Another organic fertilizer option is seaweed extract. Seaweed is packed with micronutrients, trace elements, and growth hormones that stimulate plant growth and improve overall plant health. Applying seaweed extract to New Guinea Impatiens can enhance their resistance to diseases and pests while promoting strong root development and vibrant blooms.
Fish emulsion is also a popular choice among organic gardeners for fertilizing New Guinea Impatiens. It is made from fermented fish waste and is a rich source of nitrogen, phosphorus, and trace elements. Fish emulsion provides a quick nutrient boost to the plants, promoting lush foliage and vibrant flowers.
Inorganic Fertilizers
Inorganic fertilizers, also known as synthetic or chemical fertilizers, are manufactured products that provide a quick and concentrated nutrient boost to plants. They typically come in a granular or water-soluble form and are easily absorbed by the roots.
For New Guinea Impatiens, a balanced water-soluble fertilizer, such as a 20-20-20 or 10-10-10 formulation, works well. These numbers represent the percentage of nitrogen, phosphorus, and potassium in the fertilizer mix, respectively. The balanced formulation ensures that the plants receive a well-rounded supply of essential nutrients for healthy growth and vibrant blooms.
When using inorganic fertilizers, it is important to follow the manufacturer's instructions regarding application rates and frequency. Over-fertilization can lead to nutrient burn and damage the plants. It is always best to start with a lower dosage and gradually increase it if needed.
It is worth noting that while inorganic fertilizers provide a quick nutrient boost, they do not contribute to long-term soil health and microbial activity like organic fertilizers do. Therefore, it is advisable to incorporate organic fertilizers into your fertilization routine to maintain a balanced and sustainable growing environment for New Guinea Impatiens.
How to Apply Fertilizer to New Guinea Impatiens
Now that we have covered the types of fertilizers suitable for New Guinea Impatiens, let's explore the best practices for applying them to ensure optimal plant health and performance.
Determining the Right Amount of Fertilizer
When it comes to fertilizer application, it's crucial to strike the right balance. Applying too much fertilizer can lead to nutrient imbalances, root burn, and overall plant stress. Conversely, using too little may result in nutrient deficiencies and poor growth.
As a general rule of thumb, apply fertilizer to New Guinea Impatiens at a rate of 1 pound per 100 square feet of planting area. To make it easier, you can use a handheld spreader or sprinkle the granules by hand, ensuring even distribution. Water the plants thoroughly after fertilizing to help nutrients reach the root zone.
Best Time to Fertilize New Guinea Impatiens
The timing of fertilizer application is crucial for the well-being of New Guinea Impatiens. It's best to fertilize these plants when they are actively growing and in need of nutrients, which is typically during the spring and summer months.
Aim to fertilize New Guinea Impatiens every four to six weeks during the growing season, starting from early spring until late summer. Be sure to pause fertilization during the winter months when the plants enter their dormant phase.
Common Mistakes in Fertilizing New Guinea Impatiens
While proper fertilization is essential for the health of New Guinea Impatiens, it's crucial to avoid some common mistakes that gardeners often make.
Over-Fertilizing and Its Effects
Over-fertilization is a common mistake that can have detrimental effects on New Guinea Impatiens. Applying excessive amounts of fertilizer can lead to nitrogen burn, causing leaf scorching and root damage. This imbalance of nutrients can stunt growth and negatively impact the plant's overall health.
To prevent over-fertilization, always follow the recommended application rates provided by the fertilizer manufacturer. Remember, it's better to slightly under-fertilize than to overdo it.
Signs of Nutrient Deficiency
Another mistake gardeners often make is overlooking the signs of nutrient deficiency in New Guinea Impatiens. Without proper nourishment, these plants exhibit various symptoms indicating a lack of specific nutrients.
For example, yellowing leaves can indicate nitrogen deficiency, while purple or reddish leaves may signify phosphorus deficiency. Potassium deficiency, on the other hand, can cause weak stems and increased susceptibility to diseases. Regularly monitor your plants for any signs of nutrient deficiency and adjust your fertilization routine accordingly.
Maintaining Healthy New Guinea Impatiens with Proper Fertilization
By following a regular fertilizer schedule and providing the necessary nutrients to your New Guinea Impatiens, you can ensure they remain healthy and vibrant throughout the growing season.
Regular Fertilizer Schedule
To maintain optimal plant health, establish a regular fertilization schedule for your New Guinea Impatiens. As mentioned earlier, feeding these plants every four to six weeks during the growing season is generally sufficient.
However, keep in mind that environmental factors, such as temperature and rainfall, can influence nutrient requirements. Adjust your fertilization frequency and amounts accordingly, keeping a close eye on the plants' appearance and growth.
Monitoring Plant Health
In addition to regular fertilization, monitoring the overall health of your New Guinea Impatiens is crucial for their well-being. Inspect the plants regularly for any signs of stress, disease, or pest infestation.
Healthy plants typically exhibit vibrant foliage, sturdy stems, and abundant blooms. If you notice any issues, address them promptly to prevent further damage and ensure your New Guinea Impatiens thrive.
In conclusion, proper fertilization is key to the success of New Guinea Impatiens. By understanding the role of fertilizer, choosing the right type, applying it correctly, and avoiding common mistakes, you can enjoy the beauty and splendor of these magnificent flowers in your garden. So, grab your fertilizer and get ready to nourish your New Guinea Impatiens into a stunning display of nature's artistry!